Along the lines of cmack's build, only cheaper, more retarded and pathetic.
Truck
:
1998 Ext Cab. TRD. SR5. 5-speed manual. Sunfire Red Pearl.
Name: Ol' Red
How it sits now:
7/15/14
10/15/14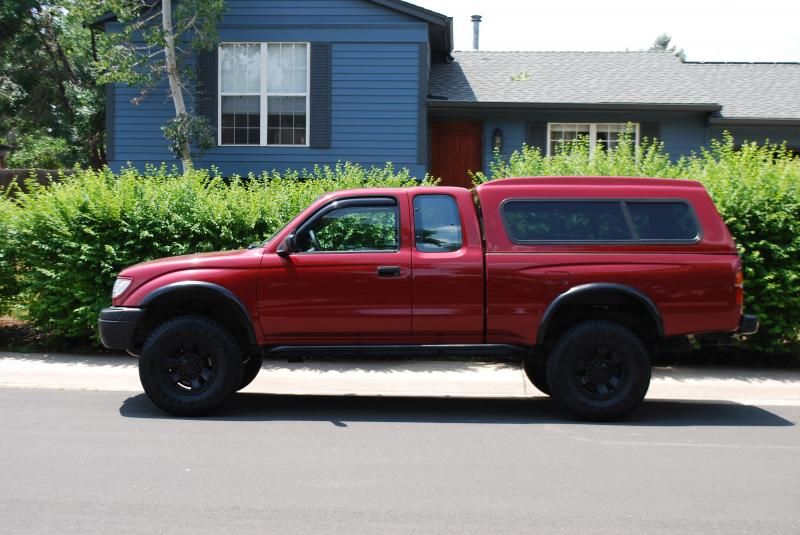 Previous incarnations: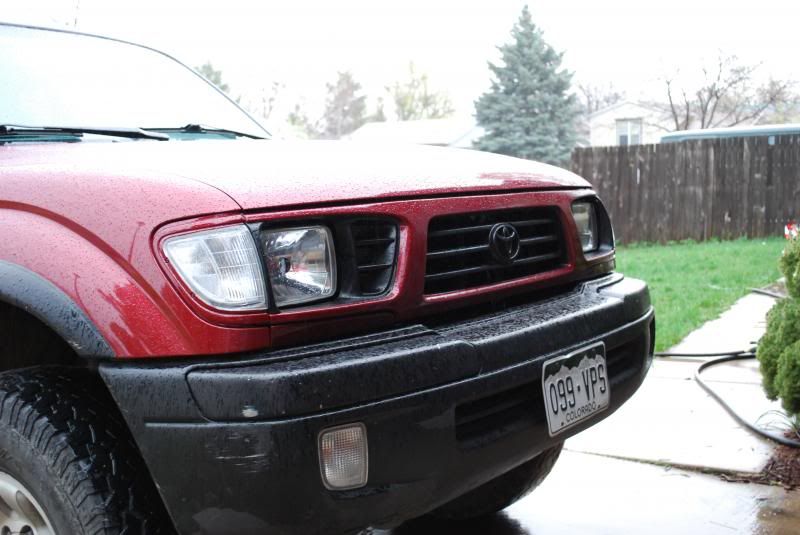 Cheap and mostly useless "mods"
Exterior:
Debadged
De-decal'd
Painted black door handles
Painted grille and grille surround:
Here
Dyed front bumper:
Here
Painted black rear bumper (donated by the marvelous 45acp):
Here
Painted black wiper arms:
Here
Painted black cowl:
Here
Clear corner lights (amber LED bulb)
Clear turn signal housings (amber incandescent bulbs):
Here
Line-x bed (is this exterior or interior if I have a topper? And no, that wasn't cheap)
AVS in-channel vent visors
Lund (I think? came with the truck) cracked/broken rock shield
Larger wiper blades (19" driver's side, 18" passenger's side)
Restored and since reoxidized and re-restored headlights
Dumped exhaust:
Here
BAMF sliders (no kick out or kick up)
Reese class III receiver hitch
Smittybuilt
recovery D-ring shackle for 2" receiver
Frame reinforcement plates:
Here
DIY Line-X Restore:
Here
Bed Rack:
Here
95-97 Front End Swap:
Here
01-04 Horn Swap:
Here
Painted stock alloy wheels black:
Here
Refinished Fender Flares:
Here
Retro Hood Decal:
Here
Interior:

01-04 center console/cup holder assembly (greatest fucking mod ever):
Here
"Cup holder thingies" mod:
Here
Painted black center console, cup holder, shifter trim:
Here
Cellphone Holder in Console Mod:
Here
Painted black dash (except the dash panel)
Dyed black shifter boots
Dyed all interior fabric flat black (door panels, rear seats, rear fabric panel):
Here
Painted all plastic interior trim flat black
TRD transmission shift knob
Dyed black transfer case shift knob
"Clutch pedal squeak" mod:
Here
2005 Subaru Forester XT seats. Driver: 3-way power adjust and heated. Passenger: manual adjust and heated.:
Here
Husky Floor Liners Front and Rear
Suspension:
Here
Full Old Man Emu Kit
881 coils
Dakar Leafs + 4* shim
Nitrosport shocks
Extended rear brake line
BAMF BPV bracket
Tires:
Goodyear Adventure All Terrains 31x10.5 r15
Audio:
Here
JVC KD-X50BT Digital Media Head Unit
Sound Ordnance 75 x 2 amp
Polk Audio db651 6 1/2 two-way (front and rear)
Sound Ordnance B-8PTD 8" under seat powered subwoofer.
Sound deadened rear wall, rear quarter walls and both door panels with BXT II and Ensolite (raamaudio.com)
Future efforts:
Black interior carpet
Supra GT steering wheel swap
Fix the friggen weatherstripping on my topper so it doesn't leak like a mofo:
http://www.bajataco.com/camper/camper_seal/index.htm
Prayers I send to the truck gods while sacrificing sorority chicks who drive Jeeps:
New suspension (my leafs have been frowning for about 9 years)
FUCK YES!!!!!
On to the "build"...
I'm broke, unable to dump cash into my Tacoma, but I love it and will have it for years to come and hopefully plan on doing some moronic, yet effective, things to it in due time. In fact, my 3 year old daughter says the truck will be hers when she's old enough to drive. I tell her, "you'll have to pry the keys from my cold, dead hand." That joke went straight over her head and kinda spooked her out a bit.
Anyway, I bought my 1998 Sunfire Red Pearl, TRD, 5-speed manual beauty back in 1999. I do have a picture of the day we brought her home only this was WAY before I ever owned a digital camera and the actual photograph is buried in a crate somewhere in our basement. You'll just have to use your imagination on how nice she looked only a year old.
Within the first week I spent a decent chunk of change on 31x10.50 BFG All Terrains. By far the best tire I've ever experience. I've exclusively used them on my 1970 Bronco and 1990 Bronco for their entire lives with me. The first set of BFG's on the Tacoma lasted me 8 years and 105,000 miles. Insane, I know. Just bought my second set for the truck in March. Here's to updating this thread sometime in 2018...
Then mere moments later I bought a topper from a guy who just so happened to own the same exact Tacoma as I, only his was totaled in an accident. One of the few pieces that remained intact was his Astro topper. A total piece of shit IMO, but for $200 you can't go wrong.
I then decided to Line-X the bed and tailgate before the first Winter rolled around.
Topper (11 years after purchase):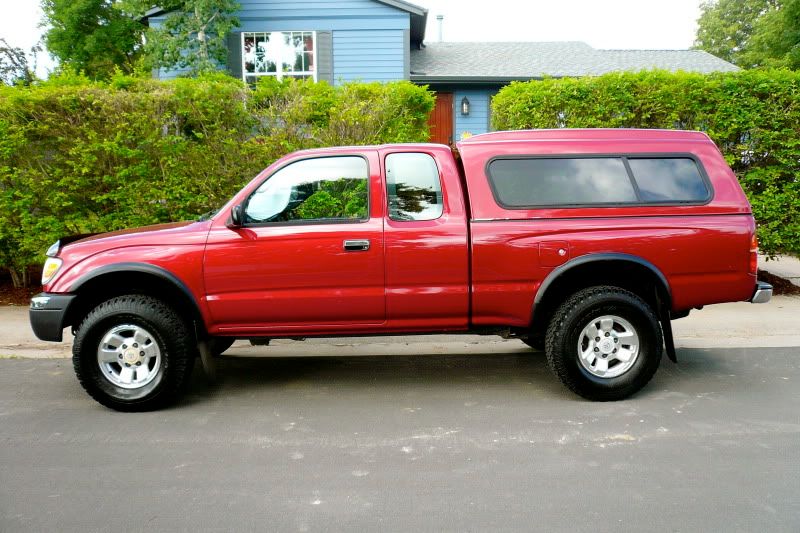 Line-X (11 years after purchase). Take note of my dog's "mod" to the headliner of the topper. He loved nesting in the back of our truck while we went snowboarding, but this one epic powder day at Vail, he must have eaten something wrong that morning or night before, and the poor guy had diarrhea so bad... but like any dog, he wouldn't shit in his nest, so he tried clawing his way out... to no avail
It wasn't until we came back a couple hours later to check on him, that he jumped out of the back of the truck and proceeded to spray poo-foam all over the parking garage. Sorry Vail
Now, it's never been confirmed as to why the previous owner only put one vent visor on the Tacoma, but it certainly was f'in stupid. For whatever reason they only installed the driver's side (my best theory is that he liked to smoke while driving 60 mph in the rain) Know what was dumber? I didn't do anything about it for 11 years. Last week I modded the driver's side vent visor by ripping it off.
See how the driver's side matches the passenger side now?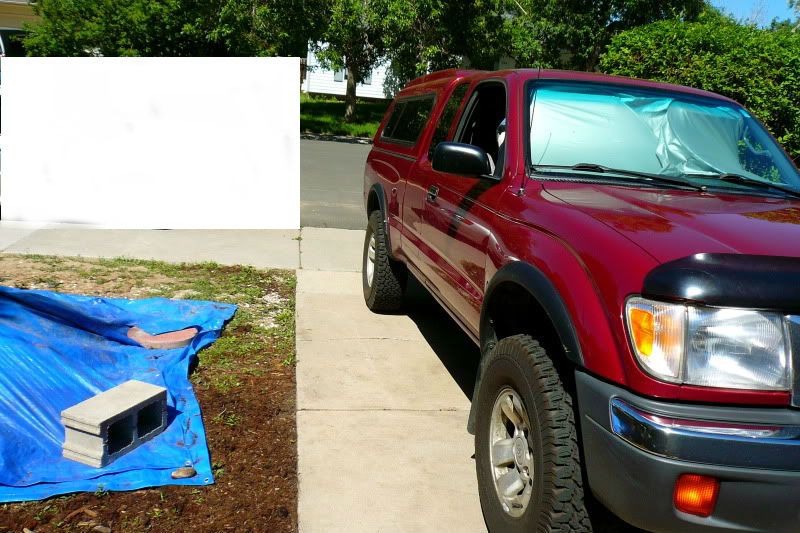 Ah... the perfect segue. See how there's no badges on the passenger side? Here comes the tag-team effort of Captain Stupid and Deputy Dumber again. Captain Stupid (previous owner) removed the "SR" from the "SR5" badge as well as the "Toyota" from the "ToyotaTacoma" badge. Just on the passenger side again. The driver's side was left intact. Baffling, I know. So about a year ago, Deputy Dumber (me) decided to go with the "debadge mod" and remove the "5" and "tacoma" from the passenger side. Reference the pic above. I also started to move around the back side of the truck to debadge everything else, but it started to snow so I abandoned it after I pulled the "
Tacoma
" off the tailgate (reference my "bumper mod" pic below). Tomorrow I'm going to let it bake in the brutal sun for a few hours and then proceed to finish the debadge mod which started possibly 12 years ago. Also the decal removal mod since half of both of them are peeling off anyway.
Onto the "bumper mod #1." Way back in 2001-ish I decided to mod my bumper by backing into a snowbank, mostly compressed ice, in the parking lot of Wolf Creek ski resort. How I missed a 25 foot heaping pile of snow? Who knows. But it put these really cool dent and dimple effects in my bumper and also began the natural mod of changing that cheap chrome coating to a more rustic (read: rust) color. Not to mention, the awesome plastic cap (again, passenger side only) never fit the same. In fact sometime around 2005 it ended up trying to commit suicide by jumping off my bumper and into the street (don't worry, it wasn't a highway and no one was near it when it landed). I should also note my ex-wife provided "bumper mods 1.1, 1.2, 1.3 and 1.4" in the years since. So enter "bumper mod #2" - it only cost about $0.10 and works like a charm
Bumper mod #1: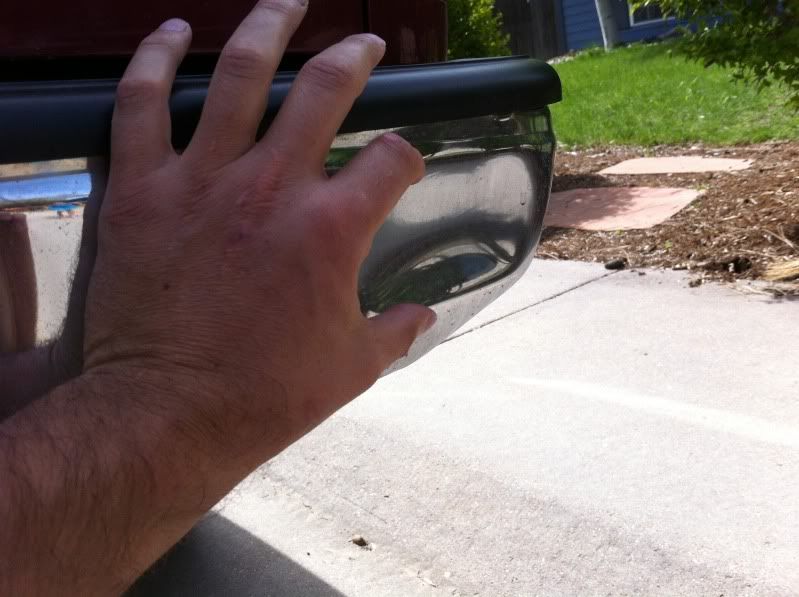 Bumper mod #2: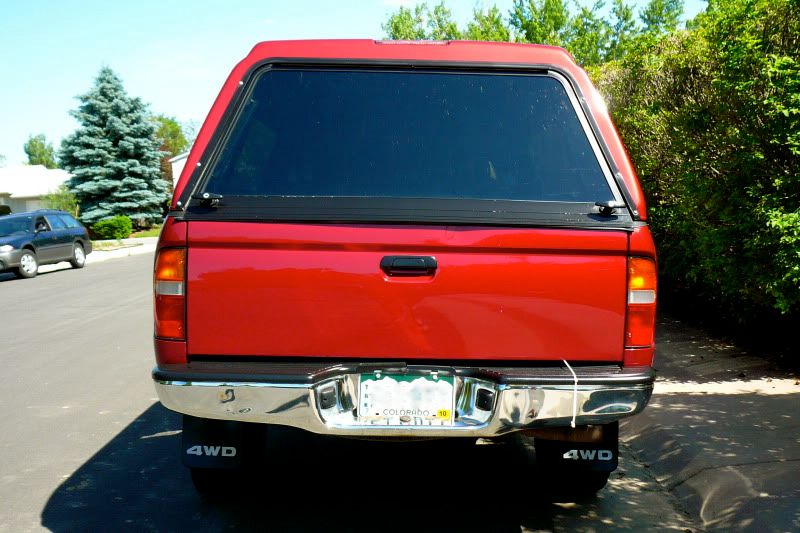 What triggered the decision to make such a useless build thread? Hours ago, I restored my headlights and I felt like sharing pictures
Before:
After: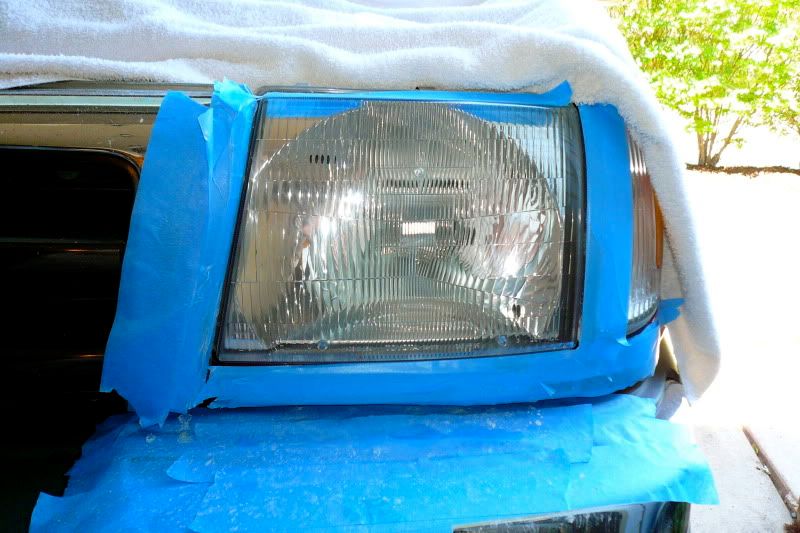 Driver's side restored, passenger side not (in going with the natural theme of this truck I was going to leave one side "modded" and not the other, but then decided safety is what I was trying to achieve):
Both restored: