email this posting to a friend
richmond craigslist
>
for sale / wanted
>
auto parts
please flag with care:
[?]
miscategorized
prohibited
spam/overpost
best of craigslist
Avoid scams and fraud by dealing locally!
Beware any deal involving
Western Union
, Moneygram, wire transfer, cashier check, money order, shipping, escrow, or any promise of transaction protection/certification/guarantee.
More info
built toyota front axle 529s 2 sets - $75 (king william)
Date: 2011-06-08, 8:57PM EDT
Reply to: see below [
Errors when replying to ads?
]
Ok i have a built 85 toyota mini truck front axle with high steer birfield elimenator kit 529 gears also have the 529 3rd for the rear. Also has welded on axle truss. Axle was rebuilt 4 years ago. This would cost a lot of money to build price is 750 firm call or text 804 263 4450 or email
hottspyder@yahoo.com
I also have front spring hanger and leaf springs for sale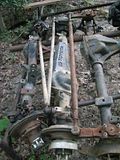 Location: king william
it's NOT ok to contact this poster with services or other commercial interests
PostingID: 2429377913
No contact info? if the poster didn't include a phone number, email, or
other contact info, craigslist can notify them via email.
Copyright © 2011 craigslist, inc.