I am selling my 2003 Tacoma TRD Xtracab automatic. I will update the thread later this evening with more pictures but this is it.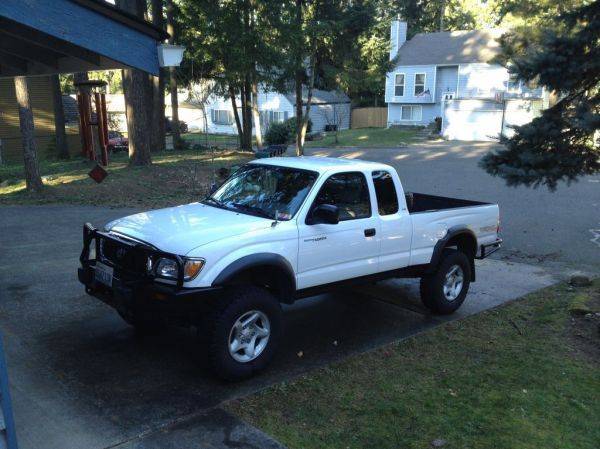 The Tacoma has a hair over 100k miles and the timing belt, water pump and thermostat were replaced at 78k It has been regularly serviced every 3k. In September 2009 I was rear ended in it pretty bad and Toyota of Burien, WA Collision Center completed all repairs to the vehicle and I have the documentation for the repairs. There is a crack in the windshield across the lower portion of the drivers side but isn't across the field of view.
List of modifications to the Tacoma
ARB Deluxe Bullbar
OME Suspension (882 coils, Nitrocharger shocks, Dakar leaf springs, OME greasable shackles)
Demello
hybrid rear bumper
BGF AT KO tires including spare
Herculined the interior under the carpet.
Switches in place for in cab winch control
Gray wire mod
Deckplate mod
Flowmaster Super 44 muffler
Hi lift jack comes with the Tacoma
Alpine iDA-305S (will confirm that it's the correct model later this evening)
New MAF sensor replaced at 100k
I have removed the spare tire carrier from underneath the truck and the spare sits in the bed. There are two small dents to the rocker panels (each side) however, I have painted the lower panels with Duplicolor bed coating (black).
I am located in California Bay Area but the Tacoma is in Washington. I'm willing to drive it down to California but that, at the earliest will be the 19th of June.
PM me if interested.