5-1-13
SOLD SOLD SOLD!!!
UPDATE! UPDATE! UPDATE!
4-19-2013
UPDATE! UPDATE! UPDATE!
Because there was a concern that I was not posting a picture of the actual item up for sale I have decided to clarify my listing a little.
I am now selling a huge, big, brown, unopened box with Bushwacker markings and labels placed in various places around the box. I am asking $300 for the box if you pick it up locally OR $325 to have this huge, big, brown, unopened box shipped to you via FedEX.
What will you get with this box you ask? Well if you decide to purchase the aforementioned box you will get a completely FREE set of Bushwacker CUT-OUT Fender Flares for 95.5-04 Toyota Tacoma 4WD models neatly packaged inside the box from the manufacturer. I wish I could show you actual pictures of the FREE fenders you will receive inside the box but remember this listing is for the box and ONLY the box and I want to reserve the joy of opening the box for its new owner. If you have any questions about what vehicles they will fit please see the link I posted below in the original add including pictures off Bushwackers site.
What is not included with this box you ask? Well anything the box is pictured sitting on including the 2002 Toyota Tacoma and anything attached to said Tacoma.
I hope you all agree that there is no other place you can actually purchase of box of this quality for such a great price. Please PM me for payment details if you know this box has to be yours!
Now the fun part!!! Here are the pictures of the box that is up for sale including some shots of the labels.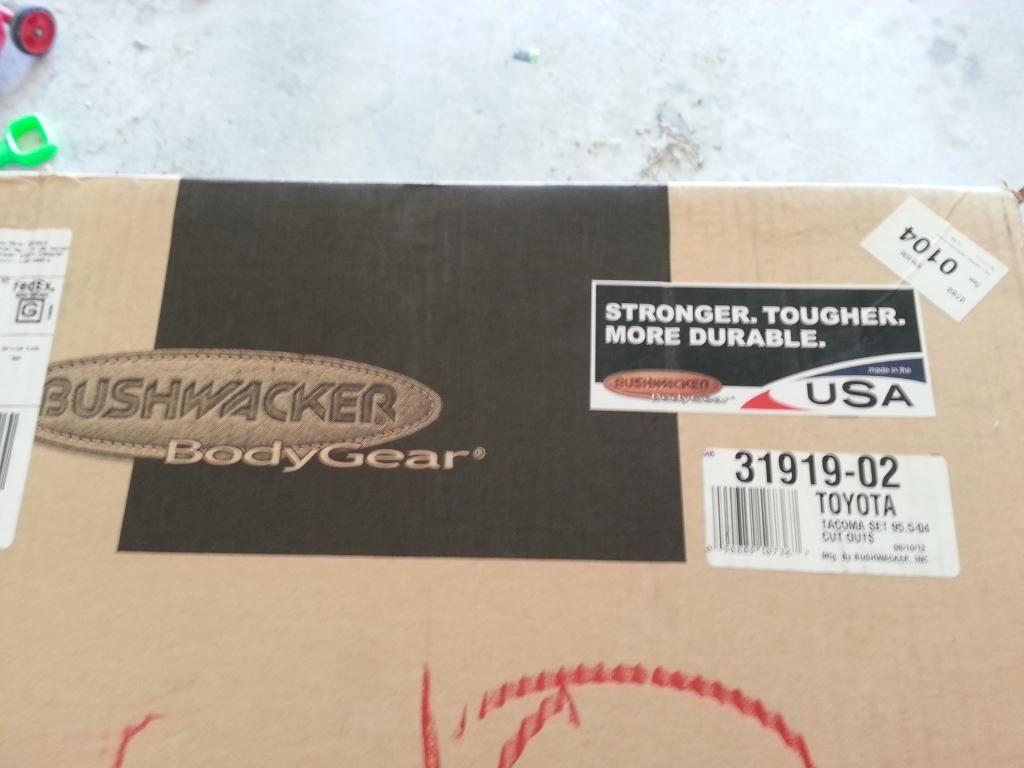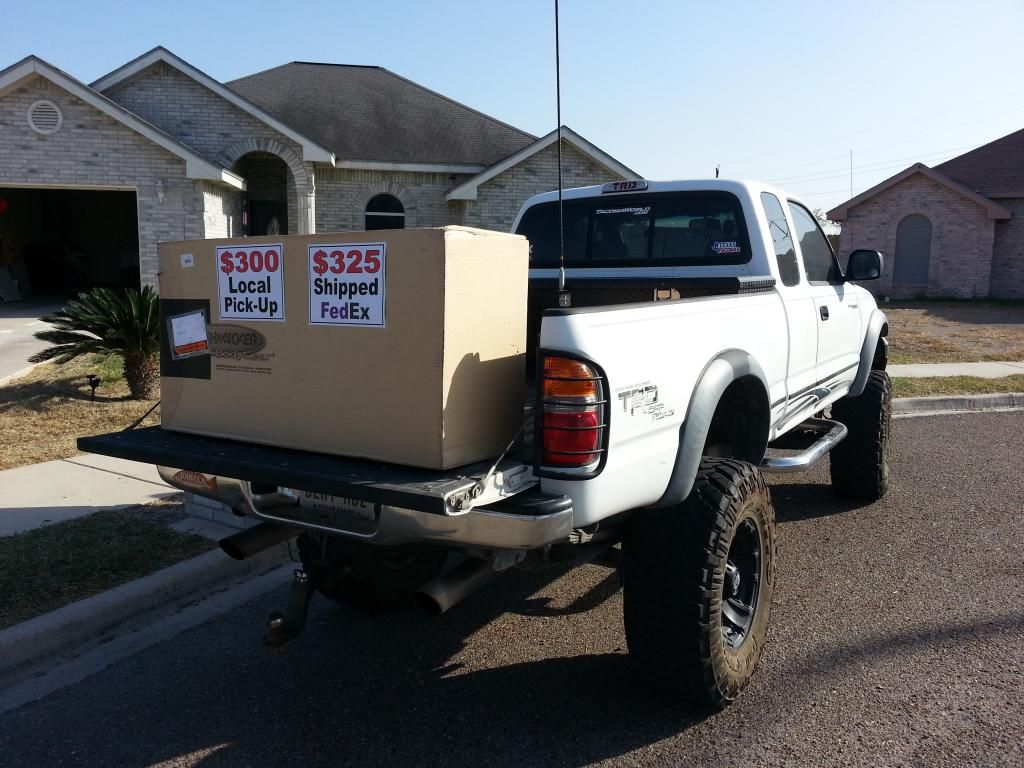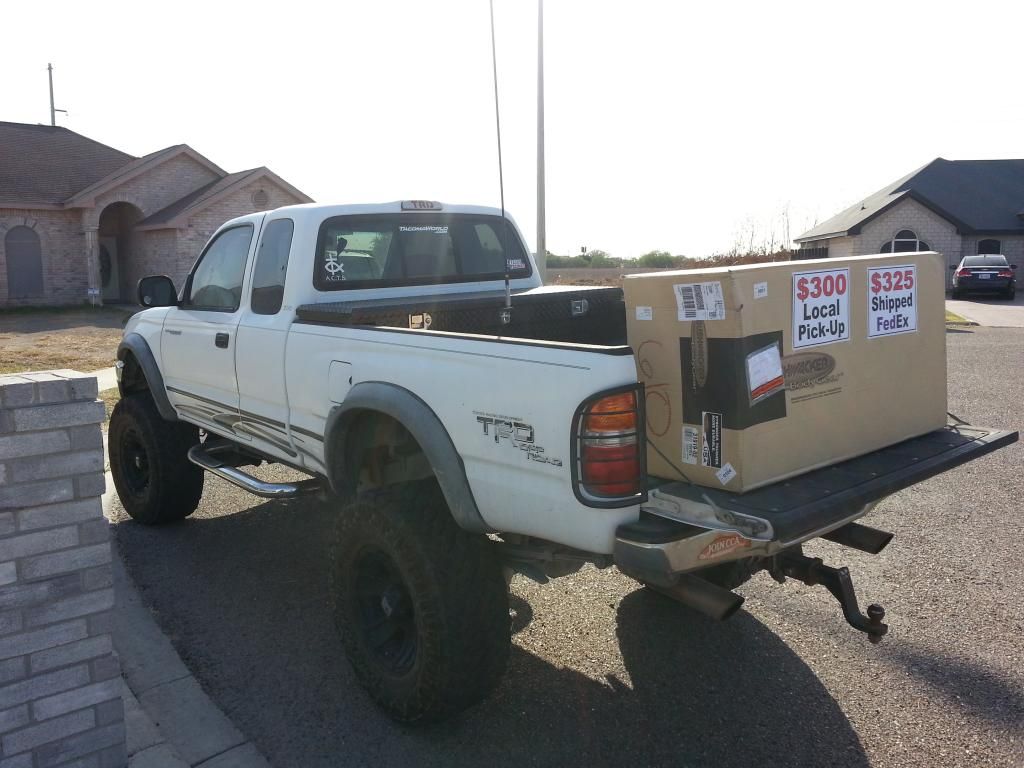 Brand new in box never opened! Asking $300 picked up or $325 shipped! Need cash ASAP Payment can be made via PAYPAL. PM me for details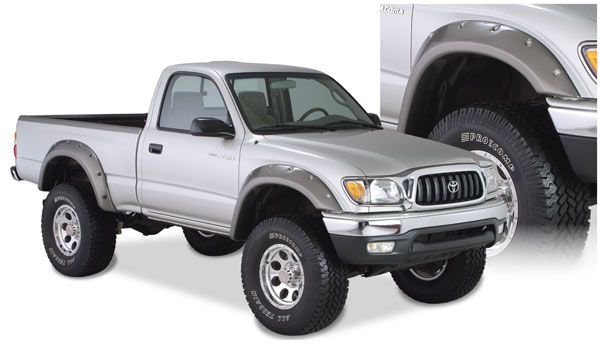 Link below has all the info from Bushwacker:
http://www.bushwacker.com/fender.asp...&search=Search
Key Points
Buswacker's exclusive bold pocket design and style
Adds up to 3.00 in. of tire coverage from debris. Allows you to increase the wheel well opening for more tire clearance, accomodating large tires and wheels
Adds 1" wheel well opening allowing a tire size of 33x12.50 (recommended with 3" lift)
OEM matte black finish, or easily custom painted to match or accent any vehicle
Made in the USA with a Limited Lifetime Warranty
Hardware Replacement Kit Part # PK1-31919
Currently not available for Toyota Tacoma Double Cab