Ok I am looking at building my own bumpers rather than just doing the sensible thing and buying them. (Lets call it a man-truck bonding experience). I'm starting with the rear as it seems like it will be somewhat easier than the front. My measurments came out to 63.5" across the back. Thats 54.5' in the tailgate alone and I compensated 4.5" on either side under the tails. I also measured down from the top of the stock bumper to the reciever. I want a cut out where my reciever comes out so I gave 12" from the top to below the hitch. That leaves about a inch or two below where the hitch will come out. Now to the tricky part. On the ends Im thinking that rather than going with a 90 degree straight down I would take that 4.5" compensated on each side and go at a angle. Something like this: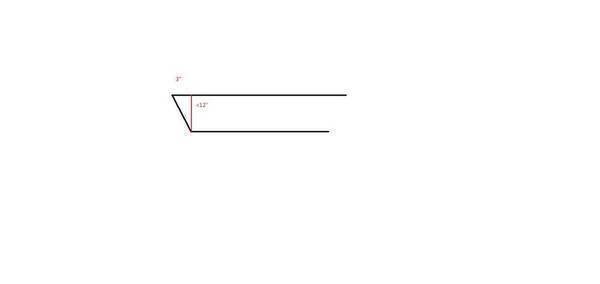 (sorry for the horrible paint graphics and these are nowhere near to scale)
Now what I need to know is the length of the Hypotenuse. I know the lenghth of the top 4.5" and the imaginary line on the inside is 12" so the formula is a2+b2=c2 correct? C2 being the angled side. I got 12.816" but I was never the best at geometry. Am I going about this design all wrong or what? Does it have potential?