First generation Tacoma 2002 DoubleCab with power door locks.
This guide should work for most keyless systems, the unit I installed here is the Audiovox AA-925. The reason I used this unit was the simple fact it didn't have a lot of buttons that would not be used. It has lock unlock, and option buttons. Price approximately $60+ form various dealers.
Prior to this install I downloaded the installation instructions for the keyless entry unit and then used my Toyota reference information to basically match the connections on paper. I strongly suggest doing this to identify potential hurdles and streamline installation.
The following sources, images, and installation notes should make your install easier.
Background information sources:
http://www.bulldogsecurity.com/bdnew...ngdiagrams.asp
navigate to your model and year
http://audiovox2.info/docs/common/AA925/AA925_IM.pdf
Tools and supplies:
Medium sized Phillips and Flat screw drivers
Metric socket or nut driver set with 8,9,& 10 mm
Wire strippers with cutters
Razor knife
Small mirror
Electrical Tape
Zip ties
Optional:
Wire loom
Test light
alligator clip wire tester
Small metric bolts 8, 9, or 10mm approximately 15mm long for possible control/base unit mounting as there are some threaded holes available for mounting behind the steering wheel under the instrument cluster.
Also alternate mounting method: using Double sided self adhesive foam tape or strips.
1. Prep area: remove rocker kick plate, kick panel, lower dash board and center/ashtray console section. Becareful removing the center console/ashtray section, the clips come off the retaners so retrieve them after removing the section.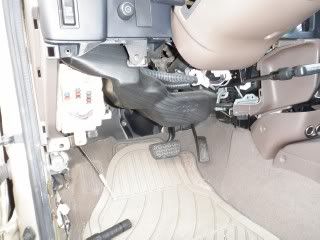 2. Make ignition harness connections. This is found to the right of the steering column.
Connections here:
12v Constant- White
Ignition 12v- Black/Red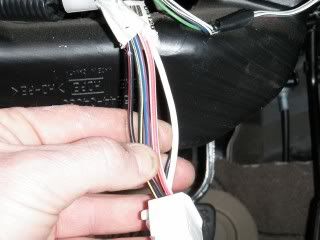 I used wire strippers to section make 2 cut in ths insulation and then the razor knife to carefully trim/shave the section for removal. Then a small used pic or pointed probe to make a hole to insert the wire to be connected. I then inserted the stripped (3/4") new wire through, split it into two sections and wrapped around the vehicle wire and then around the new wire. See image below.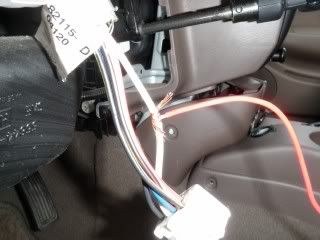 Then I wrap the two with tape and use a zip tie to lock the connection.
See ignition connection below.
Parking light connection is made to a green wire located on a 12 pin harness plug found on the back of the fuse box. There several plugs and green wires on the back of the fuse box. The one needed is located near the bottom of the fuse panel rear. The best way to find it is using a mirror. Facing the panel, it is located in the lower right corner nestled just inside of a line of harnesses connected on the outer perimeter of the panel. The connector is pictured below.
This harness is best accessed by removing the clip that holds the 22 pin harness to the front of the fuse panel and some of the factory tape to clear the area and allow room to make the connection.
Connections here:
Parking light- Green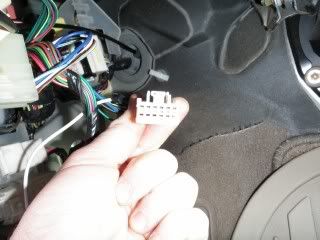 Here's the 22 pin harness and clip removed.
Connections here:
Lock- Gray
Unlock- Purple
Door trigger- Green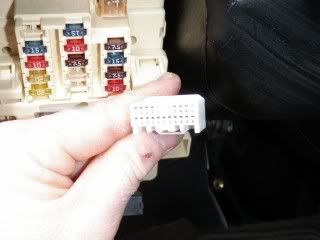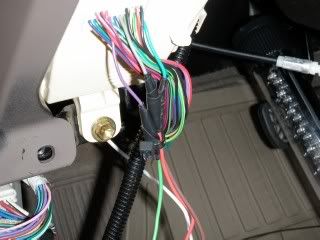 Ground. Make sure you get a good ground. My first location did not and the unit did not function. Here are two locations:
This on the interior sheet metal wall, best observed with a mirror
or the kick panel retaining bracket.
Led light: This is not the most visible location and found the steering wheel blocks its visibility. Still, this approach uses the plank panel.
Not a lot of connections. I did not post my final base unit mounting because it may change, but see my notes above on this as there are several options.
I also had a lot of unused wires from the base unit I elected to cut down to 6" and tape off if needed later.
The unit installed had a valet switch I elected to secure without mounting because I do not need it and didn't want to drill a hole for it at this point..
My finished fuctions are basic; lock/unlock with parking light confirmation. I may add a third function at some point such as windows up.
Overall the install should take about 2 hours and is fairly easy.