Relocating the rear differential breather is an easy and inexpensive way to help prevent costly damage to the rear differential. As air expands and contracts from temperature changes within the rear differential, the breather allows the differential to "breathe". However, with the stock location of the breather, it is possible for the differential to "inhale" water in certain situations. By relocating the breather to a higher position on the vehicle, this can be prevented.
*Perform at your own Risk*
Materials:
8ft 1/4" rubber fuel line
1 "union" (Toyota part# 9040451026)
2 small hose clamps
1 small in-line fuel filter
2-3 plastic zip ties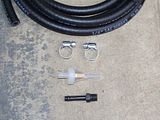 Tools:
14mm box/open wrench
10mm box/open wrench
1/4" socket/ratchet
8mm socket/ratchet
cordless drill w/ 1/4" drill bit
wire cutters

Loosen the breather with the 14mm wrench. Before completely removing the breather, clean the area around it to prevent any debris from entering the differential.
With the 10mm wrench, install the "union" in place of the breather. Note that the "union" will not tighten down flush with the surface of the differential housing.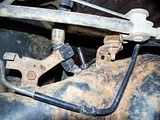 With one of the hose clamps on the end of the hose, slide one end of the hose over the nipple on the "union" and tighten the clamp. (I used the 1/4" ratchet for the clamps because I tend to stab myself with screwdrivers
)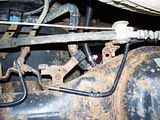 Run the hose along the e-locker cable(anchor with zip ties) over the frame rail to the fuel filler neck. Leave adequate slack in the hose above the differential to allow for suspension flex.
Using the 8mm ratchet, remove the 4 bolts that secure the plastic shield around the fuel cap. Remove the fuel cap so you can slide the shield off of the filler neck. Pull the hose up and out through the fuel cap access door. Drill a 1/4" hole in the plastic shield where you want to attach the fuel filter and the other end of the hose. I chose the right side of the shield, below the fuel door catch.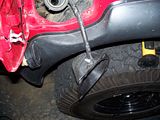 Poke one end of the fuel filter through the drilled hole. Cut off any excess hose. Attach the hose with the clamp to the fuel filter at the back of the shield. Re-attach shield. Enjoy a little peace of mind!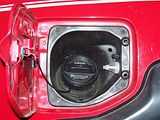 Note: I trimmed off about 1/2" of nipple from the fuel filter so it would not interfere with removing the fuel cap.