The bedrails on my 1998 Tacoma are only about an inch wide, and I want to mount a topper over the bed. I don't like J-clamps so I'm going to hard-fasten the topper using nuts and screws. To widen the top surface of the bedrail I fashioned some runners using 1-inch aluminum L-stock and was going to screw the runners to the inner edge of the bedrails. Then I would screw the topper to the horizontal surface of the runner.
Unfortunately, the vertical edge of the bedrail is not perpendicular to the rail's top surface. When I attach the right-angle runner to the slightly-out-of-plumb bedrail the top surface of the runner will tilt up towards the center of the bed.
Please see the attached crude drawing.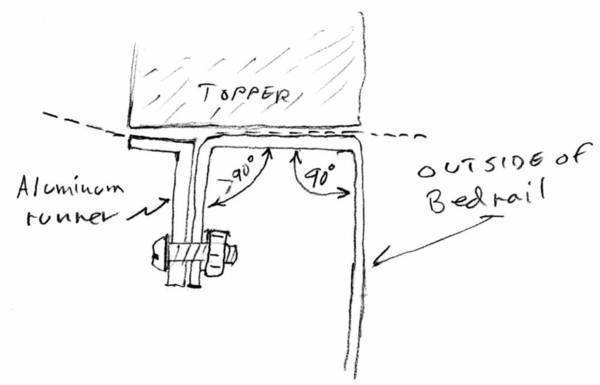 What would be a good way to overcome this problem? Would using rubber mounting gaskets (available by the foot) for the seal be a better solution than using the usual foam tape? Any and all comments are appreciated.