How to change carrier bearing on 2003 Toyota Tacoma Extended Cab 4wd.
Safety blurb
: Be sure to chock your tires. Don't do anything stupid. If you do something stupid and kill yourself or your truck, don't blame me. You're responsible for your own actions and if you are desperate enough to read a "how to" on the internet, then you assume all responsibility for the outcome. Let's get started.
Tools Required
:
-14mm wrench (x2)
-17mm wrench (I didn't, you may need it)
-Torque wrench (capable of 51, 54, and 134 ft-lbs)
-24mm socket
-Impact wrench
-Jack Stand
-14mm socket and ratchet (3/8" drive)
-Bench vise
-PB Blaster or other loosening lubricant
-Dead blow hammer
-Flathead screwdriver (for staking nut)
-Jaw puller
Parts Required
:
Toyota Carrier Bearing Part Number: 37230-35130
Purchased from
www.partznet.com
- Price $147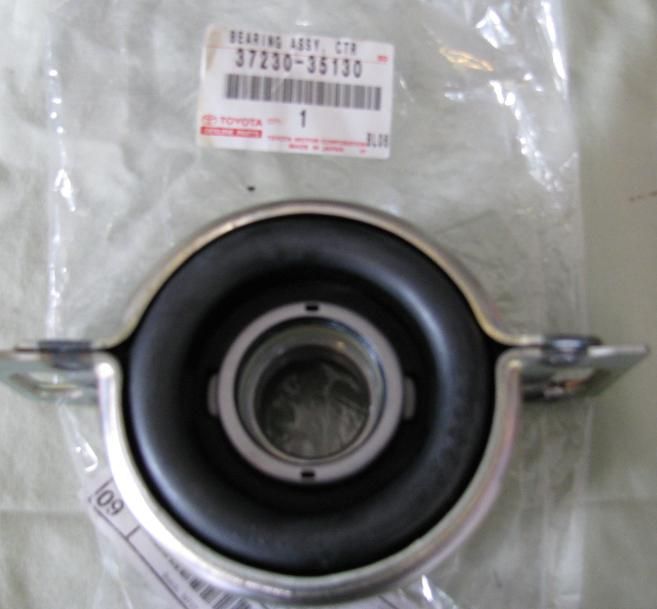 Factory Service Manual Documents:
See attached located at the bottom of this post.
Symptoms:
I experienced some vibrations in the mid 60 mph range. I also noticed a very slight "popping" sound at high gear / low rpm situations. Moreover, the video below shows how much play was in my worn carrier bearing. I estimate it to be about ½" of total play. After I installed the new one, I had less than 1/8" of play.
http://www.youtube.com/watch?v=vtBHKHGa8Fo
To begin, we will only have to remove the front half of the propeller shaft. The back half (the part that goes from the carrier bearing to the rear differential will not have to be removed).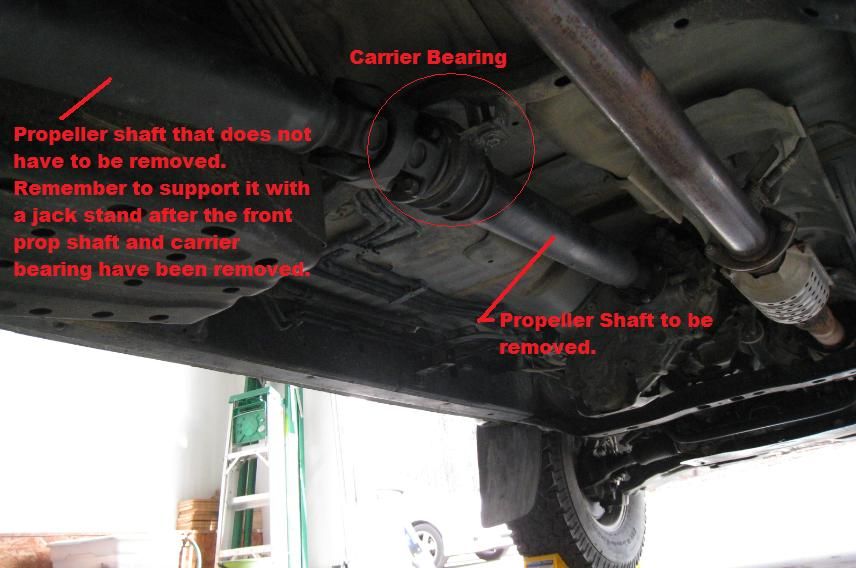 Step 1
– Mark the alignment of the transmission output shaft flange to the U-joint carrier assembly. See pic below.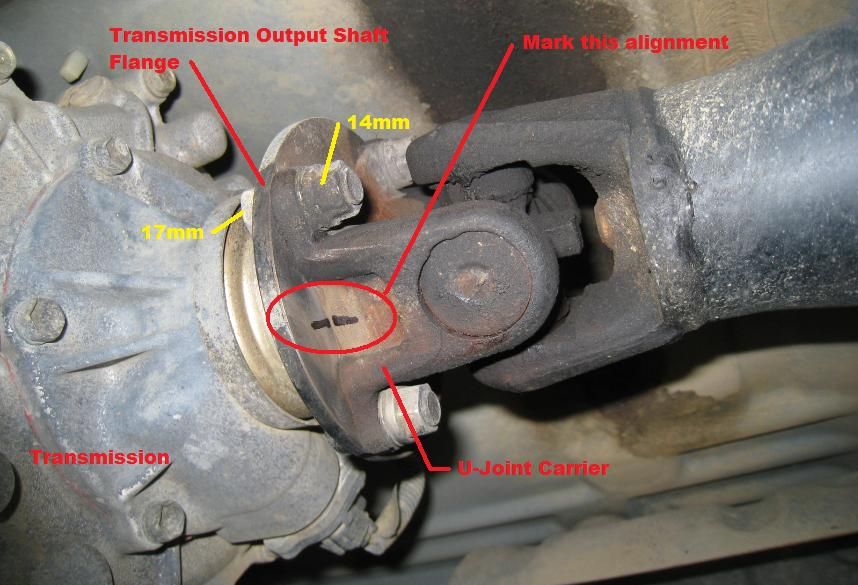 Step 2
– Loosen the 4, 14mm bolts on the transmission output shaft flange. The nut uses a 14mm wrench. I did not have to back the head of the bolt because they seemed to be froze. However, if you do, it uses a 17mm wrench. Break-torque is 54 ft-lbs. A ratchet was too difficult to use in loosening these bolts. I suggest using a wrench only. If you can't get to some of the bolts, you may have to roll your truck a foot or two. I removed all of the bolts except one. I left it in (but loose) so that it wouldn't fall on my head.
Step 3
– Mark the alignment of the flange to the rear propeller shaft front U-joint carrier.
Step 4 -
Loosen the 4, 14mm bolts on the rear propeller shaft front U-joint carrier. Both the nut and bolt head use a 14mm wrench. Again, I suggest using wrenches and not a ratchet/socket. These were so tight that I had to use a ¾" wrench as an additional breaker bar by doubling it up on the14mm wrench. Break torque is 54 ft-lbs.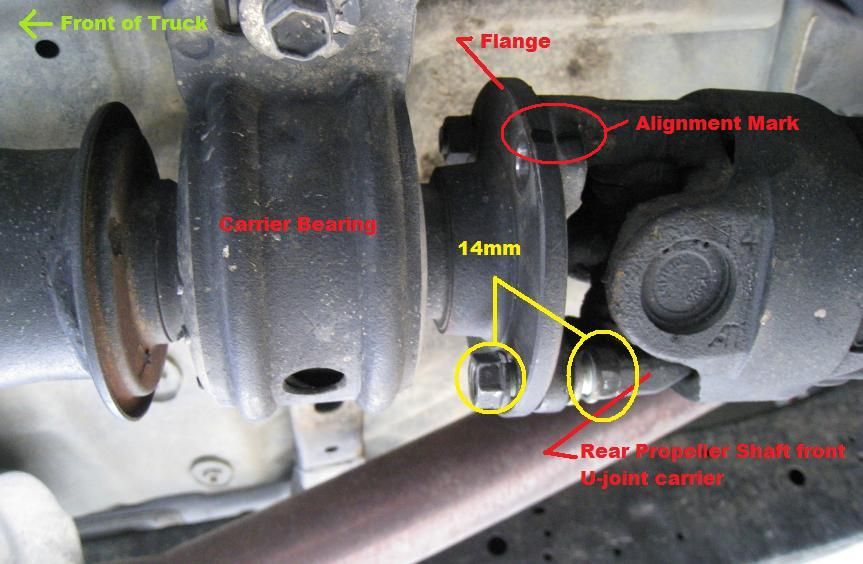 Step 5
– Insert floor jack under the rear half of the propeller shaft. You don't have to support it at this point, just put it underneath it.
Step 6
– Loosen the two carrier bearing bolts.
Step 7
– The driveshaft should come out now. You may have to use some PB Blaster and a dead blow hammer to get the U-Joint carriers to break free from the flanges. Be sure to support the rear half of the propeller shaft with your jack stand.
Step 8
– Take your drive shaft with carrier bearing to your work bench. Place the drive shaft in your bench vise. Please note, be very careful in how much you tighten the vise onto the shaft. You do not want to warp it. I also wrapped my driveshaft in some scotch bright pads (for friction) and some rubber (for protection).
Step 9
– The flange must be removed in order to get the carrier bearing off. To remove the flange, you must un-stake the nut. Take a small screwdriver and hammer under the staked-over metal. Pry the metal up slightly being careful not to over-pry it. I re-used this nut. Break-torque is 134 ft-lbs. I used an impact wrench to remove it.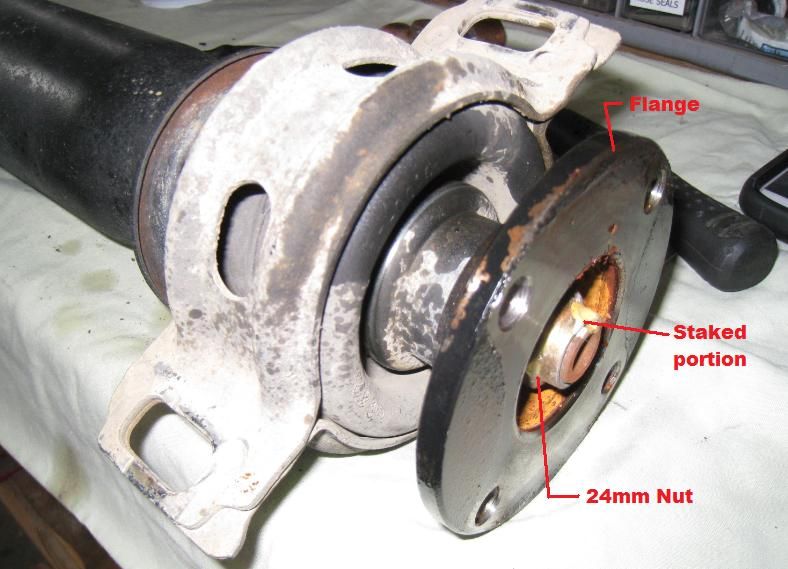 Step 10
– Remove carrier bearing by using a jaw puller. I didn't have one. Neither did Advance, O'Reilly, or
AutoZone
in my town. Fortunately, one of my friends did. I removed it at his house and forgot to take my camera. However, it is quite simple. Pictured below is the type of jaw puller I used. I ended up hooking to the assembly and pulled it off. The rubber tore from the actual carrier bearing, leaving the bearing on the shaft. No worries. Use the jaw puller to hook to the bearing and pull it off too. This took about 2 minutes. Note, the jaw puller should have jaws about 6" long.
Here's a good video of a guy doing this:
http://www.youtube.com/watch?v=96Tx-vklCYw
Step 11
– Now that the old carrier bearing has been removed, slide new one on. Be sure to put it on in the correct orientation. The correct orientation is pictured below: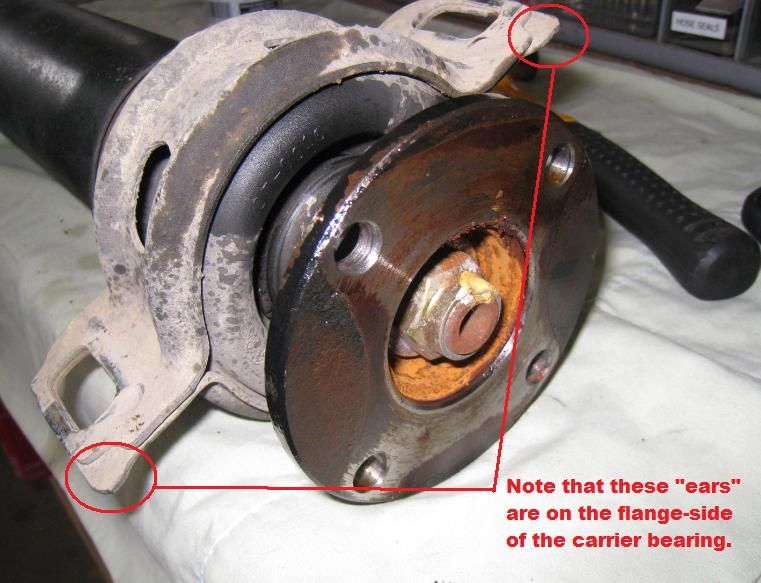 Step 12
– Be sure that you replace the washers and nut back on in the correct order of removal. Place the nut back on the shaft and tighten to 134 ft-lbs. This seats the bearing properly.
Step 13
– Loosen the nut and then re-torque to 51 ft-lbs. After it is torqued properly, stake the nut by using a screw driver and ballpeen to tap the nut back over the cut-out in the shaft.
Step 14
– Take the drive shaft assembly back under the truck and re-install in order of removal making sure to take note of all of the flange orientations and re-aligning your marks. I recommend loosely tightening everything up until all of your bolts are in. You may have to push truck forward/backward a little to get everything to line up. Torques for the 8, 14mm bolts are 54 ft-lbs.
Step 15
– You must align your carrier bearing. I did so by noting where it was before because of the dirt line. Once it is centered, tighten it up.
Step 16
– Double check every bolt to make sure it is tight.
Tags: Carrier bearing center support bearing vibe vibration shutter shake propeller shaft driveshaft drive how to howto removal remove replace replacement