Having owned a few Toyota products in the past (08' Tacoma, 00' Tundra, 94' 4Runner, and now this 96' Tacoma) I was very shocked to find a 96' Ext. Cab / 4WD with a clean title for $3000 on CL!
It was for sale by a company named "ICF", who does surveying for the oil field... so I knew the truck was rode hard and put away wet!
I wasn't looking for a daily by any means, so I was not scared.
Talked to the company and found out it was a base LX, with the 2.7/5-speed and had a couple things wrong with it. Don't know if I should have been shocked to find out the OEM 2.7 had 245K miles, many of which were spent off road.
Went to their office with $2500 in hand, they accepted and I drove it home.
Short of an exhaust gasket leak at the manifold flange, A/C not working, and some slicks they call "tires", it really didn't need much maintenance short of a door adjustment.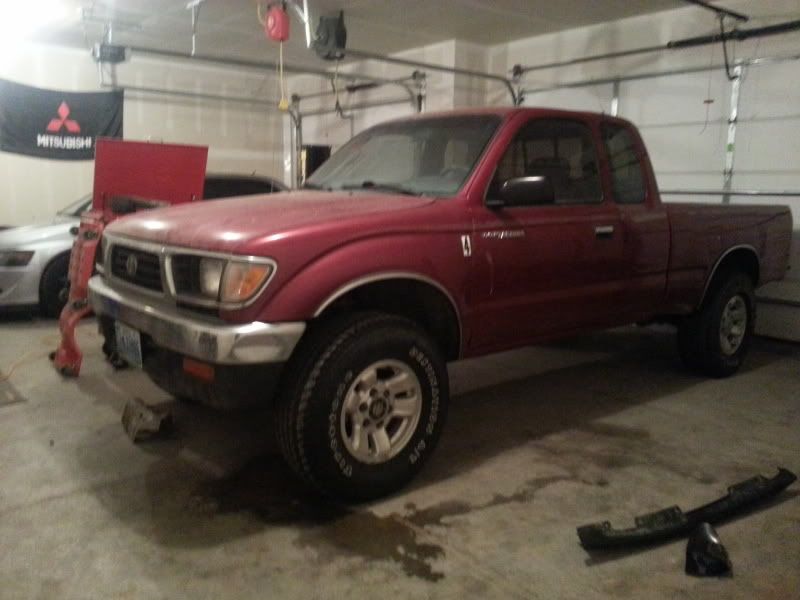 There it is, just pulled off the 5" "
bug guard
", and it was ready for some TLC.
All oils changed, VC gasket, front T-case output seal, park plugs, Fuel filter, new belts, steering rack boot, front brakes, flushed brake fluid, pulled master cylinder out and greased contacts, pulled driveshaft to repair zerks that had been sheared off, erased OEM body decals, and took misc. wiring out from all the equipment the PO had in it.
I noticed the leaf springs were a little past worn out. Well, the worst frown I have ever seen. I wish I had taken pictures.
I called up Wheelers and got the complete suspension kit with the 881's, Wheelers 5-pack, BPV relocation kit, 5mm trim packer, and original NitroChargers.
While I had everything apart I decided the front end needed a refresh, so I replaced the control arm bushings (which can be found here:
http://www.tacomaworld.com/forum/1st...-bushings.html
), steering rack bushings, MOOG LBJ's, UBJ's, and shackle bushings.
The R/L specific leaf packs combined with the 5mm trim packer do a very good job of leveling the truck side to side.
Even after some settling, the driver side actually sits slightly higher than the passenger, but sits perfectly level with me in it (185lbs)
Front torn apart:
Made an "intake"
with a spare piece of exhaust piping and a plug I had:
Camping in the big horns: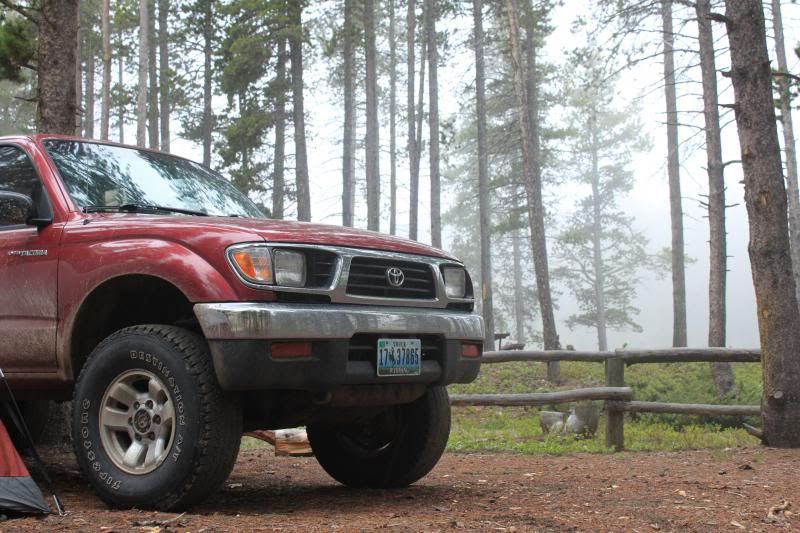 Thanks for looking!