Well this is sort of a long story-ish... that starts with the steering rack replacement to a bent inner tie rod to a new steering rack clamp.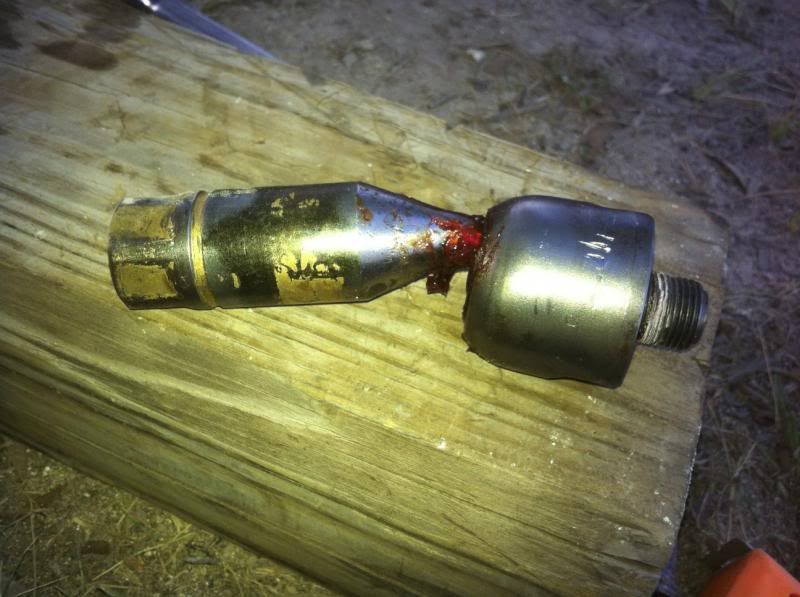 Back this past April 2013, I wanted to replace my original stock steering rack on the Tacoma.
Why, well after 150,000 miles that included wheeling, mud, snow and daily driving, the seals decided to puke. :xbarf:
I was working to replace my inner tie rods and when I removed the boots, dark brown and black fluid puked out.
I immediately closed them and said CRAP!
The seals were gone...so I had two options.
Replace the steering rack or replace the seals and the inner tie rods.
I opted to replace the steering rack.
I looked on-line and received quotes all were in the $400 and up range (including the core deposit).
I chose to use Rack Doctor, I have heard of them from my BMW crew and other wheeling guys have had great service and refurbished parts from them.
And they were the only one that had a lifetime warranty!
So Paypal sent them $367.45
Which included the following
Toyota Tacoma 4WD steering Rack (PN 549 @ $220)
Core charge ($95)
Urethane bushings ($34.50)
Return shipment tag ($18)
All items arrived safe and sound.. and they looked great.
I went to my friend's home to get it installed.
I will not bother you with photos... there are great photos of installs already.
See below:
TTORA - Steering Rack install
This is for the steering rack bushings
Parks Offroad - steering rack bushings
All was very straight forward and install was easy... so off to go wheeling at Hidden Falls Adventure Park during the July 19th weekend.
So what happens when you try to wheel with the big boys at Hidden Falls Adv Park?
and this...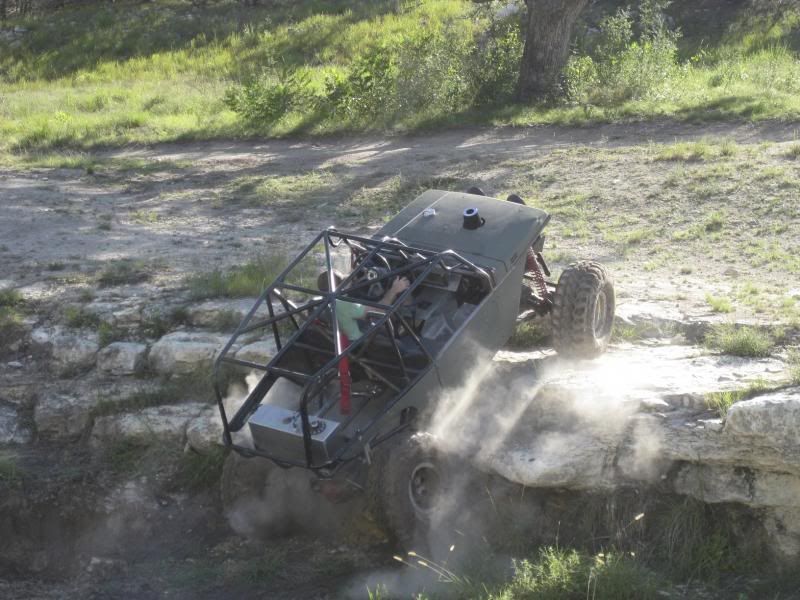 You are bound now or later to have this happen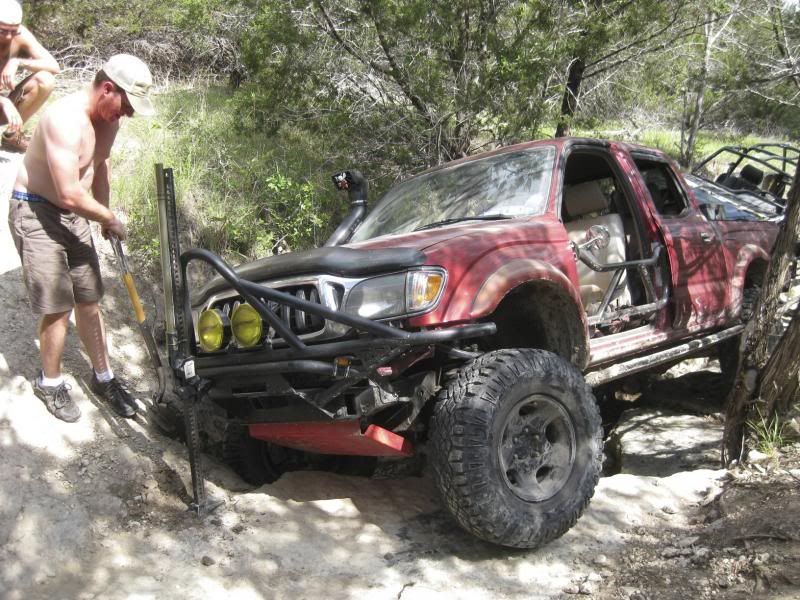 Having major help from Jason, Kevin, Chad & Shiner on recovering me.
Well what we found was that the Inner Tie Rod had bent and same as the steering rack bracket.
The shaft to the left should be centered to the ball joint housing on the right.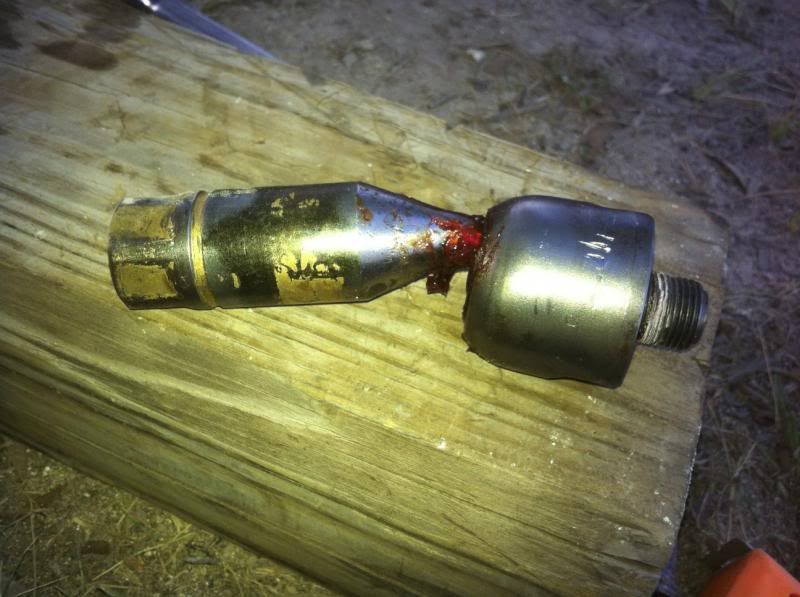 The upper mounting bolt should be horizontal.
Busted bushing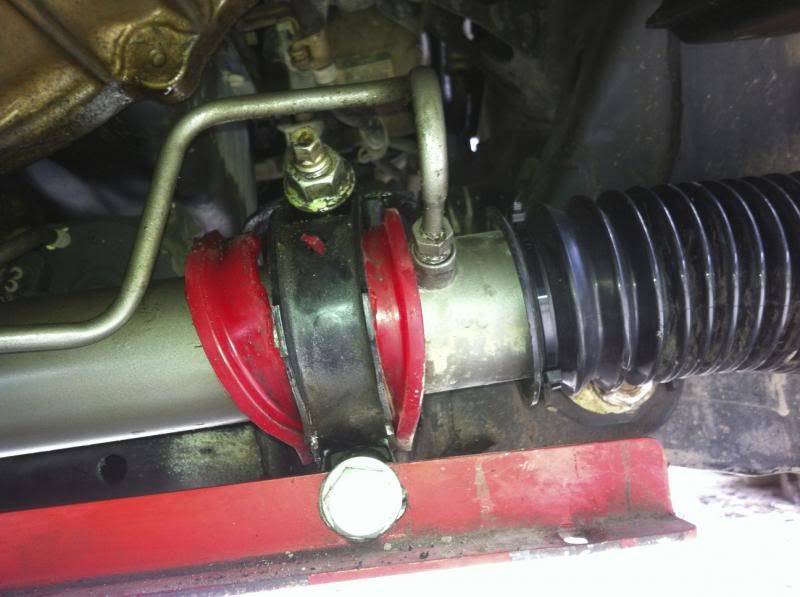 So the day after, I took the skid plate off and everything else looks okay... no kinked hydraulic lines (good).
So far I looks like I will need a need a new mounting clamp and urethane bushings. Then figure out how to straighten out that bolt.
I had Jaybird get me all the Toyota replacement parts I needed (other than the urethane bushings... bought those from
4WheelParts
@ $25 - yep cheaper than Rack Doctor.. ugh).
Fast forward from July 22 to August 3, at 7am... I started working on the steering rack - - again.
I was back at my friend's home and we pulled the outer tie rods from the hub assy, loosened the rack, pulled the bracket off and saw that the upper stud was NOT bent (sort of good), but the cross-member that it is threaded into the weld nut, was out of sorts.
The steering rack bracket
It should be in a shape of the letter "C"... it looked like it was italicized.
The cross member - note that the metal on the frame has bent, but not the bolt, as shown in the photo.
But there was something else that I saw that was NOT on the refurbished steering rack when I installed it.
Can you tell....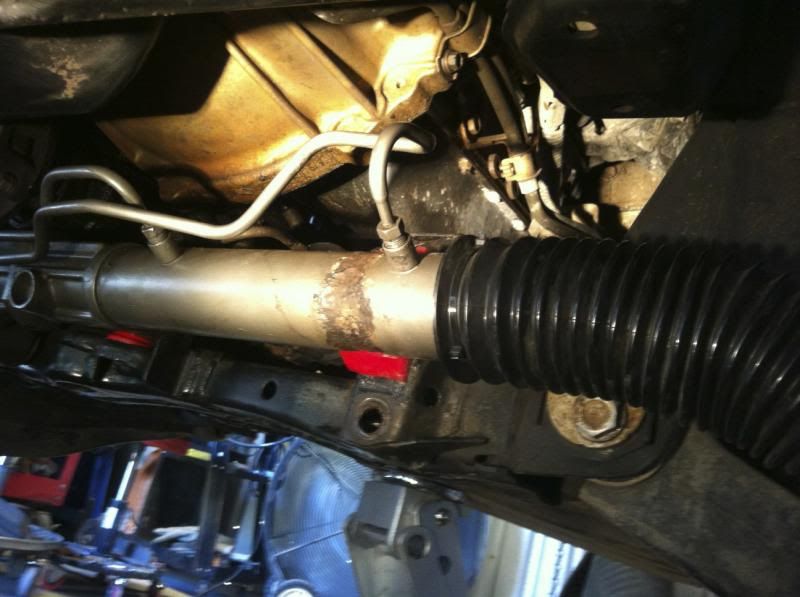 There is heavy corrosion that was hidden by bondo and paint at the same location as the Steering Rack's clamping area.
I know that it was NOT caused by me and looking at the rack closer, it was there before I had installed it back in April.
Guess I will be contacting the
RACK DOCTOR.com
about this.
I will not go off-roading with something was fixed to look good outside, but looking like that on the underside.
It would be a matter of time for it to have a catastrophic failure.
Anyways, I have to get my truck rolling... so we broke off the weld nut, and plan to use a new Grade-10.9 M14-1.5 nut and bolt.
If you are interested on what 10.9 metric grade signifies...check the following site from Bolt Depot
http://www.boltdepot.com/fastener-in...ade-Chart.aspx
We used a BFH and a body hammer to flatten the metal.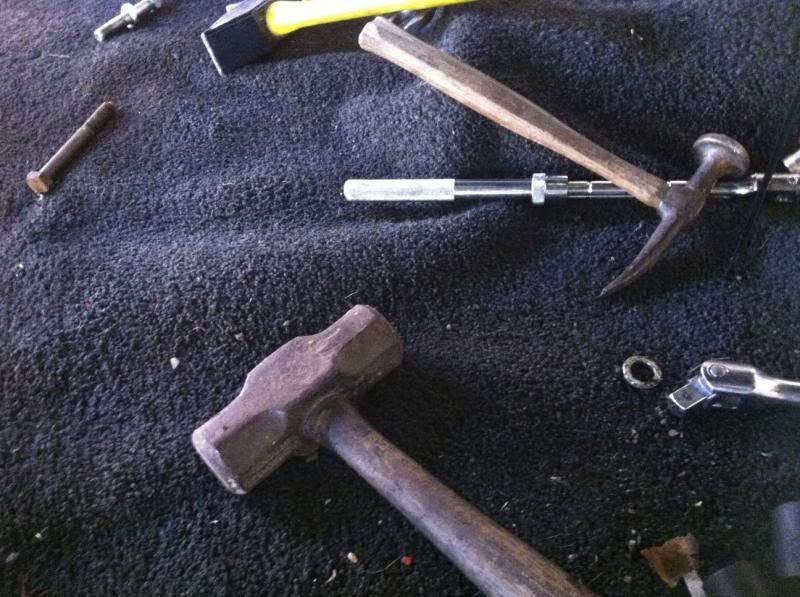 After hammering.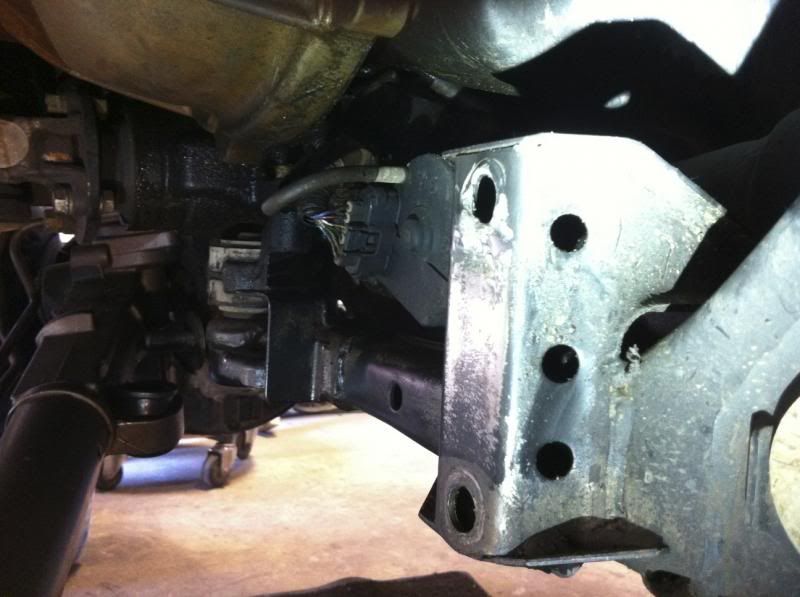 No we did not grind anything or apply any heat.
We did discuss those options and decided not to do it.
I then asked my friend to see if he had any rubber strip to use to fill in that corroded area.
If i only used the new bushing, there would be a gap between it and the steering rack - ie it would allow the rack to move, there was not enough surface area for it to grab it.
We did not want to use any metal shims, because it would be metal to metal contact and cause it to fail sooner (ie like a file removing metal).
We found an old rubber radiator hose and trimmed it to length and it did the job perfectly.
Sorry no pics of that.
Anyways, we bolted and torqued everything back down, tape measured - string measured the alignment and all was done for today.
I will schedule for an appointment to get the truck aligned again.
Other than the corrosion, everything worked great.