I found an old picture of my truck the other day and realized how much it has changed in the year that I've owned it. I totaled my G35 coupe and figured I wanted to be in something big instead of a little coupe. I was a little weary about buying it because it looked pretty bad stock
.
Specs:

Truck
08 Base Double Cab
4x4
Front Suspension
Icon Vehicle Dynamics
Extended Travel Coilovers
Total Chaos UCA's
Cab Mount Chop (Still need to do a little more chopping)
Toytec
Diff Drop
Rear Suspension
Toytec TSB AAL
Bilstein 5100's
Preformance and Drivetrain
Exhaust dumped over the axel
Scangauge 2
Diff Breather Mod
Wheels and Tires
KMC XD Revolvers 17"
285/70/17 Hankook Dyna Pro MT's
Armor
All Pro
Plate Style Front Bumper With Light Hoop
All Pro IFS Skid
All Pro Transmission Skid
Avid Off Road
Sliders
Interior : Audio and Communications
WeatherTech
Floor Liners
JVC Head Unit
Midland 1001Z 2-Way CB Radio
Lighting
Light Force Blitz 240s Clear and Yellow Filters
BHLM
Tinted rear and 3rd brake light.
Extras
Grillcraft MX
Debadged
Color Matched Base Grill
Full Size Spare
Upcoming Plans
Redo Rear Suspension (New Shocks and Leafs)
ARB Locker and Compressor
Winch
Rear Bumper
Transfer Case Skid
**Majority of the pics are from my cell phone because I'm too lazy to carry a digital camera around with me. I'm planning on updating the pictures when I get some better ones**
May 2009: The day I took it for a test drive.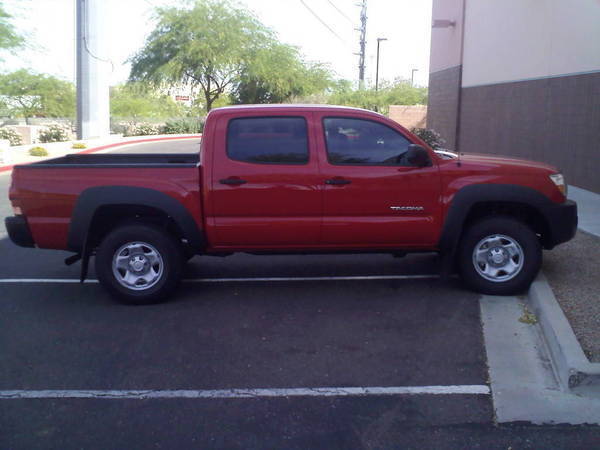 A week or two after I got it. I had it tinted and tackled the BHLM. It took me 2 times to get it right. (1st time I rushed it and the paint was chipping off the plastic, 2nd time I had a palm print on the lens
)
It took me about 4 months to finally decide on a wheel/tire combo. I was trying to do this as cheap as possible. I picked up a pair of Icon Extended Travel Coilovers, rear 5100's and some Total Chaos UCA's from Wheeler's Off Road. I also picked a set of Hankook Dyna Pro MT's and 17" XD Revolvers.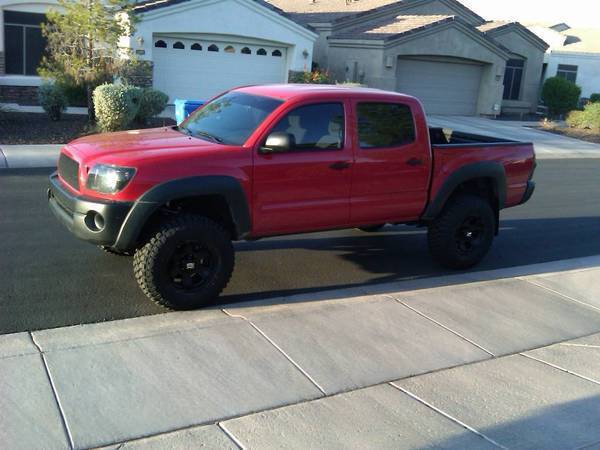 October 2009: I picked up a Grill Craft Mesh Grill and had my base grill painted to match the rest of the truck.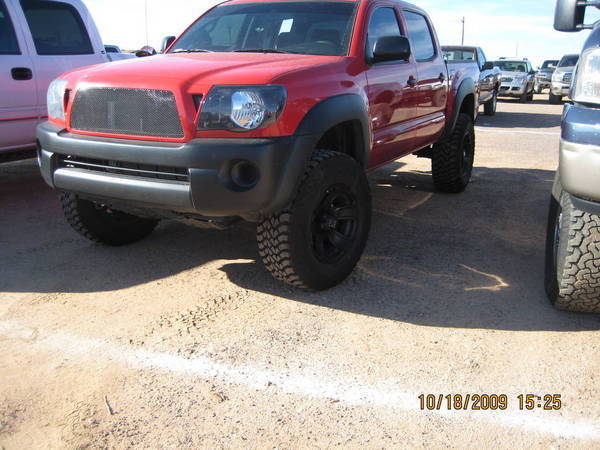 I took a trip up to Sedona and hit up the Greasy Spoon Trail with my bro. As soon as we hit the trail it started pouring rain, the whole this was pretty slick but didn't give us too much trouble (Although my bro almost slide into a 4ft wide boulder)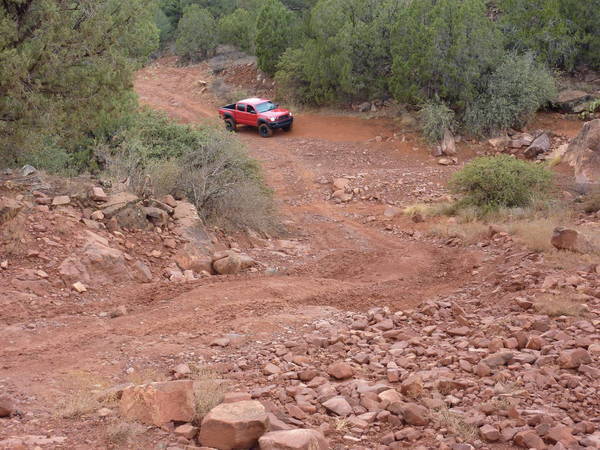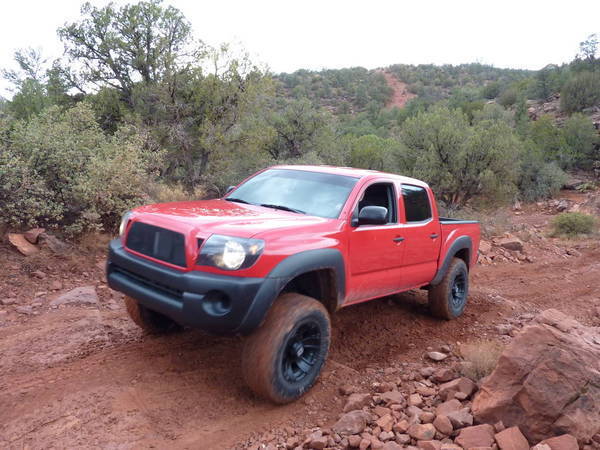 Posing with my bro's X-terra. He picked it up only a couple days before we went out (still had temp tags on it).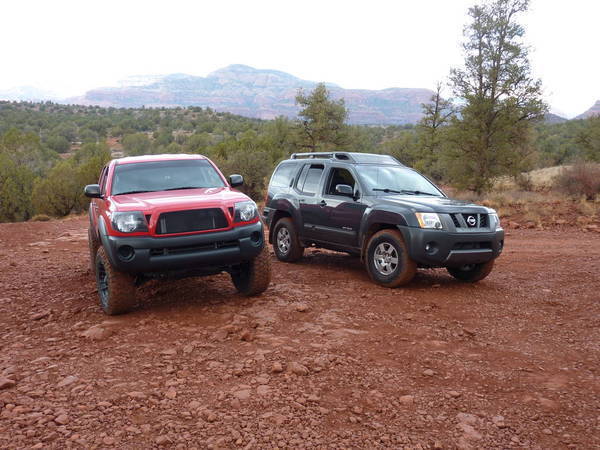 Went back up to Sedona a week or two after the first trip and hit up a couple more trails. This time there was a ton of snow in the morning which melted pretty damn quick.
A couple minutes while after we started Broken Arrow it started to snow like crazy. We didn't take too many pics because we were too busy trying to figure out where the trail went. The snow started to stick to the red rocks and we had a little bit of trouble figuring out which way to go
.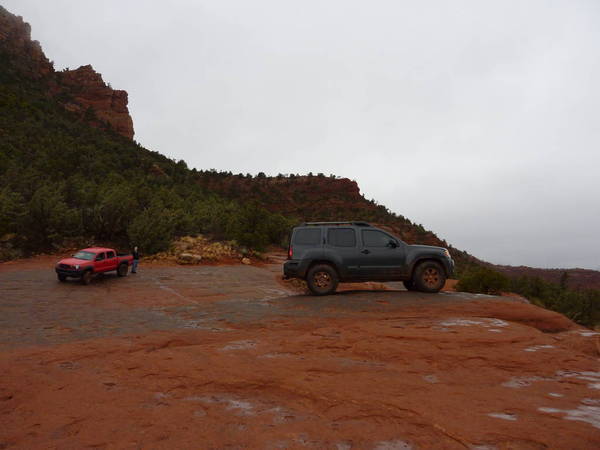 I was banking my money patiently waiting for an All Pro Front Bumper group buy to come up. It finally did in March 2010. I decided to jump in wallet first and picked up a front bumper and a full set of skids minus the transfer case because it was back ordered for a couple of months.
The AZ crew helped me put it on at one of the Mod Days.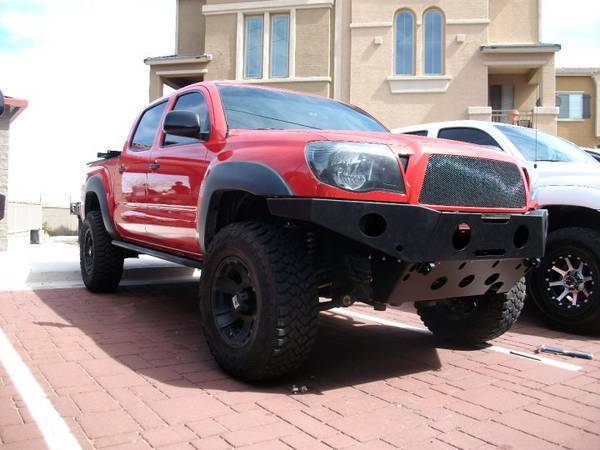 July 2010: Finally picked up some lights for my truck. I decided to go big and picked up a pair of Lightforce 240 blitz's. These lights are just plain AWESOME!