Specs:

2006 Toyota Tacoma Prerunner
4.0 V6
Engine:

K&N CAI
WickedFlow Muffler
Suspension:

-
Front:
Bilstein 5100's on stock coils at 0"
Camburg 4" lift Spindles
Light Racing Upper Control Arms
Camburg Extended Brake Lines
-
Rear:
Interior Mods:

iPod hookup to stock stereo
Broken Center Console
Exterior Mods:

Black Headlight Mod
Satoshi on black grille
Painted behind the grille
Bedliner on rear bumper
'09 tail lights
Baja Bumper with 2 KC lights.
Wheels/Tires:

285/70/17 BFG AT's
17" LiquidMetal Gatlin Wheels
Stock:

This is the closest thing I have to a stock picture.
Front Lift:
I then put in my bilstein 5100's at 2.5" and ran the rear stock. I had that going for a while. I can't seem to find any pictures however.
I ran that for a few months then I scored the Camburg Spindles from the b/s/t here, and got those installed. I had money to do the rear suspension at the same time but then I ran into problems installing the spindles so the money was gone. So to keep you updated I had the 5100's at 2.5" + Spindles for 4" = to a total of 6.5" of lift up front.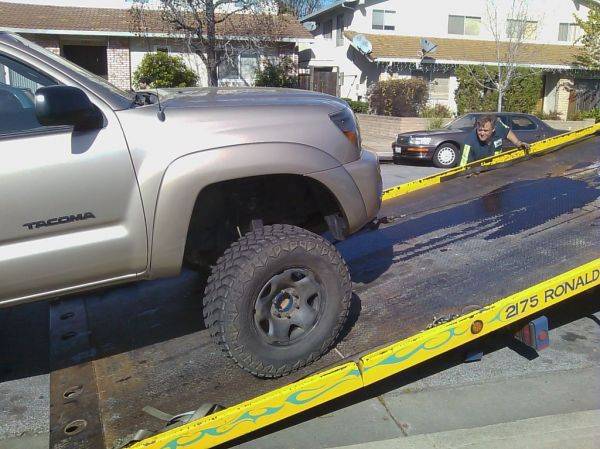 Here you can see my tire just doesn't look right.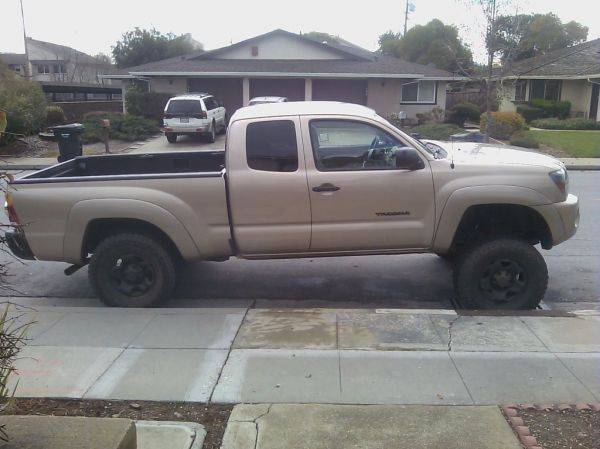 Here is the truck with the lean
.
Baja Bumper:
Then at the last mod day PreRunnerSeth threw in Roseville I picked up my Gatlin wheels from a member here, and purchased Kevin (1337taco's) baja bumper and got it installed. I also picked up my Light Racing UCA's from JD (Stillyfly) when he got his FJ, and installed those too. I also lowered my bilstein 5100's from 2.5" to 0" so now I only had the 4" of lift up front.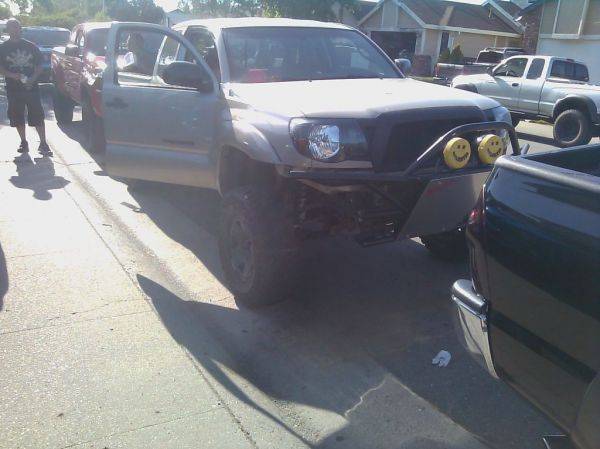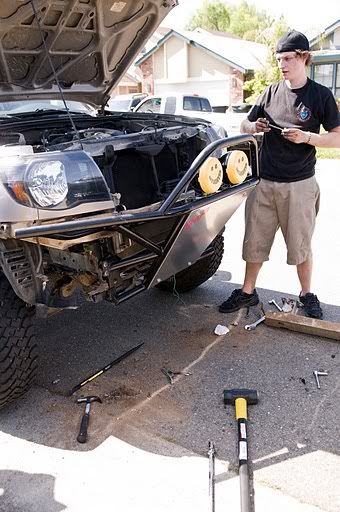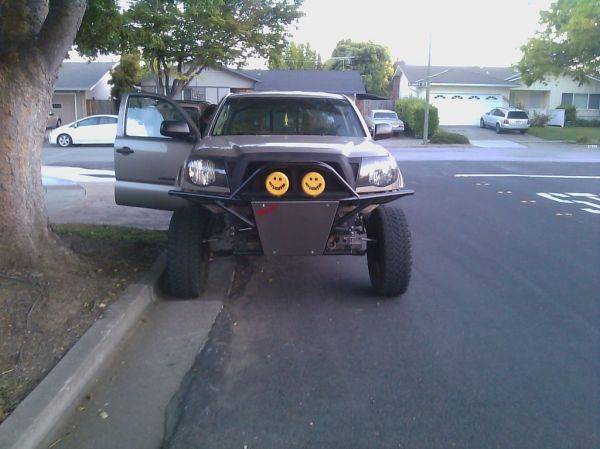 Rear Lift:
After that I started a new job and was able to start bringing in the money. I bought AP's 3" rear leaf pack, U Bolt Flip Kit, and Stainless Steel brake lines. I also scored a pair of Icon Remote Resi shocks for the rear to go with the new leaf pack. I installed them at Kevin's (1337taco) house with the help of him, Jason (strom), and Kevin's dad. As we were putting things back together we realized I didn't have the top plates for the U-Bolts so we stretched the U-Bolts out to fit into the stock plate and bolted/torqued them down. We managed to get them on and I now have the entire Flip kit on safely.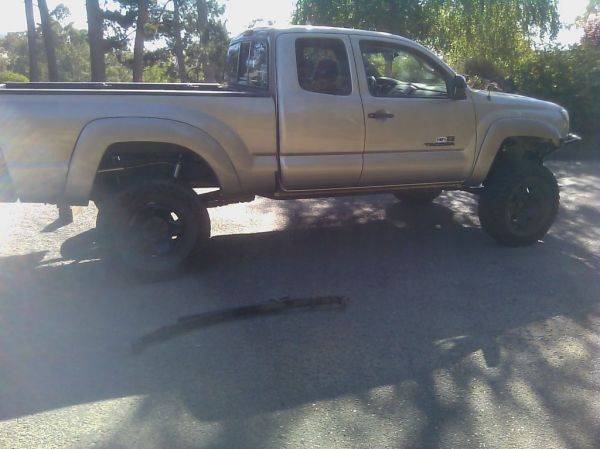 This is the only pic I have of it now. I will get more once the new wheels/tires are on.
Random Pictures:
Before I installed the leaf pack I met up with Mark (solus694), and Steve (senor_taco) for the Central Coast photo shoot. I also picked up my tires from Mark.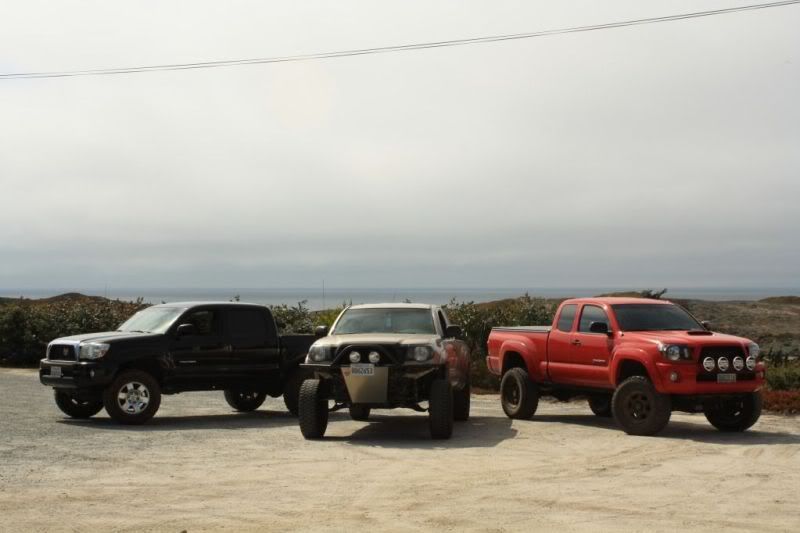 From left to right: Steve (senor_taco), Me, Mark (solus694)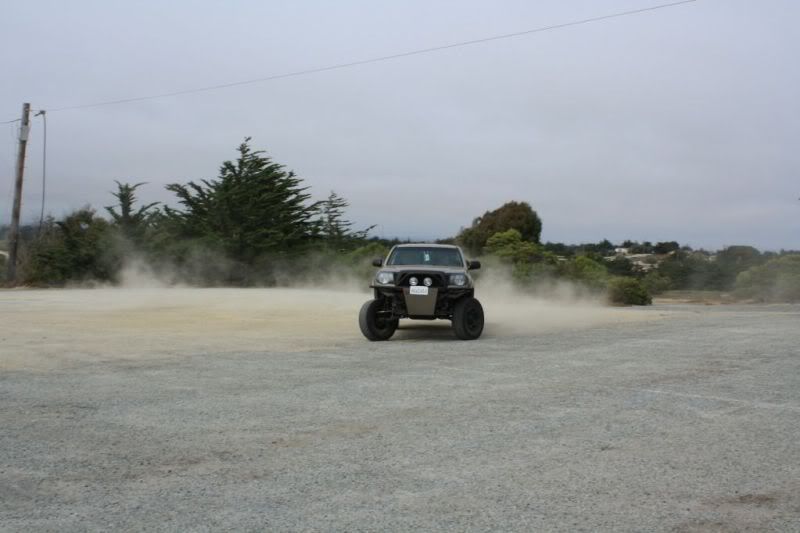 Wheeling Picutres: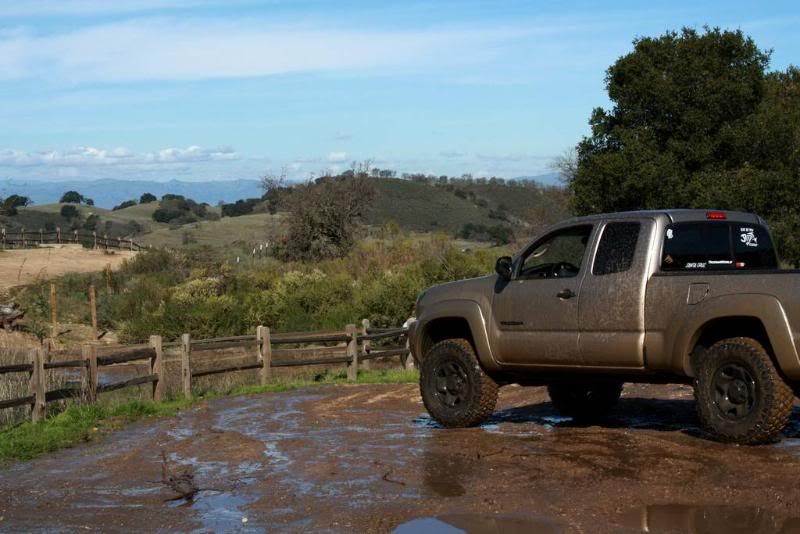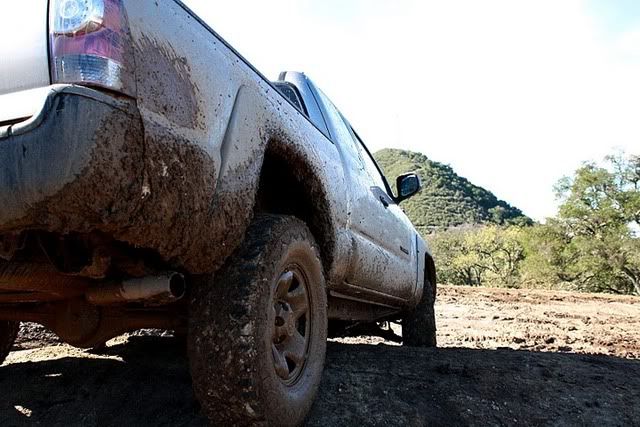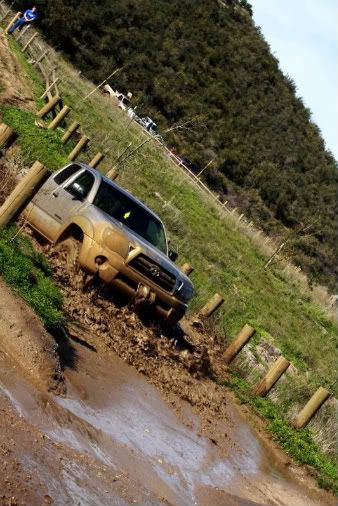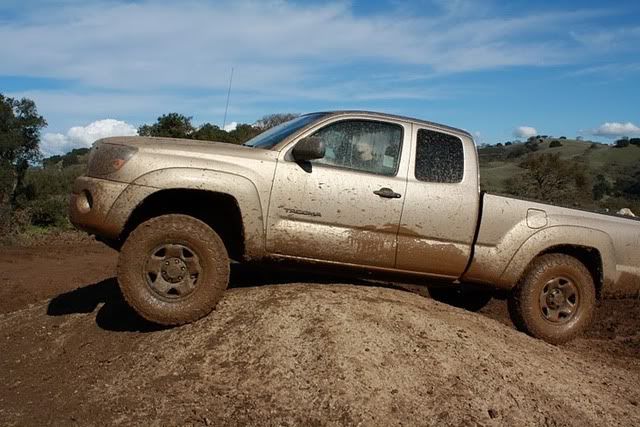 Thanks for spending the time to read over my build, and I hope you enjoyed it. Any rep will be returned, and any information, questions, comments, concerns, etc will be read over and taken in.