Well I figured it was about that time, I finally feel I have done enough modifications to my truck to warrant it's own build thread.
I have also received way to many wheel questions, so I figured it would just be easier to point people here than answer questions every time.
I still have to gather up the various photos from all the mods and different states, but this should be a good start.
BASE
2009 TRD Off Road 4x4
Magnetic Grey Metallic
Access Cab
4.0L V6
6 speed Manual
Tow Package
INTERIOR
Custom Two Tone Seat Covers
Alpine X-100 iPod Headunit
JL 10W3
Alpine MRV-T420 Amp
Black Weathertech Floormats
Matte Black Vinyl Wrapped Cup Holder
Rear Seat Headrests Removed
Gloss Black Painted Factory Subwoofer Cover
TRD Shift Knob (locktited instead of that stupid nut they give you)
EXTERIOR
Colour Matched Grill
Matte Black Vinyl Wrapped Lower Valence
Matte Black Vinyl Wrapped Rear Bumper (No More Chrome!)
Lamin-x Yellow Foglight Film
Front Matte Black Toyota Logo
Debadged
Tacoma Bedmat
8 Inch Antenna
Black Chrome TRD Badge on Tailgate
SUSPENSION
Bilstein 5100s set at 2.5 inches
Toytec AAL (for TSB/Canadian springs)
WHEELS & TIRES
American Eagle Alloy 187 Wheels in 16x8
265/75/R16 Goodyear Wrangler Duratrac (Load Range C)
MISC
Fisheye Blindspot Mirrors
AVS Vent Visors
Water Sealed & Locking Bed Compartments
NEXT/WORKING ON
Downward facing custom built sub box to replace rear centre console
Aftermarket front and rear bumpers
Lightbar & lights
Short shift kit
Relentless Fabrication Sliders (Have, just need to install)
PICTURES
May 2009
Just after I picked up the truck.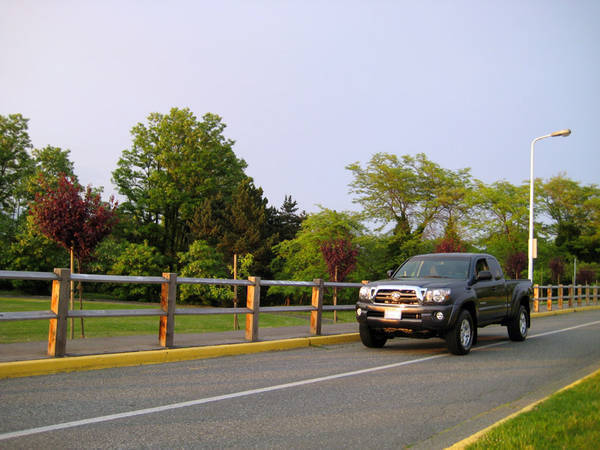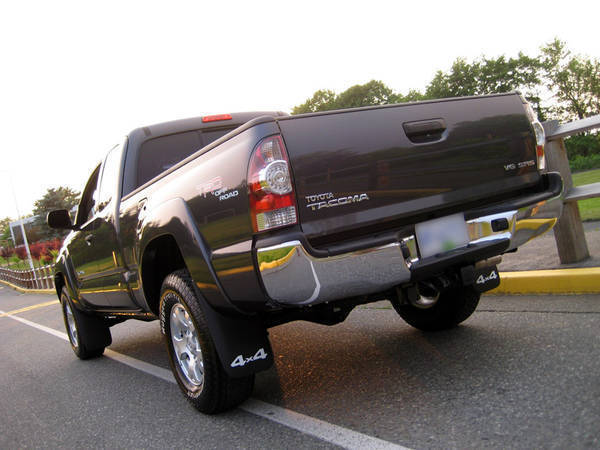 Summer 2010
Wheels and Tires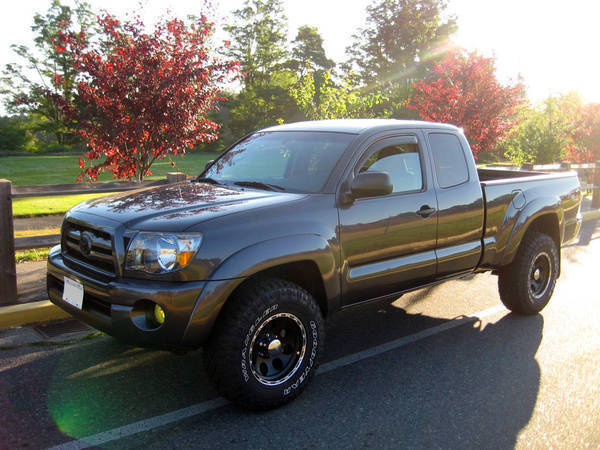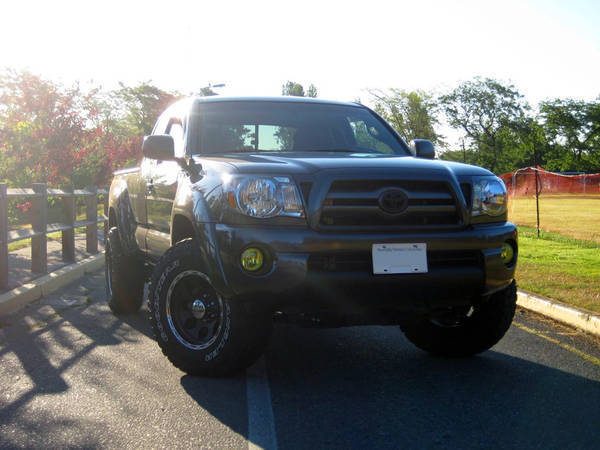 Fall 2010

Installed 5100s at 2.5 inches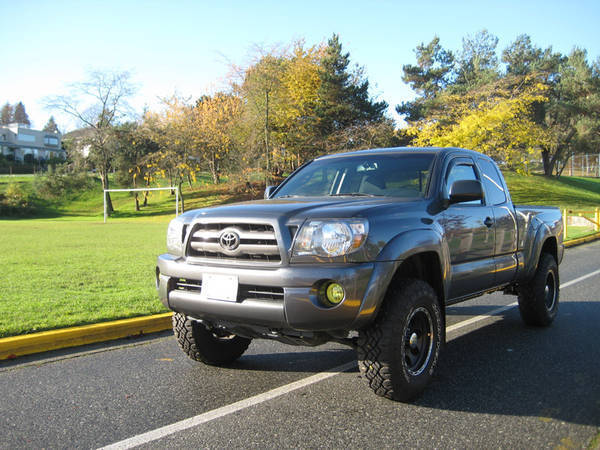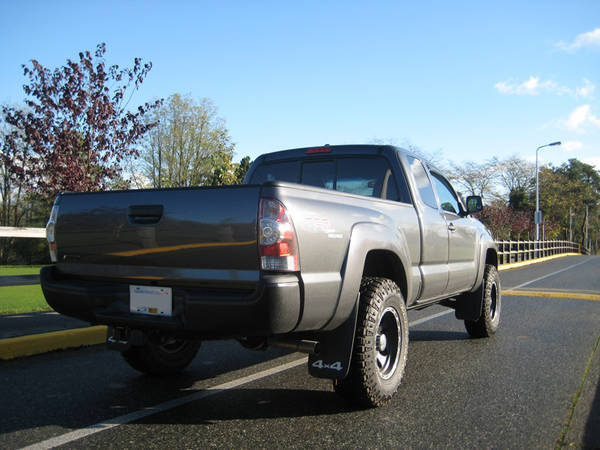 Summer 2011
Long after AAL install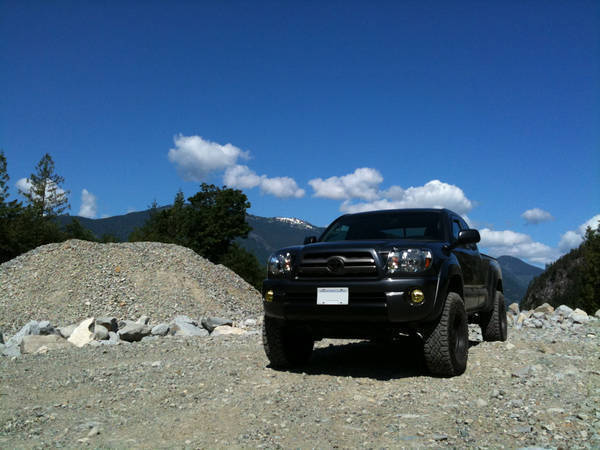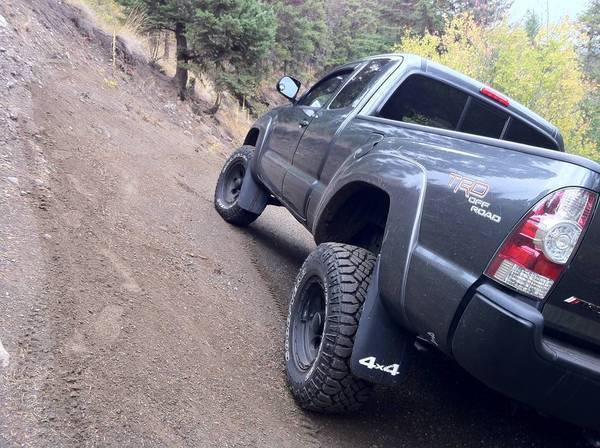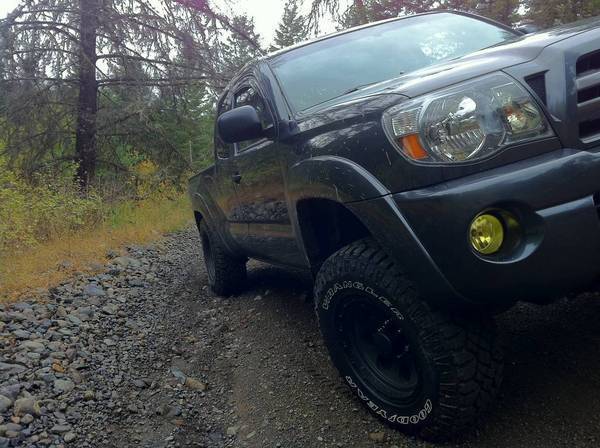 Summer 2012