UPDATE UPDATE UPDATE
So how is here my truck sits today!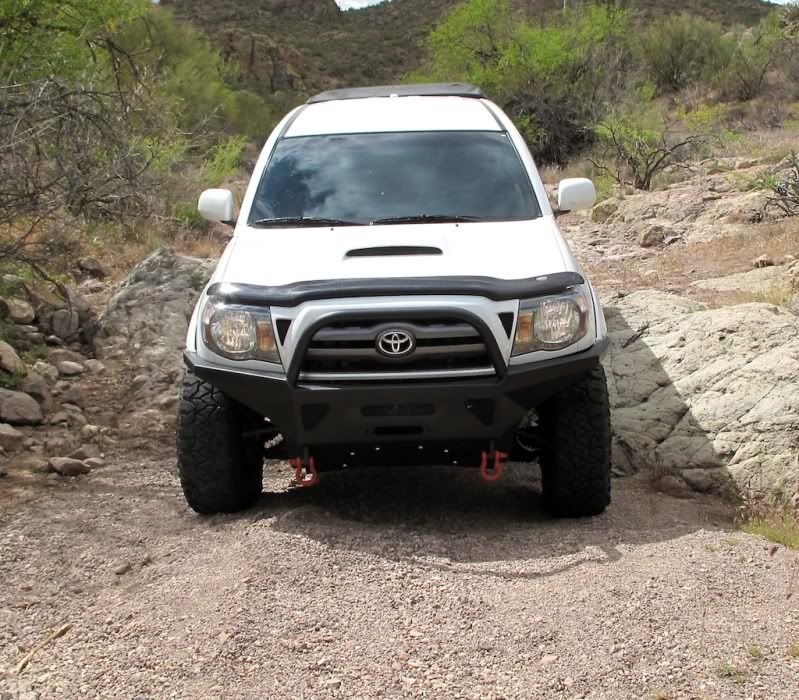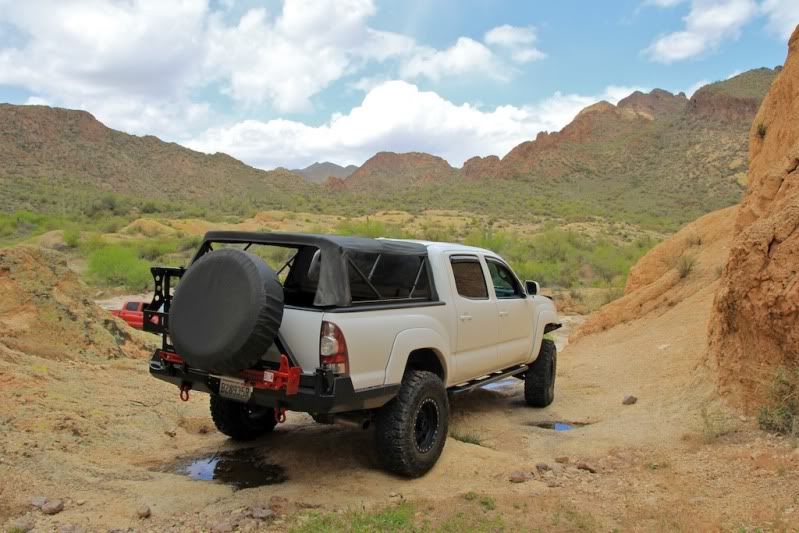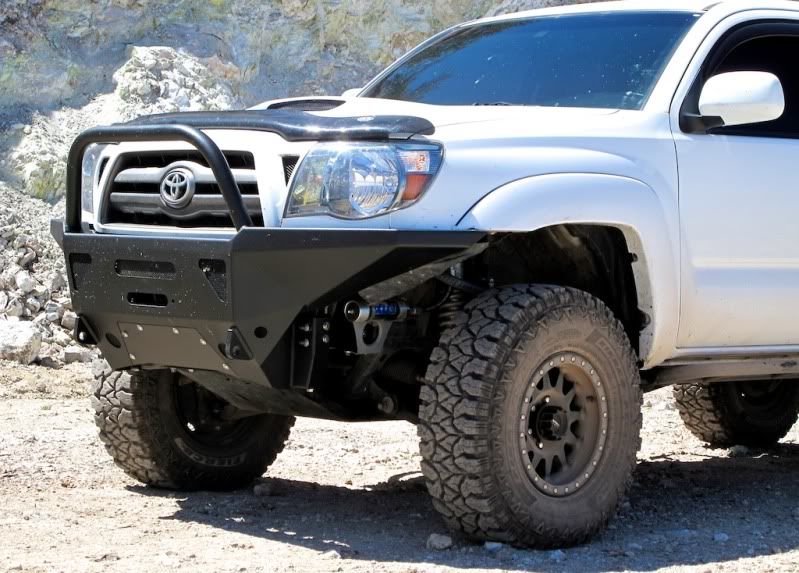 MOD LIST DONE:
PERFORMANCE
TRD Supercharger
AFE CAI
Magnaflow
cat back exhaust
URD
2.85" S/C under drive pulley
SUSPENSION
Fox Racing 2.5 Rem Res Coil overs
Front Timbren bump stop
Total Chaos upper control arms
Extended brake lines F/R
Allpro
Expo leaf pack
Fox Racing 2.0 extended Rem Res shocks
Allpro u-bolt flip kit
Rear Timbren bump stop
WHEELS/TIRES
Method Race Wheel Double Standard 16x8
Fierce Attitude 285/75-R16 M/T
INTERIOR
Wet Okole seat covers front and rear
Weathertech
floormats front and rear
20% tint on all side and rear window
40% tint on front window
SOUND SYSTEM
Stock
JBL
ARMOR
CBI Offroad
custom front bumper
CBI Offroad custom swing away tire carrier rear bumper
Avid Offroad
weld on sliders
Allpro IFS skid plate
Allpro transmission skid plate
Allpro transfercase skid plate
EXTERIOR
Bestop Supertop
Completely de-badged and de-stickered
LIGHTING
Stock
FUTURE MODS
TRD Short throw shifter (parts in hand)
Warn 9.5xp winch with Viking 3/8 synthetic winch line (parts in hand)
Supercharger intercooler pump relocation
Rigid 20" LED light bar
Dual battery setup
ARB Front and Rear selectable locker
ARB onboard compressor
4.11 gears front and rear
35x12.5-R16 tires
Cut and modified fender and flares to fit 35" tires
This is how my truck started, about 1 week after I bought it and the supercharger was installed!!!
Hey all, I recently traded in my access cab for a double cab sport. I got one of the last 2010 4x4 DCSB 6spd left on the west coast. Here are some pics of stuff I have done with it already as well as some parts I am getting put on this week and a list of parts that are on there way. Enjoy the pics and build.
My TRD 5 spoke offroad wheels and Cooper STT 265/70/R16. I took the mudflaps off because I hate them. I want to go with either 265/75/R16 or 285/75/R16 next.
I went with dark tint on my side & back windows and a bit of a tint on my windshield. I also went with the AVS window vents and hood shield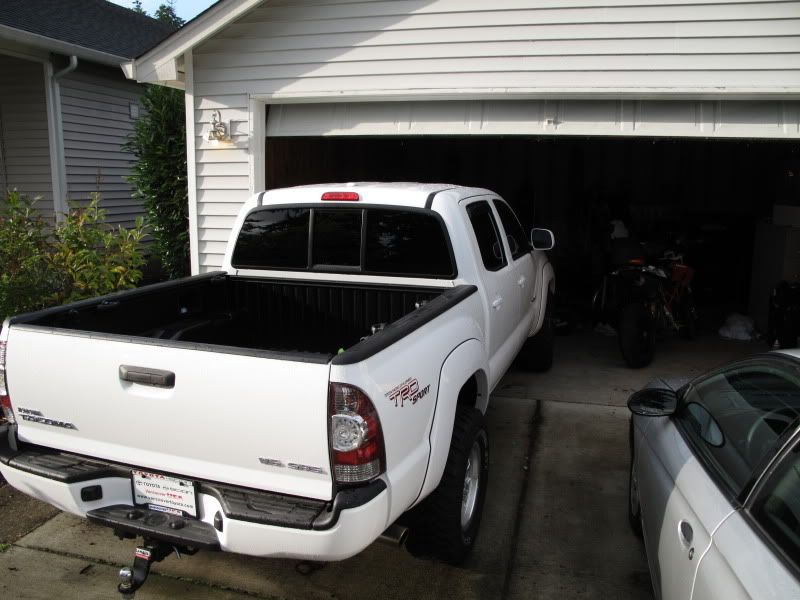 Here is my Mangnaflow cat back exhaust and rear TSB springs. I love the sound...
Here is my dog hammock for the rear seat for my dog. Awsome investment.
Here is the icing on the cake.... TRD SUPERCHARGER and CAI.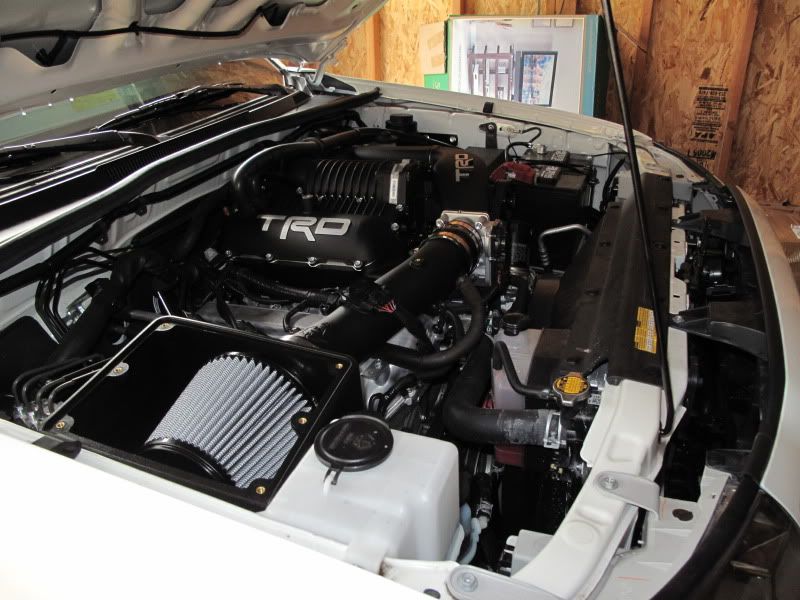 I also have a TRD short throw shifter installed, no pics of it though.
Here is a list of parts I have and a list of stuff on order that should be here in the next week:
5100's set at 2.75 and
toytec
1.5" AAL
Underdrive pulley for supercharger. It will change it from a 3" to a 2.75" for a few extra pounds of boost.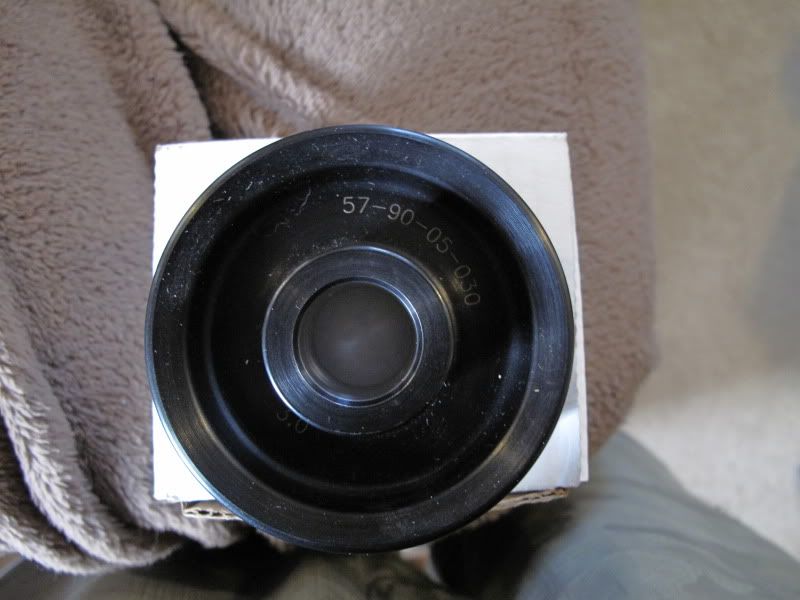 AVID front bumper (painted flat black)
AVID side steps (painted flat black)
WET OKOLE seat covers... ALL BLACK
Here is my list of future mods before the end of the year...
Gonna debadge and de-sticker the truck here soon. Not going t
o put them back on, jsut straight de-badge.
Grillcraft grill and lover grill
Paint the lower valance middle flat black.
DT headers (not long tube, to much hassle at the moment)
Bestop soft top
Blacked out head lights and tail lights
TRD skid plate
I will add more pics as I get the parts and put them on.