How it sits as of right now: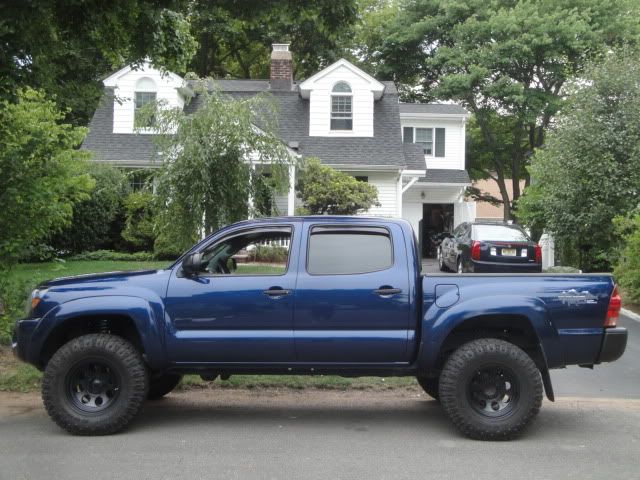 I figure I should start this now before I forget the things I've done along the way. Gonna be a slow build, but here goes.....
I purchased my truck in January 2010, used, from Camelback Toyota in Phoenix. It had 32k miles on it when I purchased it.
Truck Specs
2008 Indigo Ink Blue
Double Cab, TRD Offroad, 4x4
6 Speed Manual 4.0L V6
Front Suspension
Bilstein 5100 set to .85
Eibach/
Toytec
Coils
Downsouth
UCA's
Toytec 1/2" Spacer
Swaybar removed
Rear Suspension
Bilstein 5100
Dakar Leaf Pack
3mm Axle Shims
Driveshaft Carrier-Bearing Drop
Aesthetics:
15% Tint
Debadged
WeatherTech
Digital Fit Mats
WeatherTech In-Channel Window Vents
Grillcraft Front Grille
Rear diff Breather Relocate
Removed Front mudflaps
Plasti-Dipped Lower Front Valence
Sockmonkey Bed Decals
Army Surplus Additional D-Ring Tiedowns
Redline Hood Struts
Lighting
Morimoto HID Retro Fit w/ Philips 4300k Bulbs
Indigo Ink Matched Headlight Bezels
Fog Light Anytime Mod w/ Yellow Lenses
Oznium LED's under hood
Random LED's under rails in bed
BDF Light Bar, behind grillcraft
Rigid Industries SM-R Flush Mount Auxiliary Reverse LEDs
Wheel/Tire:
MT Classic IIs 16x8
Duratracs 285/75/16
Brakes:
Goodridge Front SS Brake Lines
Toytec Extended Rear SS Brake Lines
Exhaust/Intake
TRD Exhaust
Intake Manifold Spacer
Recovery Gear
ARB Snatch Strap ARB705US
Armor
. . . . . . .
Still to do:
. . . . . . .
Heres how it looked when I took ownership: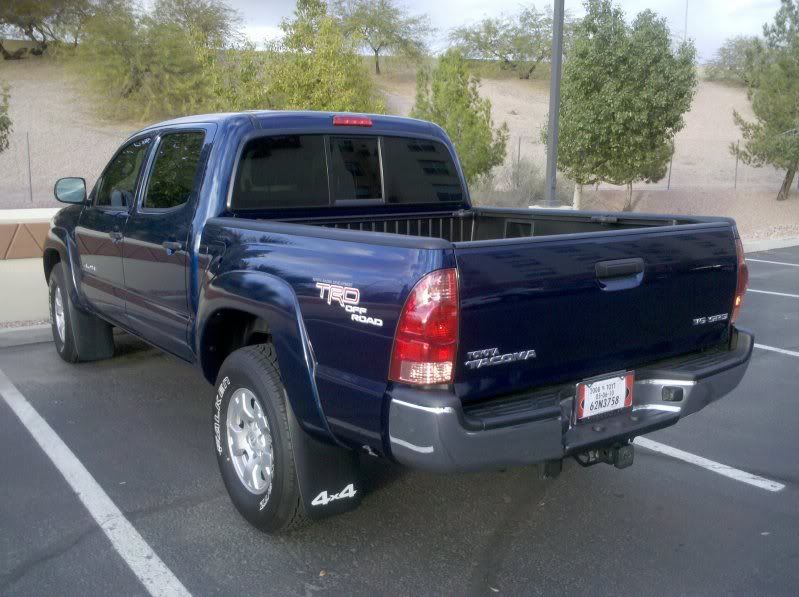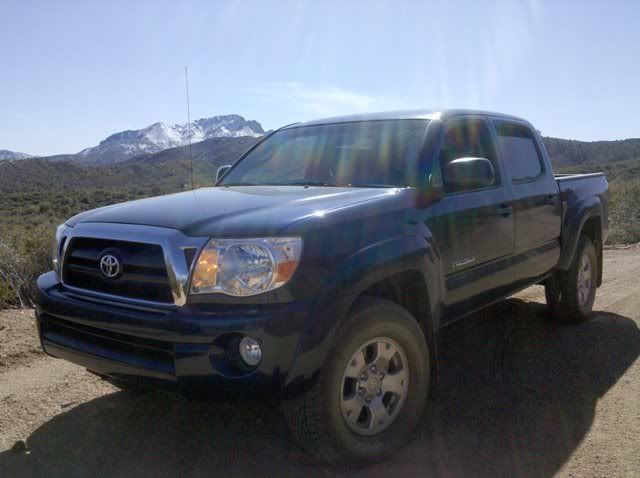 No mods were done for a few months. I drove the car back home to NJ in March.
A few things had to change. For one, the front tint wasnt even close to a match. From the dealer, it was more of a mirror tint vs charcoal. no bueno.
So, once back in NJ (04/2010), it needed a retint (15%) and a debadge.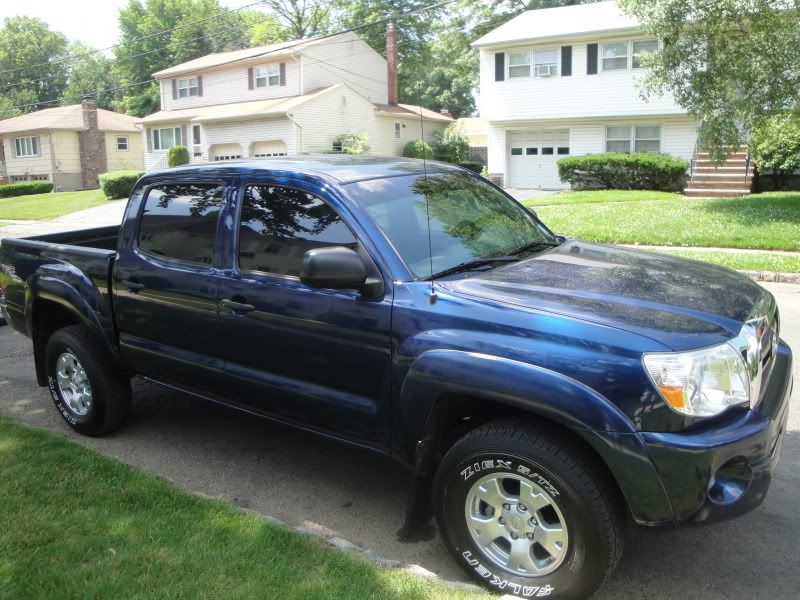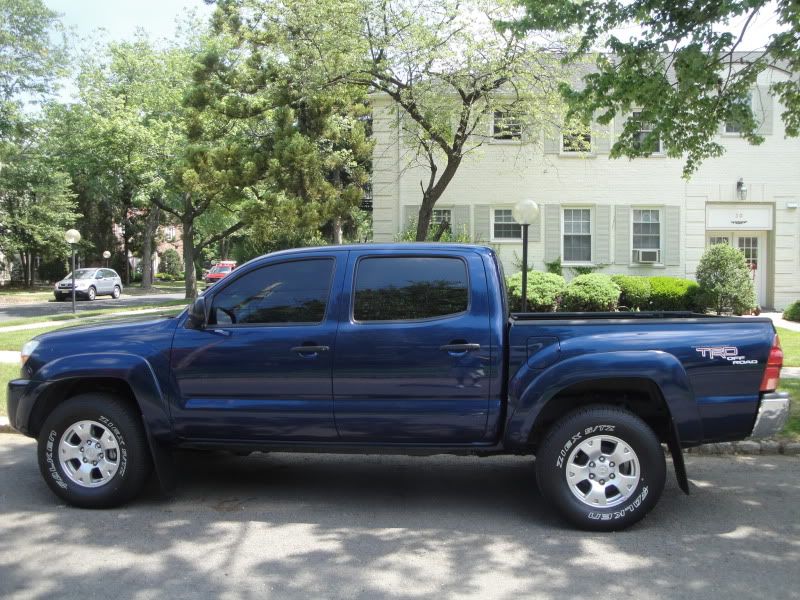 10/2010, I ordered a GC mesh grille and painted the outer portion to match. Writeup here:
http://www.tacomaworld.com/forum/2nd...html?highlight
=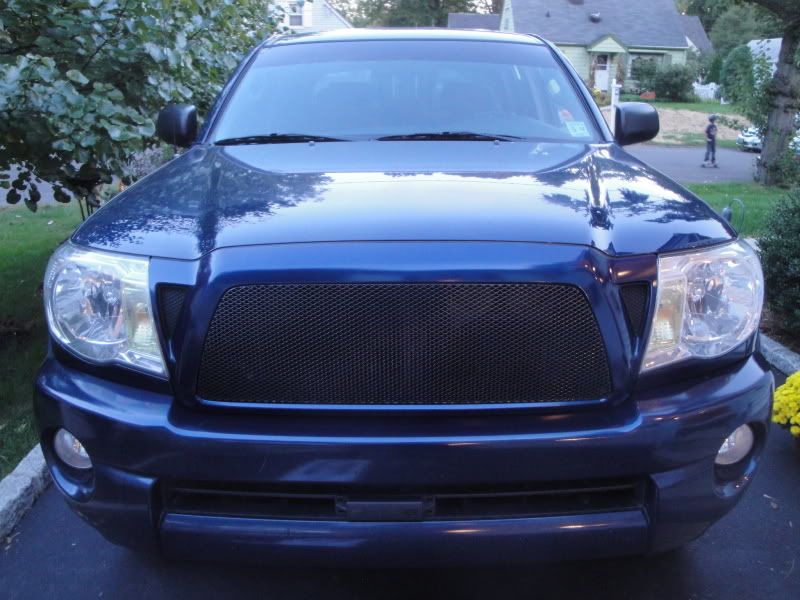 11/2010: yellow fog mod, oznium under hood lights and ditched the front mud flaps.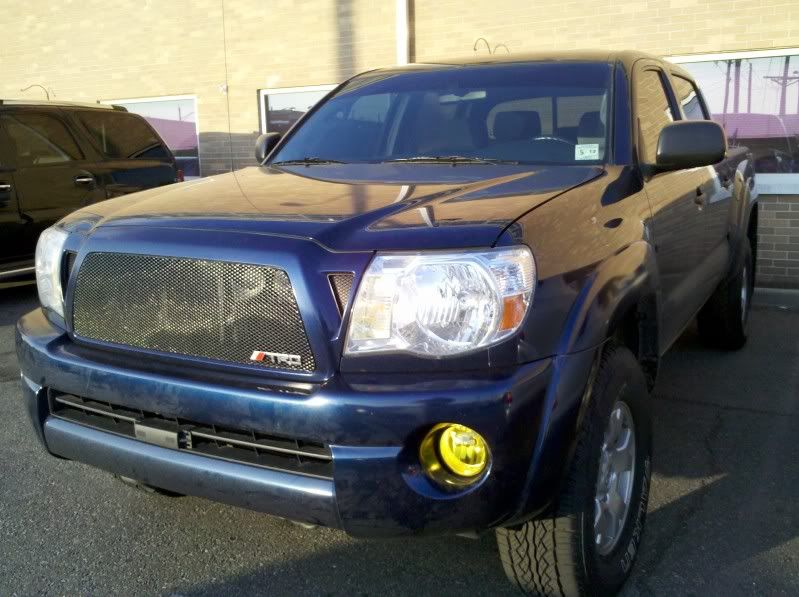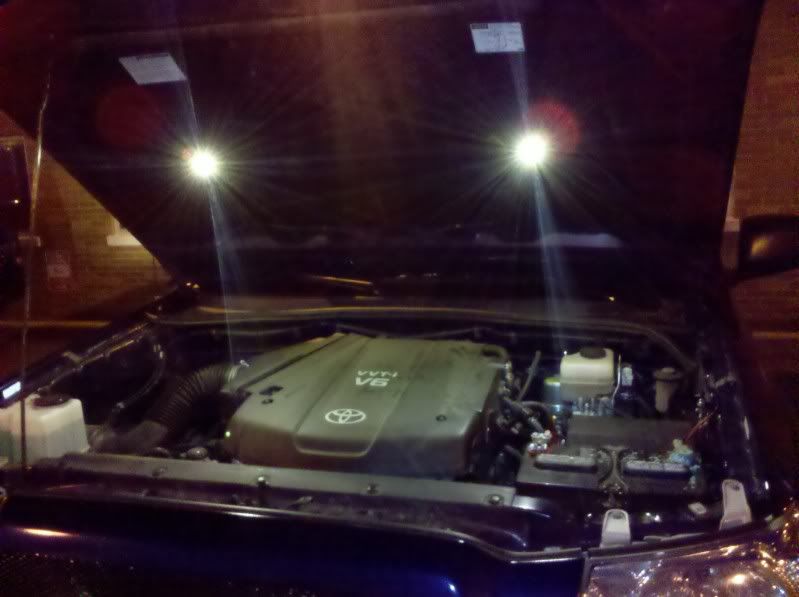 12/2010: It was time for the Color Matched Headlight Mod. Indigo Ink Headlights, here I come! (Writeup is here:
http://www.tacomaworld.com/forum/2nd...oval-pics.html
)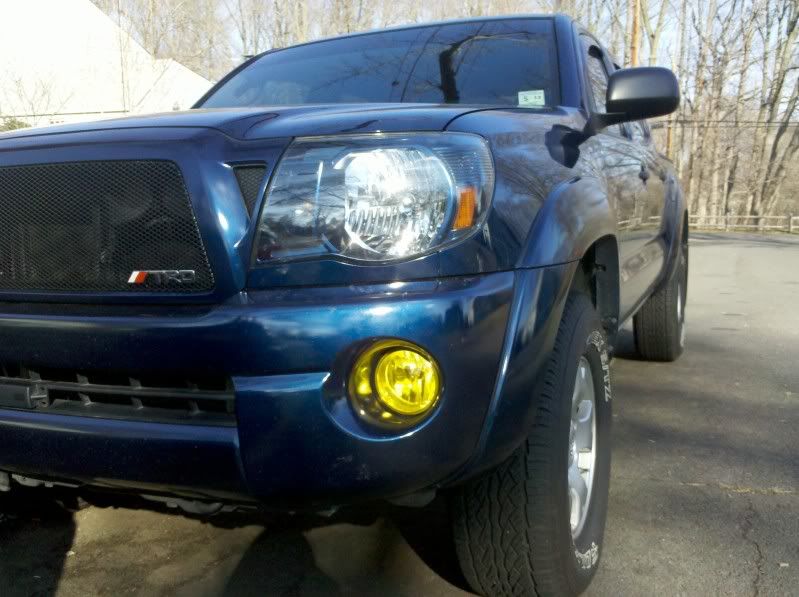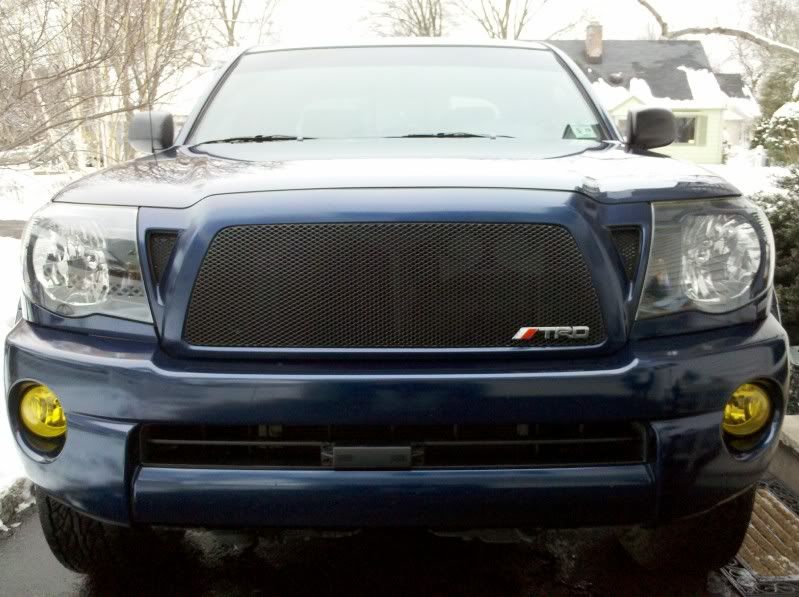 2/05/2011 - Fog Anytime Mod, New Wiper Blades, New
Air Filter
and New Cabin Filter. No pics necessary
3/9/2011 - Diff Breather Mod. Relocated the breather to the rear storage compartment.
3/14/2011: Plasti-Dip the lower valance.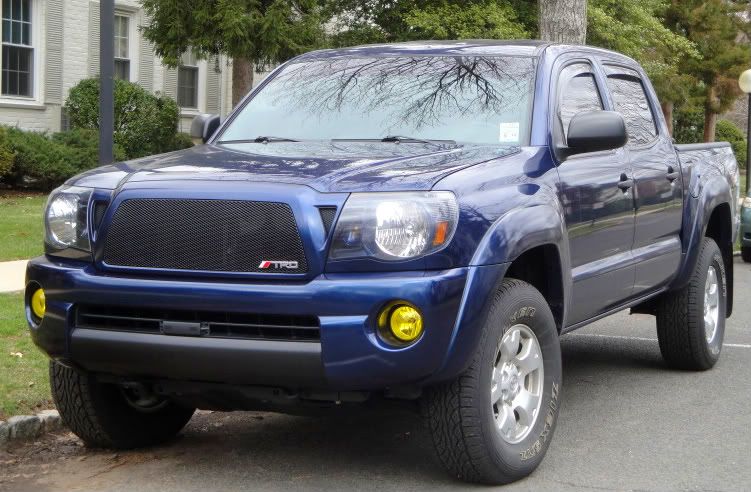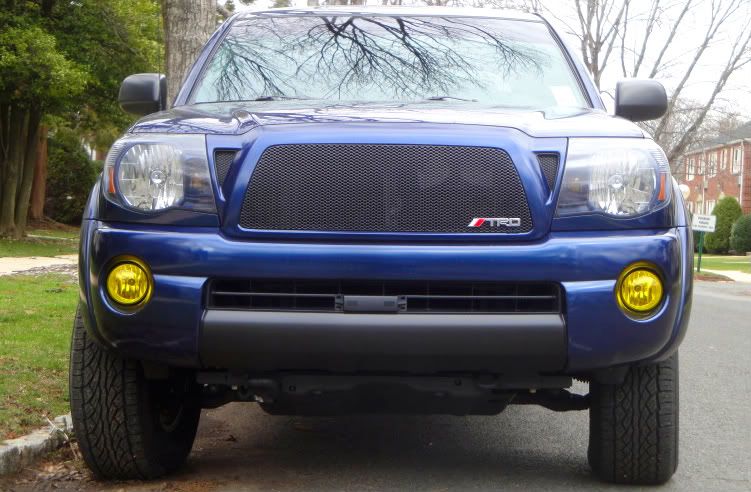 Added some sockmonkey stickers on 4/14/2011: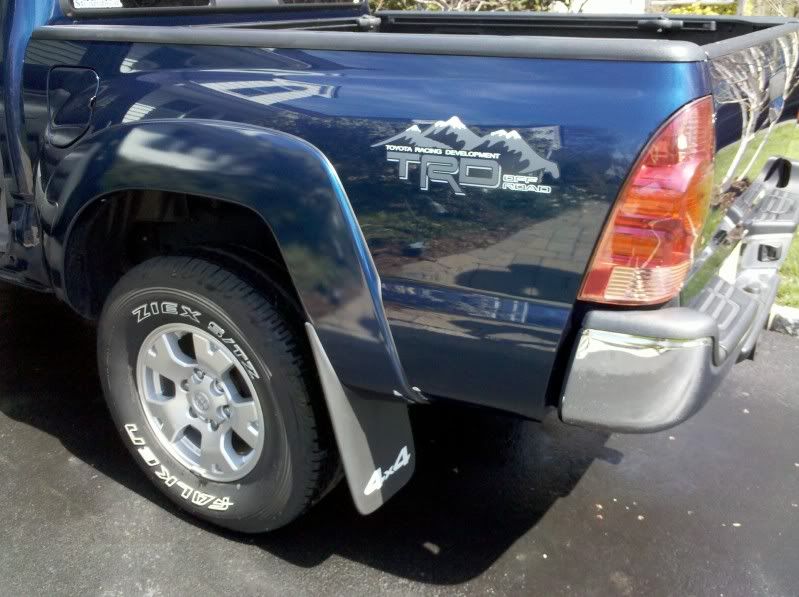 and put this on, for somethin different: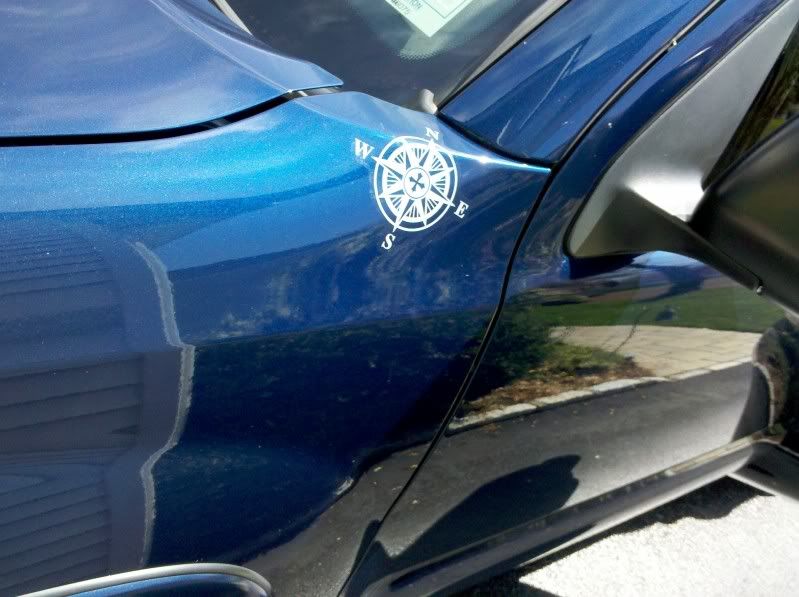 HID Retro completed on 4/21/2011
Cargo locks added on May 9, 2011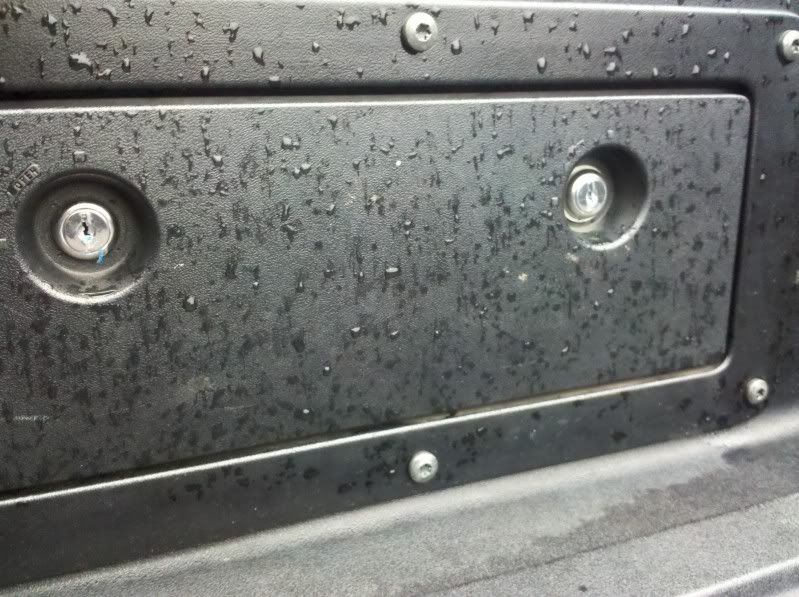 6/25/2011 and 48,500 miles, I added the TRD exhaust.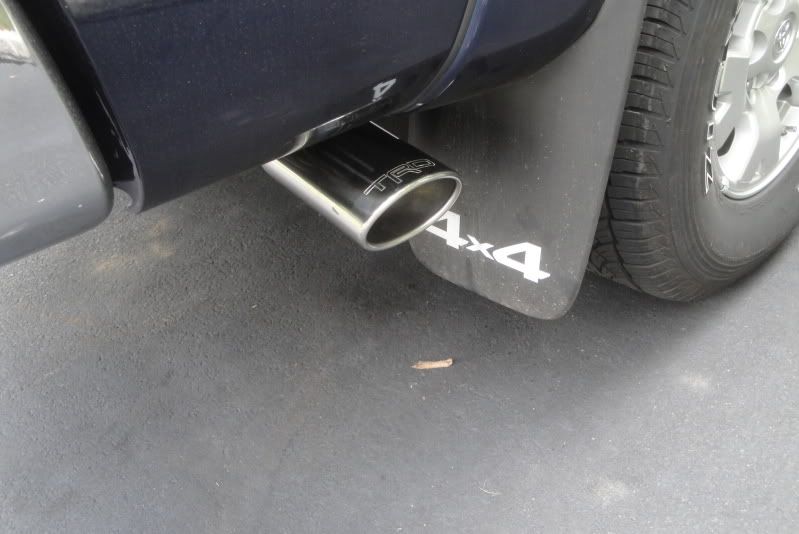 7/10/2011: Redline Hood Struts and Rear lift was done. Rear height measures at 39 w/ stock tires, prior to any settling. Gonna remeasure eventually.
8/12/2011 and 50k miles: Front lift was completed using 5100s, eibach springs and 1/2" top place spacer. Also installed the MT Classic IIs and Duratracs in 285/75/16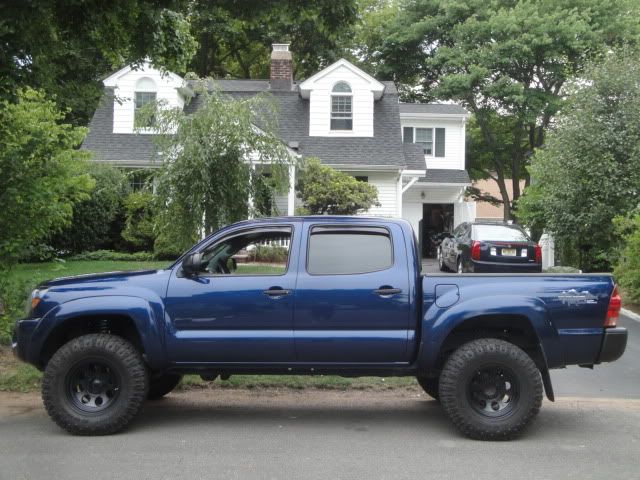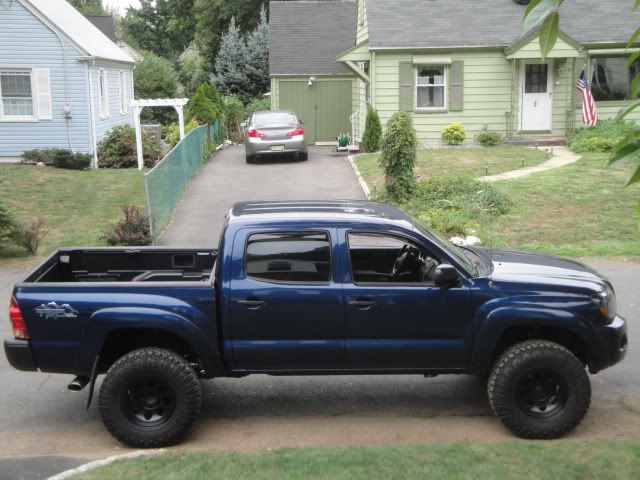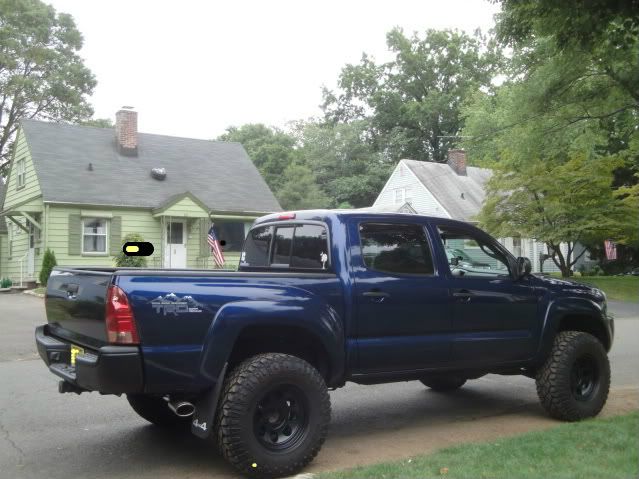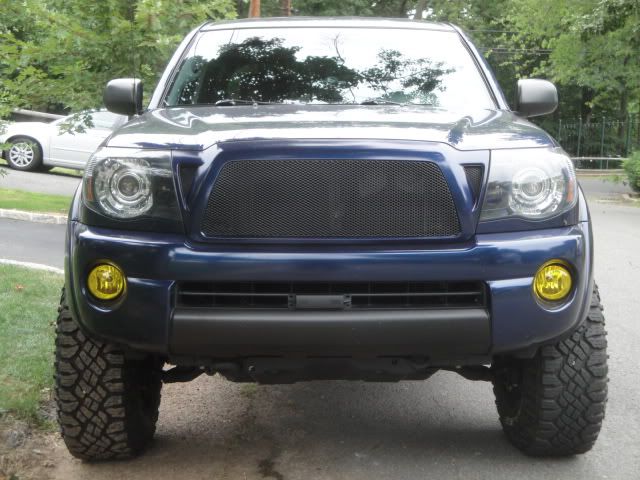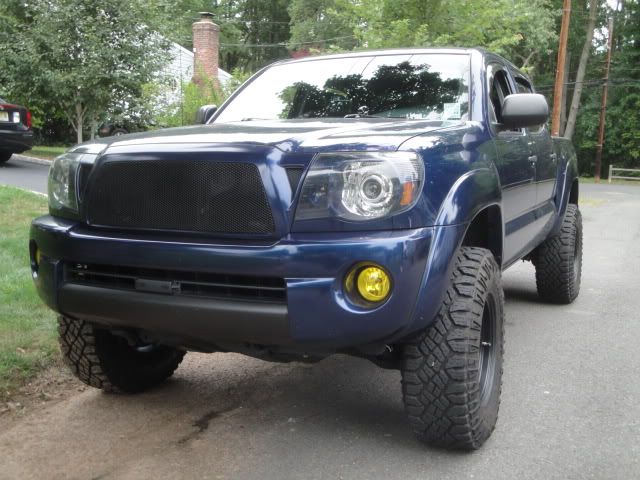 Heres a combo pic. On 12/15/2011 and 53,780 miles, the BDF lightbar went in along w/ a new Die Hard Platinum Battery. I also painted the center section of the engine cover, which you can kind of see in the pic. (also relocated the horns)
Pictures of the Rigid Industries SMR flush mount reverse auxiliary light....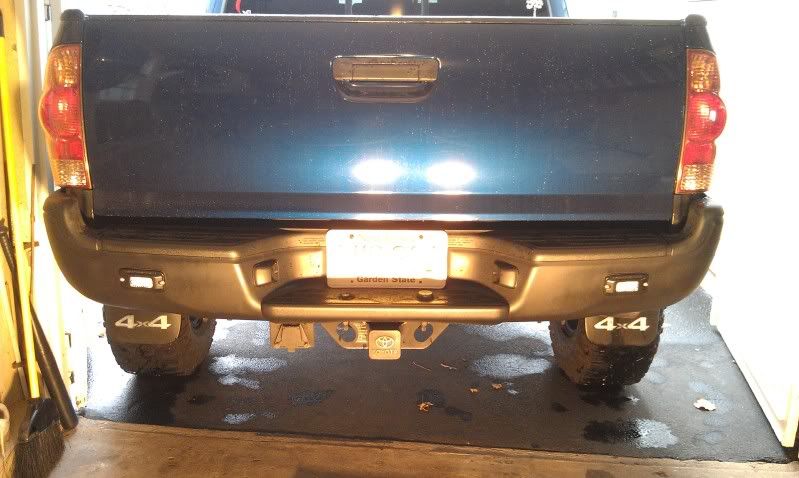 Here's how far they stick out...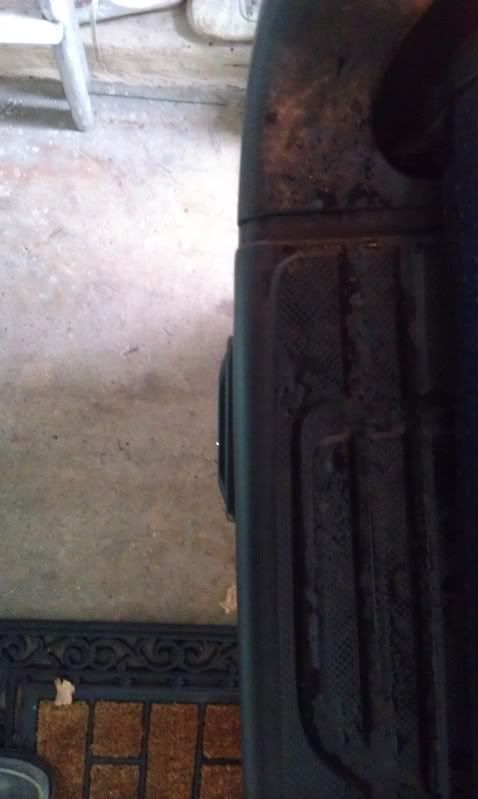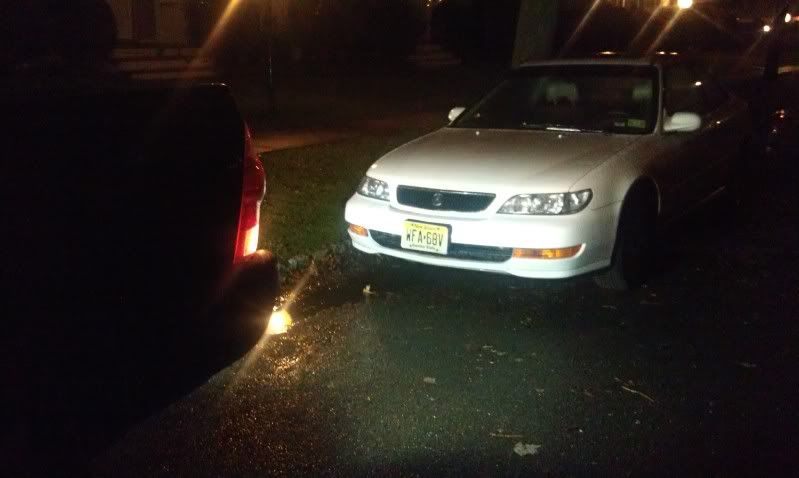 And for reference, here's the same shot w/o the truck in reverse.