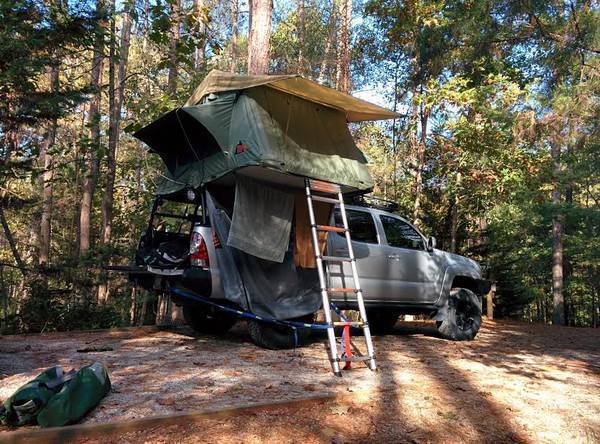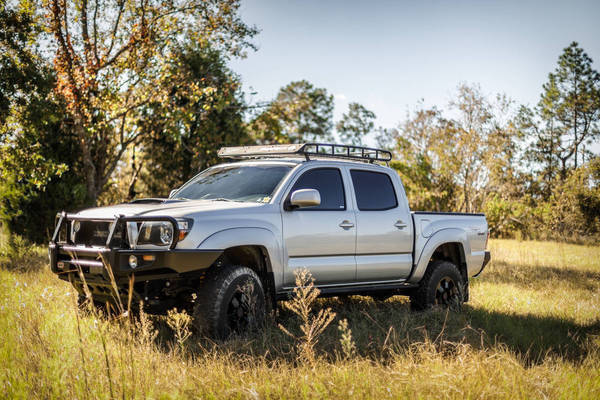 Most recent, taken in the field where we will be building our new house. Photo Credit: Brett Flashnick of Flashnick Visuals Columbia, SC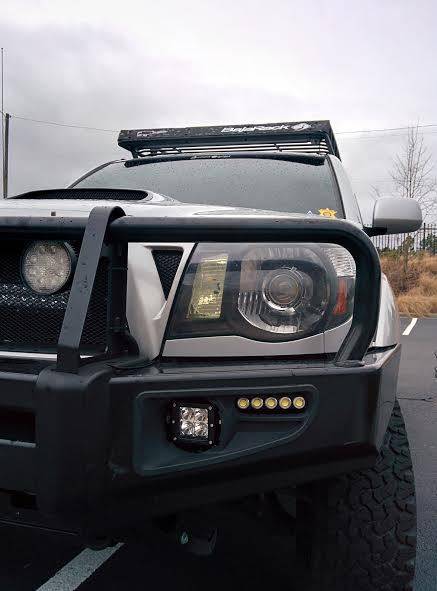 Finally getting around to starting a build thread.
In 2009 I bought a Double cab Sport (2008) with 26,xxx on the odometer. It was a great truck until I was searching for aftermarket parts and stumbled upon Tacoma World. The Mod bug hit and I found myself doing the BHLM within having the truck for 2 weeks... my wife though I was nuts for putting headlights in the oven. The rest is history.
WHY/Inspiration: I got back from my second deployment to Iraq mid 2012 and was in awe over the amount of light we had on the MRAPs over there. The LEDs mounted on them really made night into day. I never forgot that and have been throwing LED lights on my truck since being back. Guess that was my inspiration. Front and rear are finished with lighting, now for the sides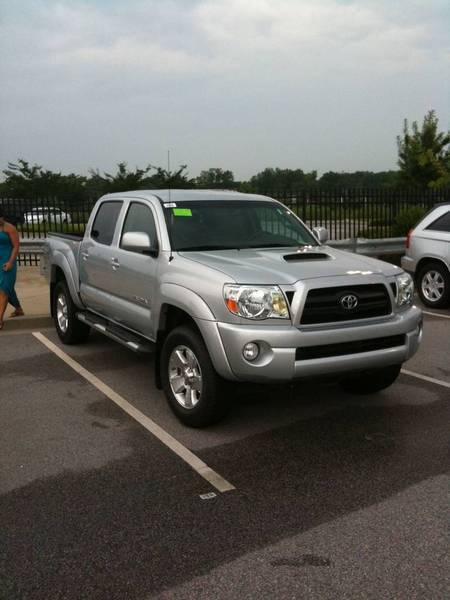 This is the day I bought her, that's my wife in the background giving her approval on the new ride.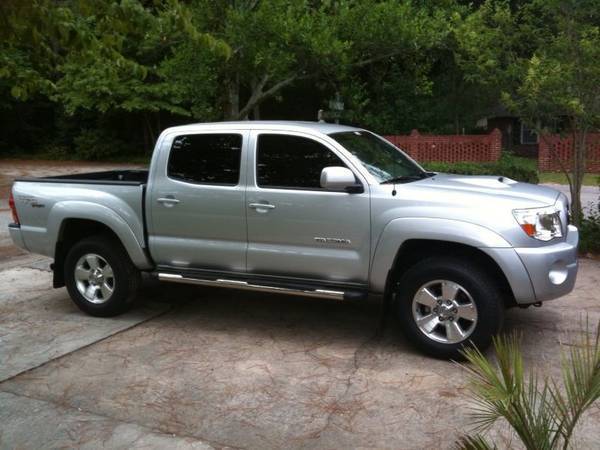 Also day one with factory pontoons attached.
With my old civic, now sold :-/
Rear Glass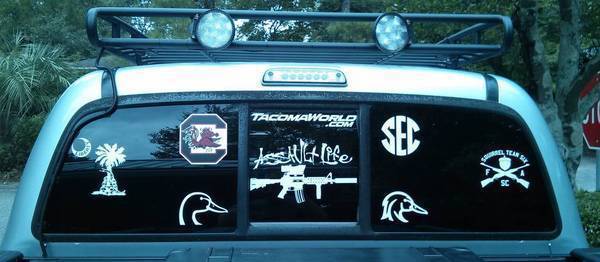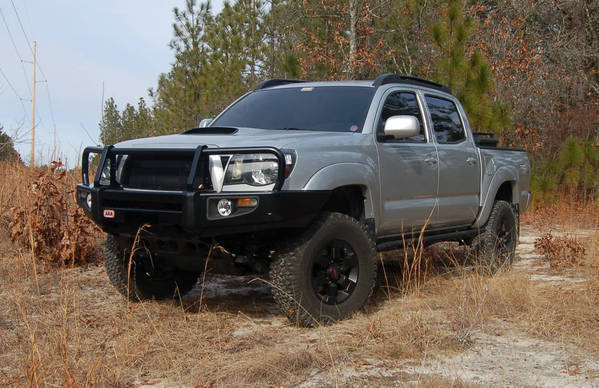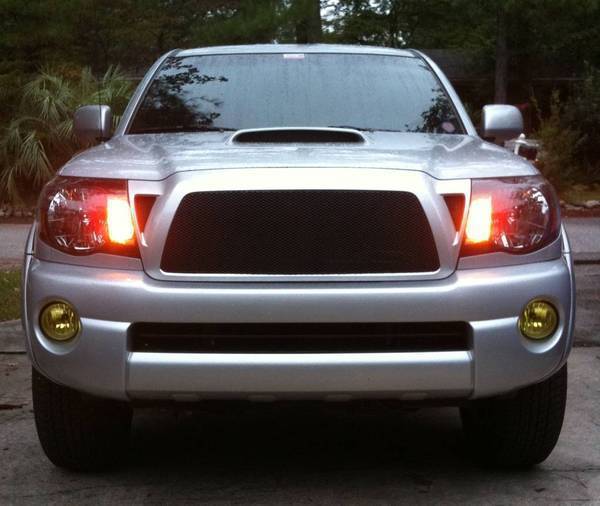 Started with Grill Craft, Tint, LamineX foglight covers, and BHLM.
Debadged entire truck, affixed TRD emblems on the grillcraft and one on the lower right side of the naked tailgate.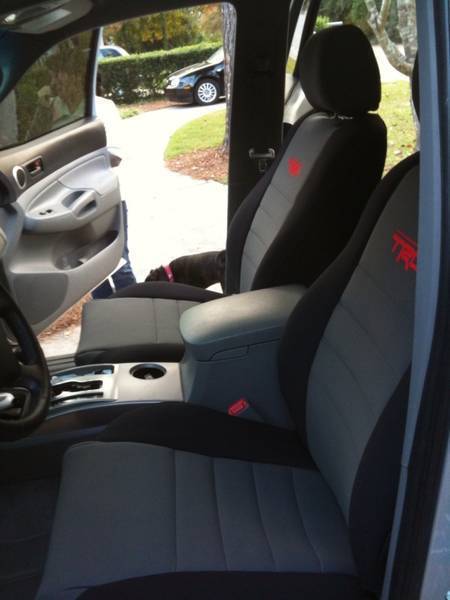 Wet Okole covers front, rear and arm rest.
And so began my FX-R Retrofit with 4300k with Morimoto ballasts.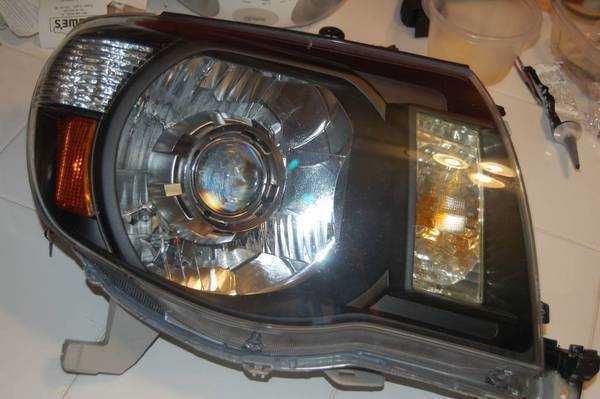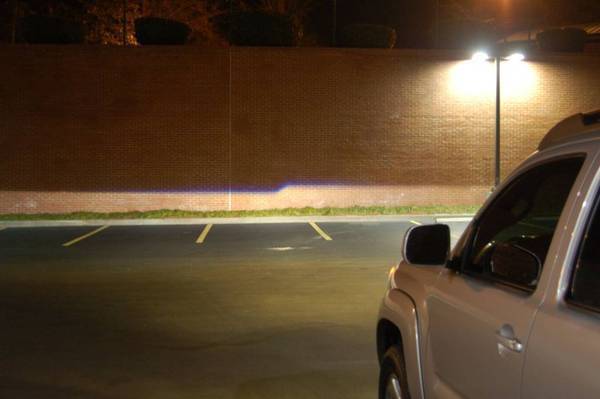 Oh yeah... factory roof racks were added around this time.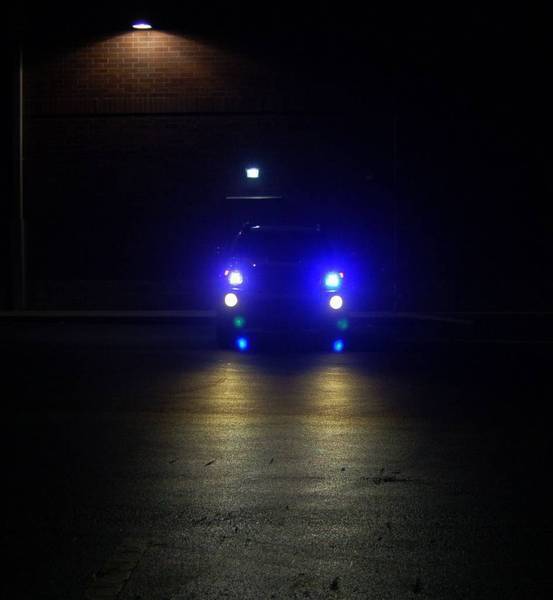 Flicker.
On the truck... painted hoodscoop black.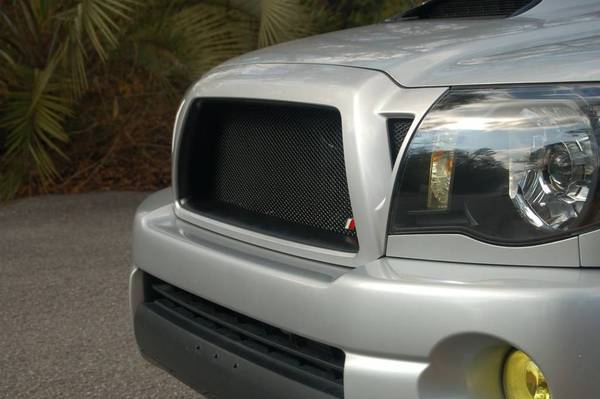 Did my Satoshi grill and added the x-runner valance and my buddy SGrappone (on TW) rolled some vinyl below it.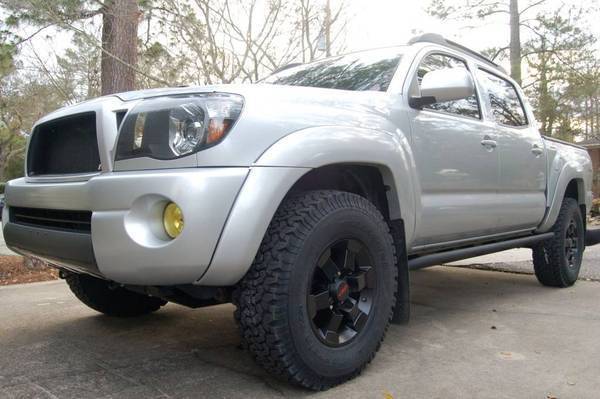 Powder coated some FJ TRD wheels (wrapped in BFG AT's 265 75 R16) as Trail Teams clones. Also added an
All Pro
skid and
DeMello offroad
sliders.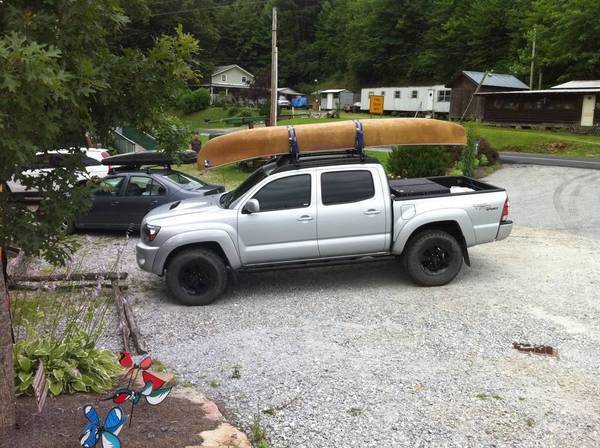 Thule Roof rack attached to factory... this was a trip to the Nanahala River in NC.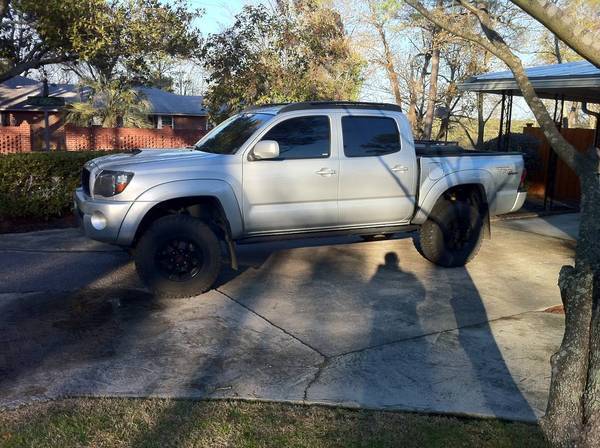 Lifted with OME 885's, OME Struts, Rear TSB + AAL and Light Racing Upper Control Arms. Also added a black toolbox with rails on top (bolts into the Rail system in the bed with "J" hooks.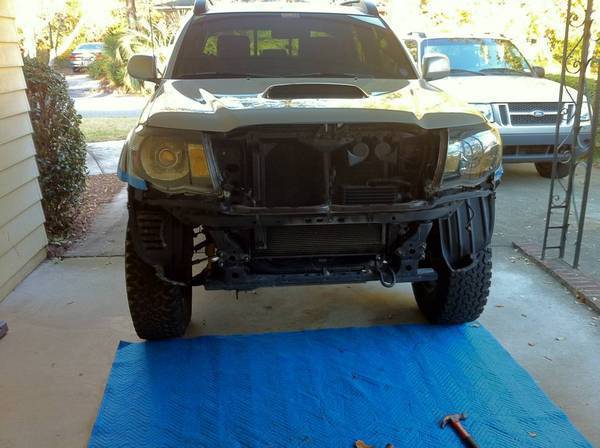 Torn apart for ARB Bumper and fog lights. Big thanks to Jeff (tigerfan00) for the help.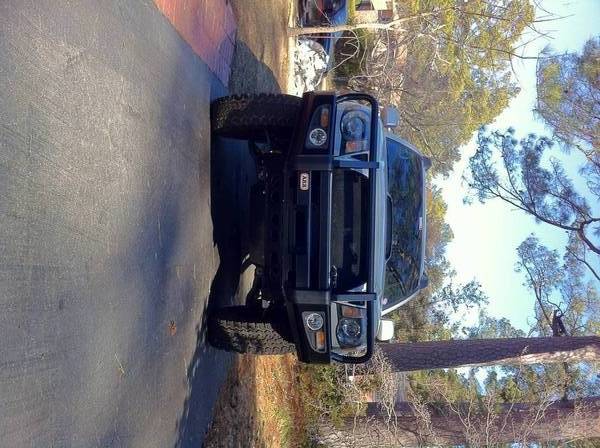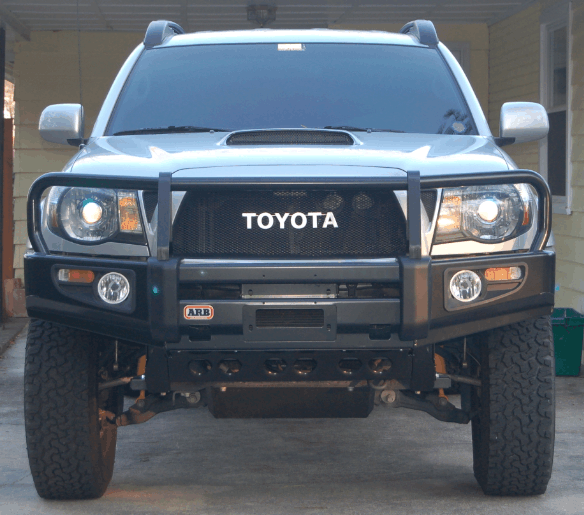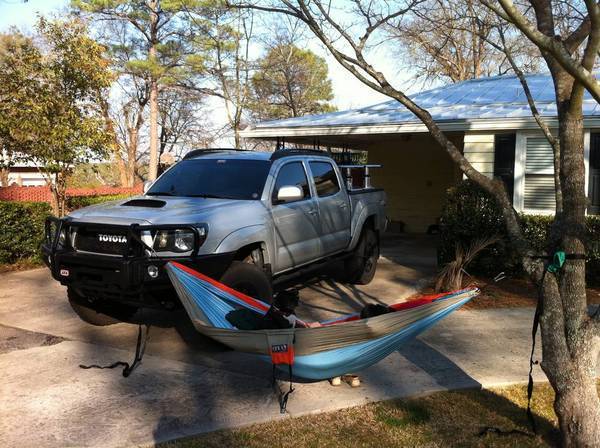 My wife and Weezie hanging out in the hammock.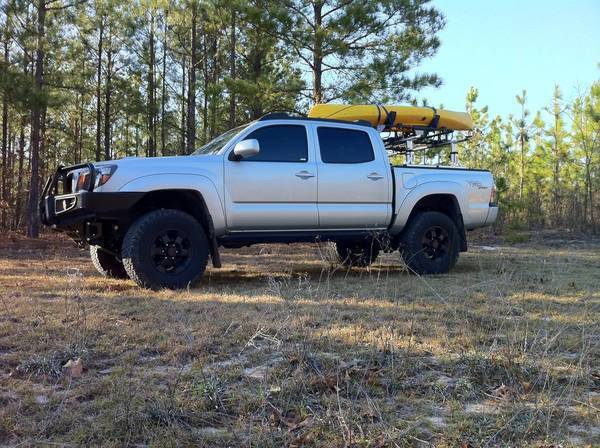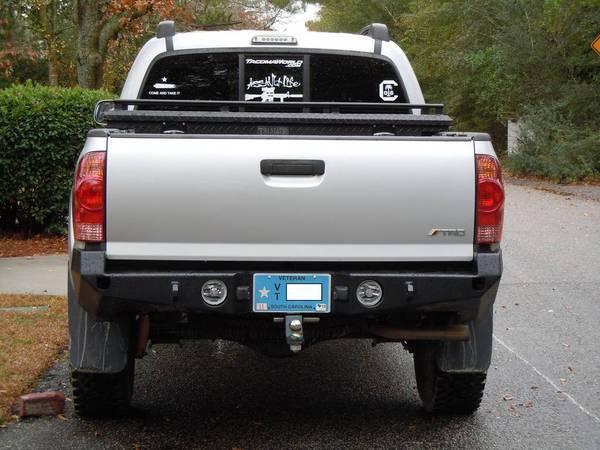 Relentless Rear bumper installed with PIAA lights!
Removed the PIAA lights and replaced them with these LED lights I purchased from Northern Tool and Supply. They work much better and are rated at 1350 lumens each.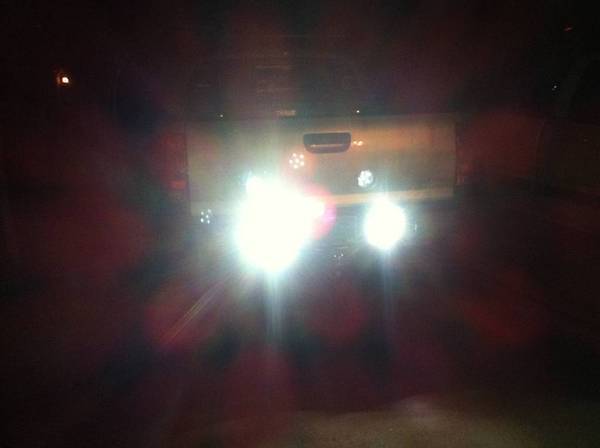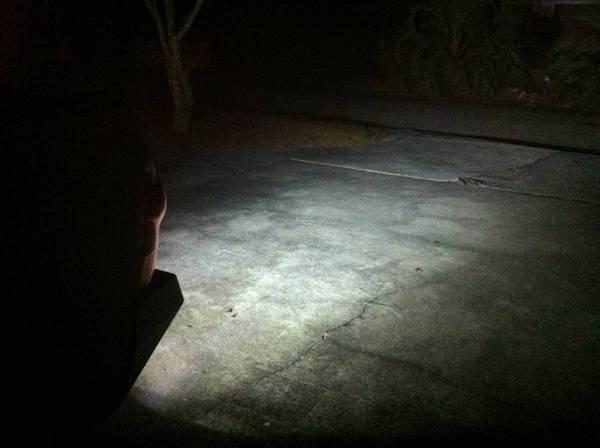 Just got my 4" LED lights mounted behind the grill (GrillCraft) on the Elusive Elements Bar. Both the LED lights purchased from SlimCubby and the Elusive Elements bar were of great quality.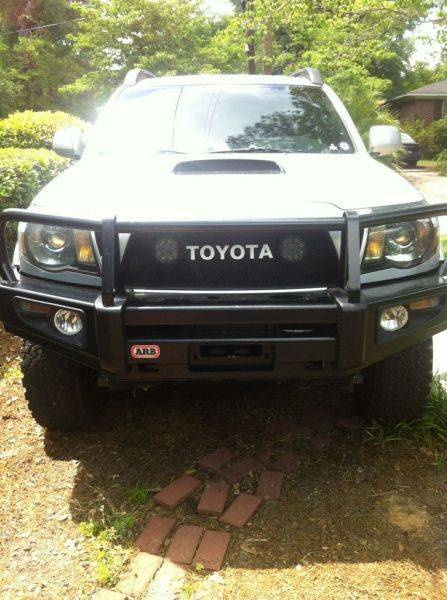 LED Lights only.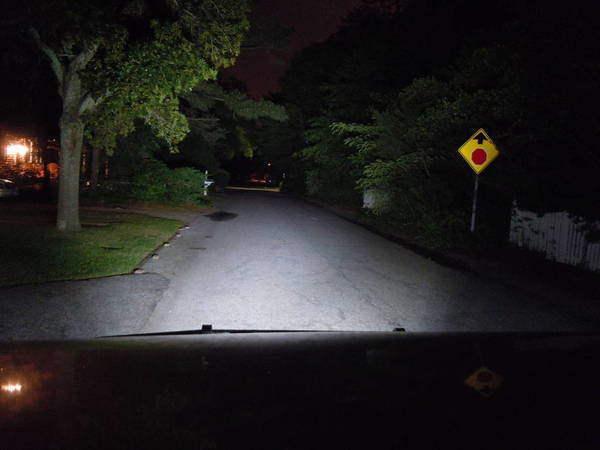 FXR Retro only.
FXR Retro and SlimCubby LED lights behind grill.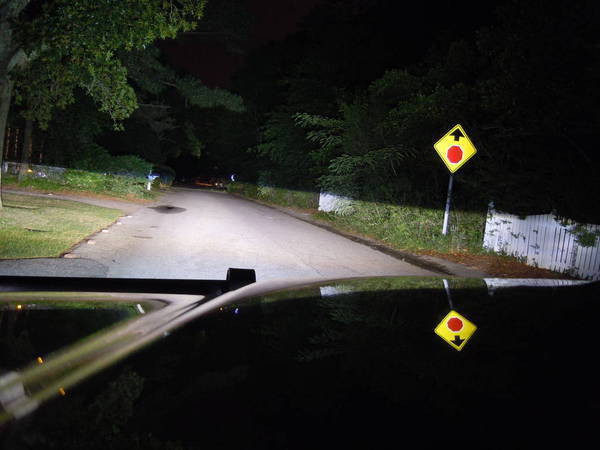 Great Output and wide pattern (even though description says spot light pattern, I am very pleased with the spot/flood capability).
Rigid Industries LED lightbar (20" on BDF Light bar... now BAMF design)
Cut out support to accommodate RI light bar.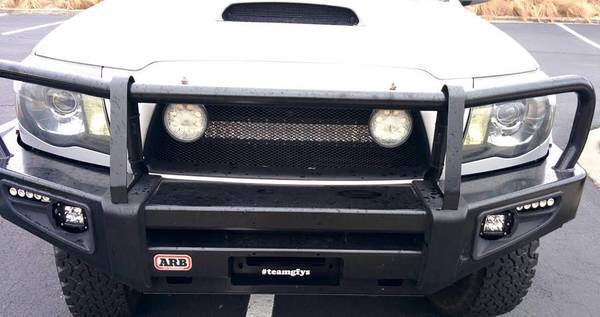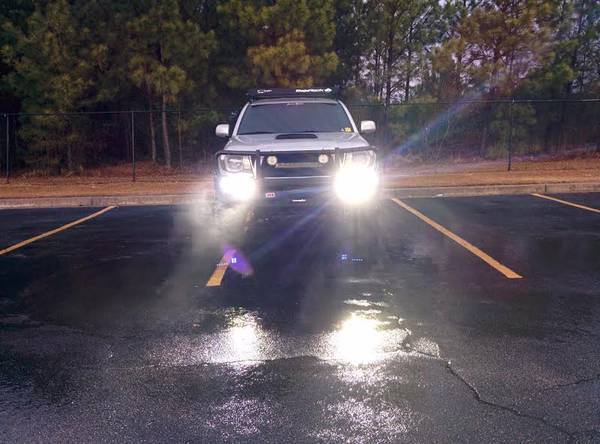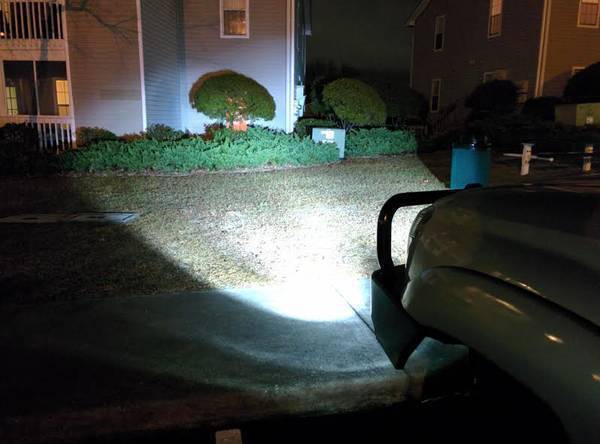 Output of Duallys only.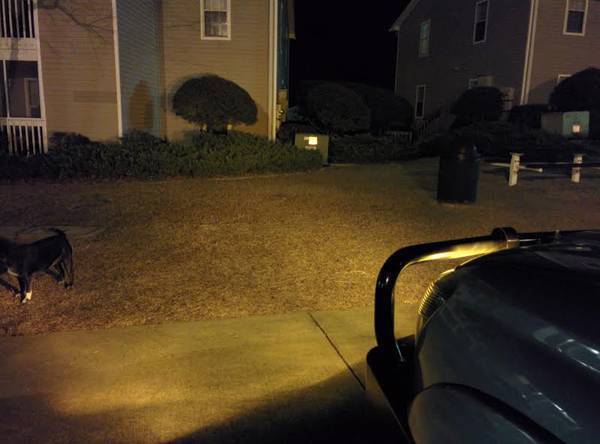 Output of V3 LEDs that replaced stock DTRL and turn signals.
First trip with the RTT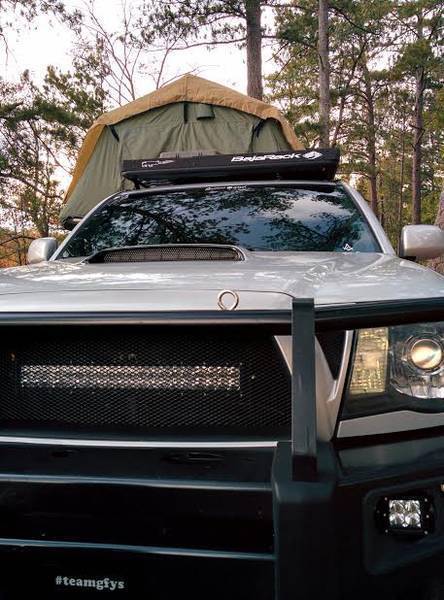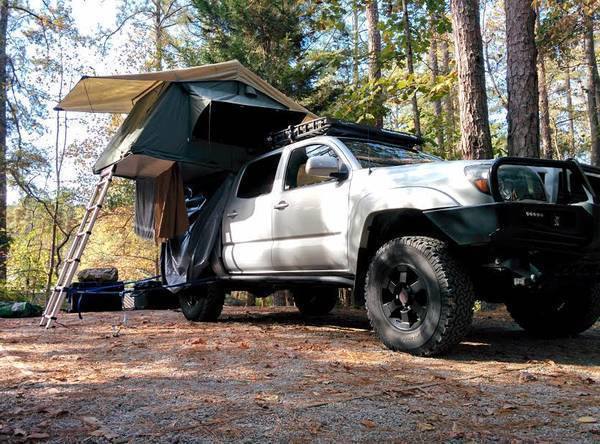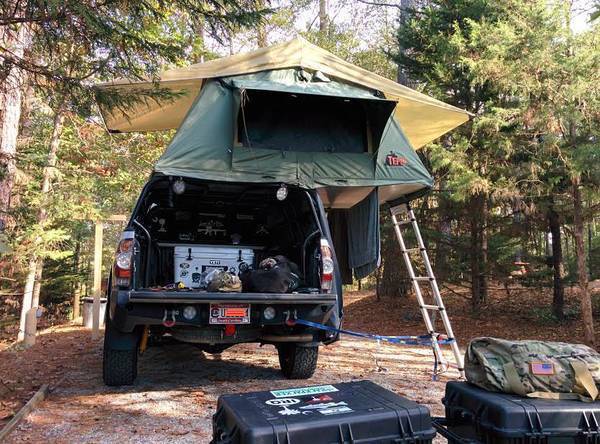 Mods
Window Tint
BHLM
FX-R Projector Retrofit (with 4300k D2S bulbs)
Alpine Head unit (MP3/USB/iPhone/iPod only)
LED Parking lights/map lights/dome lights
2009 Tail lights
DTRL Mod
Hood scoop painted black
Wet Okole Seat covers with TRD stitching
Factory Roof rack - SOLD
All Pro IFS Skid Plate
Satoshi Grill with Grill Craft insert
Metal Miller "Toyota" grill letters - REMOVED
Fog Light Mod
BFG All Terrains 265 75 R16
Demello Offroad sliders
Viper remote start/alarm
AFE S Pro Dry drop in
FJ TRD Trail Teams replicas (Powdercoated locally)
ARB Front Bumper
OME Nitrocharger Shocks
OME 885 Springs
Light Racing UCAs
Toyota TSB rear leaf pack
Wheeler offroad AAL rear
In Pro Car wear LED third Brakelight
Thule Xsporter Bed rack (bolted into factory accessory rails)
Tule M.O.A.B. Basket - SOLD
BajaRack (bolt on)
Hose clamps on Tailgate
6 "D" rings in bed
Rocky Mount Track mounted bike racks - SOLD
Debadged entire truck (TRD emblem only on tailgate)
Elusive Elements Light Bar
Relocated Horns for grill lights
2x 1900 lumen Slimcubby LED lights in Grill
2x 1350 lumen LED lights in bumper
2x 1350 lumen LED lights on BajaRack
Relentless rear bumper
V3 LED DTRL (replace stock) amber/amber color
Morimoto X DRL LEDs in place of ARB turn signals
Rigid Industries Duallys custom mounted in ARB Fog light openings (Big thanks to Slimwood Shady for the brainstorm/production)
Big thanks to Scott (Sgrappone) and Jeff (tigerfan00) for lending a hand.