The Why: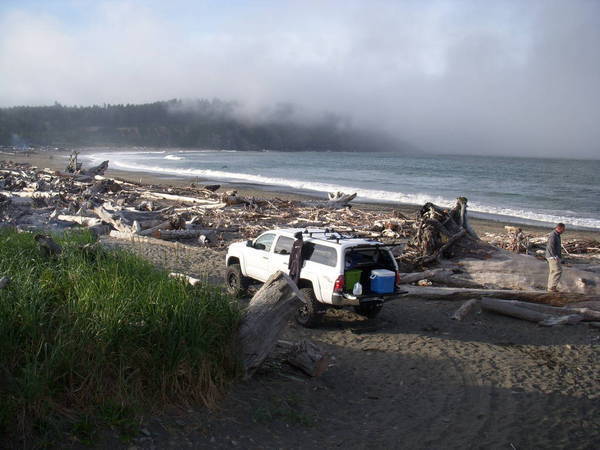 The Build
Stock:
07 Tacoma Double Cab 6SPD with TRD OR package and JBL stereo

Suspension:
-Fabtech 6" Suspension Lift w/ Dirtlogic 2.5 Coilovers in front, Dirtlogic 2.0 Resis in Rear.
-Procomp Xterrain 35's on 17" Procomp Wheels w/ FS Spare
-Deaver Custom Leafs
Drivetrain:

-4:88 Yukon Gears
Armor:

-Badland Bumpers Front and Rear Bumpers (Hunter; swinging tire mount)
-Badland Bumpers Rock Sliders

Sleeper/Platform:

-Snug Top Canopy
-Thule Racks
-Sleep Platform by Beaker Productions (Homemade edition)
-Mattress by Beaker Productions (Luz Sew Shop Special)
-End Cap co-designed by Beaker Productions,
produced by Raul and Mercedes in Costa Mesa, Ca (949)631-0167
Recovery Gear:
-Hi-Lift Extreme Jack (Mountain Dew EXXXTREEMMEE!!)
-Superwinch Talon 12.5 w/ Viking Synthetic Line
-ARB CKMA12 Air Compressor
Electric/Interior/Misc:
-Lightforce 240 and 140s
-"A La Caribe Style" Fog Lamp Mod
-Hypertech Speedo Calibrator
-Car Toys IPOD adapter hard wired
-Garmin Nuvi 1490 LMT GPS
-Pioneer DEH-P9400BH Head Unit
-Alpine MRX-V60 Amp
-Killer Audio Setup by
The Marv
**Plans/Future Additions**
-Aux Fuel Tank
-Water Tank w/ pump and shower spout??
-Camburg UCAs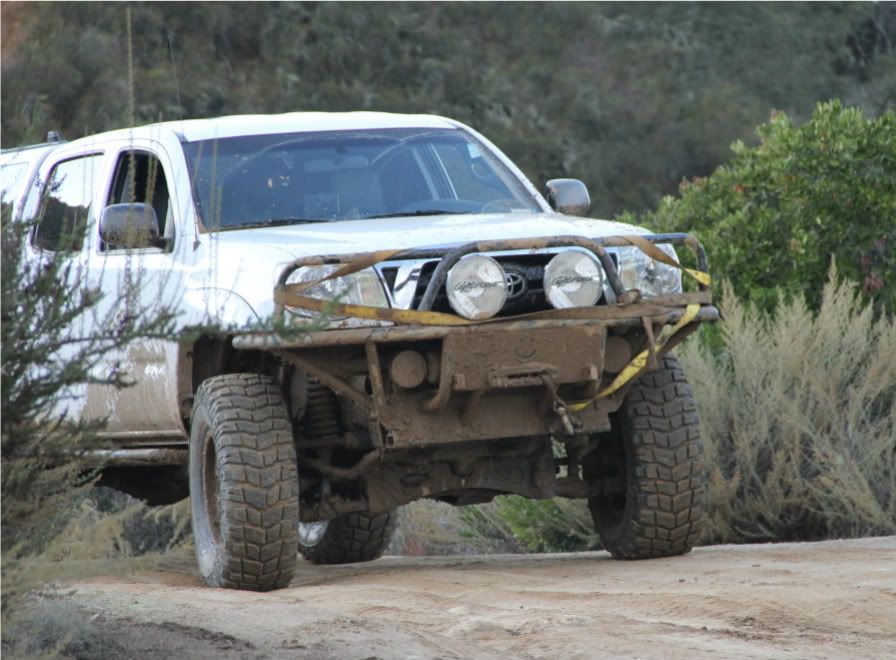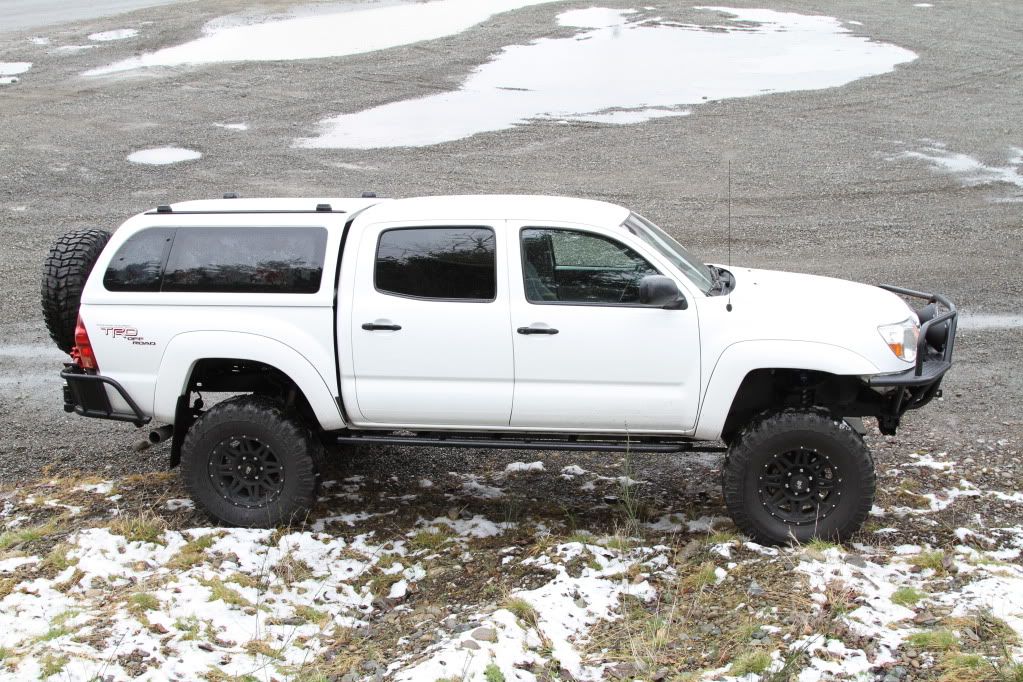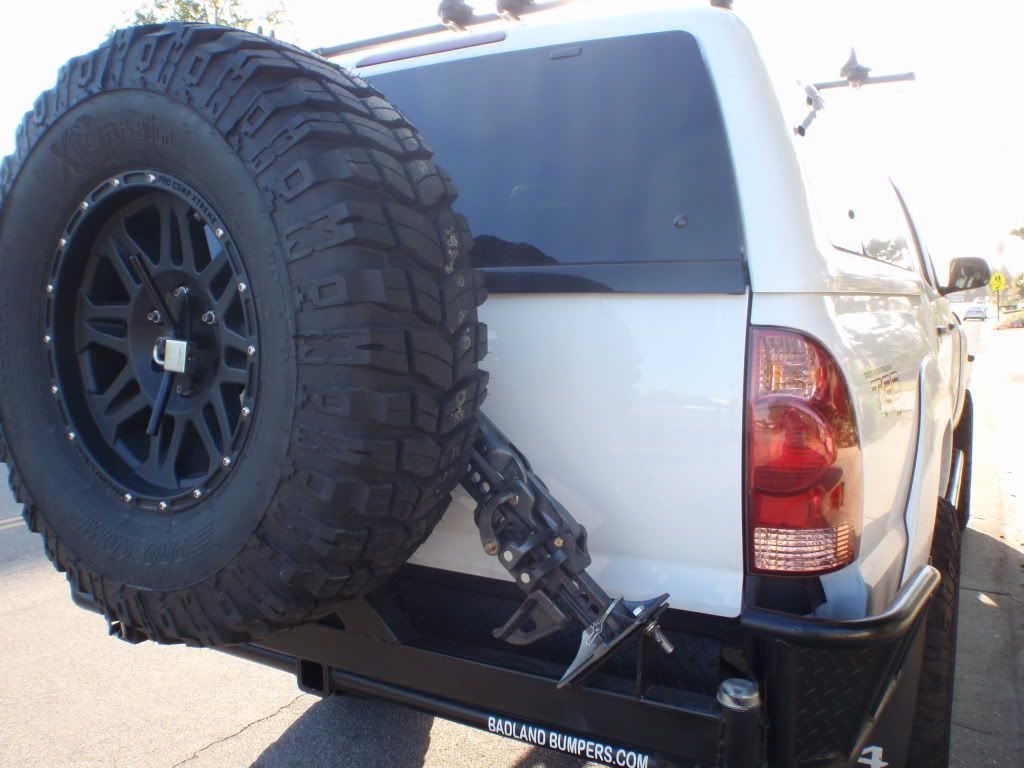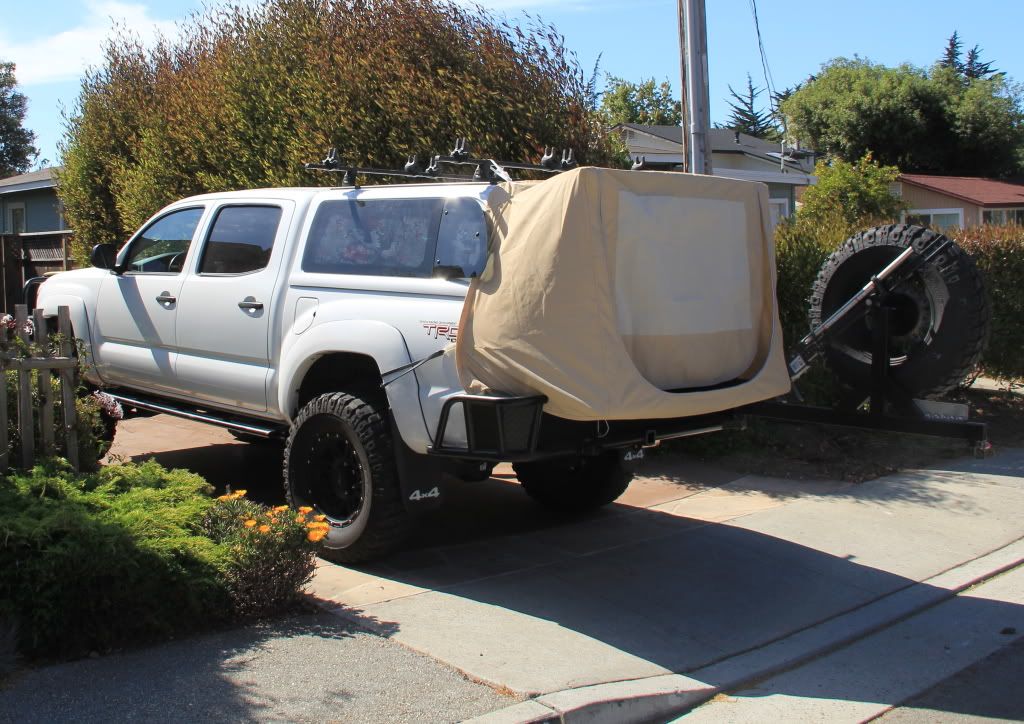 Well, after many hours of studying everyone's mean looking rides, I've decided I finally have enough to show off. My 2007 Tacoma Double Cab TRD, 6 Spd has come to life.
First, some background. I bought my Taco in 2007, after a brief and embarrassing lapse into the F-150 realm, but I returned to my love. This is my third Toyota pickup over the years and I was quickly reminded of the ideal vehicle it is. I am in the process of building an expedition / overland vehicle that has both function and ability. This isn't a rock crawler, mud bogger, or mall crawler. When complete (if that is ever possible), this truck should provide me with access to baja surf, shelter on camp trips, fun in the back country in the summer, and access to it during the winter.
The truck remained stock for the first year. I went with the TRD Offroad over the TRD Sport for the locker and no silly-fake intake! I wanted more control of the vehicle and always wanted a manual so I went with the 6 speed option, leaving me with only one choice in bed size. That was alright because I wanted the shorter wheel base. Lucky for me it worked out well! My first major purchase was the
SnugTop
and Thule roof racks (got to carry the surfboards around!). Then I went with the 6" Fabtech lift with Dirtlogic 2.0s in the front and 2.5s in the rear. 35" Procomp Xterrains on Procomp wheels finished up stage one.
Stage two was all about functional expedition support. My Dad and I mulled over some ideas and we fabricated a platform for the bed to serve storage needs and a sleeping option. We chose wood for the simplicity, weight, and economical virtues it held. We built the platform around two drawers that were deep enough to provide all the storage I could need. This provides a home for recovery equipment, spare parts, surf wax, a propane stove, and 3 to 4 of my favorite midgets. There is additional storage forward under a deck lid for less frequently used items (chains, jumper cables, parts/fluids). I owe most of my inspiration to
http://www.bajataco.com/bajataco.html
, that is a sick 1st Gen rig for expeditions. I carpeted up the interior, made some curtains and a sleeping pad/mattress out of some high density foam and fabric, and painted up the left over wood to finish it off. It's tight sleeping because of the "short bed" but it works well enough. Now the problem was getting my full size spare out of the bed!
I tried to use a Tiregate but that rickety POS was on my truck for all of five minutes before it went back to its creator!
While I researched bumpers I realized that the power was lost after installing the lift and oversize tires. My speedo was off as well, and I was getting tired of guessing my real speed. I settled on a 4:88 gear swap, installed by
4wp
. Yukon gears with a basket provided by justdifferentials. Once they were installed I was amazed at the speed and power that returned! The only bummer was the top end speed was definitely dropped off, but I guess that will save me in the long run from those annoying state troopers! Just to make sure, I installed a Hypertech Speedometer Calibrater to fix up the accuracy as a final touch. I verified it with my nuvi 1490 LMT, dead on.
Next, I surfed around and found Jeff at Badland Bumpers who is squaring me away with sick bumpers! I called up Jeff and asked about a swing away rear bumper and rock sliders. His product is solid and I was lucky enough to provide him with a 2nd Gen Taco to build his jig for a front basher bumper. We're working out the finishing touches (and when I say we, I mean Jeff and his crew), but for now I have the prototype 05+ front basher bumper. As you can see in my crappy night time pics that it is awesome! Of course we had to dress them up with some new lights.
The rear bumper is just what I was looking for. This is the hunter model, it supports a hi-lift jack as well as the swing away tire mount. It has a locking pin to ensure it stays open when you want it to be. Good sheet metal protection is afforded by the wrap around styling and the damn thing is bullet proof. A 2 inch receiver is integrated also!
The project will continue as I wire up the lights, Jeff completes the front bumper design/installation, and maybe I will purchase a winch. This should keep me wheelin' for a while until I can save up some more cash. I'll update you all when I can! Let's see if I can get the pics up on this thing??
Cheers,
SP