Front Suspension:
Toytec
Bilstein/Eibach 5100 silver coilovers set at 2.5"
Rear Suspension:
All-pro
3" standard leaf pack
Bilstein 5100
Timbren bumpstops
All-pro U-bolt flip kit
Extended steel braid brake lines
Armor:
Shrockworks winch bumper
Shrockworks front skid plate
4xinnovations
rock slider kit
Steel brackets/buckets for reverse lights
Wheels/Tires
Stock TRD wheels
GY Duratrac 285/75/16
Spidertrax 1.25" wheel spacers in front only
Lighting:
PIAA 510 SMR driving lights
PIAA 1500 Series Reverse lights
Fog lights on with parking lights
Other modifications:
Python LC3 Remote start/security system
ATRAC hack/ABS & full VSC killswitch
Carling Contura II illuminated rocker switches
Modified 7-pin trailer wiring harness
Removed mudflaps
Extended rear diff breather
In-cab 110v outlets (inverter's still not working)
Chop cab mount
Getting better. I welded up a rock slider kit and had it powder coated flat black. I was able to set the angle and distance from the frame so they also work as tube steps.
(At bottom) Some pics of the fog lights on w/parking lights on the combination switch. After I did the modification, I cut the wires to the OEM fog light switch and twisted the pos/neg together to eliminate the switch and free up a spot on the panel for another switch.
I got some PIAA 1500 reverse lights that I mounted next to the trailer hitch in some steel brackets which I fabricated to protect them from snowbanks and scraping on rocks. First time out on the trails with them I banged one up hard off a rock in a mud hole. They kept the light intact otherwise I would have destroyed it completely. I had to hammer it out straight again and re-mount it afterward.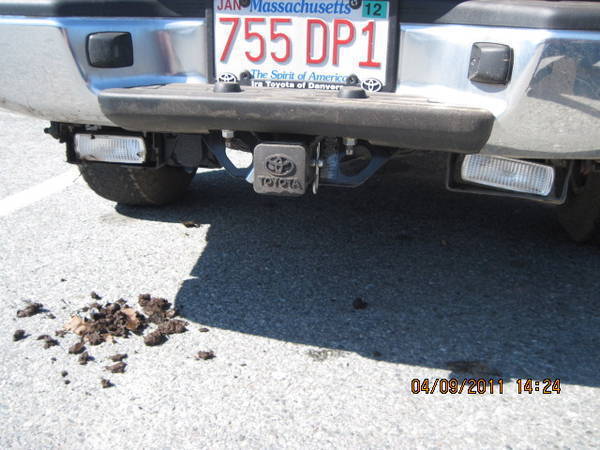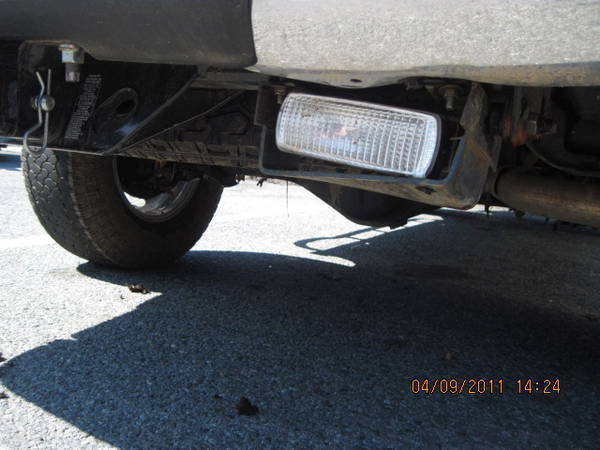 I used the OEM fog light switch for my PIAA reverse lights. I had to retrofit the OEM switch into an empty slot in between the ipod aux and the cig lighter. I brought over the green wires from the instrument panel lighting circuit and hooked it up to the new switch location. I tapped into the OEM reverse light circuit and used a diode to provide switch power that will trip the reverse light relay when I have the truck in reverse. Made my own modified wiring diagram based off of the 2007 FSM from TTORA.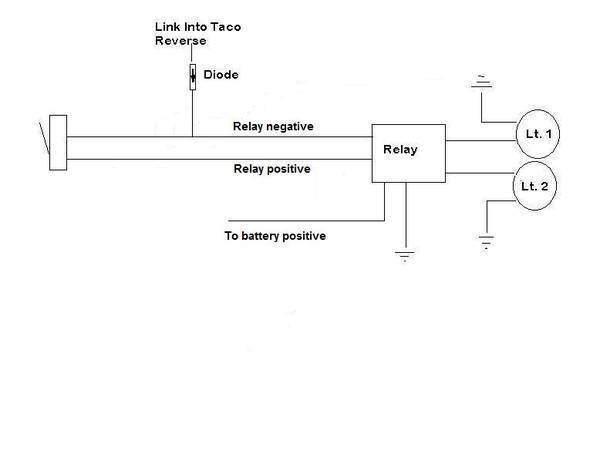 ORIGINAL TRUCK BEFORE MODIFICATION BOUGHT NEW IN 2010: