This is my 2007 which I bought in 07 with 18 miles on it.
How she left the lot.
First things I added were the window vents, and
bug guard
, 5% tint, and stainless grille.
Then I installed a
Toytec
3" Lift. With some Procomp 6001 17x9 rims wrapped in BFG A/T 285/70/R17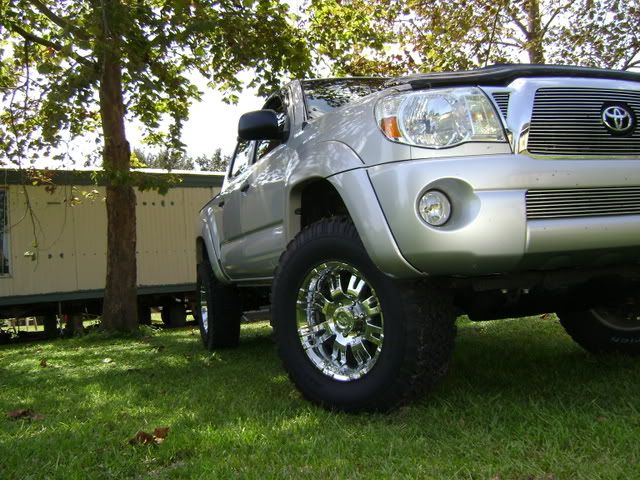 Then due to this site I removed all of my badges.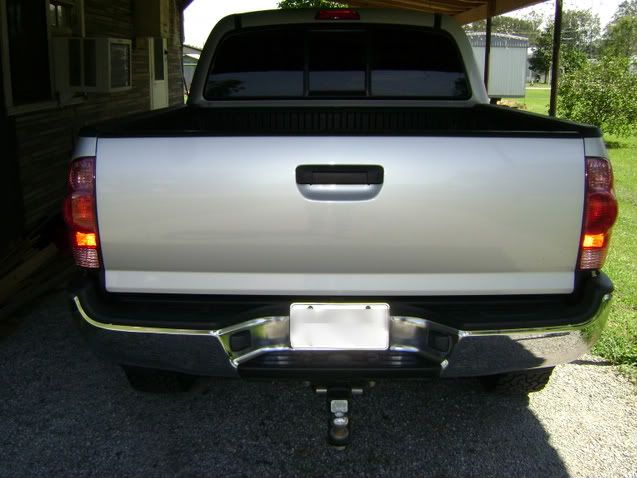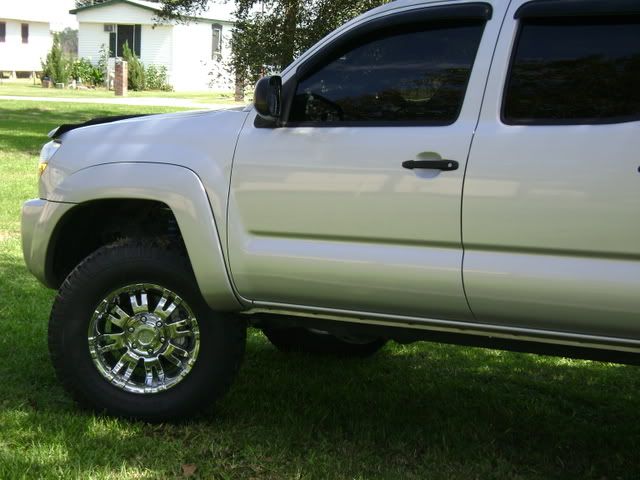 Not to mention about a week after I got the truck I tinted the windows 5%, removed the secondary
air filter
and with the GB I installed an AFE Pro Dry filter.
I have also removed my front mud flaps and cut and zip tied my inner fenders to keep them from rubbing.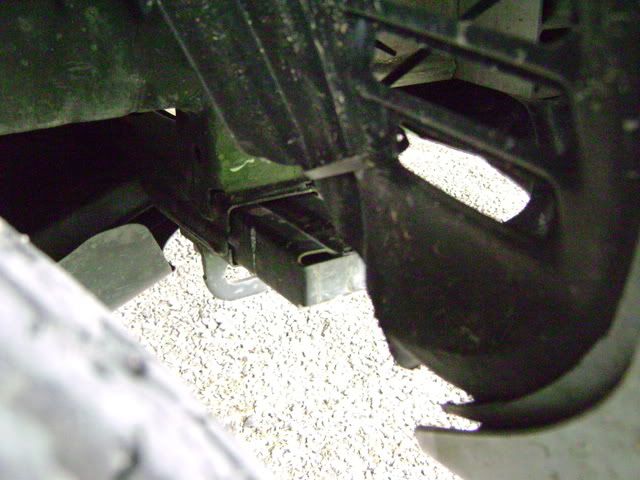 Wanted to see what would rub, stacked 23" of logs. Did fine.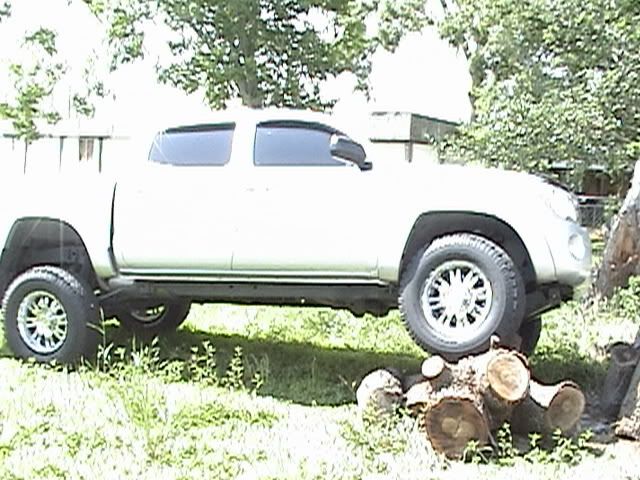 While the front was up I checked the clearance in the rear, its good.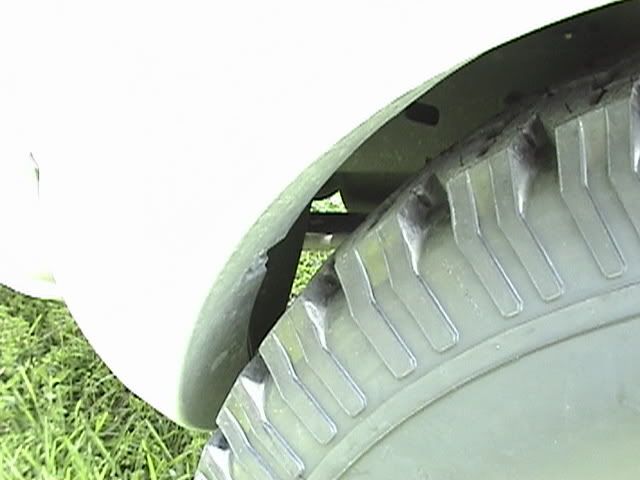 Did the Fog light anytime mod. Thanks Pierced Tiger.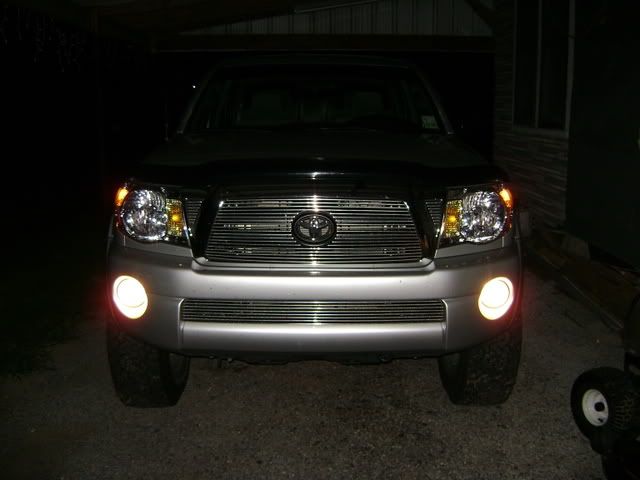 Extended diff breather, ran it up by the filler neck then to the top of the bed.
Hid Head and fog 6000k
Bypass the ABS system, again thanks Piercedtiger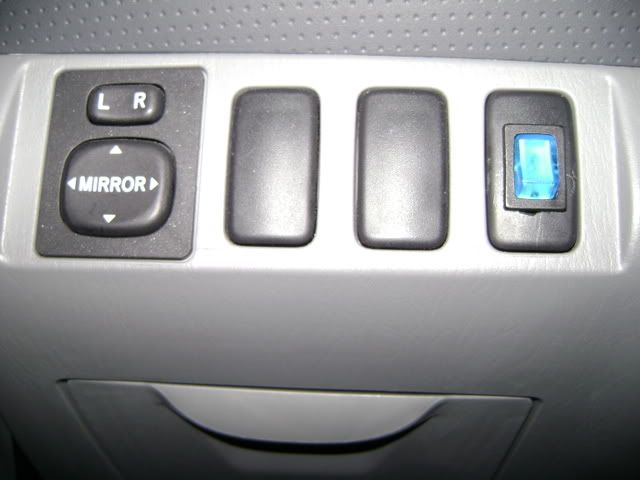 Scanguage II
from GB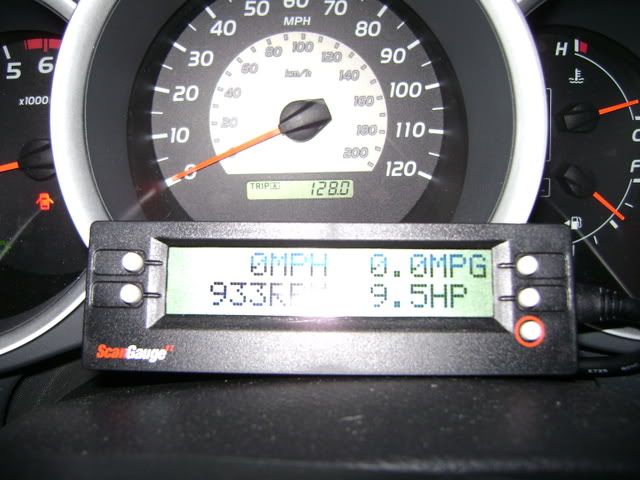 Devil horns Courtsey of customworks83. Thanks Andres.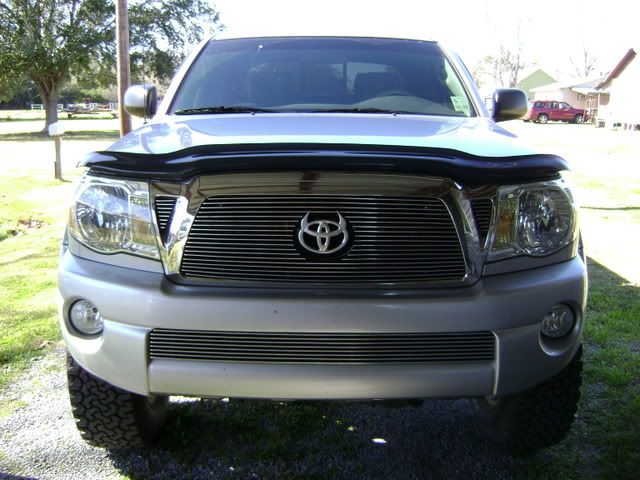 As of today I have the TC UCA's installed. 5-11-09
The zerks went in but they didn't wanna go.
Well I cut this lawn mower Blade.
To make these.
Took my highlift jack and did this. Was a 60"
Then used these to secure the brackets to the rails with some rubber pieces I had laying around
I mounted it like this.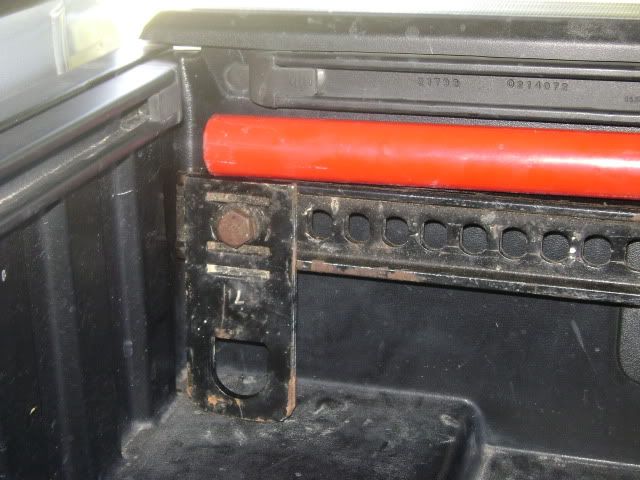 cut about 1.5" off to make it fit, should have cut 2", I'll get it later.
Then I Drilled a hole under my center console(Removed console to do this.) and ran my coax for my CB.
Stuffed some foam in the hole to help seal it up, then put a grommet and clear silicone to seal up the hole.
Went under the console then passed it between the carpet and bottom of console to here, leaving some slack inside the console.
Followed the frame then went up between the bed and cab to tie into the mount.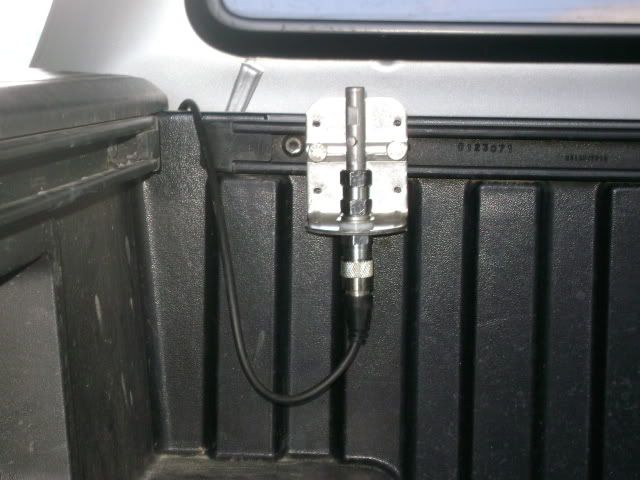 My mount is a 3way mirror mount, with bracket made from iron laying around. I have a stud mount with quick disconnect. 3' firefly antenna and 18' coax. Recommended by firestik over their 9' coax. CB is in the mail as we speak.
Cut some more old lawn mower blades to mount my tool box.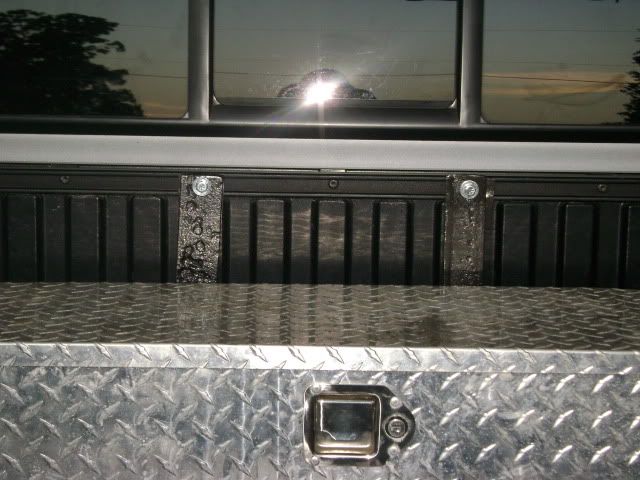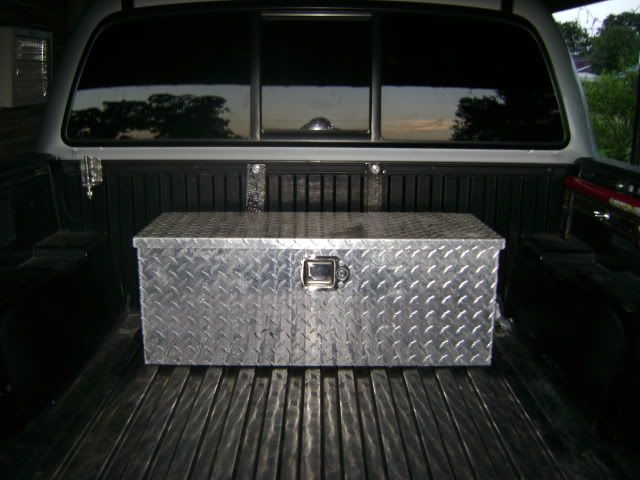 Wet Okole seat covers came in today. While my daughter was taking a nap I installed them. (< 30 min. Required.)
No Piping, "Tacoma" stitched in. Black with light grey center. Fronts only.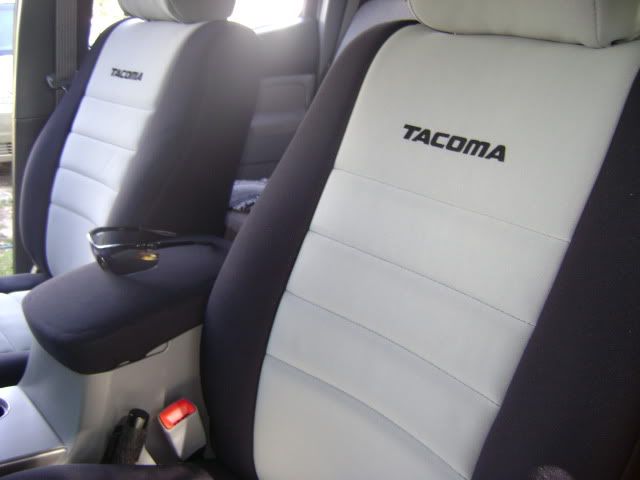 Heres how I represent TW
Got board and did this
Needed a way to carry stuff in the bed for vacations. Came up with this, Thanks Matt.
Ordered and recieved (luckily) Revenge Fab sliders about a year ago. painted and kept in shed until today! 4-27-10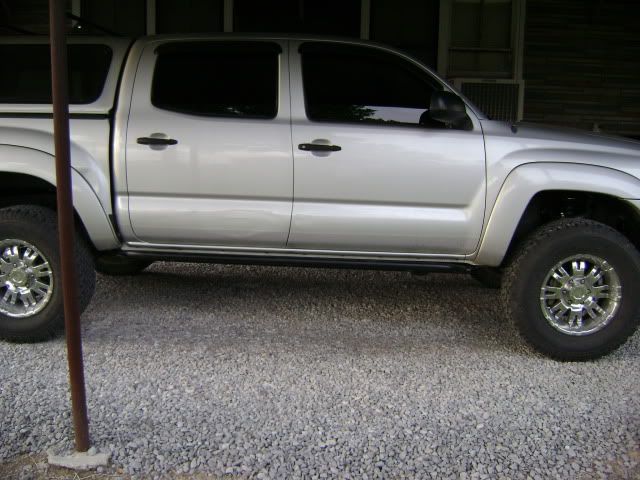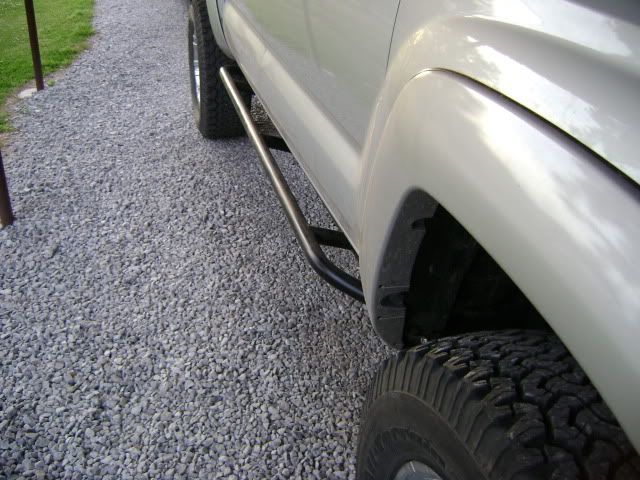 Purchased some TRD offroad rims from Red, placed them in my shed and left them there for a later date.
That date was today! 2/28/2012, recieved some 265/75/16 Wrangler Duratracs from Yamaha Dave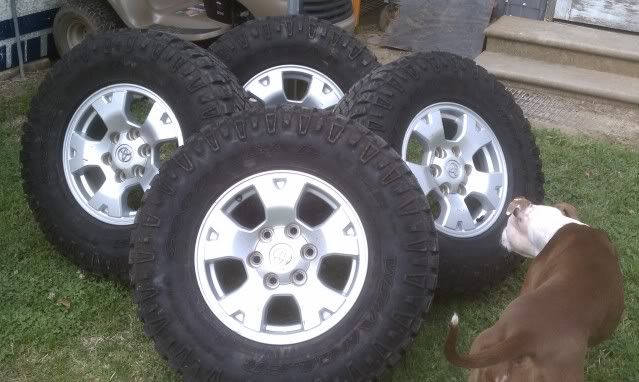 Ended up with this, its such a change I'm on the fence but it'll grow on me.
Smaller rims and tires, but I have to admit this Duratracs look very impressive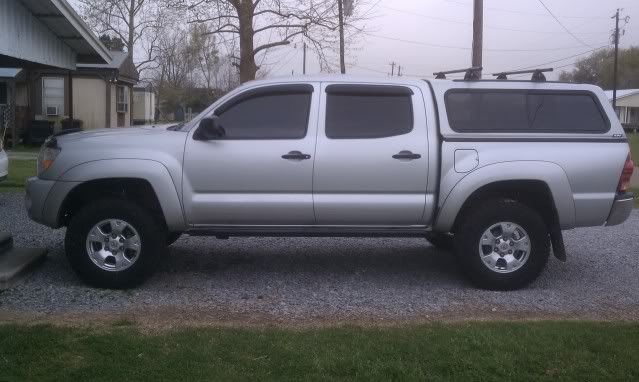 I'm happy though because the TRD rims and Duratrac's weigh 65 lbs. as opposed to my Chrome rims and BFG's weighing in at 83.4 lbs per. With this down sizing and weight reduction I'll essentially regain some gearing and mpg, I'll keep the chrome wheels for wheeling. Gotta admit the 33's give it a stance.
And now without the shell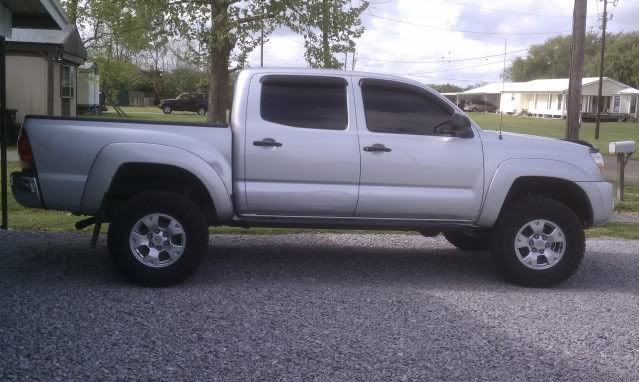 Pulled my old worn out shocks and 1.5" lift block out. Installed Wheeler's 1.5" HD 3 Leaf Add-A-Leaf pack retained the stock overload spring. Installed
Icon
2.0 standard lift shocks.
Hope you enjoyed mine as much as I have enjoyed ya'lls.