REC∑TI∑FY
verb
past tense: Rectified; past participle: Rectified
1. put (something) right; correct.
Follow me on Instagram @st3f3ns
A Look Into the Past
Started in February 2011. Named
RINZLER
after watchin Tron:Legacy 1000+ times and loving the Black and Orange Theme!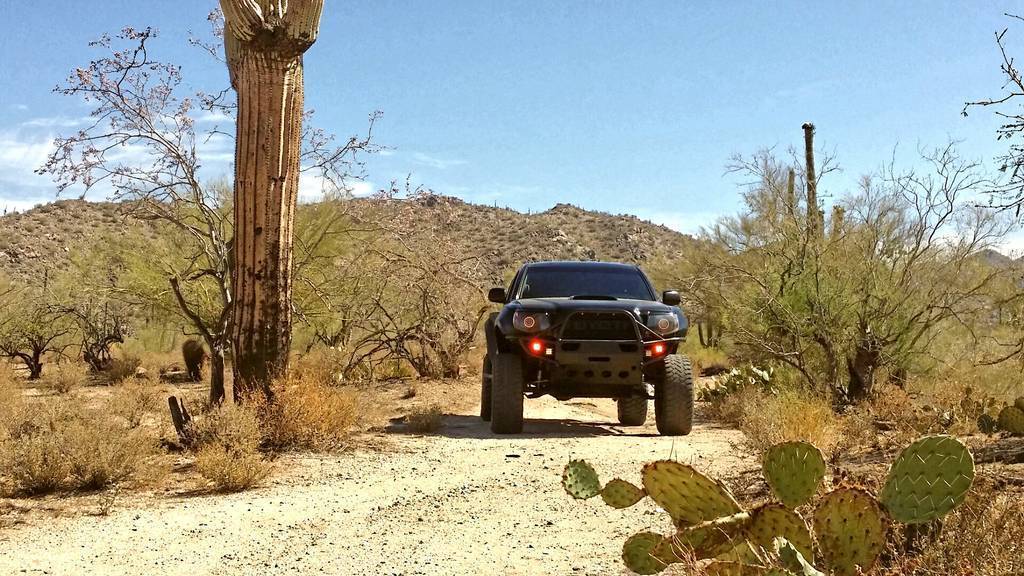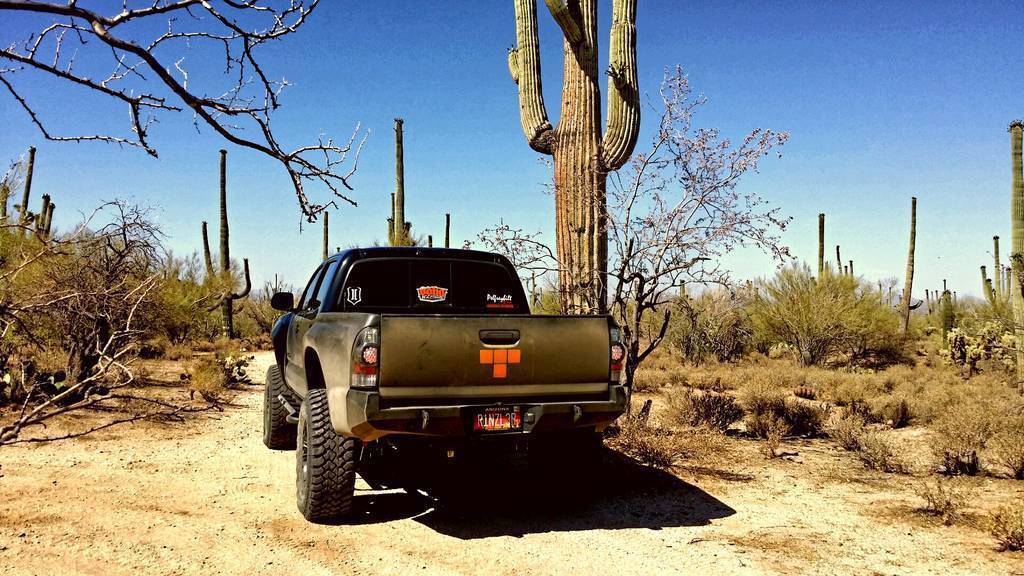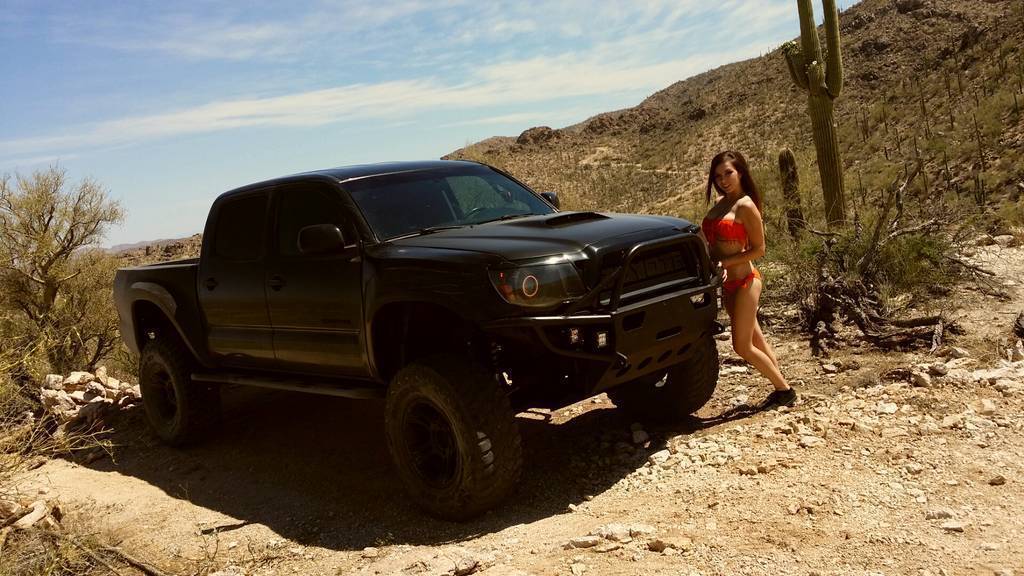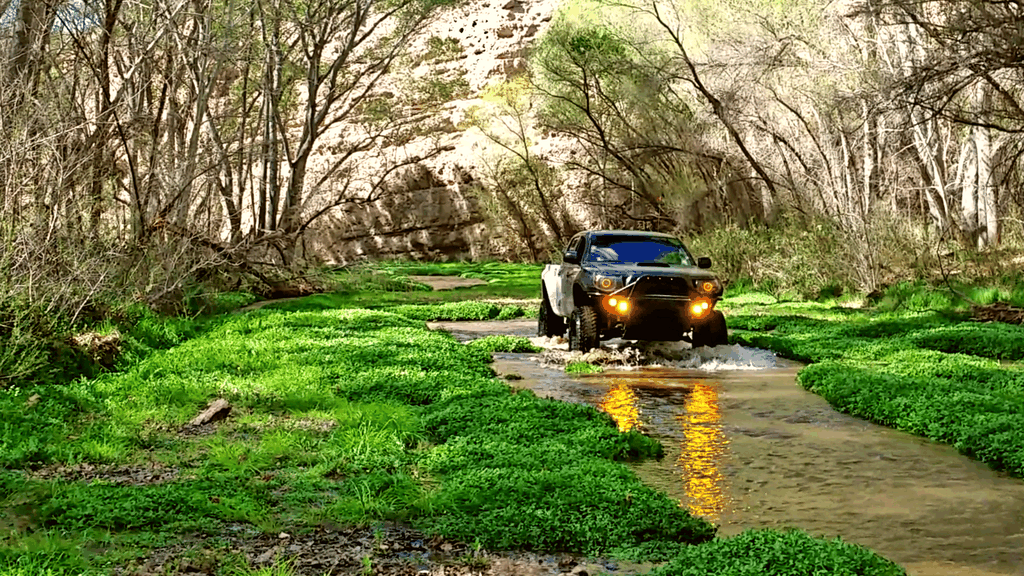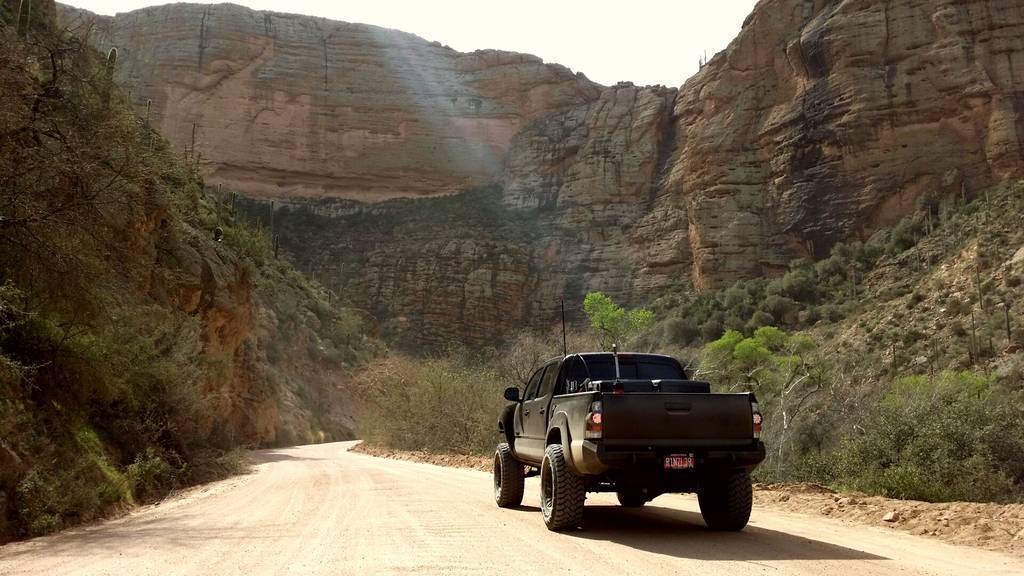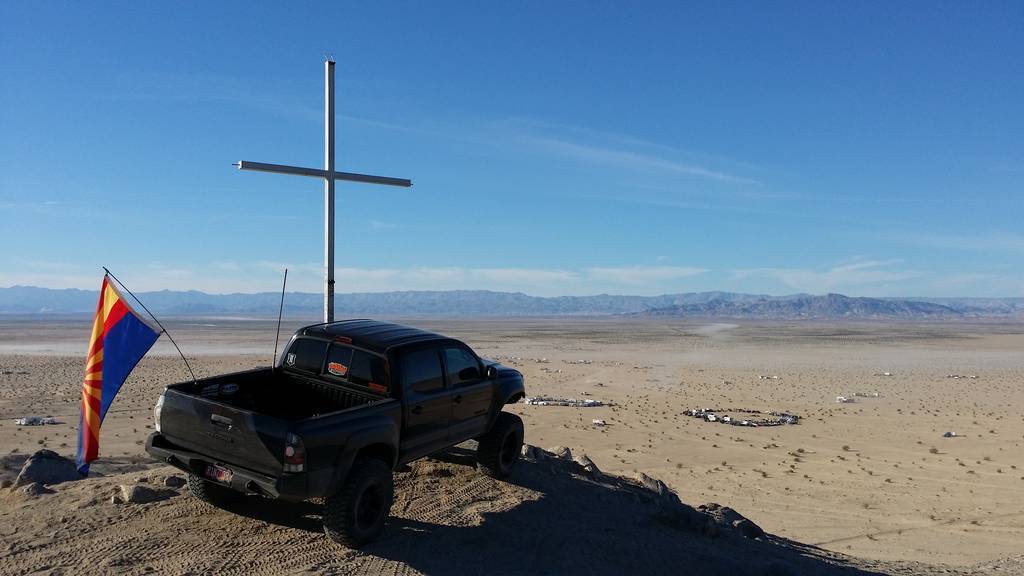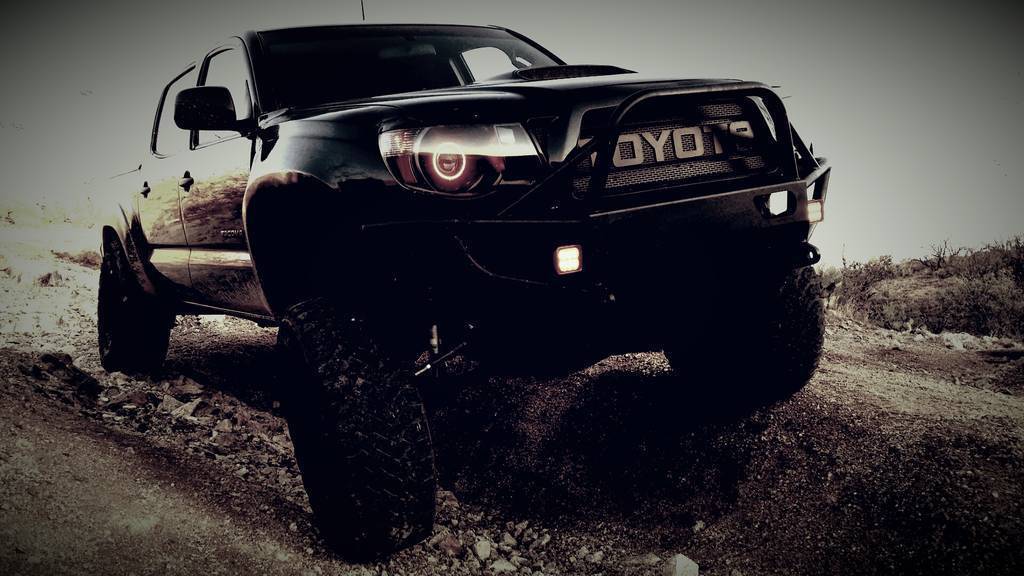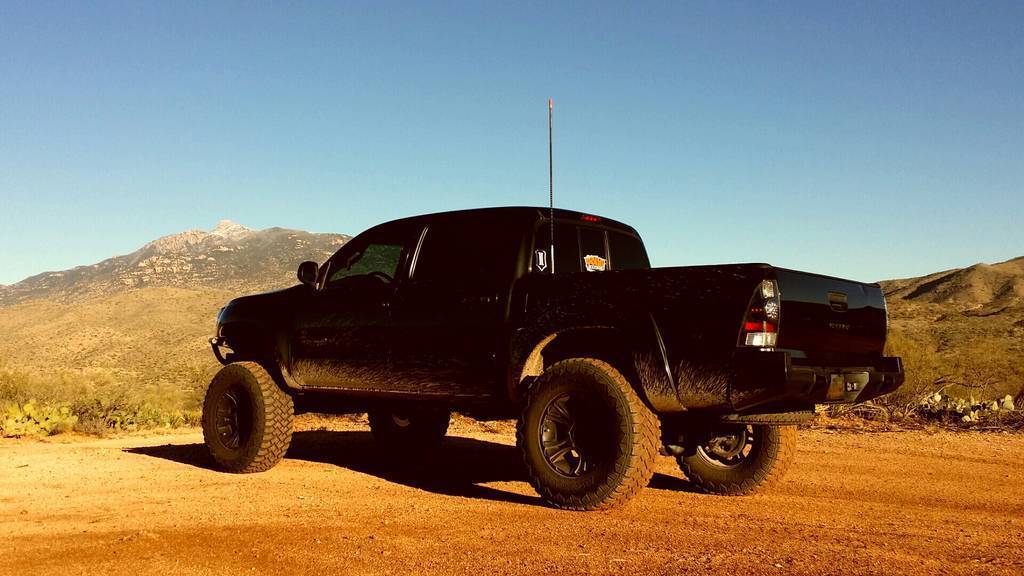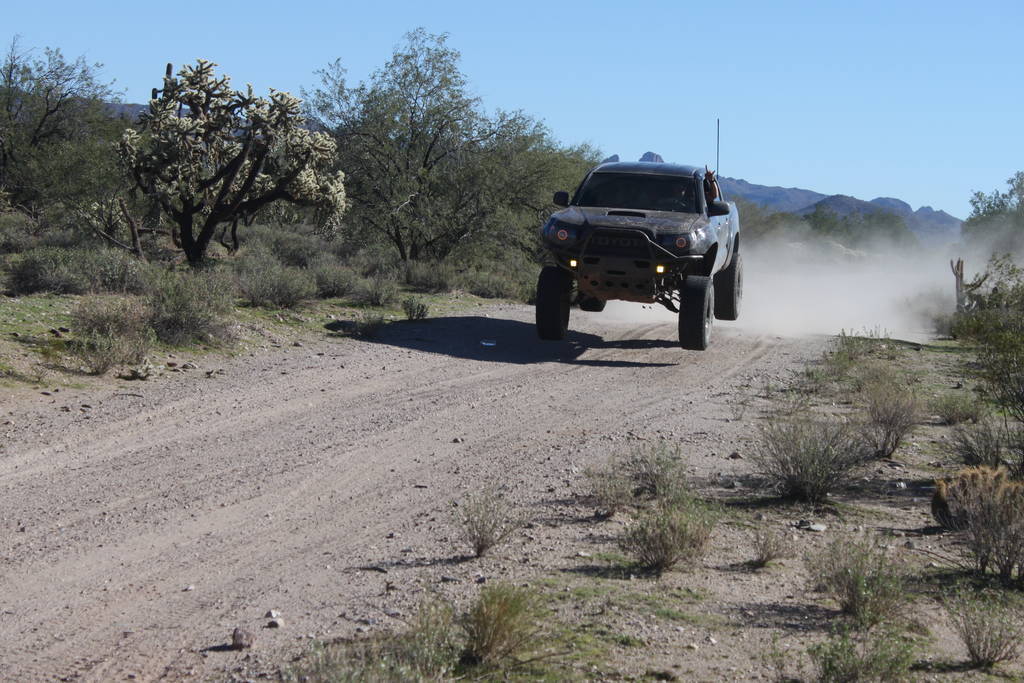 VEHICLE SPECS:
-2008 Black Sand Pearl Tacoma
-4.0L V6 Automatic
-TRD Off Road (Rectified) PreRunner
-Short Bed/Double Cab
PERFORMANCE:
-ECGS 4.56 Nitro Gears
-AFE Intake Stage 2 SI
SUSPENSION:
-Bilstein 5100 Adjustable Front Shocks (0 Setting)
-OME 885X Coil Springs
-MaxTrac Spindles
-Icon Uniball Upper Control Arms
-Procomp MX-6 Rear Shocks with Compression Adjusters
-All Pro Expedition Leaf Springs
-All Pro U-Bolt Flip Kit
WHEELS/TIRES:
-KMC XD Cranks 17x9 5 BS -12mm OS
-315/70R17 Hankook MT RT03s
-BORA 1.25" Wheel Spacers
ARMOR:
-BruteForce Fabrication Hybrid Front Bumper
-BruteForce Fabrication Rear Plate Bumper
-Pelfreybilt IFS Skid Plate
-Keepers Fabrication Hybrid Sliders
RECOVERY:
-48" Hi-Lift Jack
-ARB Tire Puncture Repair Kit
-Rugged Ridge 30k Recovery Strap
-Crovel Extreme Survival Tool
-TruPro 19" Shovel
-Fiskars X15 Chopping Axe
EXTERIOR COSMETICS:
-Custom Satin Black Paint Job
-HomerTaco Raptor Style Grill!
-Sleeper Eyelids by Toyota Man
-Trailer Products Fiberglass Fenders
-McNeil Fiberglass Bedsides
-Cab Mount Chop by
Avid Off Road
EXTERIOR LIGHTING:
-FX-R 3.0 Projector Headlight Retrofits
-Osram Xenarc CBI Bulbs
-Morimoto 3Five D2S Ballasts
-Morimoto xBa LED Halos
-Rigid Industries Dually D2S White Driving Lights
-Rigid Industries Dually Amber Floods
-Onzium Raptor Style LEDs in Grill
-JeepAndrew's Amber Saber Whip
-Jumper's LEDs DTRL/Signals, 3rd Brake Light & LP Bulbs
-Foglight Anytime Mod
COMMS:
-Uniden 520XL CB Radio in Center Console
-3' Firestick II Antenna
-Pelfreybilt CB Antenna Mount
INTERIOR COSMETICS/LIGHTING:
-Wet Okole Black Seat Covers w/ Orange Piping and TRD Emblem
-Wet Okole Armrests
-WeatherTech Floorliners
-FLYZEYE V2W Amber & Blue Wired Light
-Jumper's LEDs Interior Map & Dome Kit
-Carbon Fiber, Orange, and Black Misc Accents
-5% Rear Window Tint
-Pioneer Z-130BT Head Unit w/ Metra Kit
-2013 Black Center Console
-Center Console Divider from Salex
-Blue Seas Accessory Fuse Block (Still need Mount & 100A Breaker)
ADVENTURES
FUTURE Mods:
-SCS Stealth Runner 8 Wheels
-Keepers Fabrication Bed Rack & Tire Gate
-Tepui Kukenam Ruggedized RTT
-Baja Designs 30" Onyx or Rigid E2 Light Bar
Full ICON/SDHQ Mid-Travel Set up:
-2.5" Remote Resi Coilovers w/ CDC
-S2 Modular Performance Shock System(Hoop)
-Secondary S2 Omegas
-Total Chaos Racing LCAs
-DMZ SUA Kit
-Zeta Racing Shocks
-Rear Hydro Air Bumps
Performance:
-URD Equal Length Headers
-URD 3" Mk2 Catback Exhaust (or STiLL WILLs setup)
-URD Y-Pipe
-URD MAF Sensor CAL
-URD Mk3 Supercharger Kit w/ UCON-EMS
Special Thanks To:
My dad (OldManToy)
Andrew (JeepAndrew)
Jason (05TacoRunner)
Craig (HomerTaco)
Jason (Infra)
Derrick (CrawlinWJ)
Billy (ironman44bear) Brute Force Fab
Tyler (SocalDuckSlayer)
Pelfreybilt
Vince & Jason (SDHQ)
Vin (SCS Wheels)
Jason (motorsport36)
Matt (mback1)
Jacob (Kyouto42)
Patrick (Nofords08)
Andrew (Andrew H)
David (YumaTRD)
Kris (TRDguyKC)
...for all helping out with this build!
MOAR PICS
& LOTS MORE ON PAGE 6, 7, 8, 9, 11, 30, 32, 57, 61 & so on...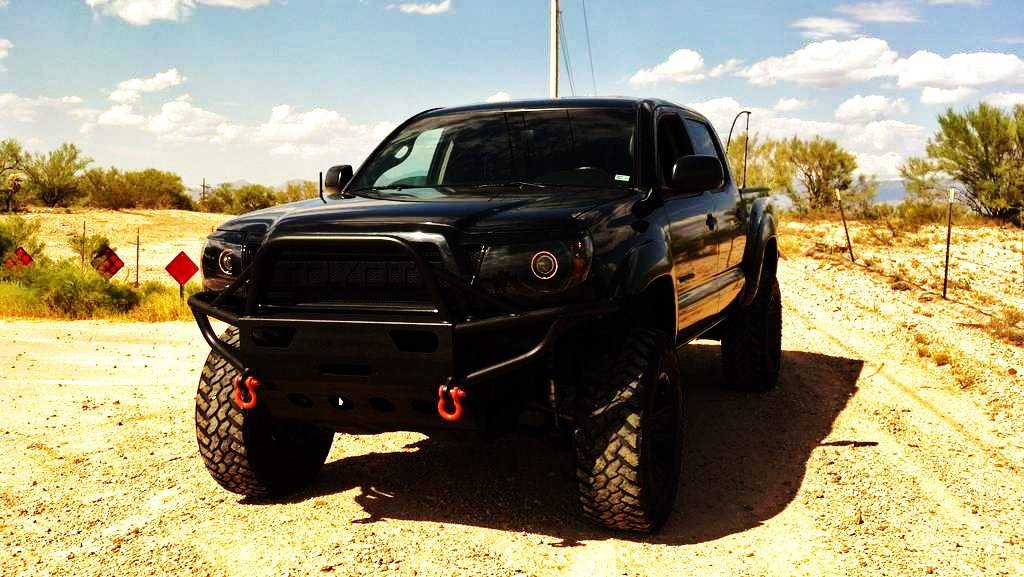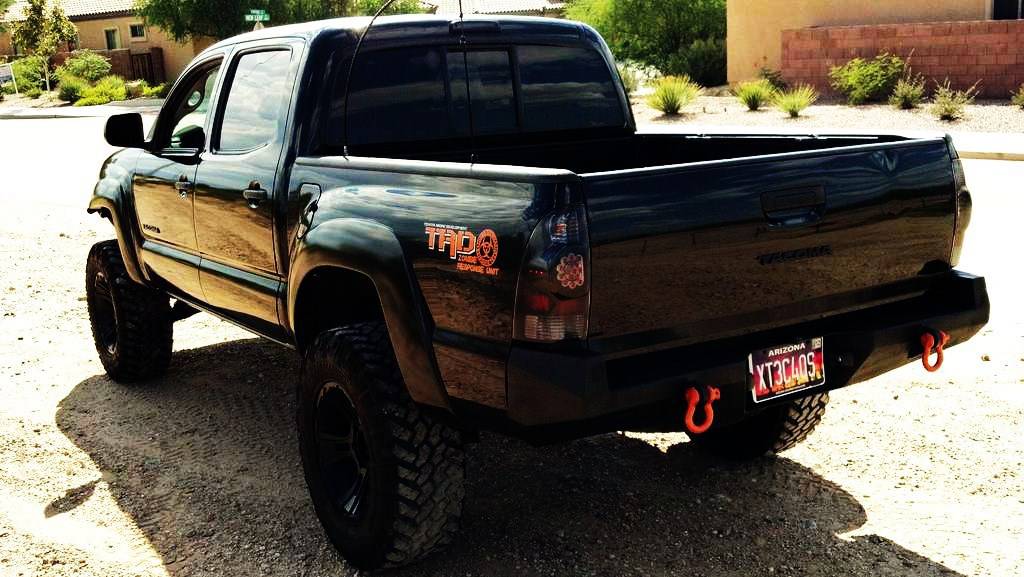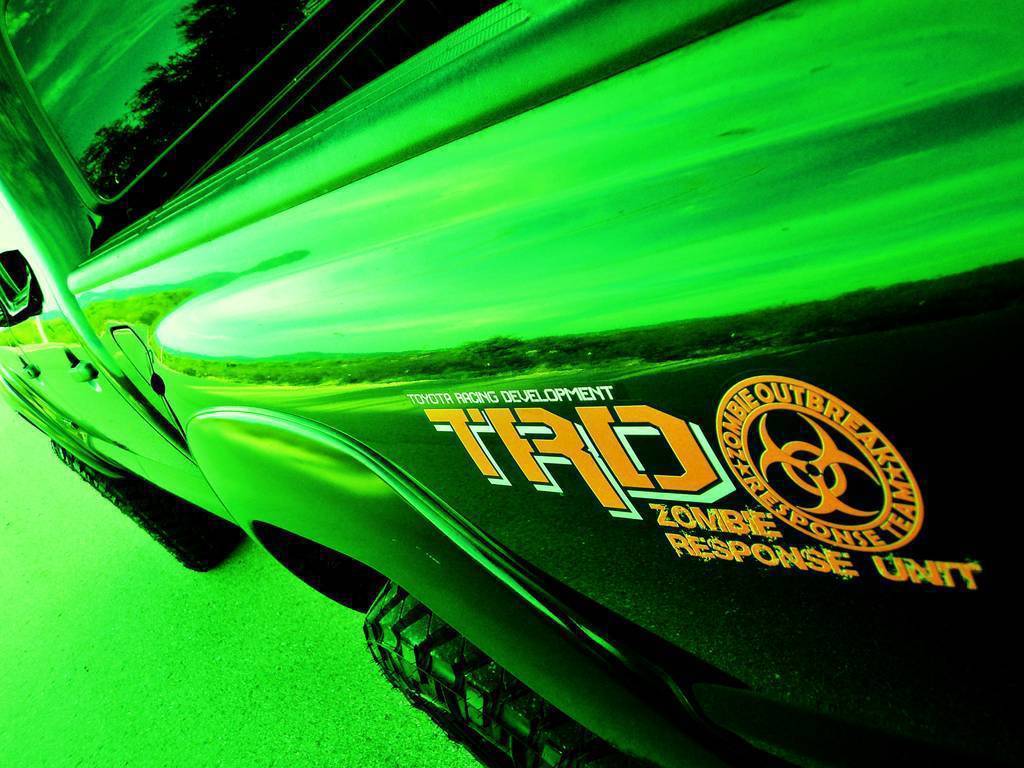 Hagen deserves to have his animation in the OP

SCS Holiday Contest!
Thanks to those who voted!
TOTM