Started in February 2011. Named Rinzler after watchin Tron:Legacy 1000+ times and loving the Black and Orange Theme!
Please rate my build if you like it!
TOTM Threads
http://www.tacomaworld.com/forum/off...ns-thread.html
http://www.tacomaworld.com/forum/off...ch-2013-a.html
As of 12/6/13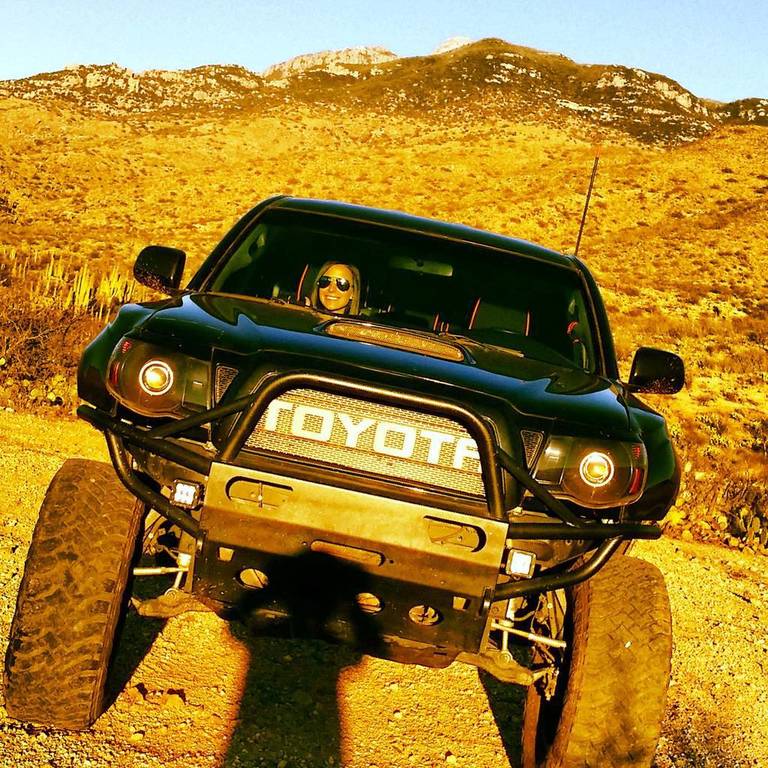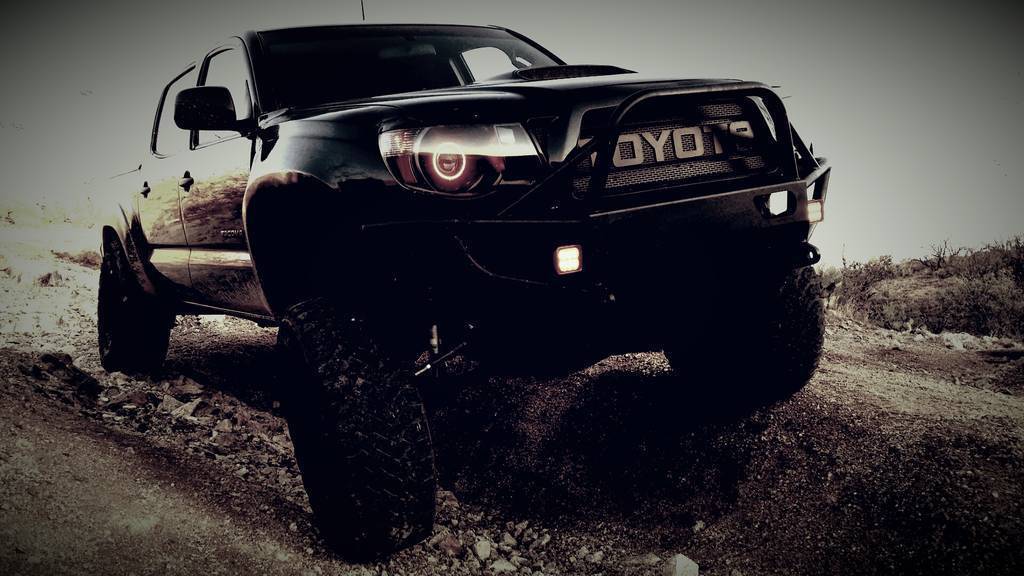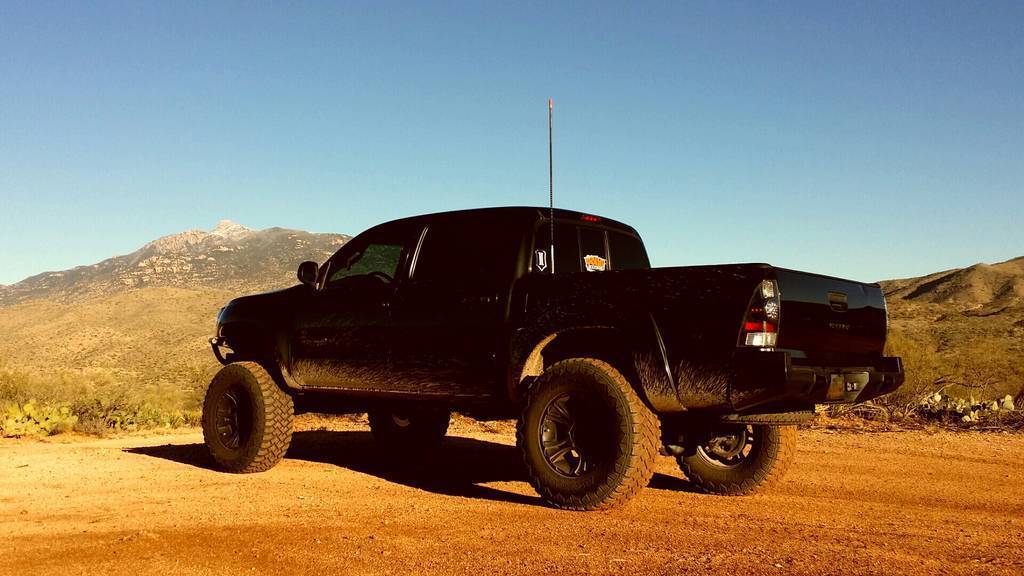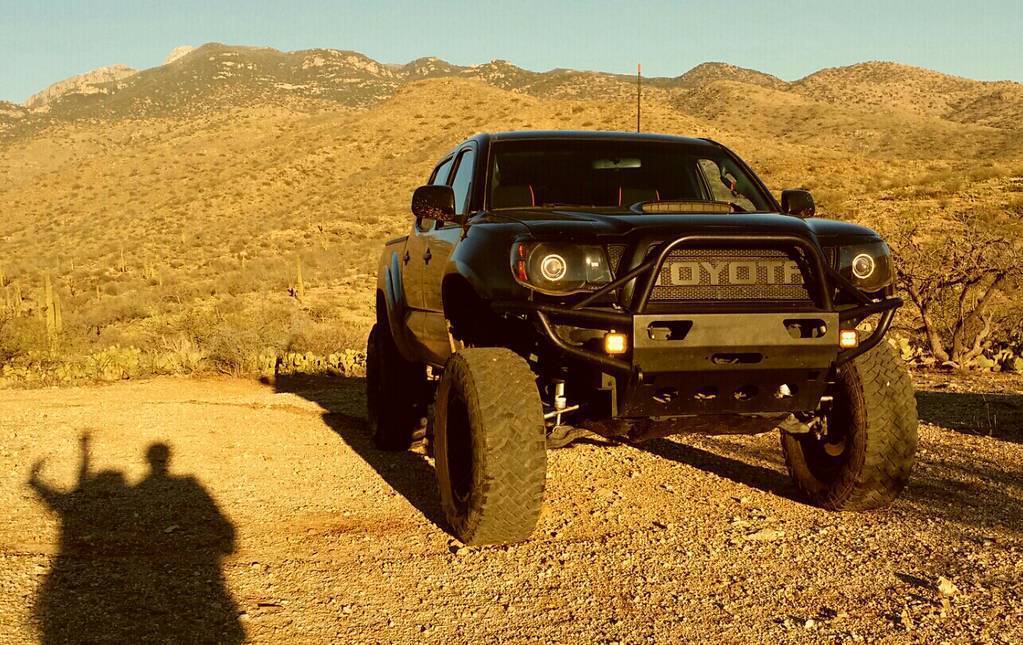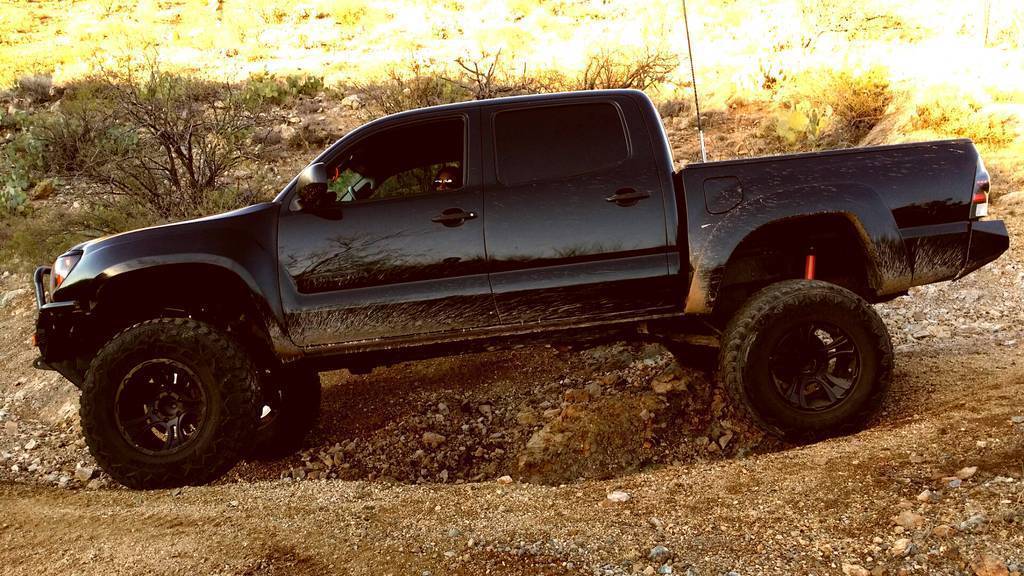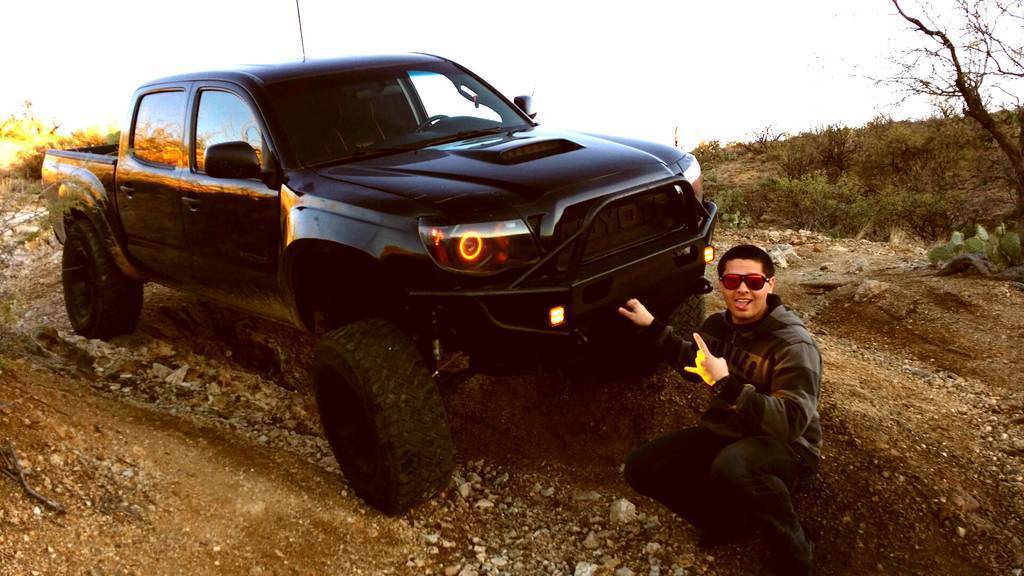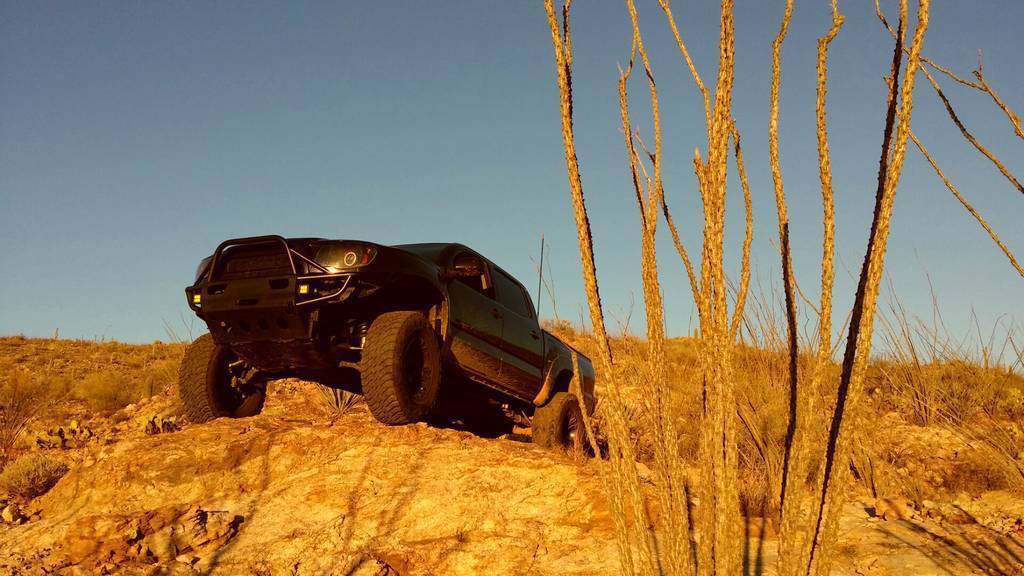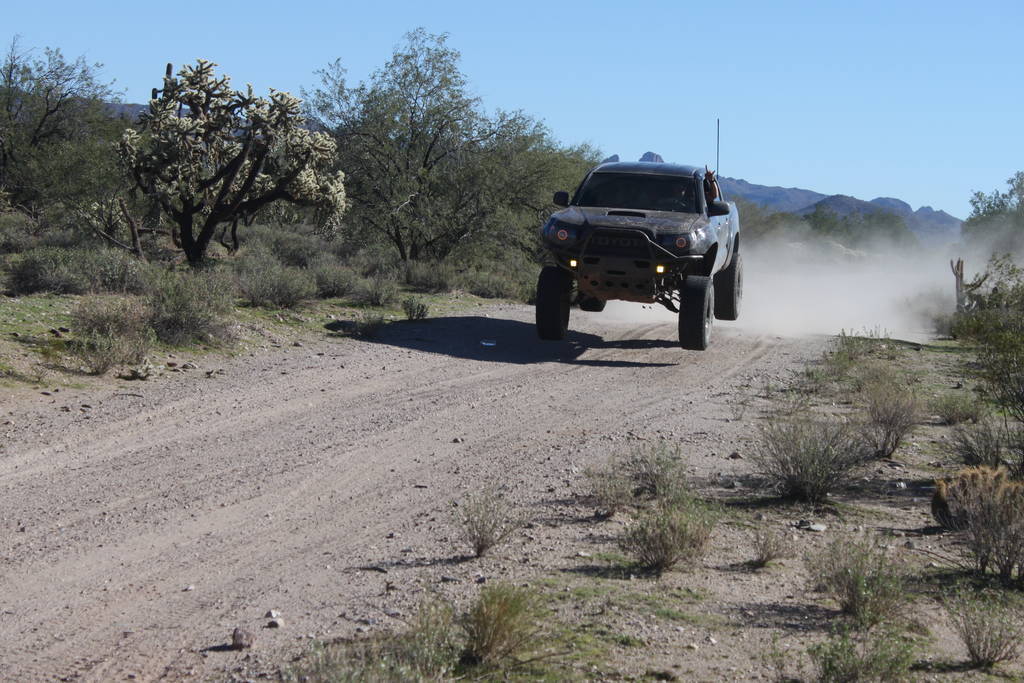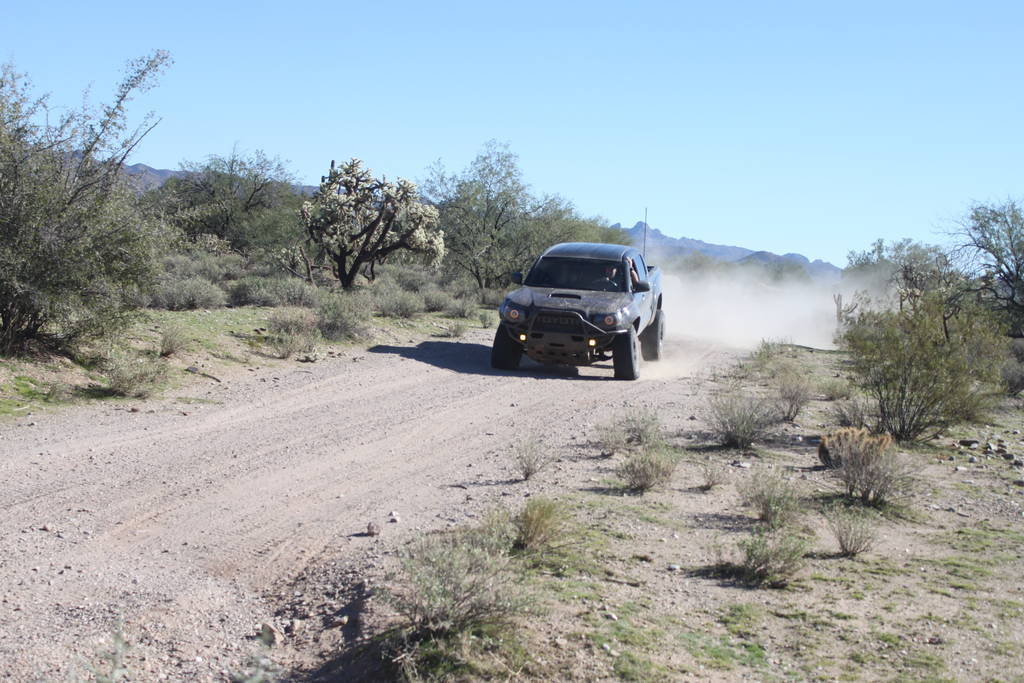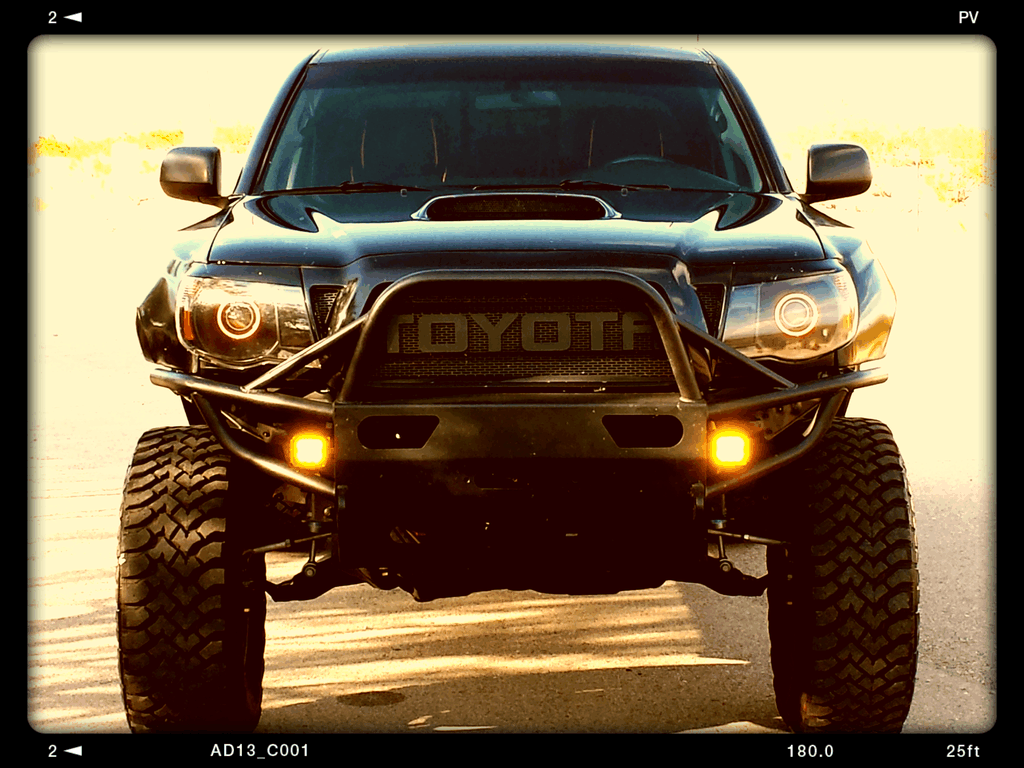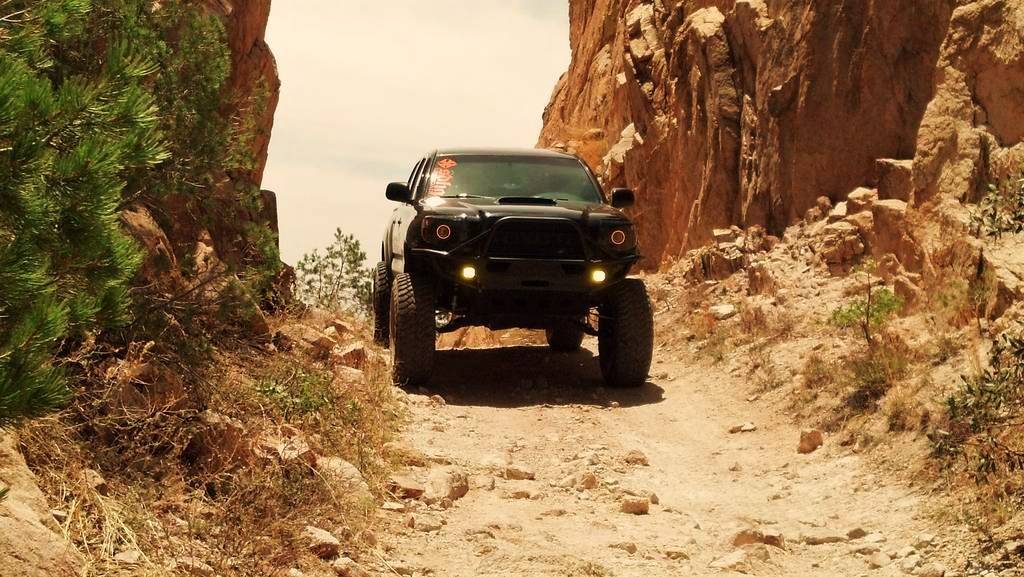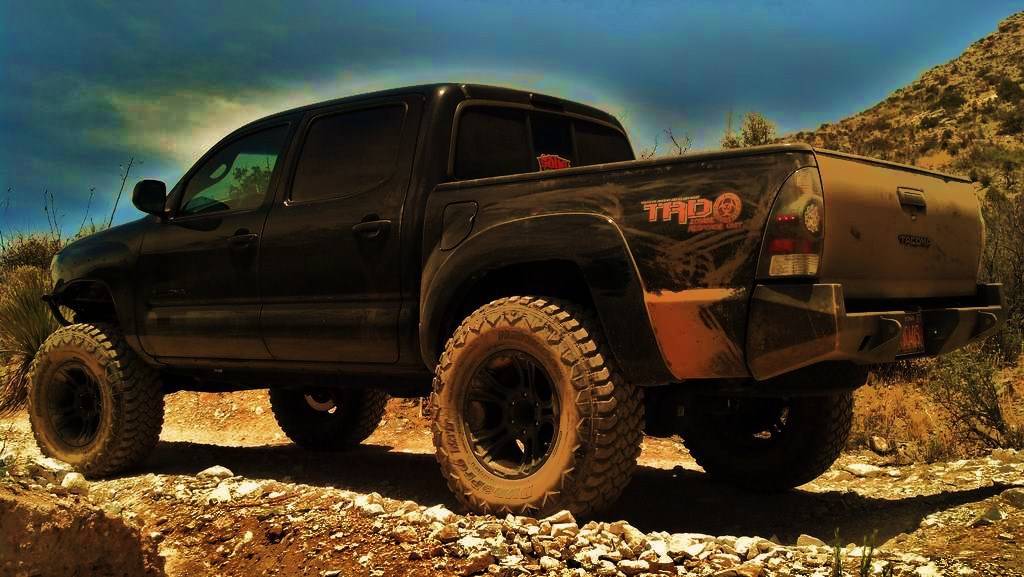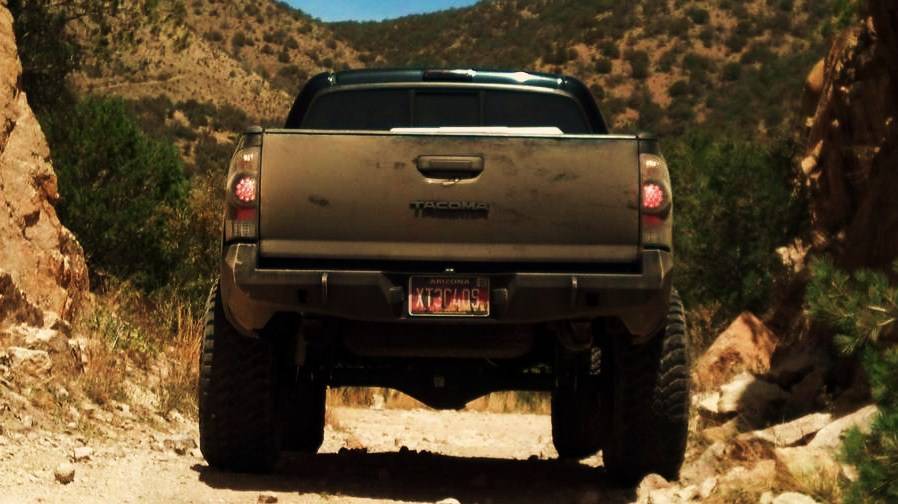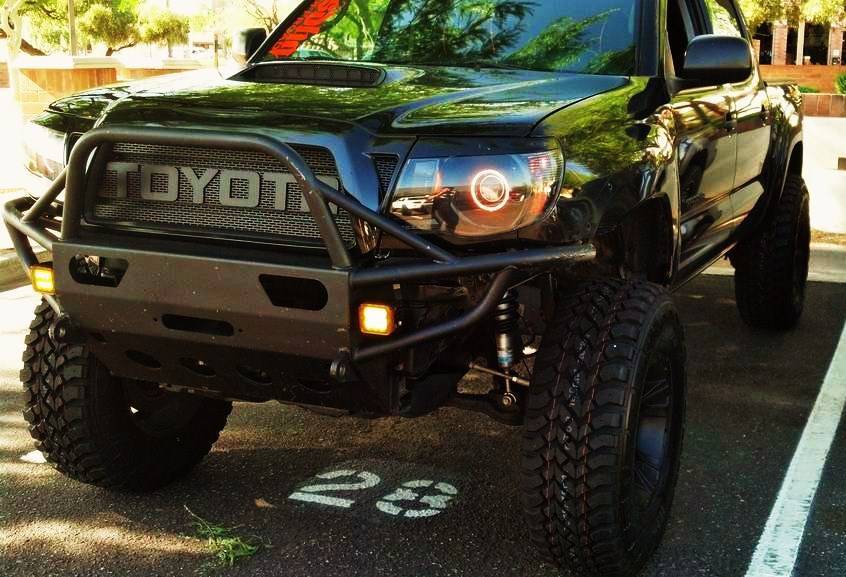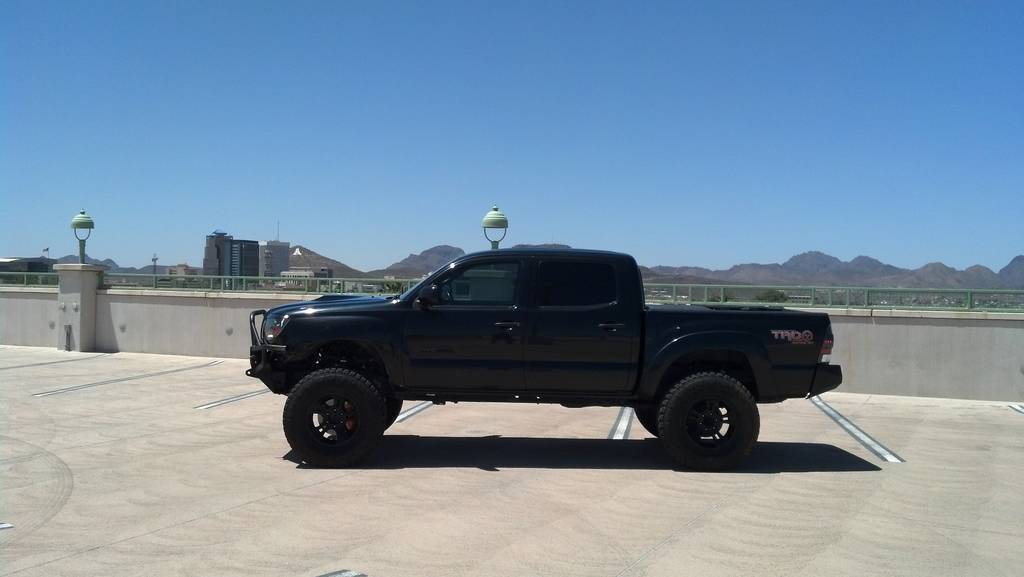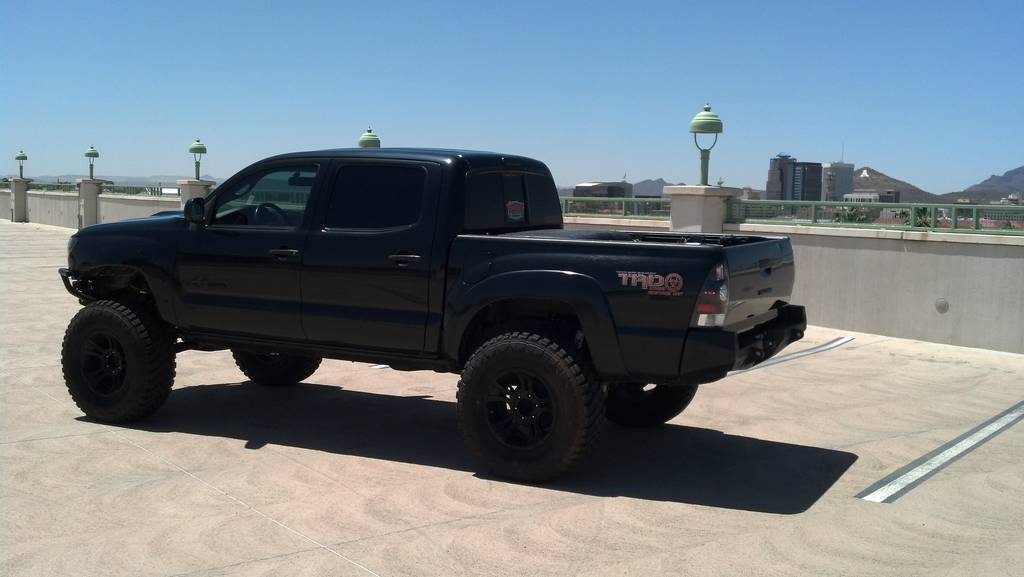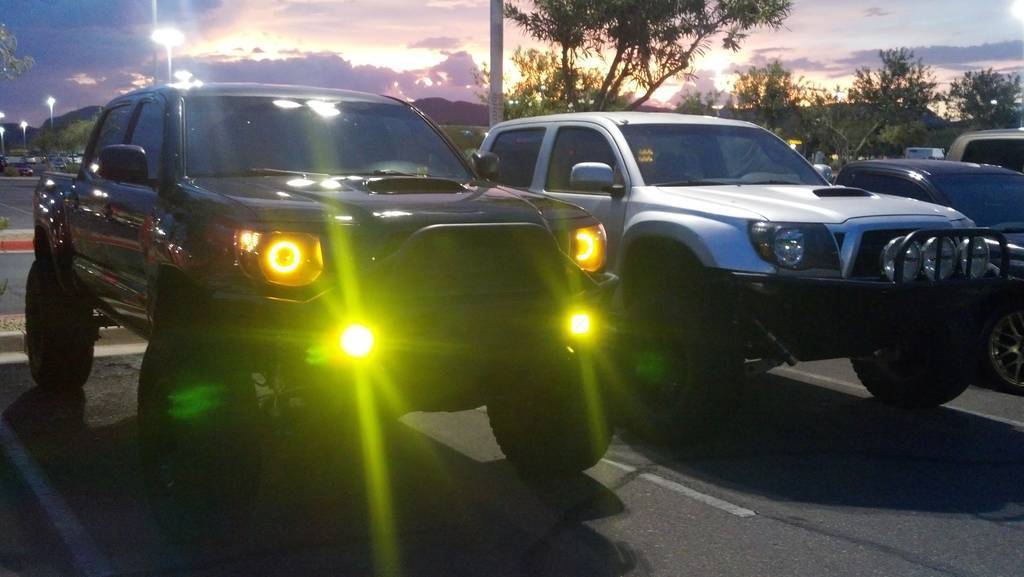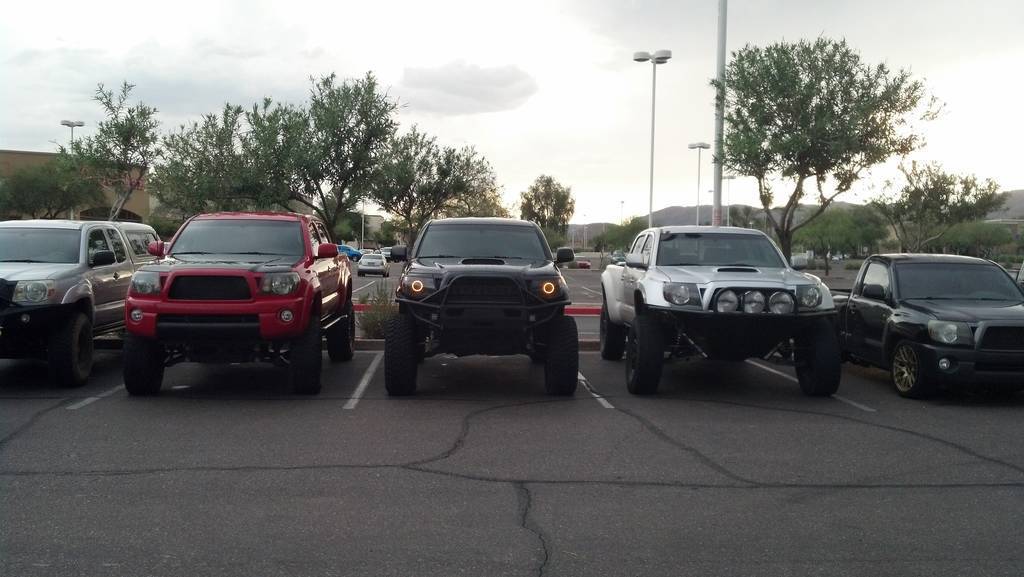 Just some of my fav pics over the build Pre-Spindle Lift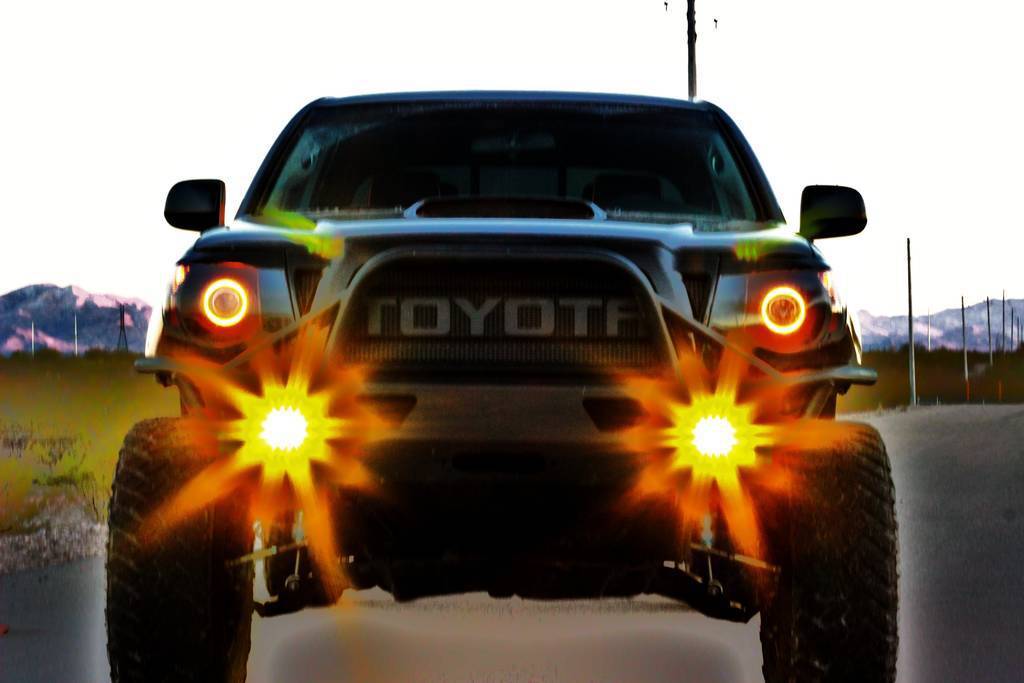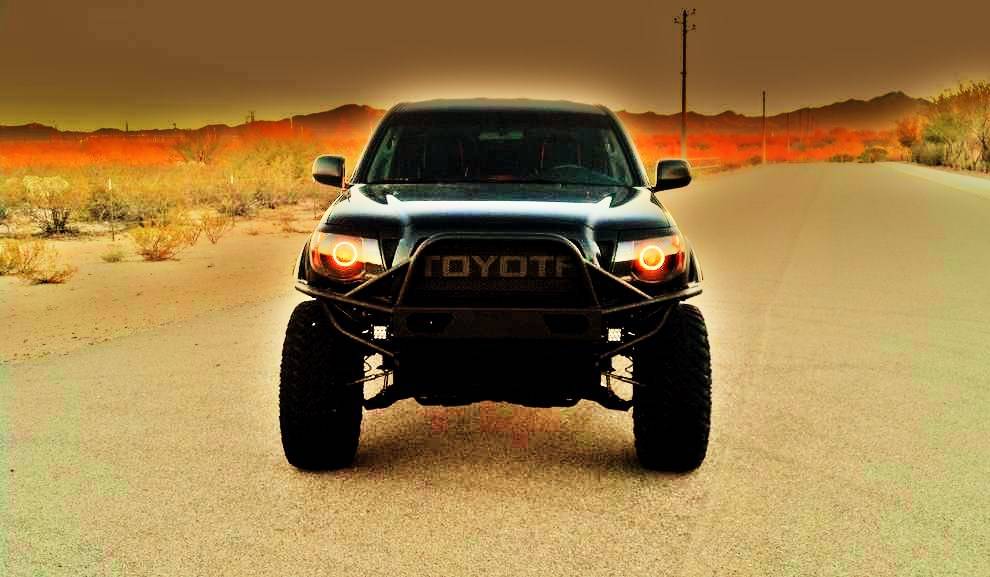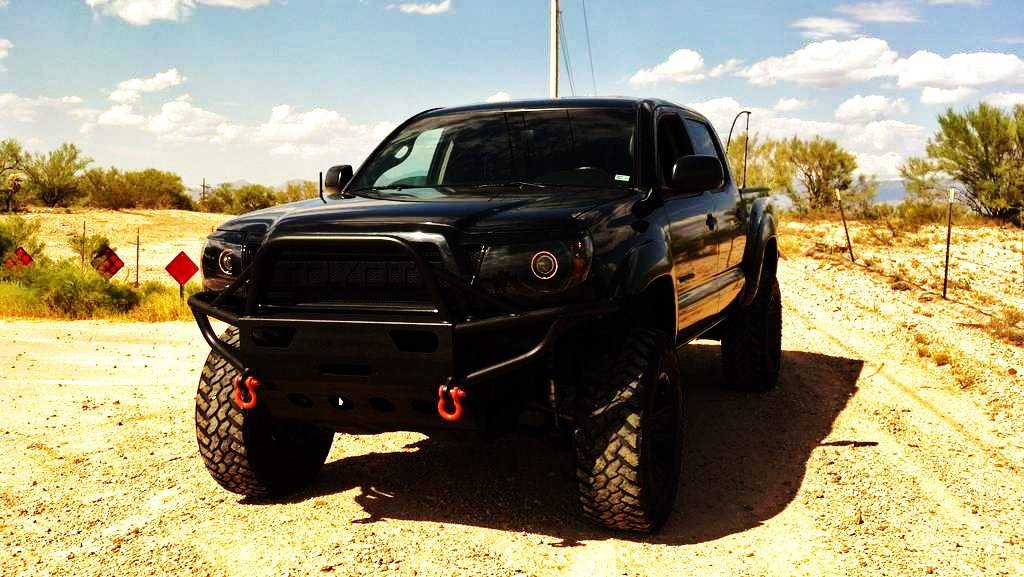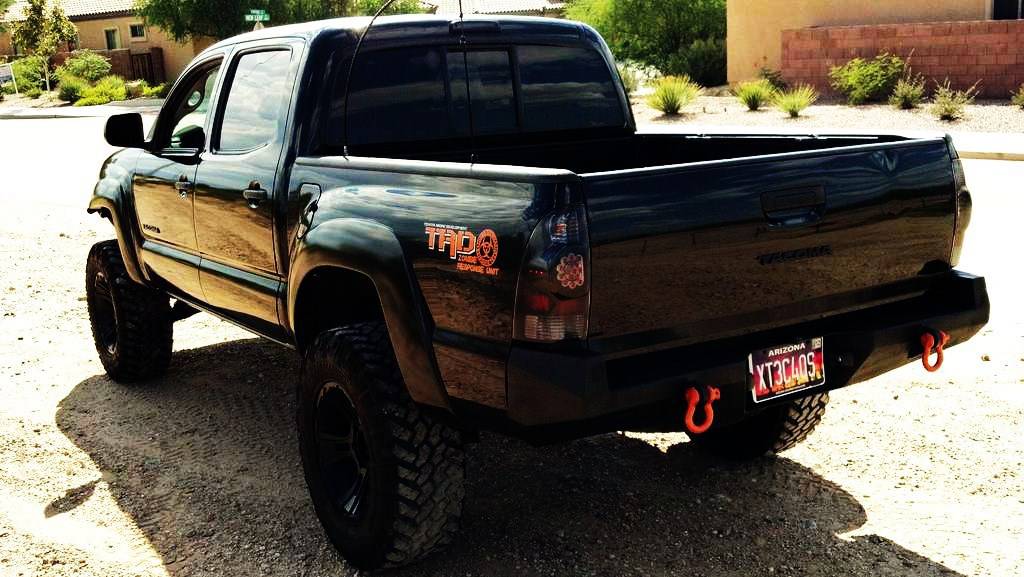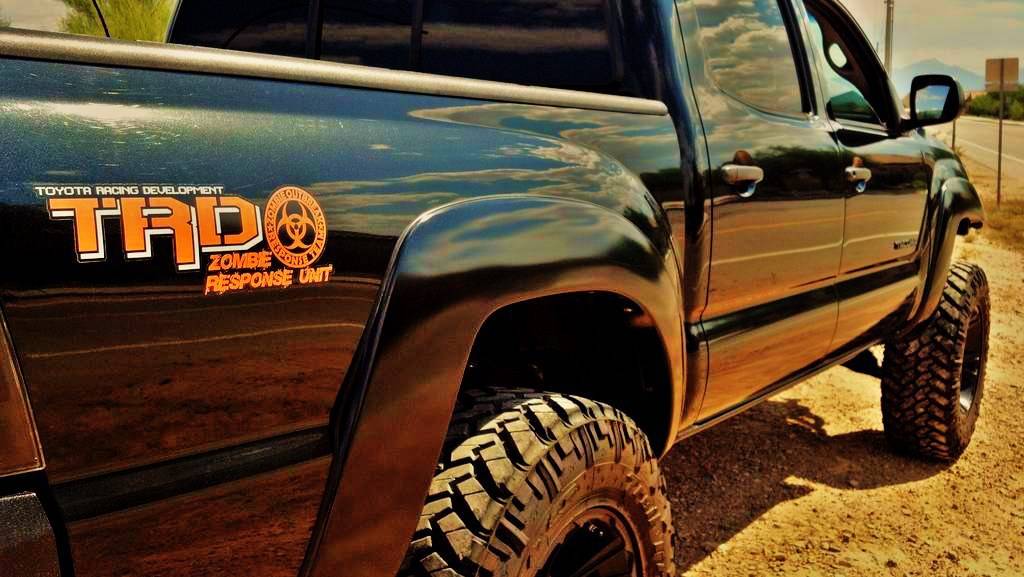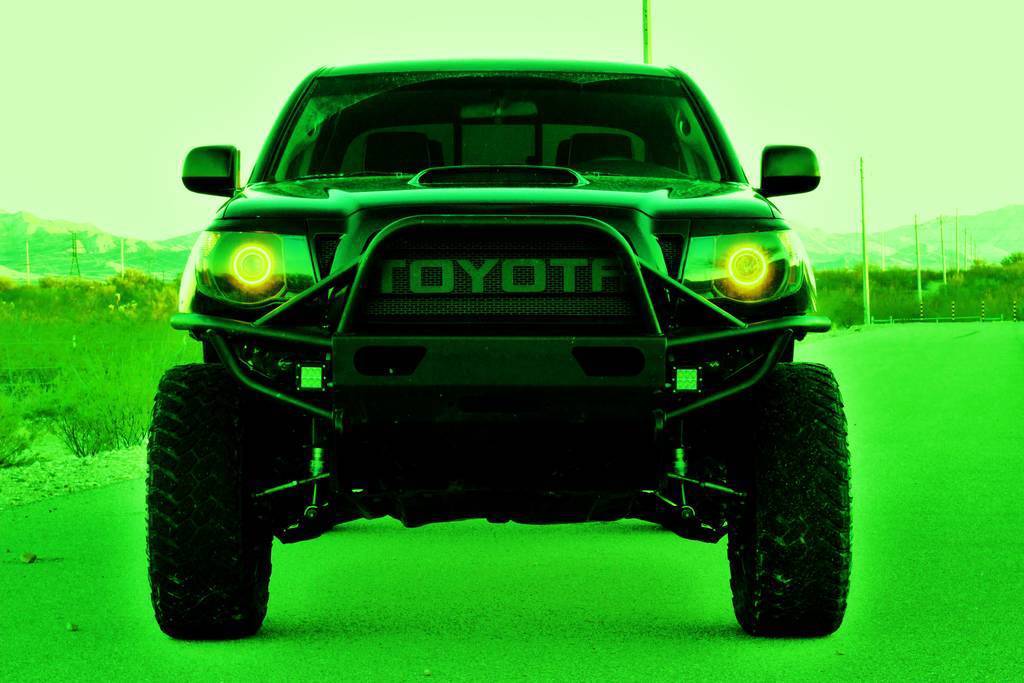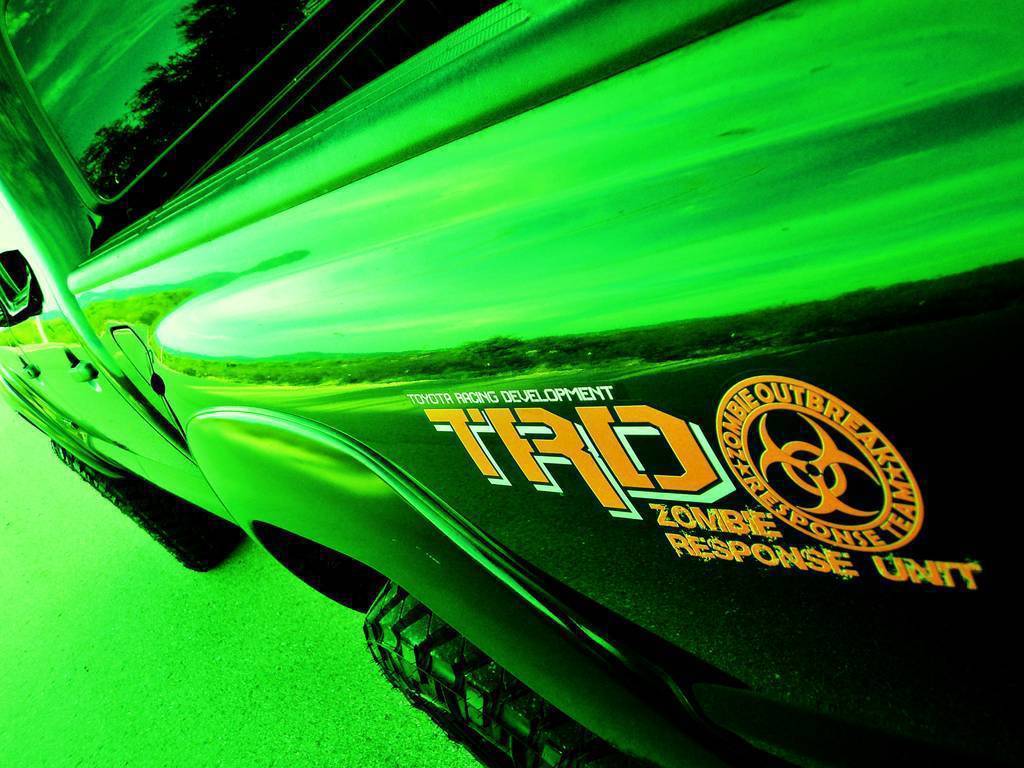 VEHICLE SPECS:
-2008 Black Sand Pearl Tacoma
-4.0L V6 Automatic
-TRD Off Road (Rectified) PreRunner
-Short Bed/Double Cab
SUSPENSION:
-Bilstein 5100 Adjustable Front Shocks (0 Setting)
-OME 885X Coil Springs
-MaxTrac Spindles
-Icon Uniball Upper Control Arms
-Procomp MX-6 Rear Shocks with Compression Adjusters
-All Pro Expedition Leaf Springs
-All Pro U-Bolt Flip Kit
WHEELS/TIRES:
-KMC XD Cranks 17x9 5 BS -12mm OS
-315/70R17 Hankook MT RT03s
-All Pro 1.25" Wheel Spacers in Rear
ARMOR:
-BruteForce Fabrication Hybrid Front Bumper w/ Light Hoop and Supports
-BruteForce Fabrication Rear Plate Bumper and Hidden Tow Hitch
RECOVERY:
-48" Hi-Lift Jack
-ArmorTech Hi-Lift Mount in bed
-ARB Tire Puncture Repair Kit
-Shackles Front and Rear
-Rugged Ridge 20,000lb Recovery Strap
-Crovel Extreme Survival Tool
-TruPro 19" Shovel
-Fiskars X15 Chopping Axe
EXTERIOR COSMETICS:
-HomerTaco Raptor Style Grill!
-BSP Sleeper Eyelids by Toyota Man
-Trailer Products Fenders
-Scooped Hood
-Debadged and Rebadged Black: "Tacoma" Center of Tailgate
-SDHQ Offroad Racing Rear Slider Window Decal
-Zombie Response Team AZ Division Decal
-Sticker Bomb has commenced in the bed..
-Chopped Exhaust
-Cab Mount Chop by
Avid Off Road
EXTERIOR LIGHTING:
-FX-R Projector Headlight Retrofit w/ 5000K Morimoto HID Bulbs
-Morimoto 55W D2S Ballasts
-Morimoto Amber xB LED Angel Eyes 2.0
-Rigid Industries Dually D2S White Driving Lights w/ Amber Covers
-Jumper's LEDs DTRL/Front & Rear Signals
-Foglight Anytime Mod
-Nightshaded LED 3rd Brake Light
-Jumper's LEDs 3rd Brake Light and Amber License Plate Bulbs
COMMS:
-Uniden 520XL CB Radio in Center Consul w/ Weatherproof PA
-3' Firestick II Antenna on Driver Side Behind Cab
-Universal CB Antenna/Flag Mount by desert guy
INTERIOR COSMETICS/LIGHTING:
-Wet Okole Black Seat Covers w/ Full Orange Piping and TRD Emblem
-Wet Okole Center Consol Cover and Armrests
-WeatherTech Floorliners
-BSP Steering Wheel Emblem
-Orange Tweeter and Speedometer Rings
-Orange and Black Center AC Dash
-Carbon Fiber Window Control Panels, AC Control Faceplate & Gear Shifter Console Area with Orange Accent
-FLYZEYE V2W Amber & Blue Wired Light
-Jumper's LEDs Amber Interior Map & Dome Kit
-5% Rear Window Tint
-Pioneer Z-130BT Head Unit w/ Metra Kit
-Center Consul Divider from Salex
-Blue Seas Accessory Fuse Block (Still need Mount & 100A Breaker)
FUTURE Mods:
-McNeil Fiberglass Bedsides
-Film Dynamics Full 3M Matte Black Vinyl Wrap
Full Icon/SDHQ Mid-Travel Set up:
-Extended Travel Remote Resi Coilovers
-S2 Modular Performance Shock System(Hoop)
-Secondary S2 RR Shocks w/ CDC
-S2 LCA Skid Plate
-Rear Omega 2.5" Bypass Shocks
-Rear Bolt on Hydro Air Bumps
-DMZ SUA Kit
-Pelfreybilt IFS and Transmission Skid
-Pelfreybilt Hi-Lift and Shovel Mounts
-KM Fabrication Sliders w/ Kickout
Performance:
-AFE Intake Stage 2 SI
-Doug Thorley Long Tube Headers
-URD 3" Mk2 Catback Exhaust (STiLL WILLs setup)
-URD Y-Pipe
-URD MAF Sensor CAL
-URD Mk3 Supercharger Kit w/ UCON-EMS
Special Thanks To:
Steve (OH-MAN)
Brian (BFA)
Nate & Sarah (himmie)
Jason (motorsport36)
Andrew (Andrew H)
My dad (OldManToy)
Brandon from Avid Off Road
Mike (mh.meier)
Andrew (JeepAndrew)
David (YumaTRD)
Craig (HomerTaco)
Billy (ironman44bear) from Brute Force Fabrications
Jason (05TacoRunner)
Jason (Infra)
Matt (mback1)
Jacob (Kyouto42)
Patrick (Nofords08)
Josh (Section8)
Vince (SDHQ)
...for all helping out with this build!
MOAR PICS
& LOTS MORE ON PAGE 6, 7, 8, 9, 11, 30, 32, 57, 61 & so on...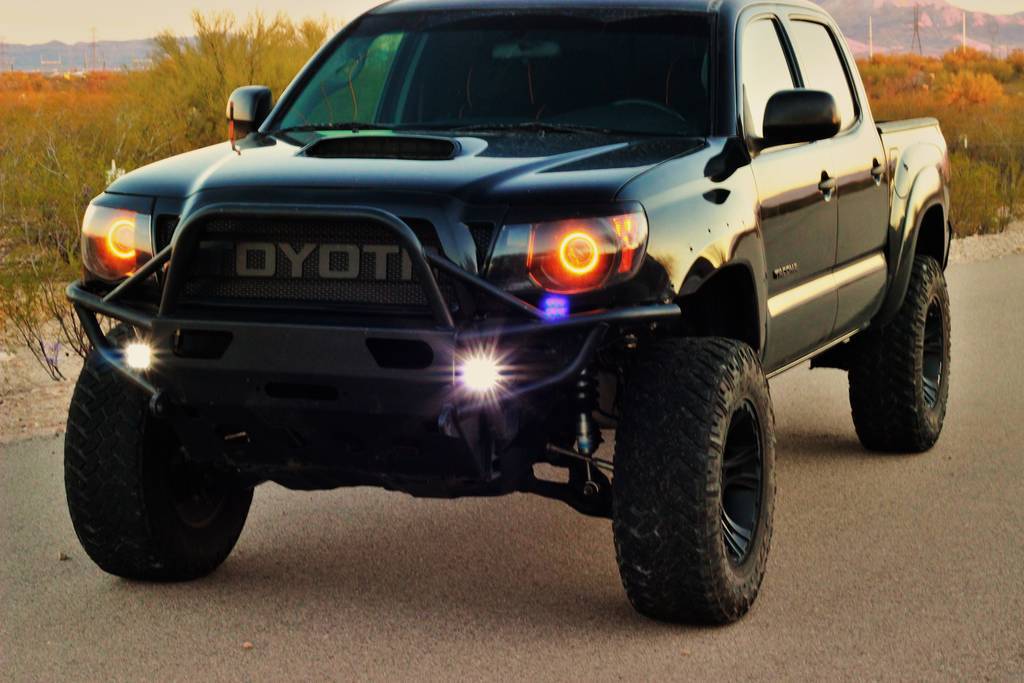 Hagen deserves to have his animation in the OP