Hey guys. I thought since Ive gotten a few things done to my truck I should show it off. Its not much compared to some other guys on here but it is still a work in progress. Let me know what you guys think!
Got her used in Costa Mesa from a AutoTrader add. Came with 75k miles and a 13,500 price tag. It is a 2005 Tacoma TRD Offroad.
What she looks like as of NOW!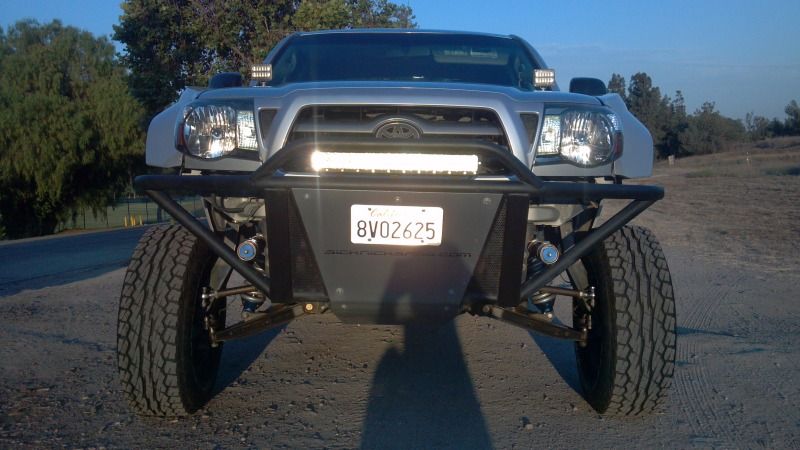 -All film credit goes to Airdog
Current Preload on the Fox 2.5 Remote Resis w/ 3" Diameter 18" Length 600 lbs Eibach Springs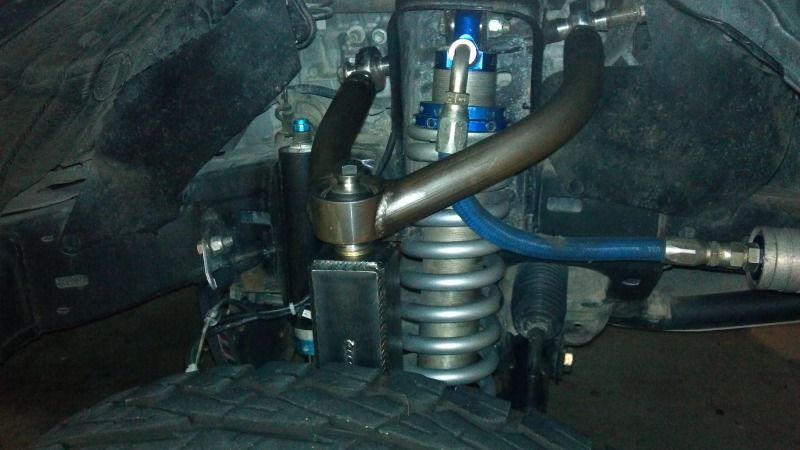 MOD LIST
-K&N Cold Air Intake w/ AEM synthetic paper filter
-ARP Racing (Lexus IS300) Extended Wheel Studs
-LSK 3.5" Longtravel Kit w/ upgraded steering
-LSK 3" Fully Fabbed Spindles
-FOX Racing 2.5 Remote Resi Coilovers
-FOX 2.0 Performance Resi Shocks in the rear
-King 2.0 4" bumpstops (shortened to 2")
-Allpro Standard 3" leaf pack
-Fiberwerx Front Fiberglass (Painted by Earl Schieb)
-Glassworks Rear Fiberglass Fenders painted by Earl Scheib in Clairmont, CA
-33" Falken Wildpeak All Terrain Tires (285/75/16)
-Sick Nicks Fab Front Bumper
-Sick Nicks Fab Cab Mount chop
(
http://www.tacomaworld.com/forum/sou...tanton-ca.html
)
-SpeedTech Aries Pro Chase/Strobe Lights (front and rear)
-Scanguage 2
-Speed Tech Lights Console Mounted Siren
-Color Matched Grill
-Demello Offroad Bed Bar
-Blacked out roof
-BHLM headlights
-22" Aurora lightbar
-KMC Enduro 16x8 Rims
-Procomp 16x8 Spare w/ 33" BFG mud terrain
-Clarion Double Din HU
-Sirius XM Radio
-4x Innovations sliders w/ kickout
-Garmin Nuvi Navigation
-Magnaflow Turn Down Offroad Exhaust
-Blacked out AC panel
-Debadged
-Diff Breather Mod
-Blinker Mod - Thanks to JEREZ
-LED Parking lights, Reverse lights, Interior, Flashback turn signal and Back up lights
-Wet Okole Arm Rest
-10" Sub w/ custom access can box and 1600 Amp
-Icom IC-V8000 dual band ham radio
-Bestop camper cover
-Harbor Freight 2Ton jack mounted in a C4 Fabworks jack skid/cradle mounted to the bed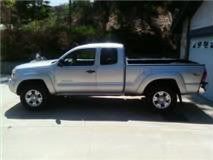 First day drove it to school!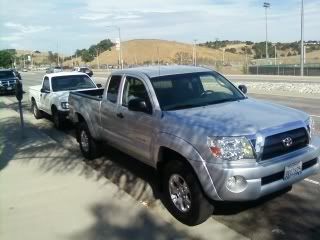 First, I wanted to see what she could do stock so I took her on a trail run at Cleghorn with some buddies.
Then, my cd player kept spitting out cds so I figures, why not get a nice one that nobody would want to steal. Its a Clarion unit.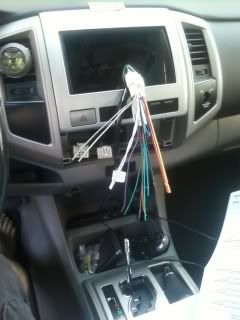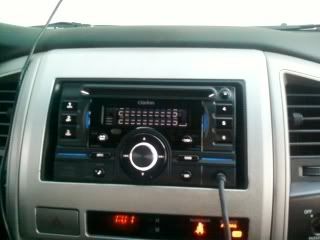 Then I wanted to do some exterior mods. First came the plasti dipped emblem. Did about 5 coats. Came out great!
Then I installed some eagle eyes but before i did that I put a thick bead of silicone on them so they wouldn't leak.
Then came the KRFAB tire gate. I got this from RCFreak because I plan on upgrading rim and tire size. Plus it looks awesome!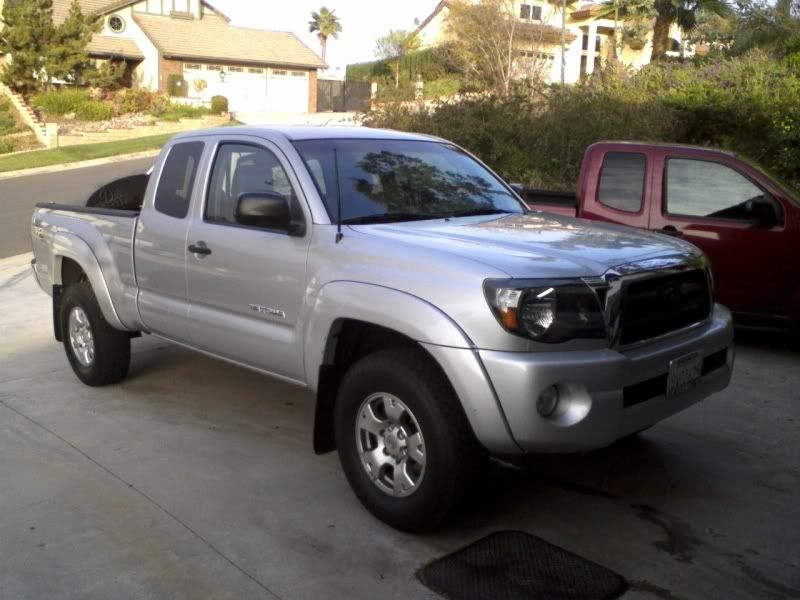 Went to the dealer to get some touch up paint and snagged these little bastards for 8 bucks.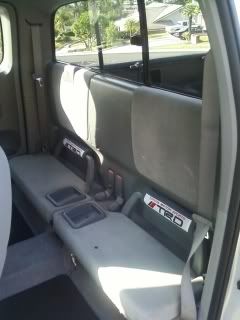 Then came the Flowmaster dual out exhaust. Scored for 200 bucks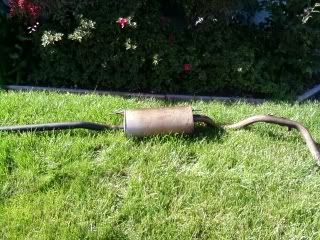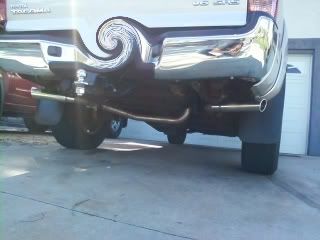 Traded my stock hood for a scooped hood.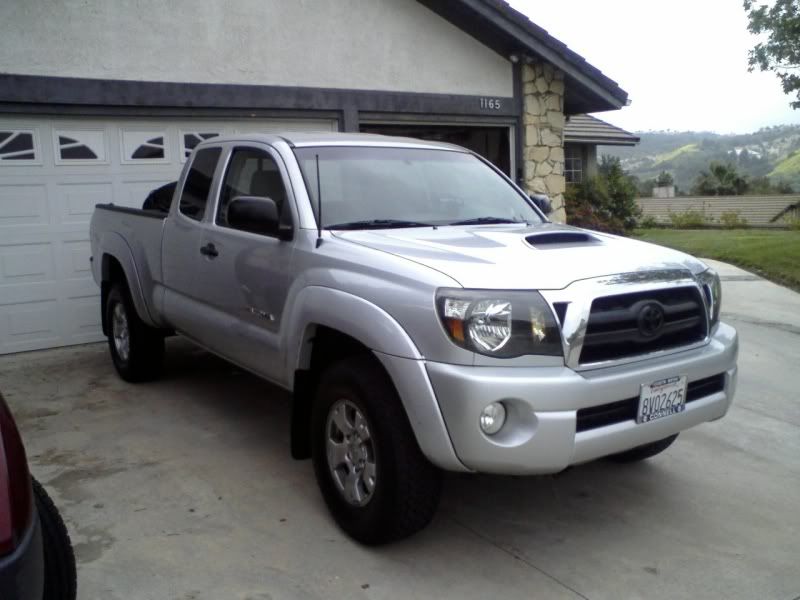 Got a demello light bar from Sabre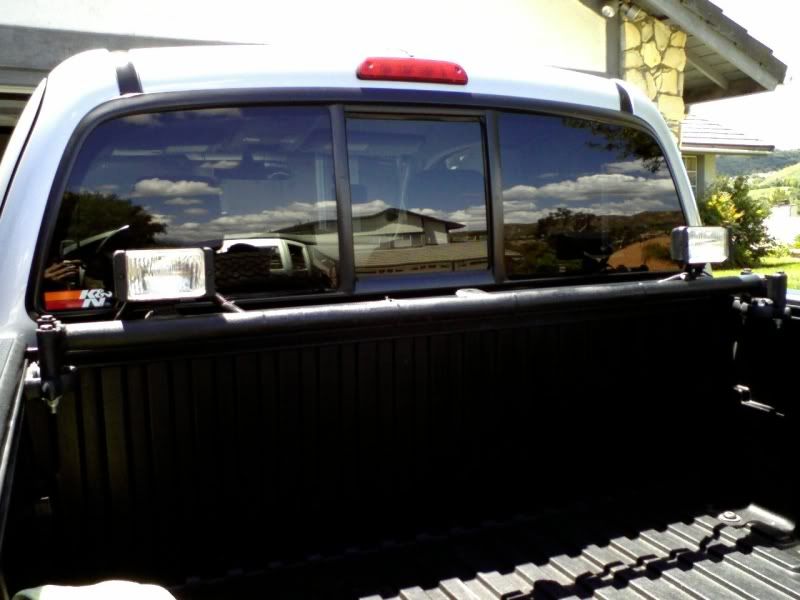 then I bought his cb set up. Nothing super special. Just a normal 40 channel cb.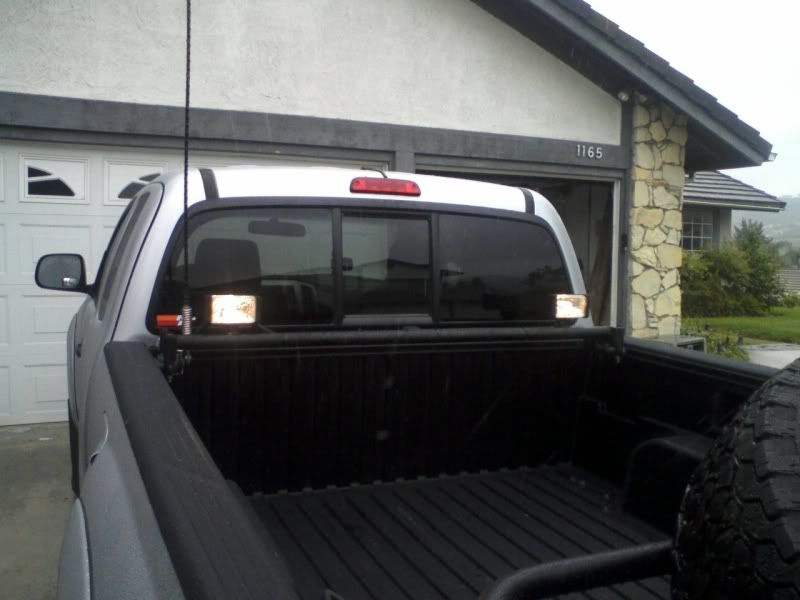 then I replaced the ugly job I did on the switch with a new carling switch. I just filed out the hole a bit and it fits perfect! Thanks 4wheelparts Azusa!
Bought a K&N intake, but sold it. Saving up for Volant.
Then came a new BLACK grill. Thanks Shiftin2Sixth
Picture of the rear how it sits now since I got a couple of q's on it.
Curt came through and we traded rims and ac panels!!!! Thanks again Shiftin2Sixth!!!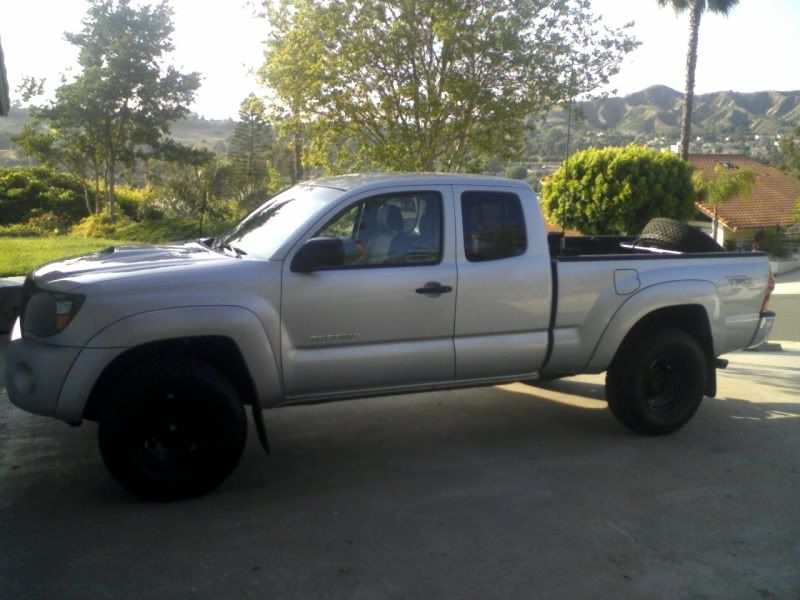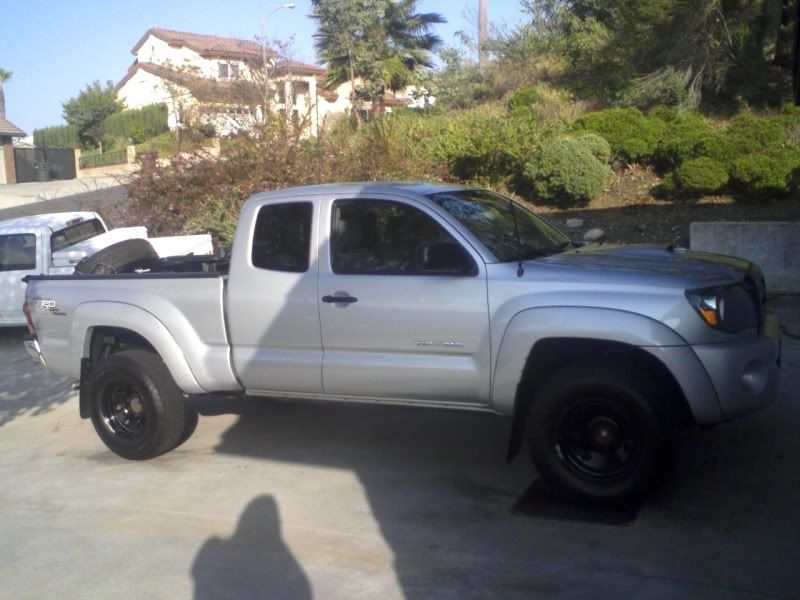 AC panel
DEBADGED!
Shorty Aluminum Antenna
Changed my gauges to white. Thanks Lembowski(lights) and Jerez(install)
Old bumper from Engage Offroad. Thanks Vitang!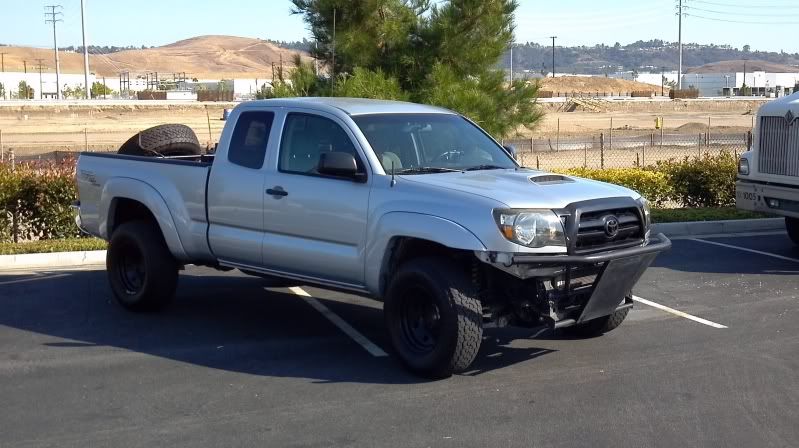 HIDs - 5000k All mounted up!
Got new Hella 500s
and installed them to my stock foglight switch!
Foundoffroaddead and I bored and decided to take up a street and take some pics
Replaced orange window switch with a white one to match my cluster Better Rims - KMC Enduros
Mounted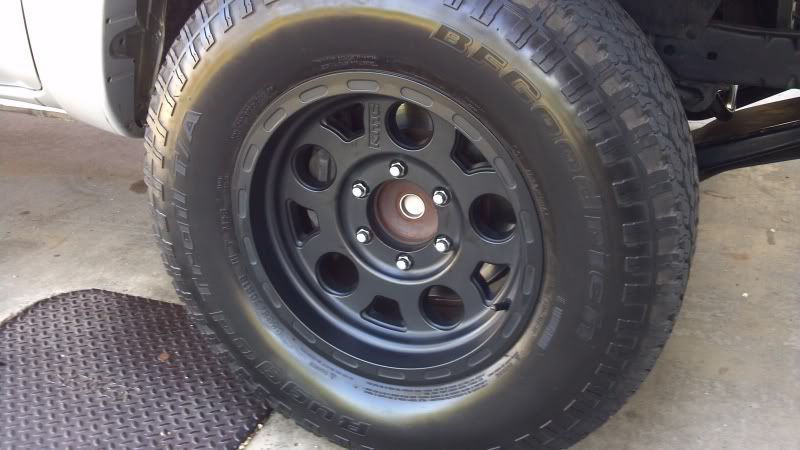 NEW HID Fog Lights w/ Hella 4000 internals to replace the halogen Hella 500s. Glad I did it.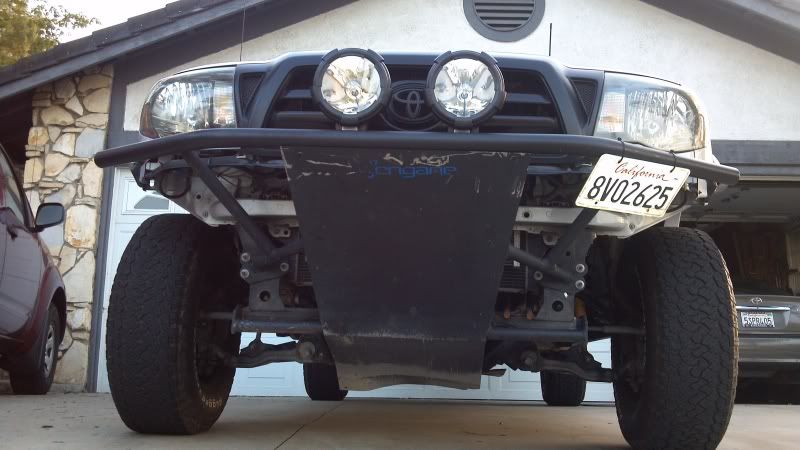 Diff Breather Mod
The electrical tape was used to cover up the silver hose clamp and is merely to blacken the color of it. Does not hold on the breather!!!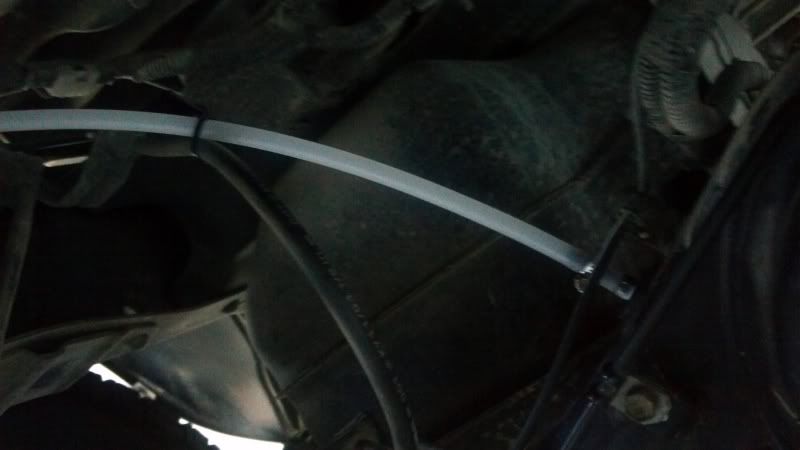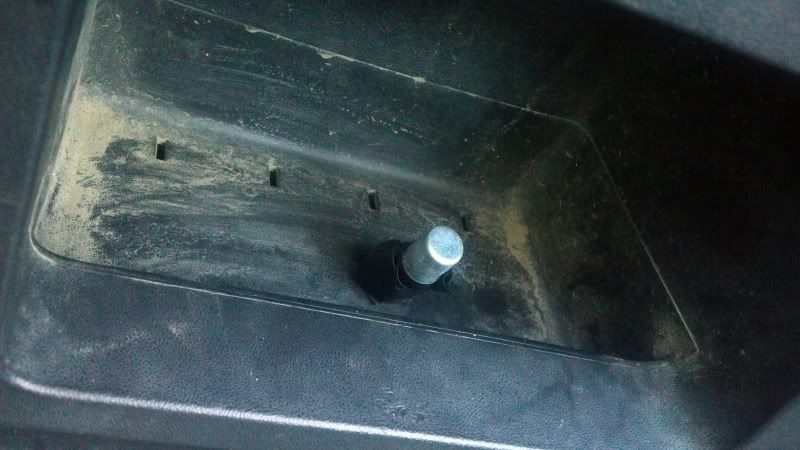 Got my rear prerunner bumper made! Will be painted soon!
Also they are FOR SALE! - http://www.tacomaworld.com/forum/sou...ing-300-a.html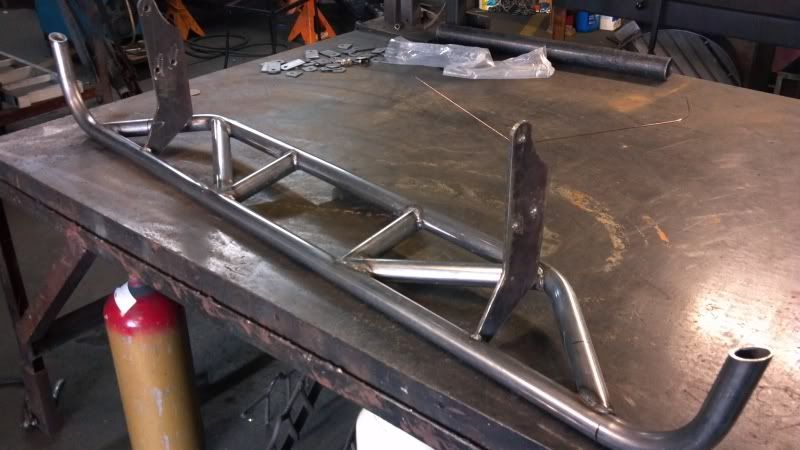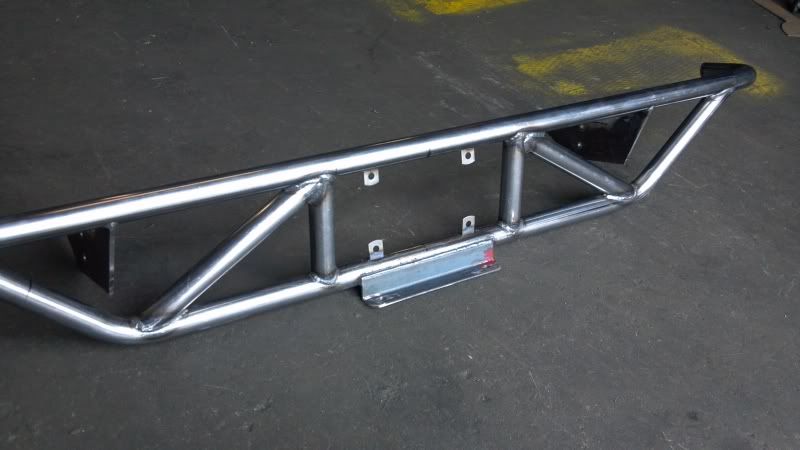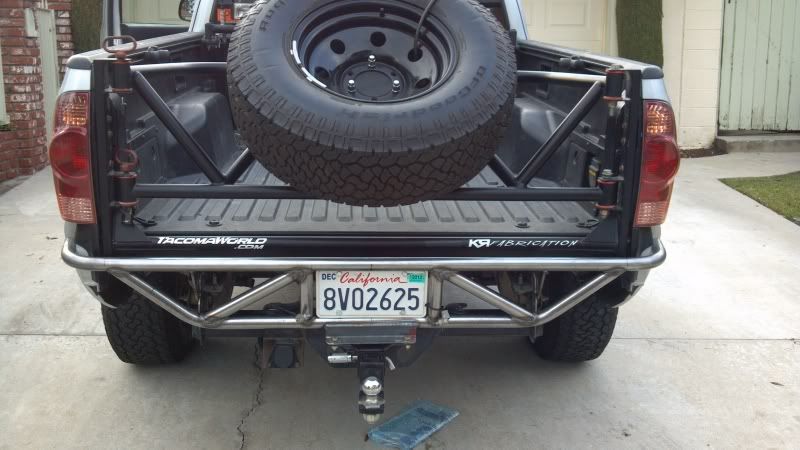 Final Product!
Thanks to Jerez, Anothony250, Manwithoutaplan, Blawkhawke88 and Whippersnapper for all the help with the install. I seriously coulnt have done it without you guys. And thanks Ryan for letting us use your girlfriends house. Also, thank you very much socaltrd for the really generous deal. There's no way I could have gotten this lift otherwise.
THE LIFT- Camburg Performance UCAs 1" Uniballs, Bilstein 5100s all around, and All pro 3" expedition leaf pack.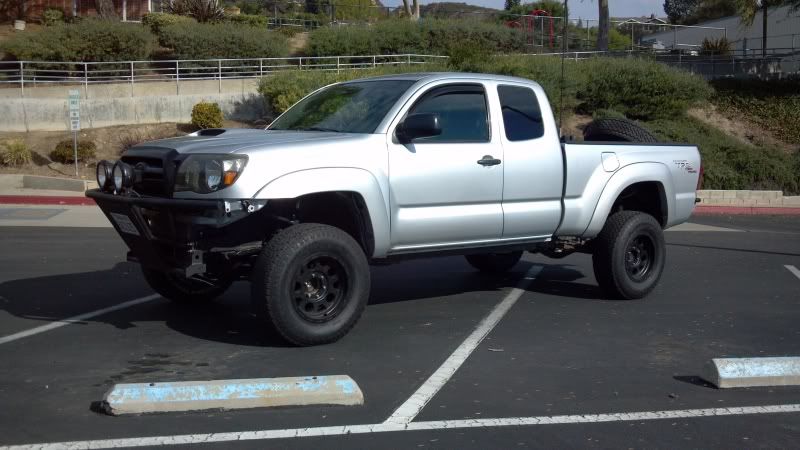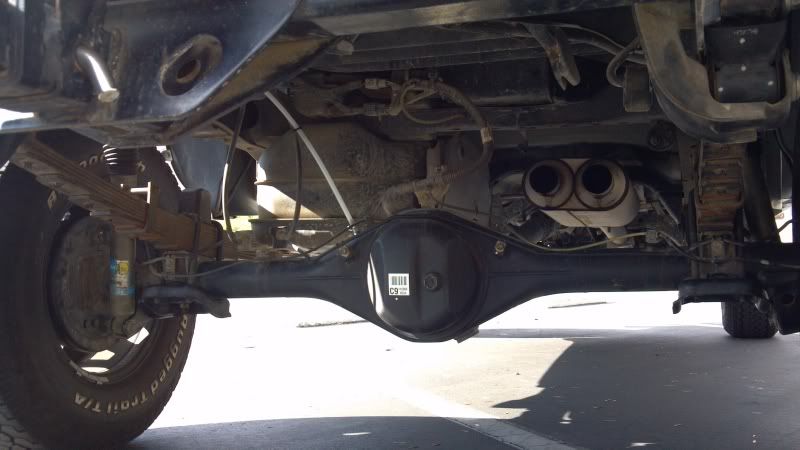 I painted my skid and also chopped and remounted the lower portion.
WENT FROM THIS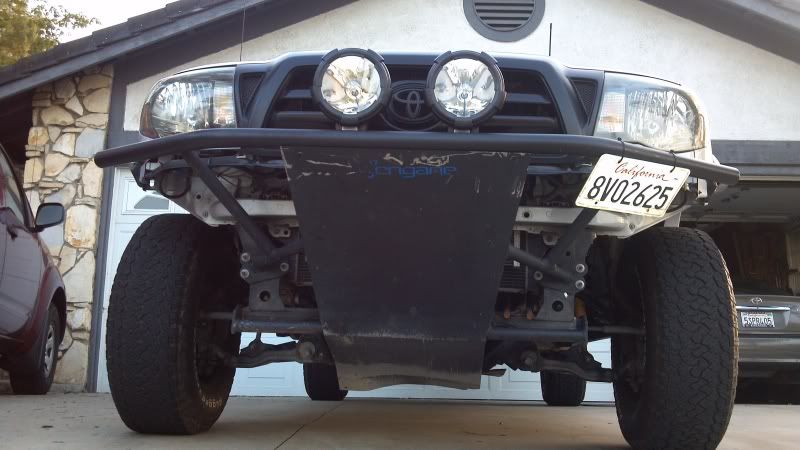 TO THIS!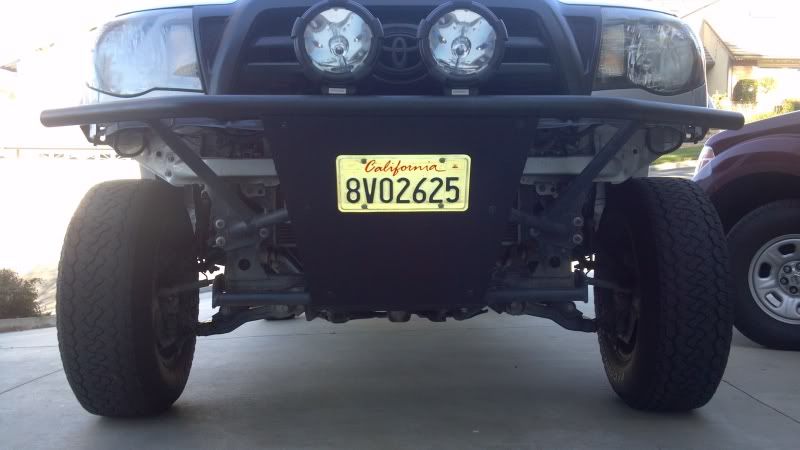 Jerez did my fog and locker lights since they burnt out. Thanks again man!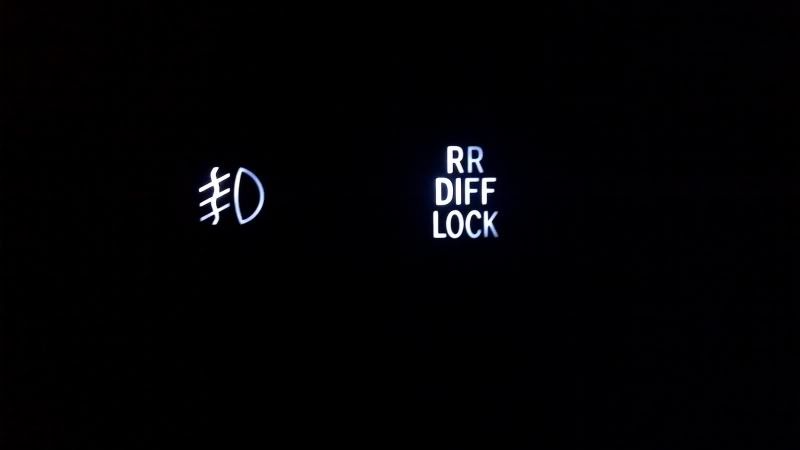 4" McNeil Fiberglass Fenders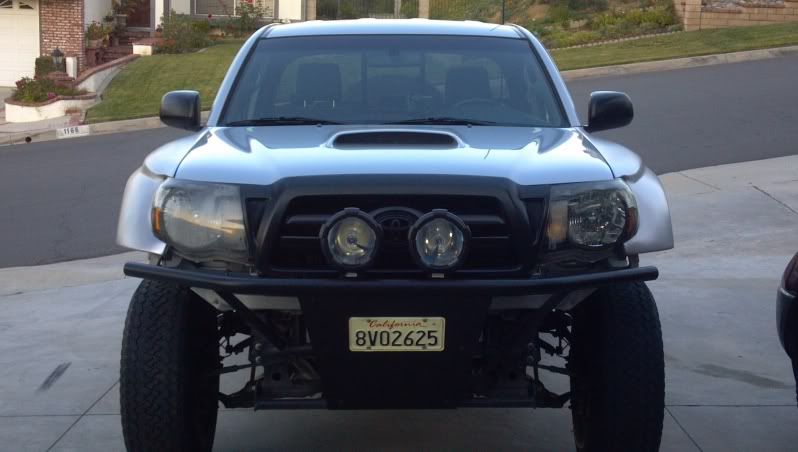 THE HAT Meet
Putting these on tomorrow HOPEFULLY!
Scored for $200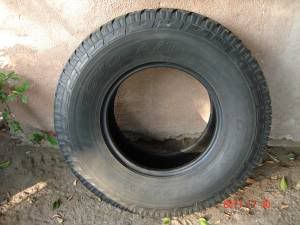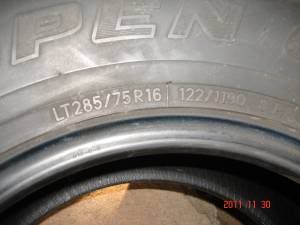 Got them all mounted! Makes the truck a bit taller and fills the fiberglass a hell of a lot better.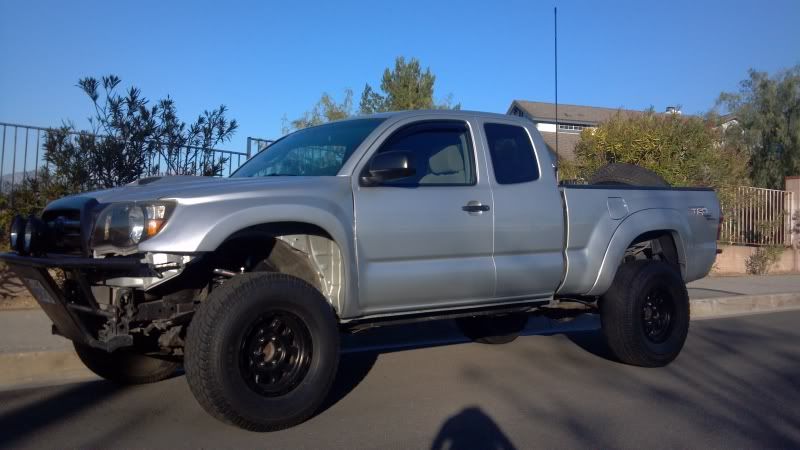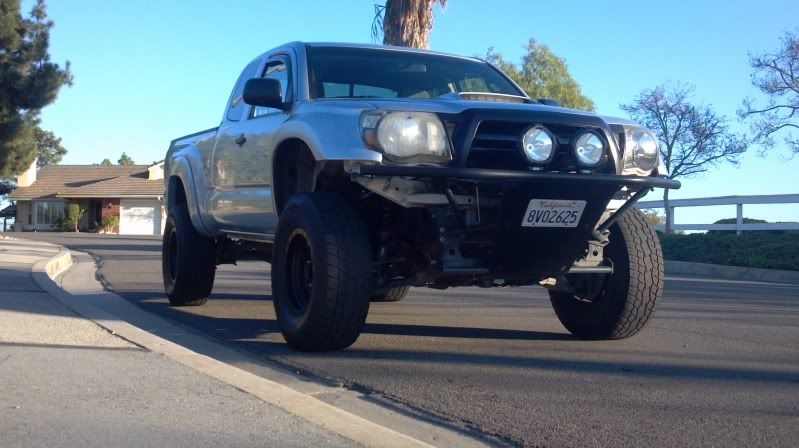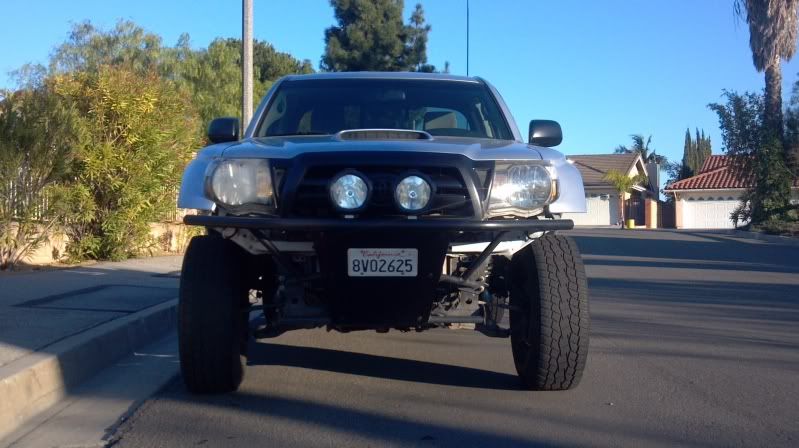 Fixed BLHM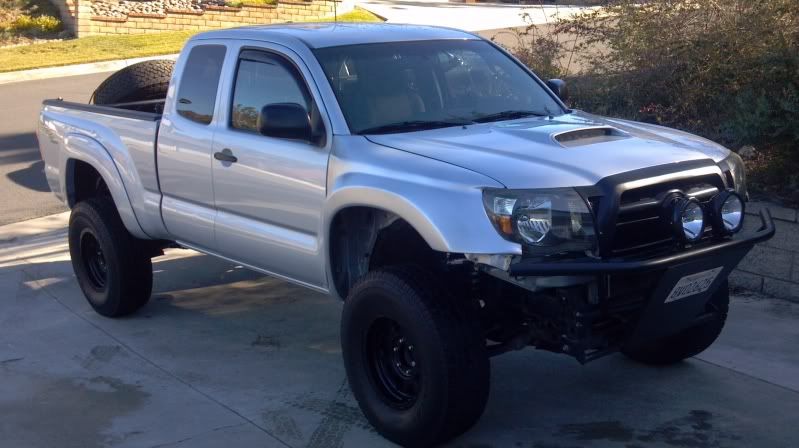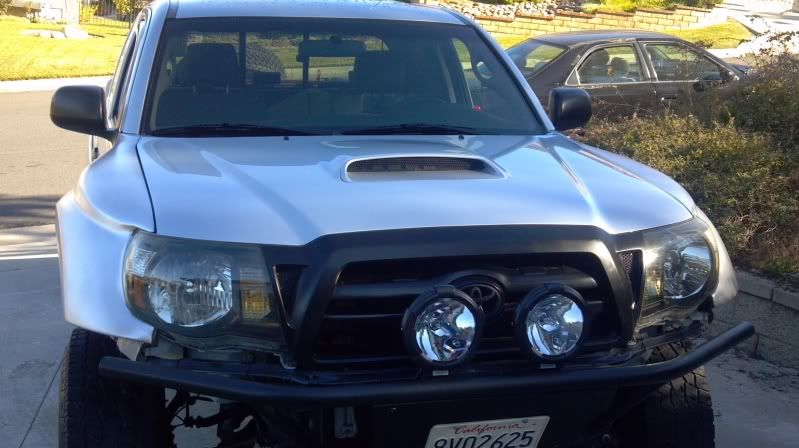 Night time.
OFF
ON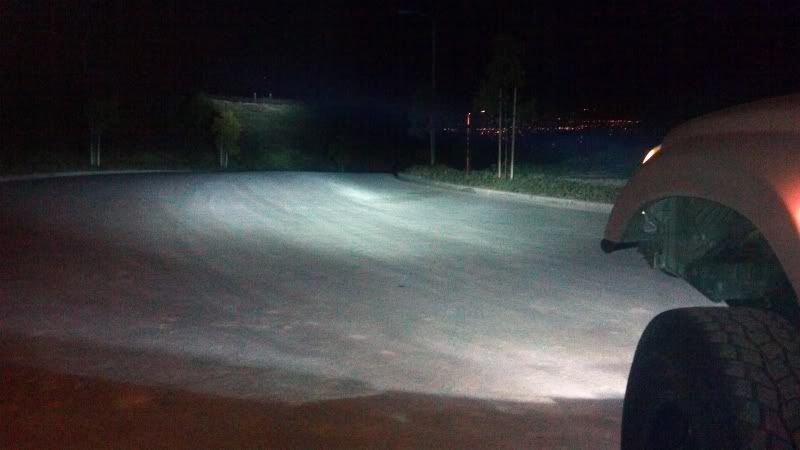 Sick Nick's Fab Cab Mount Chop
(
http://www.tacomaworld.com/forum/southern-california/198842-sick-nicks-fabrication-stanton-ca.html)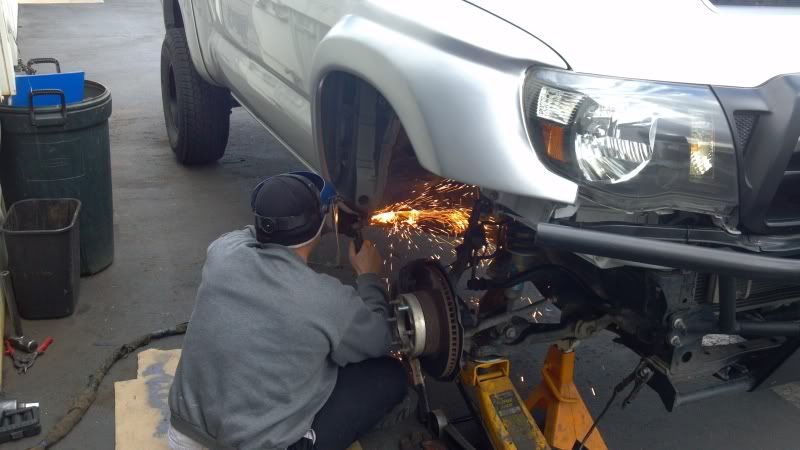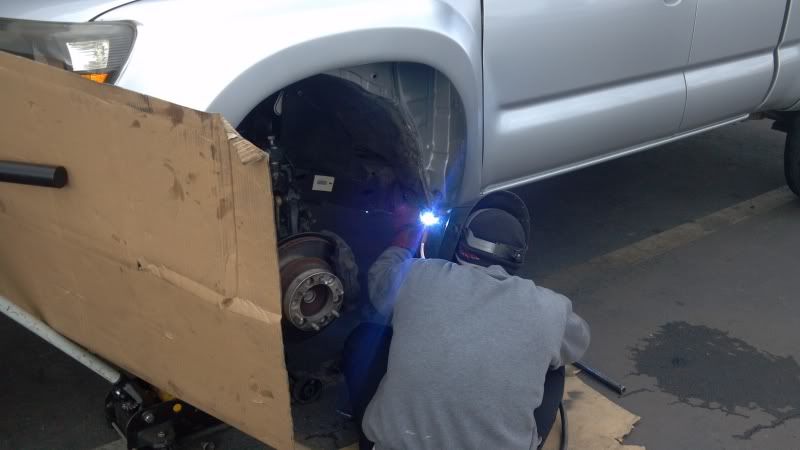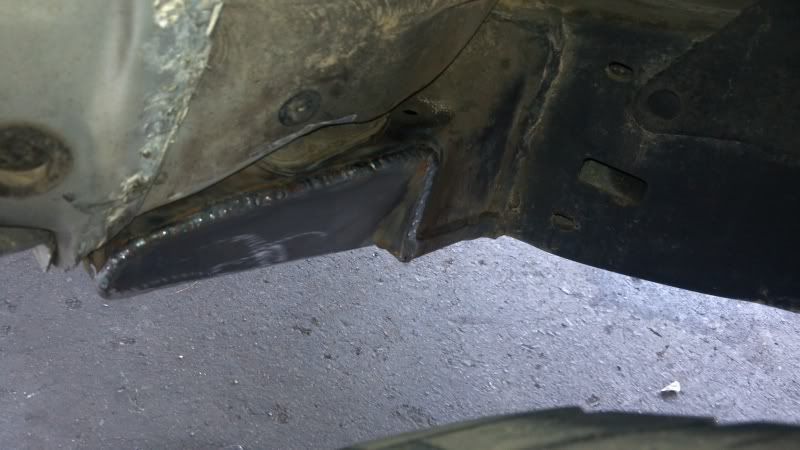 Parking Light LEDs
Reverse Light/ License Plate LEDs
Got new headlights from Jerez w/ clear lenses
Sold the KRFab tiregate and got a silver tailgate, an n fab tiregate and $150 bucks. Not bad eh?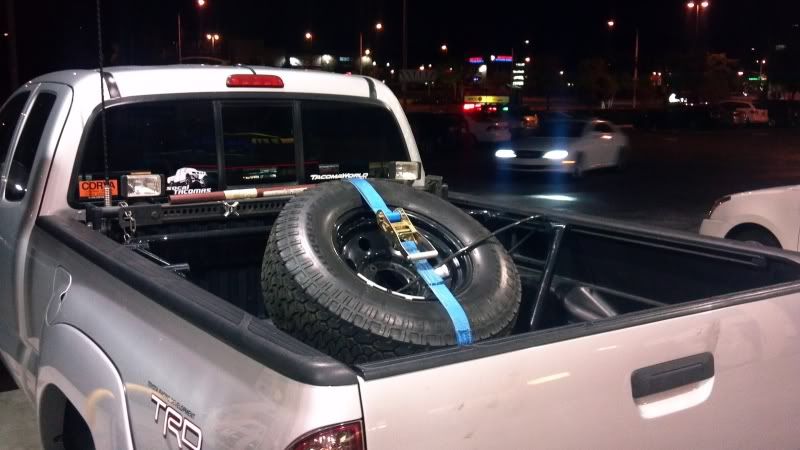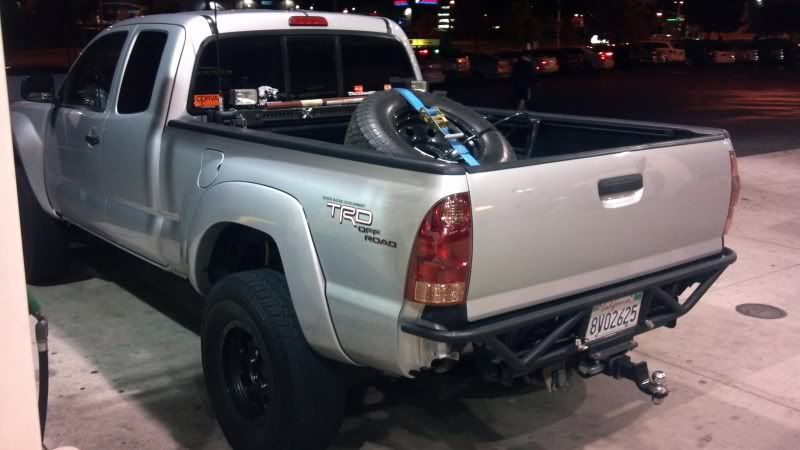 Wet Okole Arm Rests - (Thanks RAY & ManWithoutAPlan)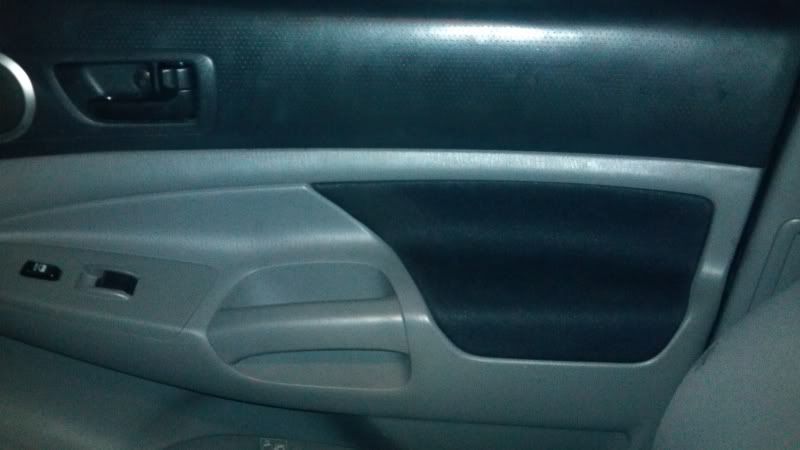 Opened up the scoop to let air in. (mostly to make it less fake)
Picked up my Trasharoo
Made a tie down for my CB antenna for when I enter parking structures.
Got bored and added my old Taco logo to the tailgate.
ABS Bypass Mod (Red Switch)