The Fish Taco
As she sits today....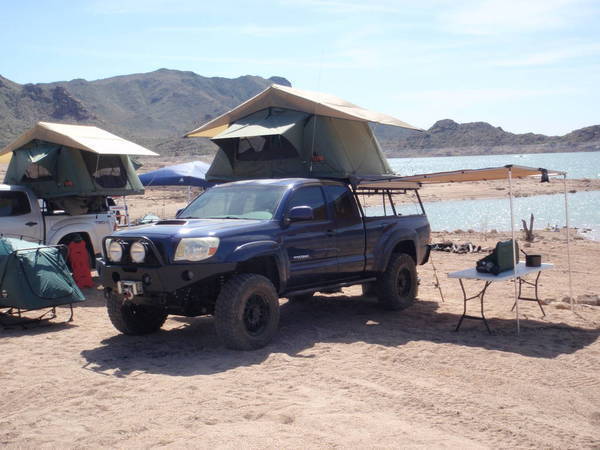 But in the beginning...
Here's the earliest pic that I can find of her when all I had done was put some BFG AT's on with no lift. No other mods were done at this point.
2006 Indigo Ink Pearl access cab 4x4 Sport -
bought new in late '06 as a birthday present to myself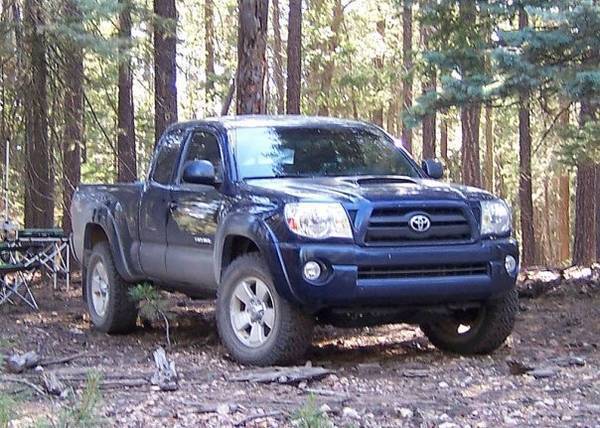 Next up.... spacer lift so I could fit my BFG KM2's. Also threw in a Kenwood DNX-6960 head unit so I could watch movies, hook up the iPod, have in-dash GPS, etc.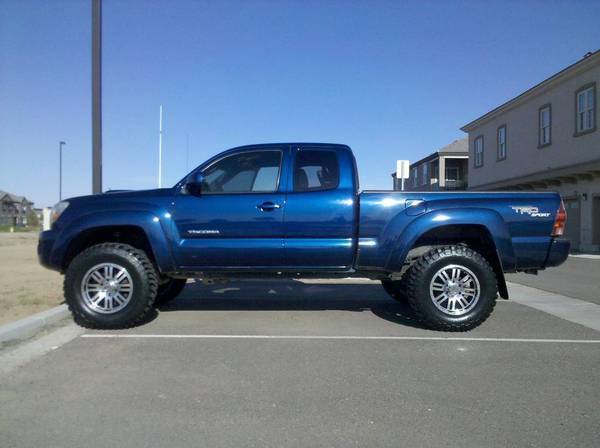 Also added a machined aluminum grill set because I was set on having the machined finish on everything instead of chrome.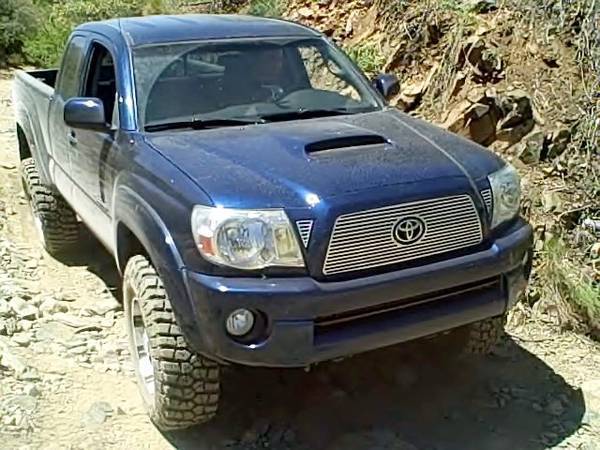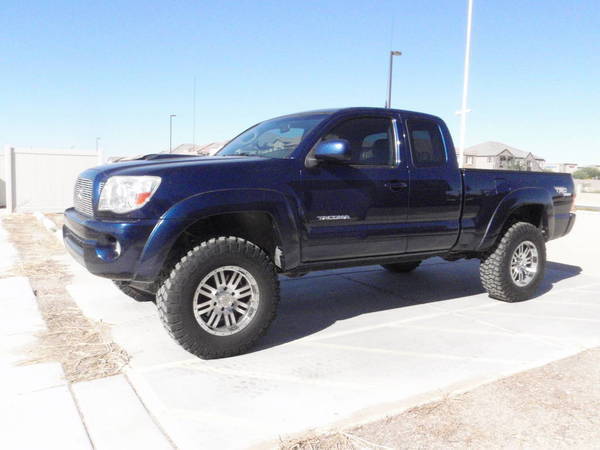 Installed my CB behind the console, added a 150w PA system, and wired up a switch so I could flip it on and yell at bad drivers without having to reach behind. The switch powers up both the CB and the PA amp and is lit so I don't forget to shut it off and kill my battery.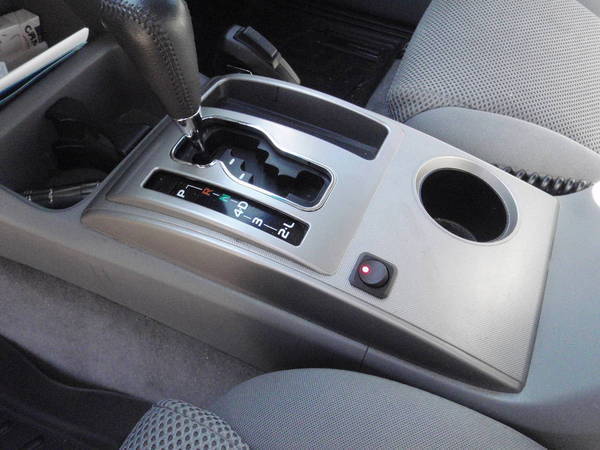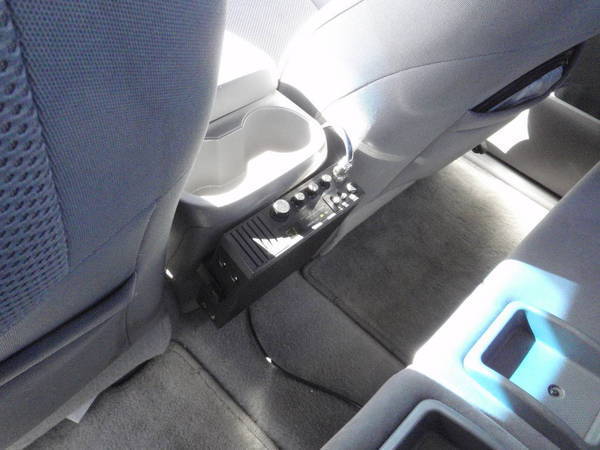 Got tired of the rims and the grill being machined, so I decided to black them out with lots of scuffing, primer and Duplicolor wheel paint.
Then, the accident happened... hardly visible from the pics, but I got a fat check from the other driver's insurance company. Time to spend!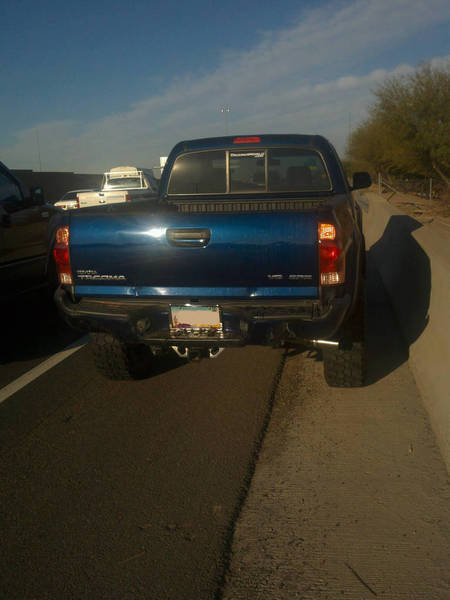 After getting the tailgate fixed and the hitch removed, I decided to make some changes with the large chunk of cash I had left over.
I had been eyeballing the
All-Pro
bumpers for some time and really liked the look of them. I don't go smashing my truck into boulders and deer, so I felt this bumper was right for my uses and I really liked the angles that the AP has. Conveniently there was a group buy going on, so I picked up a front and rear bumper plus the sway bar friendly IFS skid plate. Next up was to add sliders, so I picked those up local from
Avid Off-Road
. Brandon at Avid did the thermal coating on the sliders and bumpers in one shot so the textures all matched. Decided to go out of pocket and add the Warn M8000 winch before I installed the bumper so I wouldn't have to deal with it later. Also threw in PIAA 510 driving lights and hooked them up to the fog light switch.
It was also time to ditch that spacer lift, so I decided to pull the trigger on new suspension. 5100's to the front and rear, new Light Racing UCA's, and Old Man Emu 885 coils to get her going. Already had a 2" AAL for the rear springs.
Got her aligned, did a headlight restoration, and here's how she sat: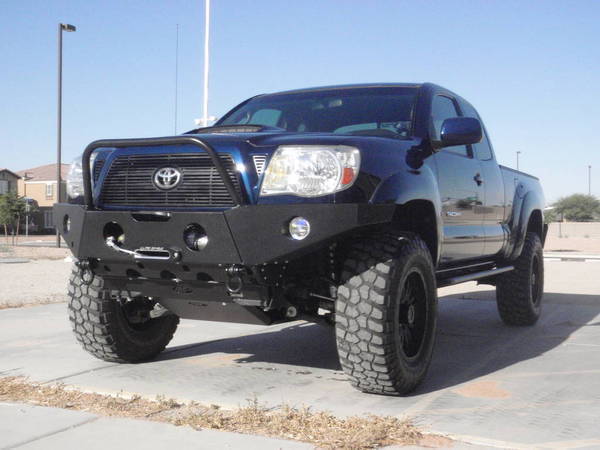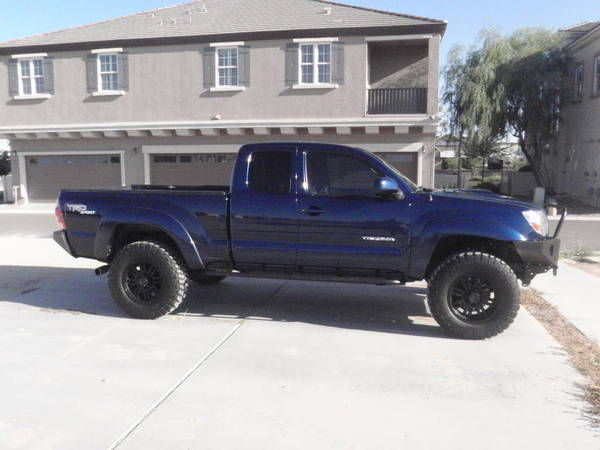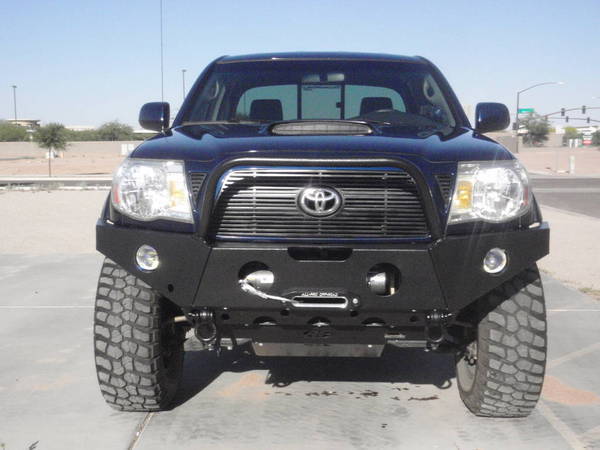 The oil on the ground is from the Jeep Grand Cherokee that parks next to me all the time LOL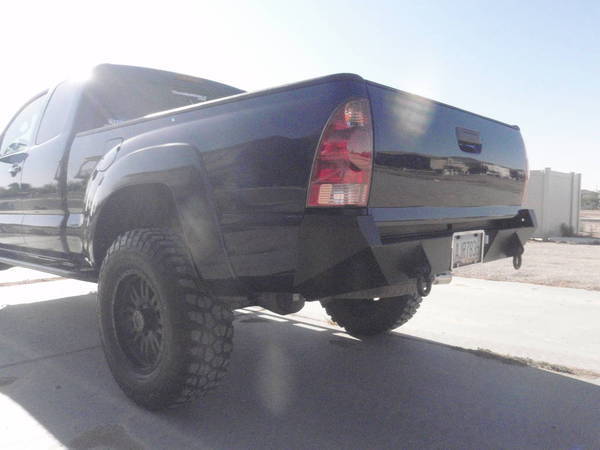 Finally after over a month of having a naked light hoop, I pulled the trigger on the new LightForce Genesis 210mm lights. Here she sits as of today: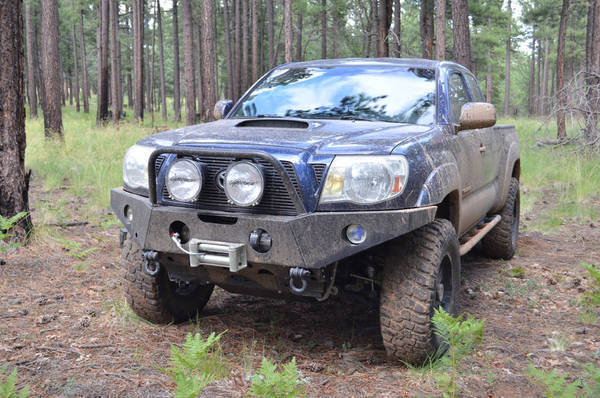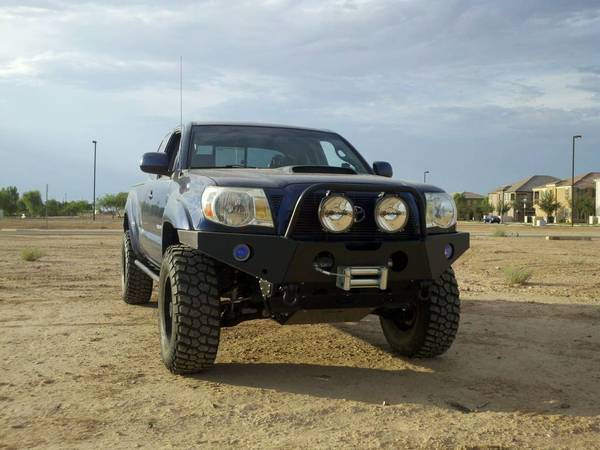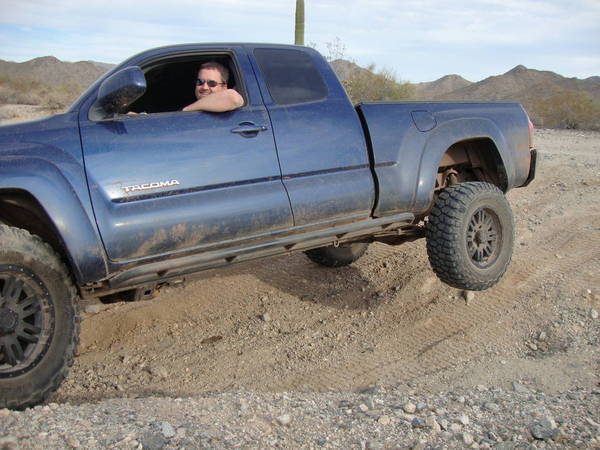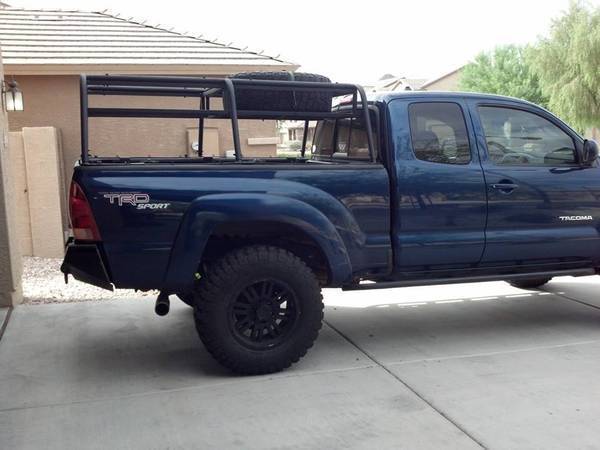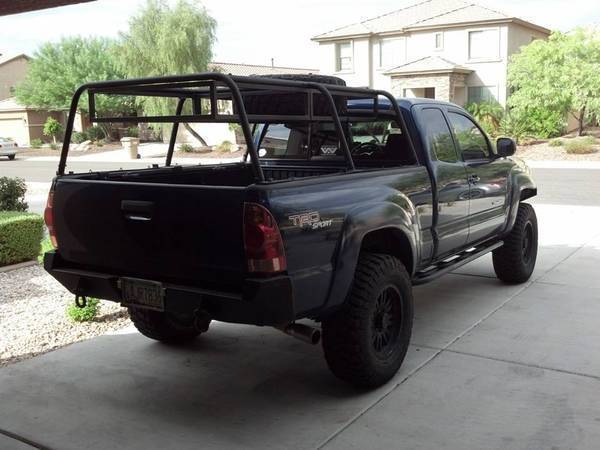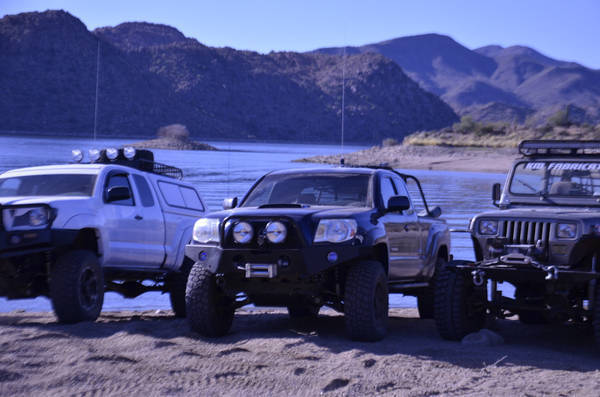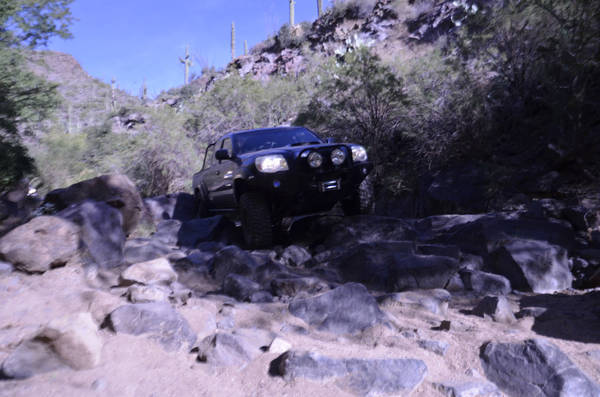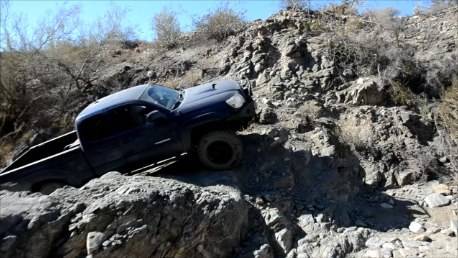 Body/Chassis
2006 Indigo Ink access cab 4x4
Custom aluminum machined grill set, painted black
One-of-a-kind custom pinstriping
Suspension
Bilstein 5100's all around, fronts set to 0
OME 886 coils
Light Racing UCAs
Rear 2" AAL
Wheels and Tires
285/70/17 KM2's
MB Wheels (Discount Tire) 17x9's with 0mm offset - coated black with Duplicolor rim paint
Armor/Recovery/Expedition
All-Pro front/rear bumpers with shackles
All-Pro IFS skid plate
Avid Off-Road sliders (welded)
Textured thermal coating on sliders/bumpers
Warn M8000 winch
60" Hi-Lift mounted/locked in the bed
5 gallon military surplus plastic jerry can
Long bed roof rack with custom-fabbed drop-in baskets and awning mount points
Tepui Kukenam 3-man roof-top tent
ARB 2000 awning (6'5" wide x 8'2" extended)
Electronics
2 LightForce Genesis 210 (first edition) offroad spot lights
Tuff LED 4" round utility lights for fogs
Kenwood DNX-6960 double din GPS/DVD/iPod interface w/bluetooth
Boston Acoustics component speakers
Uniden PRO538W CB radio
Astatic noise cancelling CB mic
150 watt amplified PA speaker
Wilson 1000 series 3000 watt 62" antenna
UltraGauge mounted above rear view mirror
Realistic Future Plans (2014)
Olive drab green full Plasti-Dip spray
Expedition leaf pack (All-Pro)
10" rear shocks
More lights
Onboard air plumbed through bed cubby w/30' coil hose
Thanks for looking!