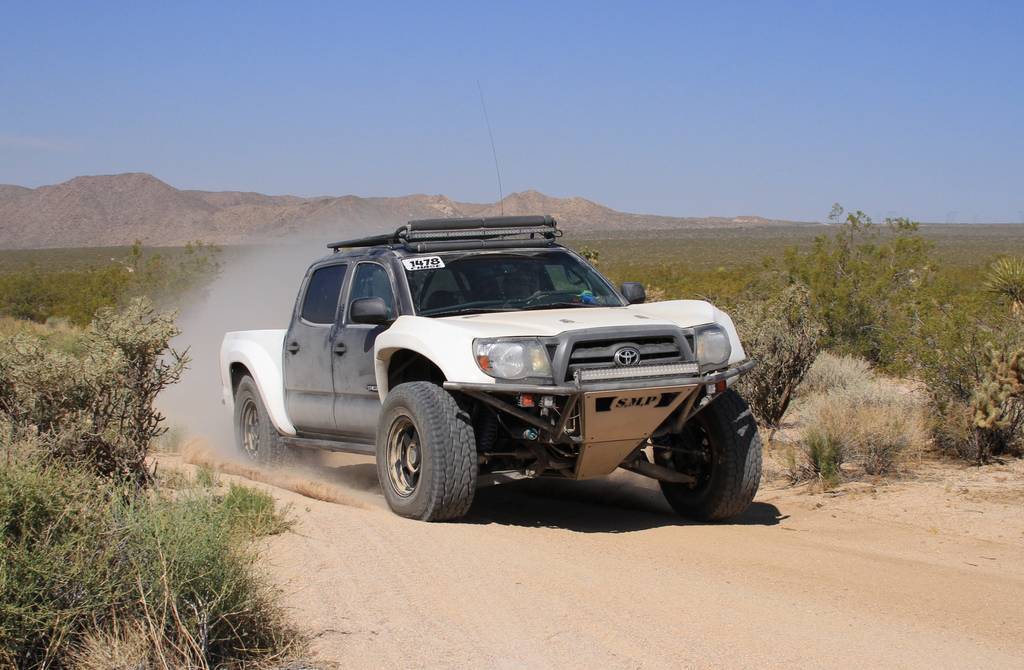 2010 MGM Tacoma Double Cab Off-Road
Engage Front LT
King 8" Coilovers
SAW 8" Triple Bypasses with 2" rod extension
ProComp 2" Bumps
10" Straps
Engage Spindel Gussets
Glassworks One Piece Clip
SMP Front Bumper with skid
Engage Rear Bedsaver Cage
Engage 50T Pack
King 2.5" x 16" Triple Bypass with Remote Resi
Slip Joint added to drive shaft
King 2.5" bumps
4.56 Nitro gears
Spydertrax 1.25" Spacers
Glassworks Bedsides
Konig Countersteer X 17" Black
Hankook Dynapro ATM 315/70R17
Rigid Dually Spot and Flood
Rigid 30" E-Series with White and Amber LEDs.
OTRATTW
Switches and Blue Sea 12 circuit Aux fuse box.
Cobra 75 CB (mag mount antenna)
Kenwood 281 w/cap mod (mag mount antenna)
KR Fab Cab mount chop and clearance for 35"s
KR Fab Sliders
KR Fab Locking Truck Box
KR Fab Floor Jack shelf
Trifenix
HF
Floor Jack Skid
2x RotoPax 2 Gal with Lox
2x NATO 5 Gal cans (
4WP
Blitz can mounts)
DMZ
Motor Mounts
DMZ Coil Bucket Crossmember
TC UCA Gussets
TC Cam Tabs
TC Dual Shock Hoop
SMP Rear bumper integrated into a Dual Lay down spare tire carrier.
SMP Roof Rack with 40" Baja Designs LED Bar
SMP Cab Cage and Engine Cage
MCM Solid Mount LCA with Delrin Bushings installed
MCM Re-mounted my secondary shock tabs so I can cycle my bypasses correctly.
What I've broken so far:
Rear driver bedside lower mount before tire
Tow Hitch electrical connector plate
Stuffed passenger front tire/lca into core support
Passenger headlight tabs
Taillights are hanging on by the nubs
Rear Frame and Bed Cage
What I'd like to do next:
Rear power window
LED Interior Swap - DONE
Strengthen front skid - DONE
LCA skid/transmission skid -DONE
Mount compressor inside engine compartment
Blue Sea Fuse Block - DONE
Fix/make stronger bedside mounting - DONE
Rear Bumper - DONE
Front Bypasses - DONE
Cage...
-DONE
http://s577.photobucket.com/albums/s...t=1ad67646.mp4