Howdy, I figure I've done enough experimenting and modding to my Tacoma to contribute to the archives.
Here goes, little story to date first: Bought him (first vehicle I ever owned that was a he...) brand new in Reno, winter 2008. I've been wheeling and building Jeeps for the 10 years prior to the Taco, got a bit of addiction to rockcrawling and soon just needed a solid daily driver that could get me into the mountains. I planned on getting the Taco w/OR package, add a shell, and just leaving it totally stock. After a few mild wheeling trips, I soon learned that althought my Taco could make it, it would need a bit more height and bigger/better tires to meet my needs and to not get damaged. Being my first ever vehicle with independent front suspension, I had alot to learn about lifing it.
My first move was getting a "leveling kit" (spacer) off
Ebay
, and adding some 265/75-16 BFG ATs. That worked well for a bit, but I didn't like the changes to the handling of the spacer and it actually brought the front heigher than the rear; so then I added a 1" block to the rear to even it out. Then, I didn't like the stance, so I added some Spidertraxx spacers to widen it up.
After a few more months, I hit one of my old favorite trails, it's real rocky/slow/rutty and although the suspension perfromed well enough, after 2 hours the shocks were getting overheated and became squishey and bouncy... time to get some better shocks. I ended up getting SAW 2.0s at all 4 corners. Added a 1.5" AAL and Ubolt Flip around this time, took the block off.
Thought I was set, then after a nasty snow/mud hill climb getting almost too out of control for my liking (still made it) I decided it was time for some mudders. I had run many sets of the old BFG MTs, but hadn't ever tried the KM2's... just happened upon a good deal on some new Cooper Discoverer STTs, mounted up, all set...
Not quite, the mudders really amplified my lack of caster on the highway, plus I was hoping to get more travel out of the front: Picked up some
Camburg
ball-joint UCAs, installed, aligned, and was happy:
http://www.tacomaworld.com/forum/sus...a-install.html
Now that I was getting where I wanted to go, I realized how low the truck still was, time for some sliders: my local shop got me a great deal on some raw TrailGear sliders, I had them fabbed up for bolt on. I chose bolt on for a few reasons, 1. I've bent sliders on the past, so I didn't want bent sliders welded to my Taco, if I were to bend them, 2. sliders get abused, it's nice to be able to take them off for paint and repair, 3. If I sell the Taco some day, I will return it to stock and sell the aftermarket stuff separately.
Next, I could never get over having a truck with a plastic front end, and I figure I might as well add a winch to it at some point: picked up an ARB bumper, looks/functions great.
Most recent: I'm a huge fan of tall/skinny tires, after seeing a few on here running the 255/85s, I figured it was time. Also, in the last year, my work commute has changed from 5 miles a day to 40 miles a day... I was over wasting any more mudders on my now 99% street miles. Problem, there is only one tire that comes in a 255/85 that is NON mud terrain, and it's a mild highway tire to boot. So 255s were out, for now. I happend to stop by a
Discount tire
on lunch to have them test fit a 285/75-16 just to see what I might be getting into if I were to go this route... 24 hrs later I had a set of Yokohama Geolanders in a 285 on my truck. I have no idea why I picked this tire other than I really like them (had a set on an old work truck), the price was right, and they wouldn't be 'wasted' on my work commute.
I did some preliminary fender trimming, and just went straight to the body-mount chop. After clearing any present rub spots, I decided to go find some rocks to 'flex' on to see if I had chopped enough... whoa! major rubb-age in the rear fender. Cab mount was cut enough, but it hit everywhere else from there out. Dremmel, grinder, sledge, pliers, and an hour later, the drivers side is almost done. It's funny how cutting on vehicles goes: the first bit is tedious, I spent 45 minutes cutting the smallest bit of fender flare to get it just right...it still rubbed so I spent 20 minutes cutting off a little more just right... then it still rubbed so I siad F-it and filled 1/2 a 5gal bucket with plastic and metal in about 30 minutes, ha! Should be done with the hacking and bending tomorrow. Then clean it up and paint next weekend.
Current setup, 6-25-2011
Truck:
2009 Tacoma TRD Off Road, Access cab, white
Body:
ARB Bump+Fogs, A.R.E. MX "tall" shell, TrailGear bolted on sliders,
Tires:
285/75-16 Yokohama Geolander AT/s Load D.
Wheels:
Wheeler's black Steelies 'Type B' 16x8, 4" backspacing
Suspension Front:
SAW 2.0 c/os, Camburg ball-joint UCA, no swaybar
Suspension Rear:
SAW 2.0 shocks, stock leafpack + 1.5" Wheelers AAL,
Allpro
Ubolt flip kit,
Other Mods:
Dynolock electric tailgate lock, Trailer plug relocated to bumper, cheap Hi-Lift mount, Monkey fists for shovel, $1 CB drop, turned 'beeps' off, removable 'over w/wells' bed, sheet of plywood covered in carpet padding for the dogs,
Some products I've experimented with on the Taco:
Spidertraxx wheel-spacers, 1" rear block, Ebay "leveling kit", Cooper STTs, Staun tire deflators,
List of things to do:
High clearance rear bumper, OBA, Winch,
Brand new:
Pre-SAWs etc: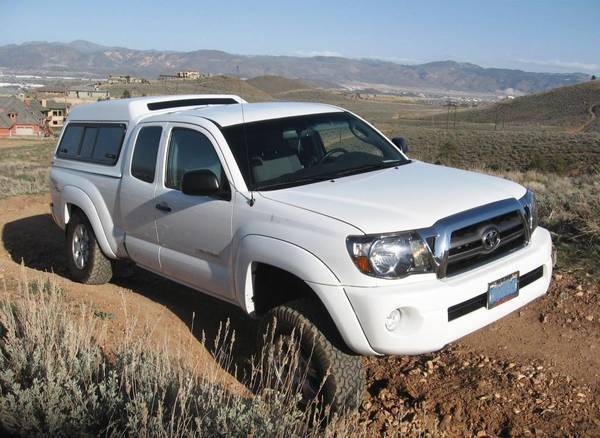 Last year: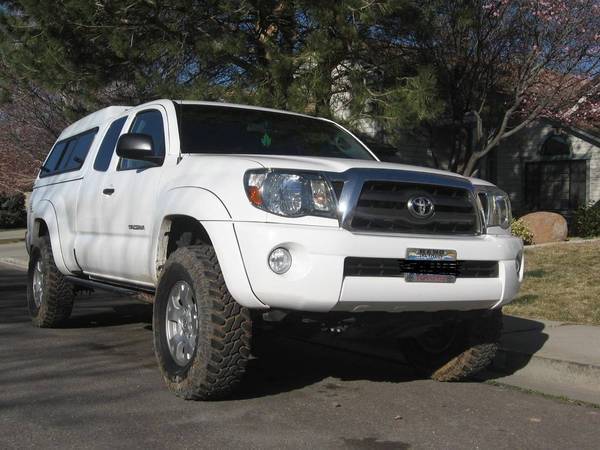 Just like this one: 265/75-16, spidertraxx spacers, about 2.5" lift (for those looking)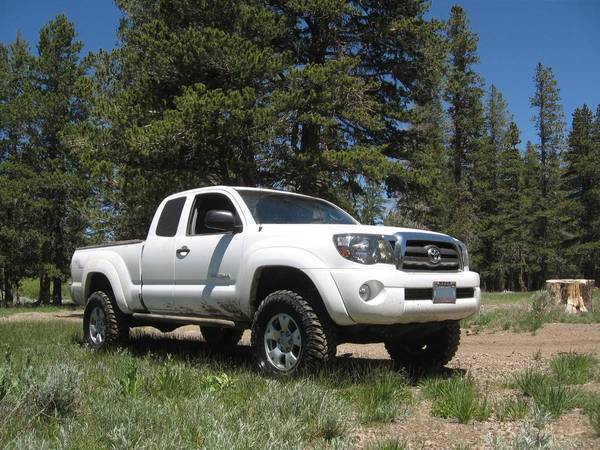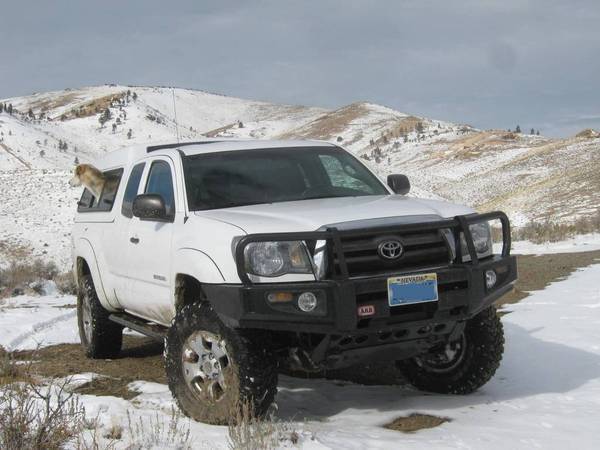 6/30/2011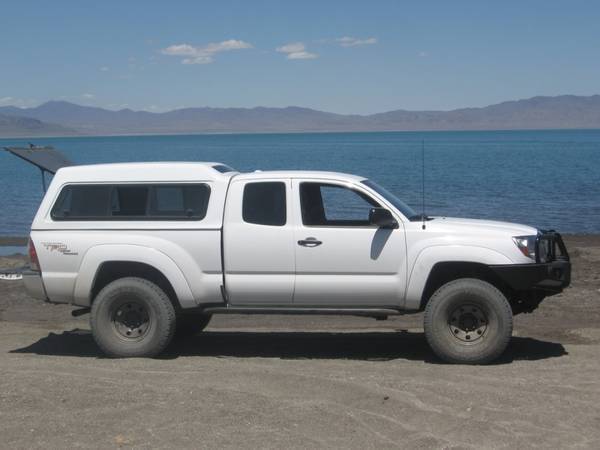 3/9/2012