Now that i have your attention with the lovely Cyndee May,
Look at meh Build!
Project Zoe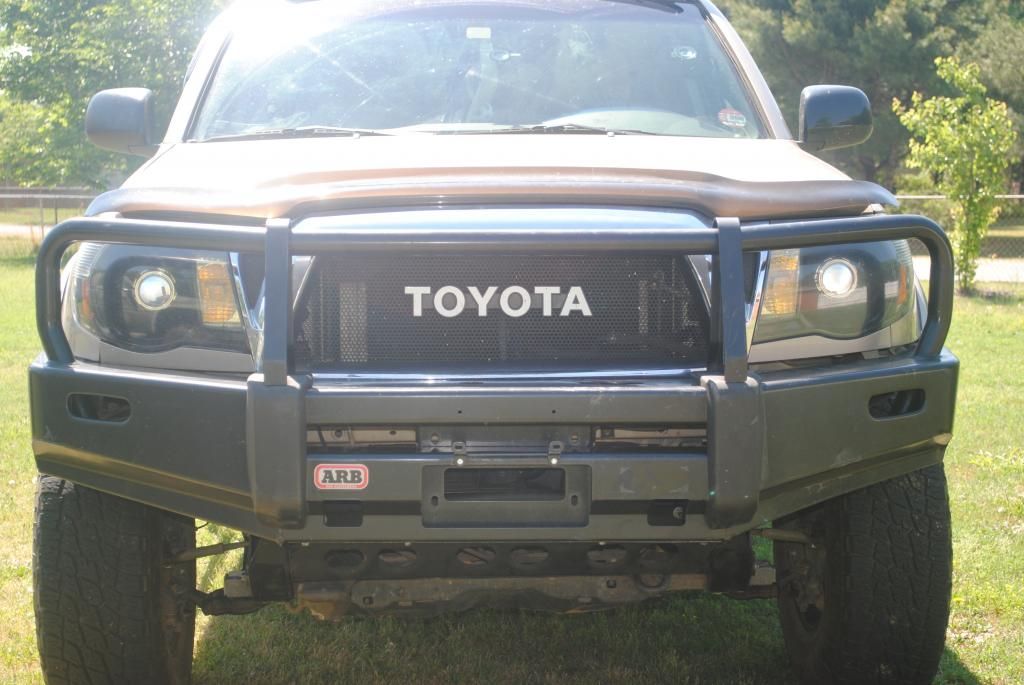 The Cam man himself
Most Current Pics: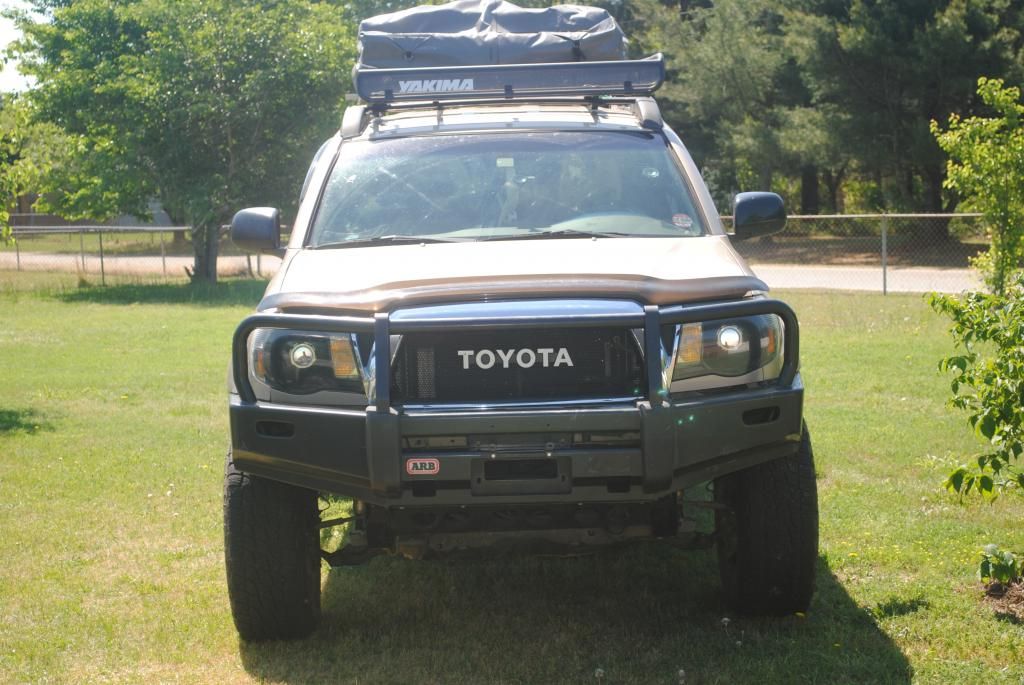 Next to my future money pit, meh 82' Toyota Pickup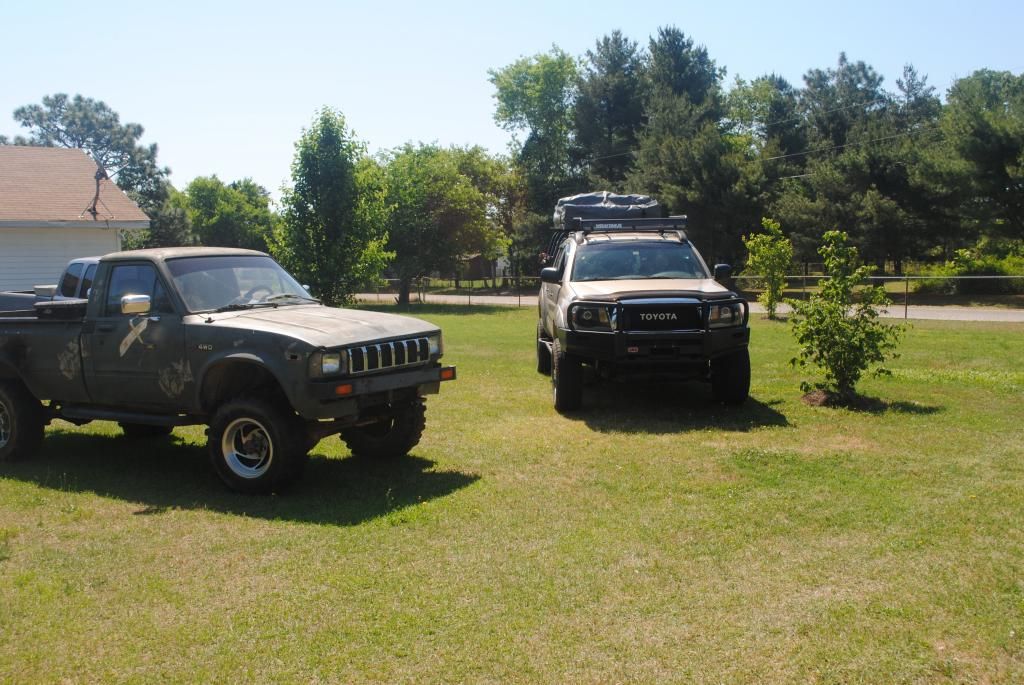 Specs
-2005 Desert Sand Mica Prerunnner
-4.0L
-TRD Offroad Package.
Current Mods
Exterior
-H1 Morimoto projector Retrofit w/ XB35 4300K bulbs, Gatling shrouds, BHLM(2/20/12)
-SockMonkey'd Beside Decals (2011)
-Aeris Bull Bar (2011) Removed
-20% Window Tint Front (2011)
-Installed OEM Daytime Running Lights(07/2011)
-UWS Low Profile Toolbox (2011)Removed
-Satoshi (10/22/11)
-(2) Hella 500ff's (1/28/12)Removed
-OEM Roof Rack (12/7/12)
-Debadged(12/7/12)
-Bestop Supertopper(9/23/13)
-Mounted Shovel on quick-fists(10/3/13)
-Mounted Axe on quick-fists(10/3/13)
-Bash Fabrication Custom Sliders w/Kickout (10/15/13)
-RTT (11/10/13)
-Peak Backup Camera(1/3/14)
-Yakima Mega LoadWarrior Rack(1/15/14)
-SOS Concept Over bestop rack (1/18/14)
-ARB Bull Bar(5-2-14)
-Color-Matched grill(5-9-14)
Interior
-Weathertechs
-US-PA15 TOY/LEX Ipod adapter
-Scanguage II
-160 GB Ipod Classic(My music whore
)
-Mounted fire extinguisher(10/3/13)
-Katzskins Seat covers(fawn)(12/22/2013)
Tires/Wheels
-Dick Cepek DC-II's 16x8(12/27/12)
-265/70/16 Nitto Terra Grapplers A/T(12/27/12)
Recovery
-Hi-lift(9/14/13)
-Warn 21,600K Premium recovery Strap
-Southeast Overland 30ft Kinetic Recovery Strap
-ARB 20ft snatch strap
-2 Van Beest shackles
-1 soft shackle
Communications
-Cobra 19 ultra iii(9/14/13)
-Midland 21-406 external speakers(9/14/13)
-Cobra 3' magnet mount antenna(9/14/13)
Suspension
-Fox 2.0 IFP Front coilovers(11/27/13)
-Fox 2.0 Rear shocks(1/31/14)
-OMD rebuilt leaf packs(1/31/14)
Storage Solution
-(2) 24 Gallon Action Packers
Future Mods:
-Cobra 18 ultra iii
-Cobra 3' Magnet mount antenna
-Sliders
-Bestop Supertopper
-First-Aid Kit
-Recovery Bag
-Fox IFP 2.0 Coilovers and IFP Rear shocks
-Extended brake lines
-RTT
-ARB deluxe bull bar
-Katskinz(fawn) Seat covers
-255/85/16 Tires(Cooper ST Maxx)(5)
-HC rear bumper w/tire carrier/with gas/water cans.(Bruteforce Fab)[Ordered]
-ARB compressor
-Winch
-Safari Snorkel
-Maxtrax(2)
-Prerunner to 4x4 Conversion
This is obviously a long term mod list but this is what i think i'll be most satisfied with. With some managing of my money and when i get my proprieties lined up properly
Been working since 16 so some of the money i make may as well go back into my Taco!