NEW Instagram:
sytfu510

Projects in progress:
Clearing 35's
Long Travel
DMZ
SUA Kit
Boxing Rear Frame
Bed Cage
King Triple Bypasses
Vinyl Wrapping the truck
Bed Slide
Dual Battery
Latest Pictures:
NEWEST MOD:
B.A.M.F. Bed Rack

First Picture with the truck as I got it from the dealer:



Product Reviews:
http://www.tacomaworld.com/forum/2nd...ml#post3772992
ARMOR:
-B.A.M.F. Rear Diff Skid
-B.A.M.F. Sliders w/Kick Out
-B.A.M.F. LCA Skid Plates
-B.A.M.F. Rear Hanger Skids
-Demello Off Road Plate Bumper 3 Hoop
-ATO Front IFS Skid
-BruteForce HC Rear Bumper w/Tire Carrier and CB Antenna Mount and Gas Can Carrier ( Modified for RotoPax )
-Relentless Transmission & Xfer Case Skids
-Budbuilt Gas Tank Skid + Budbuilt Gas tank strap
SUSPENSION:
-King Racing 2.5 Coilovers
-King Racing 12" 2.0 Rear Shocks w/ Remote Resi's
-Bay Area Metal Fab ( B.A.M.F. ) Mid Travel Shock Mounts w/Frame Gussets
-Total Chaos Uniball UCA
-Total Chaos Shocks Tower Gussets
-Total Chaos U-Bolt Strike Plate ( For Air Bumps )
-All Pro U-Bolt Flip Kit
-All Pro Expedition Leaf Pack
-All Pro Spindle Gussets
-Wheelers Super Bump-stops Front
-Defined Engineering Shackle Brace
-Fox 2.0 Air Bumps Shortened to 2" Travel
-Poly-Performance Air Bump Mounts
RECOVERY:
-SmittyBilt XRC-8 8000k COMP Winch(Synthetic Rope & Aluminum Fairlead)
-SmittyBilt Recovery Kit w/ Snatch Block, Tree Saver, Chain
-SmittyBilt Recovery Strap 2 x 20ft
-SmittyBilt Element Ramps
-Hi-Lift Xtreme 48" Jack
-Hi-Lift Base
-SmittyBilt Snatch Strap
-Smittybilt Recovery Strap
-ARB Winch Extension Strap
-Factor 55 FlatLink
DRIVE-TRAIN:
-ARB Rear Air Locker
-ARB High Vol Air Compressor w/Air Line Kit
-Royal Purple Fluids
-Rear Diff Breather Extension/Relocation Mod
-ARB Front Locker
-G2 4.56 Front & Rear Gears
-JD Rear Diff Crush Bushing Eliminator Kit
EXTERIOR:
-Cut RHdesignscorp Front Fender Flares
-GrillCraft Grille

LIGHTING:

-OKLedLightbars.com 40" Double Row LED Bar
-OKLedLightbars.com 20" Double Row LED Bar
-OKLedLightbars.com 3" LED Spot Lights x 2
-OkLedLightbars.com Rock Lights x 6
-OkLedLightbars.com Rock Lights on bed rack x 4
-B.A.M.F. Behind the Grill Light Mount
-LED Tailights
-Minimoto D2S Projector Retrofit
WHEELS/TIRES:
-Hankook DynaPro M/T 35x12.5x17 ( x 5 )
-SCS SR8 Matte/Gloss Black [ 17 x 8 / 0 Offset / 4.5 BS ] ( x 5 )
-SpiderTrax 1.25 Wheel Spacers
INTERIOR:
-Sparco Reclinable Racing Seats
-Sparco Sliders
-Cabela's Digital Fit Floor Liners F & R
-Rear Wet Okole Seat Covers ( Dark Grey w/TRD Logo )
-Illuminated 4 x 4 switch
-Salex Glove Box & Console Organizers
-Ram Phone Mount
-Ram Tablet Mount
-Blue Ridge Overland Gear Seat Molle Panel
-Blue Ridge Overland Gear Visor Molle Panel
ELECTRONICS:
-Otto Navi Navigation System
-Yaesu Dual Band Ham Radio
-Cobra 40 Channel CB Radio
-Firestik 4ft Fiberglass Whip Ant.
-Scangauge Ultra II
-Blue Sea 12 Slot Fuse Block
-HiFonics Components F & R
-400W Inverter
-West Marine Waterproof 12v socket in bed
-DVRyourcar.com Car DVR system
-Otattw switches & covers
ENGINE:
-TRD Supercharger
-TRD
Air Filter
-Safari Snorkel
-Doug Thorley Shorty Headers
-MBRP Catback Turn Down Exhaust
-Added Resonator

BRAKES:
-EBC Yellow Stuff Pads
-EBC Slotted/Dimpled Rotors
-Goodrich Stainless Brake Lines Front
-All Pro Extended Brake Lines Rear
MISC:
-EZ Lift TailGate Shock
-Redline Hood Shocks
-B.A.M.F. Fuse Block Mount
-B.A.M.F. Body Mount Chop
-B.A.M.F. ARB Compressor Mount
-Relocated Exhaust for more clearance
-2 RotoPax 2 Gal Gas Carriers
-2 RotoPax 2 Gal Water Carrier w/Bed Mount
-20lb C02 air system
-Wheelers c02 155 psi regulator
-Wheelers 20# Mount
-Wheelers 20' Coiled Hose
-VIAIR 0-200psi Regulator
STORAGE:
-B.A.M.F. Custom Bed Rack ( w/swing out arm for shower )
-PinSu Aluminum Low Profile Roof Rack
-Rubber Maid Action Packers
OFF ROAD GEAR:
-ARB 6.5ft Retractable Awning
-ARB Mosquito Netting for Awning
-TruckFridge.com 40L Fridge/Freezer ( Indel B ) [ page 21 ]
-ARB Fridge Tie Downs [ page 21 ]
-Ironman 4x4 Fridge Insulated Cover [ page 21 ]
-Custom Built Fridge Slide [ page 21 ]
-On Board Filtered Hot Water System
-Tepui Roof Top Tent
-Plano 42" All Weather Rifle Case Mounted to Roof Rack for Recovery Gear
-----------------------------------------------------------------------------
------------------------------------------------------------------------------

Trails The Truck Has Been To:
-Frank Raines OHV
-Hollister SVRA [ x 2 ]
-Slick Rock OHV [ x 3 ]
-Deer Valley [ x 2 ]
-Pismo Beach Sand Dunes [ x 3 ]
-Black Rock Desert
-MOAB,Utah
-Pacific Crest Trail
--------------------------------------------------------------------------------
Would like to say thanks these shops/people for helping me get my truck to where it is:
Jerry @ Bay Area Metal Fab:
http://bayareametalfab.com/
Pete & the guys at Oakland 4 Wheel Parts:
www.4wheelparts.com
Vin @ SCS Wheels:
http://www.stealthcustomseries.com/
The guys at Any7 Off Road:
http://www.any7offroad.com/
Chirs @ OkLedlightbars:
http://okledlightbars.webs.com/
Bao and the guys @ Audiomobile:
http://www.yelp.com/biz/audiomobile-oakland
Rich @
RHdesignscorp.com
Pocket Style Fender Flares.
And all the NorCal & TW folks that helped me learn and get my truck to what it is. Made many friends here and look forward to every trip & meet.
VIDEOS:
Youtube User: sytfu510
5/18/13 Slick Rock Trail:
http://www.youtube.com/watch?v=rqeeGb9eN5g
5/18/13 Corral Hollow Trail:
http://youtu.be/81B6hoaamOk
8/22/13 Slick Rock "Steps"
http://www.youtube.com/watch?v=yKTxz...ature=youtu.be

Misc:
Baoser & I featured in Truck Trends Japan July 2013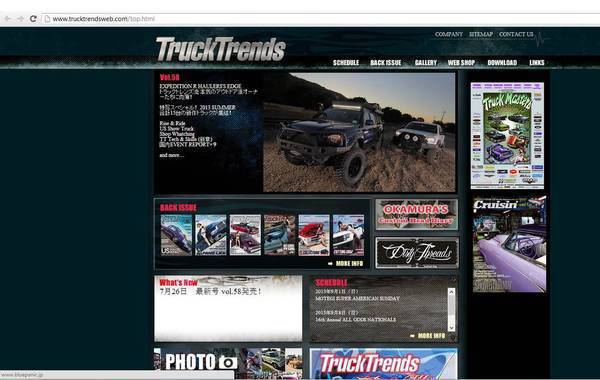 Was selected ride of the month for February 2013 for Team 4 Wheel Parts. Won a $500 Gift Card + T-Shirt & Sticker.