SOLD IT IN JANUARY 2014

Bought a used 2006 DCSB TRD Off Road 4x4 in 2011.
Truck:
2006 Tacoma Double Cab 4x4 4.0L V6 with TRD Off Road Package and Short Bed. Bought it used with 97k miles on it, but it was in near perfect condition, looked like it only had 20k miles on it.
Suspension:
5100s + Eibachs set at 0.85 in the Front.
5100s in the Rear.
LR UCAs.
3/8" Spacer on Drivers Side - 1/4" Spacer on Passenger Side.
ICON Progrssive AAL, (newish) Non-TSB Leafs.
Relentless Fab U-Bolt Flip Kit
Energy Suspension 4.5" Bump Stops
3 deg Axel Shims.
CB Drop Kit.
Added Grease Fitting to Slip Yoke - http://www.tacomaworld.com/forum/2nd...e-fitting.html
Wheels and Tires:
Stock Off Road Rims.
1" BORA Wheel Spacers
TRD Center Caps
285 75 R16s Firestone M/Ts
BAMF Cab Mount Chop Done.
Performance:
Armor:
TRD Front Skid Plate from littledvl.
BAMF Sliders, PCed with KickOut, Bolt On.
BAMF LCA Skids.
BAMF Diff Skid.
Audio:
Added 1/8" Audio Connector - and it is working perfectly.
Plan to replace the speakers.
Appearance.:
Satoshi Grill Mod with HomerTaco Mesh.
Satoshi Grill Mod with TOYOTA Letters on Custom Stand-Offs. (Part # 75311-90K00)
Moved Horns for Satoshi Grill.
In-Channel VentVisors.
Lower grill with matching HomerTaco Mesh.
Paint lower grill center black.
Restored Headlight Lenses.
New Husky Front Mud Flaps.
LED Lights in Brakes/Reverse/Signals/Markers.
LED Dome Light.
Illuminated 4x4 Switch.
BAMF Behind Grill Light Mount.
Behind Grill Hella 500 FF Driving Lights.
PLAN - Color Match Door Handles.
Added Functionality:
Rear Diff Breather Mod.
Heated Driver Seat - Dorman Kit
HomeLink in Roof Liner
Black UnderCover Tonneau Cover.
Oil Catch Can.
Fog Lights Anytime Mod.
iPhone Charging Cable.
CrimeStopper backup sensors. (uninstalled, looking for better alternative)
More Tie Down Points in the Bed.
Mounted my Surefire G3 LED on the side of my drivers seat.
Bed Lights. - My switch is wired up off my horns fuse.
Sienna Heated Mirrors. - http://www.tacomaworld.com/forum/2nd...s-diy-mod.html
Parking lights as additional turn signals.
Misc.:
New Battery, New Fluids in Everything, Slip Yoke Re-Greased.
New CandlePower Headlight bulbs, 65/70W H4.
Pics:
How it sits now: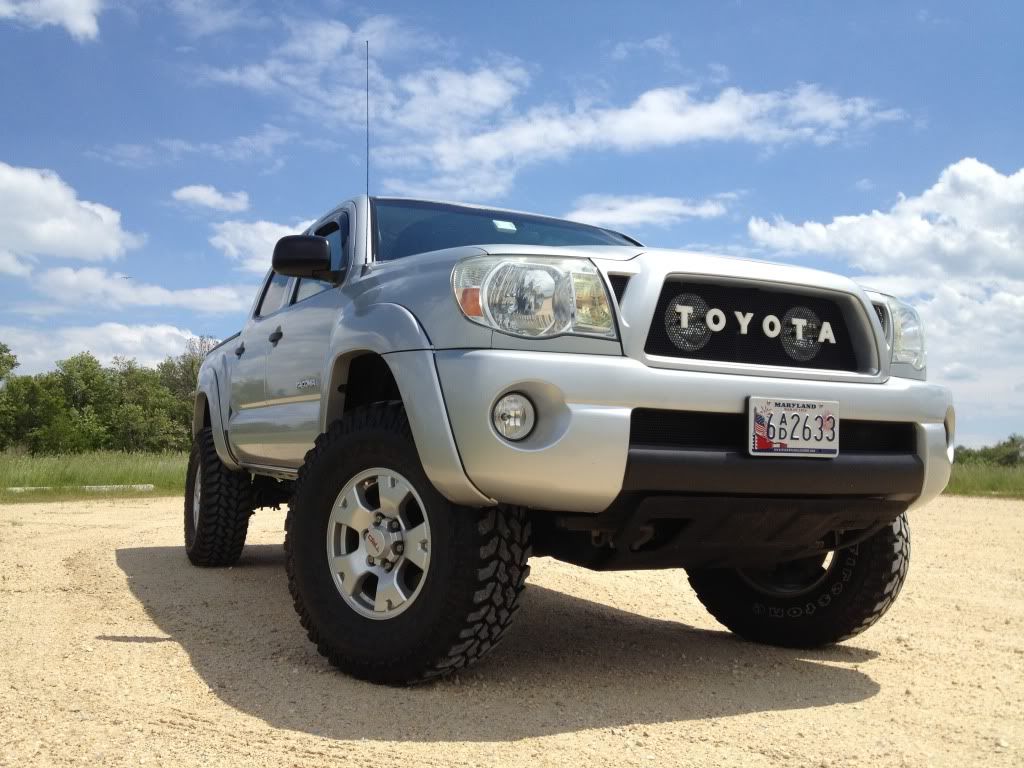 My Custom Satoshi:
More to come...