Hey TacomaWorld,
It's about time I put together a build thread…here goes nothing.
Truck Specs:
2009 Toyota Tacoma – Double Cab Long Bed - TRD Sport
*Purchased new from Superior Toyota (Erie, PA) - ask for Ann Richter - she is awesome! Family and I have bought 2 Tacomas from her.
Mods (in order of install):
Custom XM Radio install and window tint (20% in the front, stock tint on the back)
Bull bar (for sale now!)
TRD CatBack Exhaust
Tonneau Cover
After messing around with the basic stuff, now time for the fun:
6" Procomp Stage I lift
285/70/R18 Toyo MTs (34X11.50R18))
18" Method Rims
Step Bars (to come)
Pics:
Clean XM install – Thanks Enormis Audio!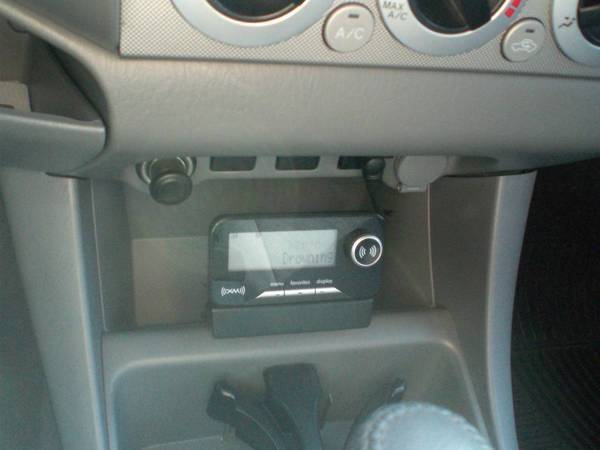 Tonneau Cover: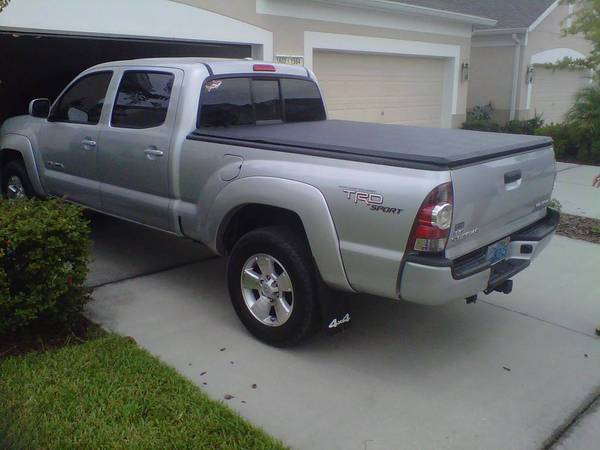 Truck line up at the apartments: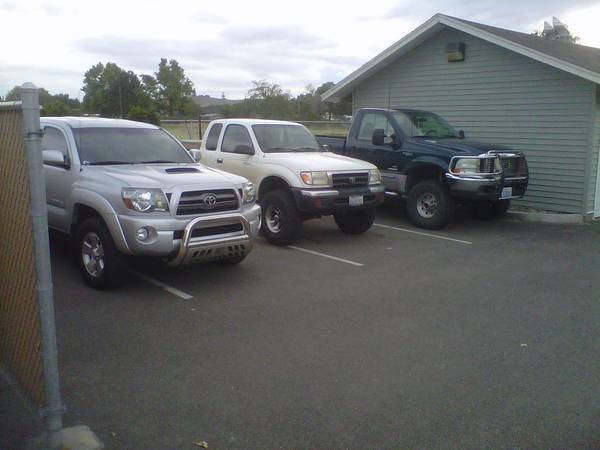 Last pre-lift picture: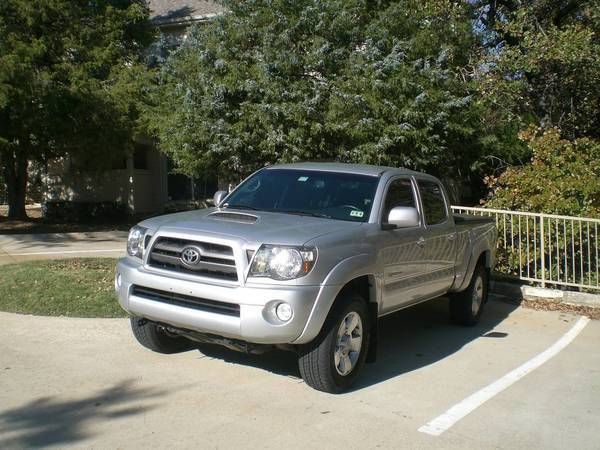 Off the lift rack: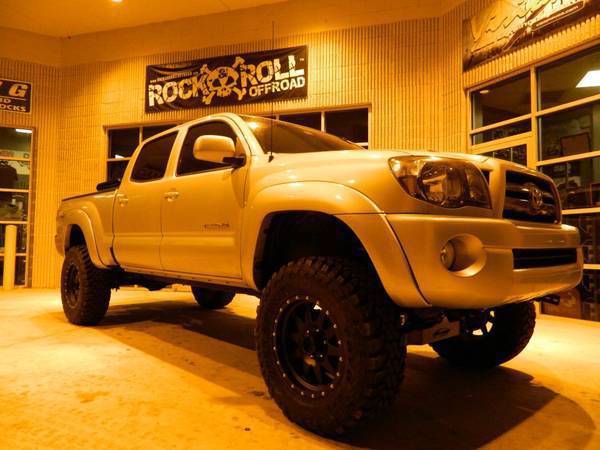 Morning at the spa: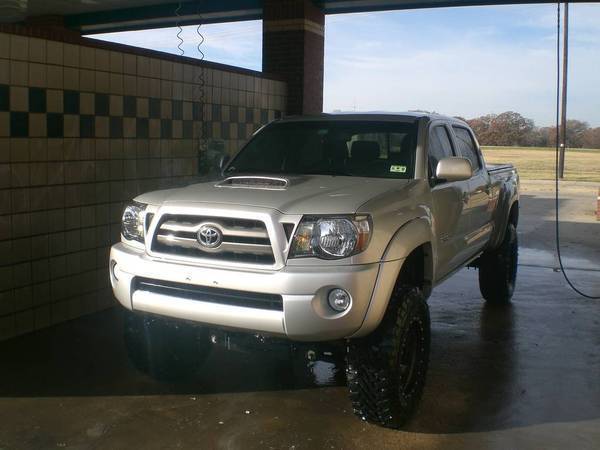 Level stance (picture shows the front end higher, it's not the case):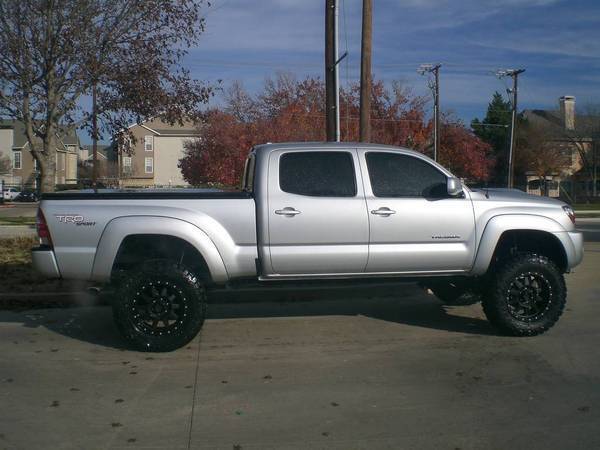 Really like the Method 18" – wrapped in Toyo MT rubber: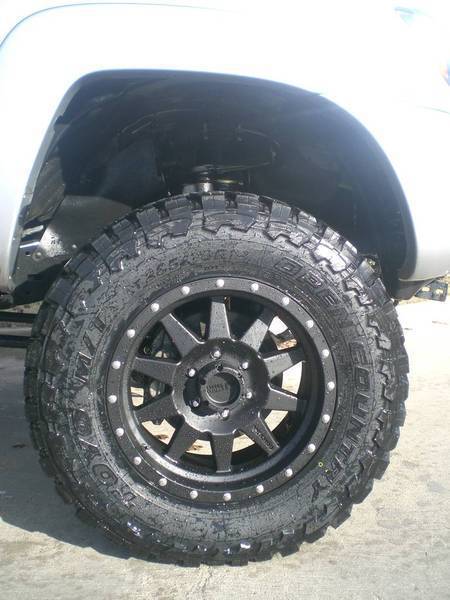 Angle shot: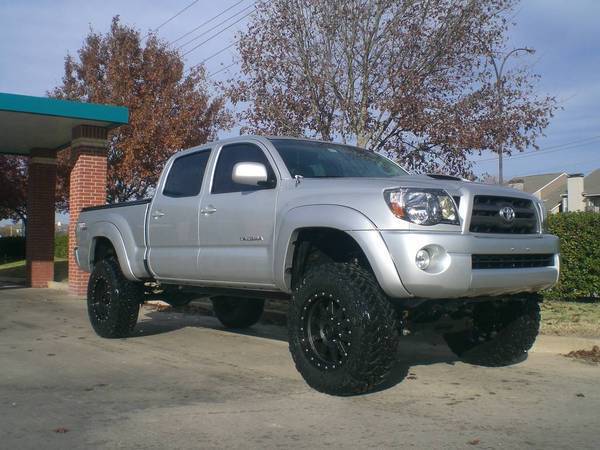 Special thanks to the following vendors for helping me out:
Enormis Audio & Electronics
(Erie, PA)
Jeepers Den
(Orlando, FL)
Rock & Roll Offroad
(North Richland Hills, TX)
And most importantly, my wife for putting up with my indecisiveness!
If you are in the DFW,TX area and are looking for a great truck shop, definitely check out Rock & Roll Offroad. They are the won Top Shop in the US for Offroad dealers. They have a rep on TW for doing solid work, quickly, but can be pricey. To be honest, I got quotes from various
4WP
(just for comparison, don't worry, I wasn't going there), Don Davis Toyota (Arlington, TX) and Rock and Roll Offroad. R&R Offroad was the most reasonable and easy to deal with! I am thrilled at the price I paid for my turnkey lift set-up. They are all business there, don't bother them with different quote options – show up and they will hook you up! Check out some of their other builds and rides here:
http://rockandrolloffroad.com/
That's about it for now, eventually looking forward for a new project. Will hold on to this truck for a long time!
In advance of the questions, I would like to make the following statements:
MPG
– Yes it will go down, who cares, your truck will drive like a tank. I will get about 320 miles/tank before fill up (accounting for new tires.) Check out my Fuelly stats here:
http://www.fuelly.com/driver/jstreeterinc/tacoma
Regrets
– NONE! Most unpractical decision I have made and love it! Unpractical in terms of it doesn't really add value, you pay more for gas, and could run into maintenance issues in the future. I did run into the VSC issue that others have commented on - it isn't a big deal, just something I wish I did more research on before I lifted my truck...regardless, I wouldn't have changed my decision.