Well just like the title says, this is my attempt at a build thread. (disclaimer- I am in no way a professional photographer nor journalist, don't want to be. I know the pics aren't all that great, but its what I've got so hope you enjoy) feel free to post a comment whether you like the thread or truck or just dont like anything, or maybe you have an idea/suggestion, cuz I would love to hear it all. Anyway, on with the thread...
How it sits today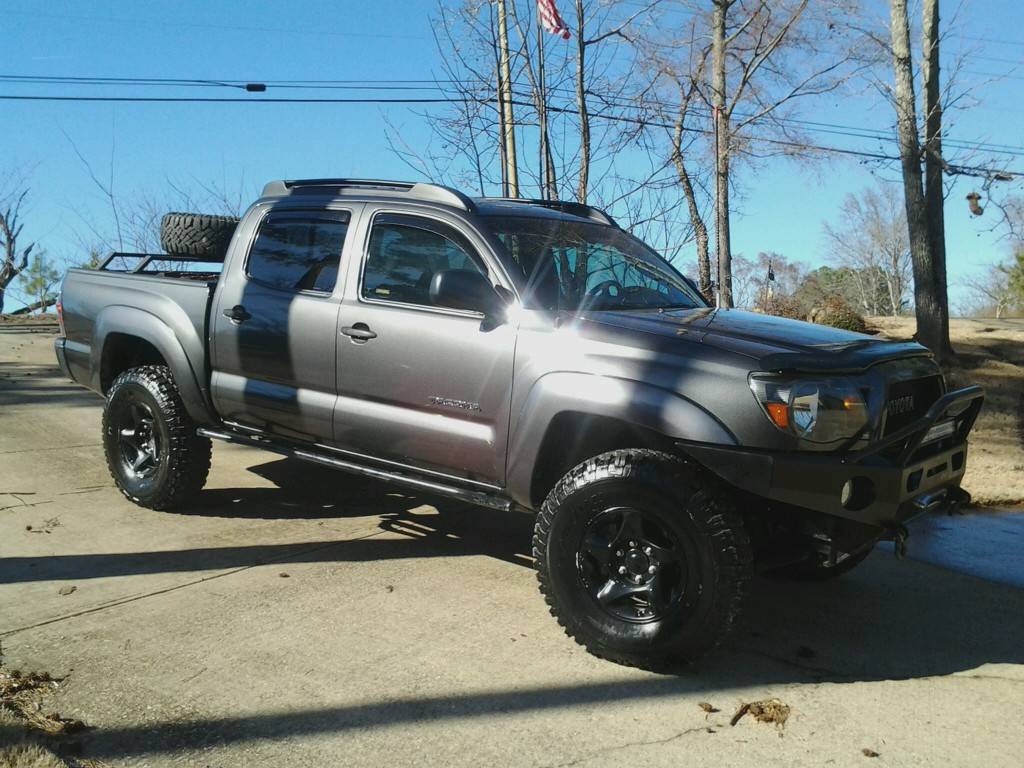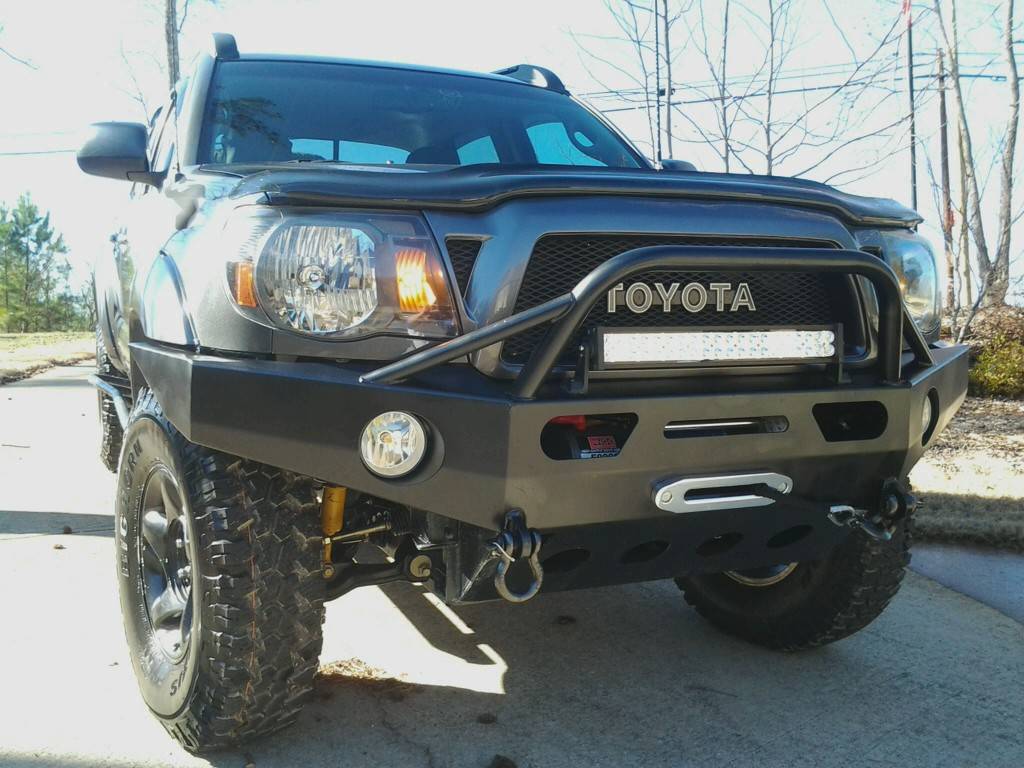 mods done so far
susp-
(front) King 2.5 extended travel remote reservoir coilovers, Desert Products uniball UCA's, invisible sway bar mod, Front Superbumps
(rear) Dakar leaf pack w/ second overload leaf removed, OME n182 shocks,
Toytec
u-bolt flip kit, ATO shackle flip, Superbumps
engine-
rerouted crossover with
Magnaflow
14" muffler instead of stock and cut off after rear axle
Airflow snorkel
wheels&tire-
daily drivers --> Stock TRD Offroad Alloy w/ Cooper Discoverer ATP 265/75r16
trail set --> 16" 1st gen TRD alloy w/ Maxxis Bighorn MT's 255/85r16
lighting-
MGMHLM (done by TacoAlamode)
PIAA Xtreme white headlights
Nokya 2500k fog light bulbs
21.5" double row combo LED bar
other-
satoshi'd grill (courtesy of TacoAlamode) with 70's LC emblem
DeeZee 37" black chest style toolbox
ImMrYo Rear-view mirror lift bracket
Ultraguage EM
Weathertech
bug deflector
Weathertech digifits
Weathertech window visors
SS ext brake lines(front & rear)
Redline hood struts & tailgate ez-down
diff breather relocate
RCBS204 4x4 illuminated switch
relocated 7pin into stock rear bumper
fake leather seatcovers front and rear
Mag light mount
Cobra 29 lx cb with 3' Firestik II antenna
OEM roof rack (with basket waiting for camping trips)
"homemade" bed bars/spare tire rack with matched spare
color matched engine cover
homemade hi-lift mounts utilizing bed track system
CV boot slide mod
body armor-
All Pro
bolt on sliders (modified to be weld on sliders)
Relentless ifs skid
Relentless transmission skid
Relentless transfer case skid
Brute Force Fab plate bumper with factory fog cut outs and modified design single hoop and winching reinforcement plates
recovery gear-
Engo 9000 winch with synthetic line (solenoid box relocated to passenger side fender wall, wireless remote wired in solenoid box, on/off switch for remote receiver wired in cab to prevent accidental winch movements)
Smittybuilt
snatch block
Reese 48" Farm Jack (offbrand hi-lift)
Trail Shovel
3 1/2 lbs single bit axe
8lbs short throw sledge hammer
(2) 3/4" ARB shackles
(1) 7/8" Crosby shackle
12 volt
Harbor freight
high volume air compressor
3"x 20' Wheelers recovery strap
3"x 12' Wheelers tree strap
7/8x20' Southeast Overland Kinetic Recovery rope
Southeast Overland CV axle puller
Accu gauge EZ deflator
planned mods-
anytime fogs
black out badges
tint
possibly longer shackles for rear.
How it began -
well I got an '11 dcsb sr5 4x4 on Nov 19 and picked it up from the dealer on Nov 21.
this is pretty much how it looked straight off the lot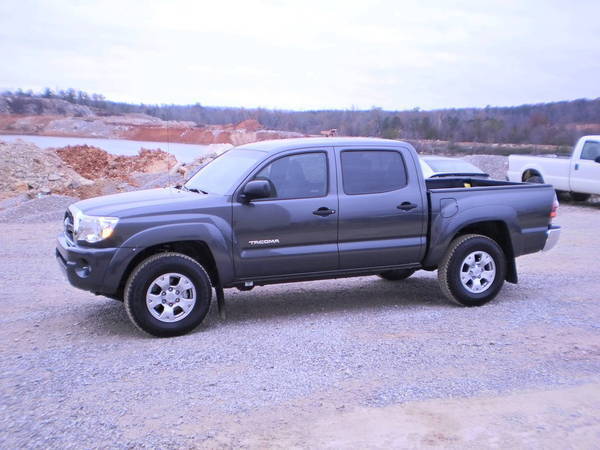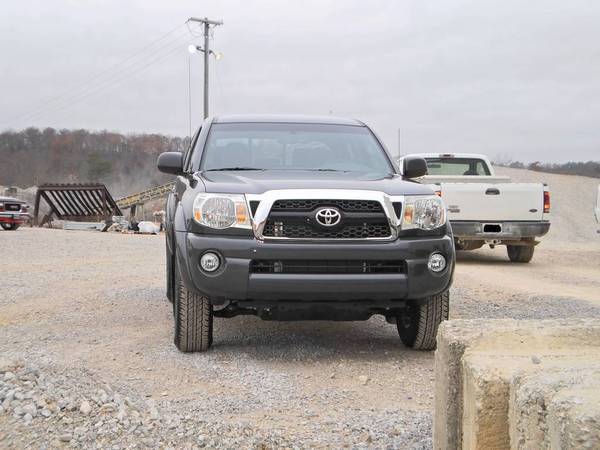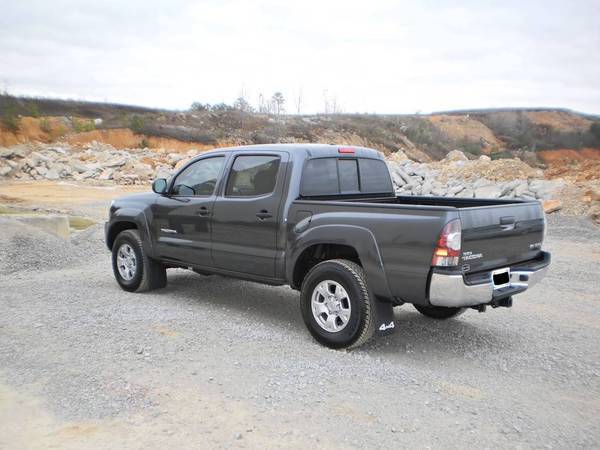 that weekend i installed my flowmaster cat back system on it.
then a few weeks later i was able to put my lift and new headlights on. I went back to the OME 885's with the nitro 90000 shocks and LR UCA's then 1.5"aal with the OME N182 rear shocks. the headlights are just factory "smoked" trd lights. While i was swapping lights i went and put in my nokya yellow fog light bulbs and a set of PIAA Intense white headlight bulbs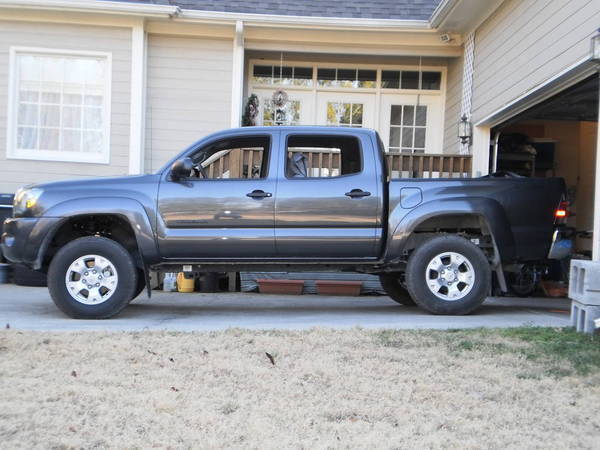 A HUGE AND SPECIAL THANKS TO TacoAlaMode and SuthrnTaco for the help with the lift install and light swap.
Then Christmas came and I got a few presents, one from my wife and one from myself,
(this is the one from myself Thanks Dustin from FN wheels)
I decided before i messed with the stuff in those boxes i needed to get what little body armor i already had installed so i went to a buddy's house and welded on my all pro sliders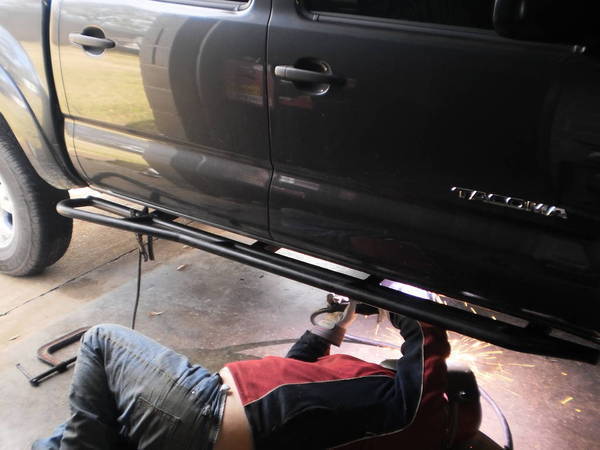 (pics are of my buddy welding not me)
After that i just got busy mounting everything, my bullbar and PIAA 520atp's, my weathertech bug deflector (my Christmas present from my wife and a must for AL highway driving), set of duratracs on my new wheels and the toolbox i got from Davtopgun
so this is how she sits for now and prob for a while, wife says ive spent enough money and time on the truck for a while.....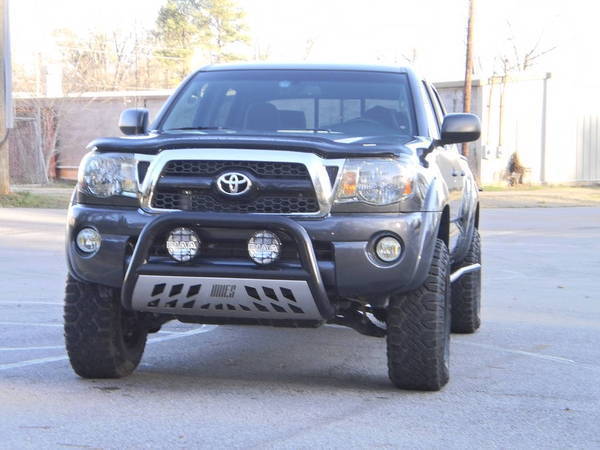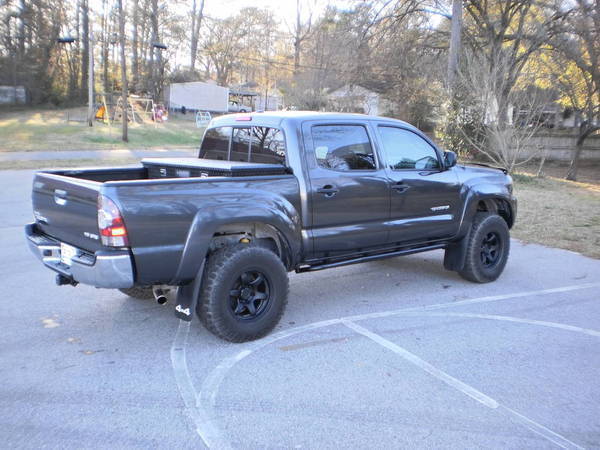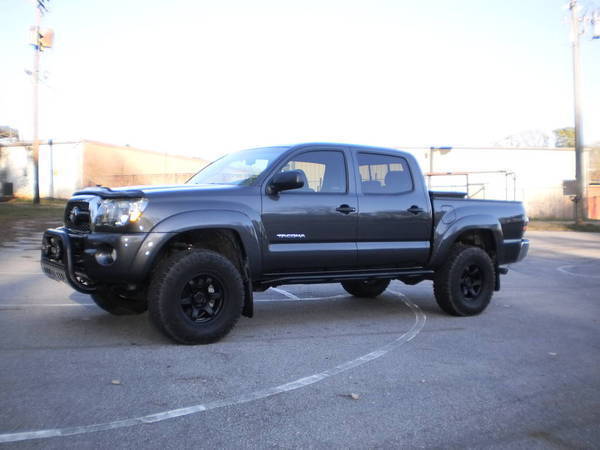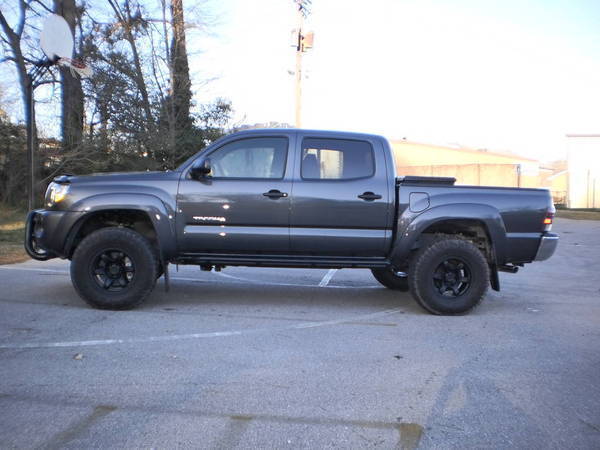 Maintenance notes
Rear diff and transfer case oil change ~ 25721 (3/27/14)