Update 10/21/13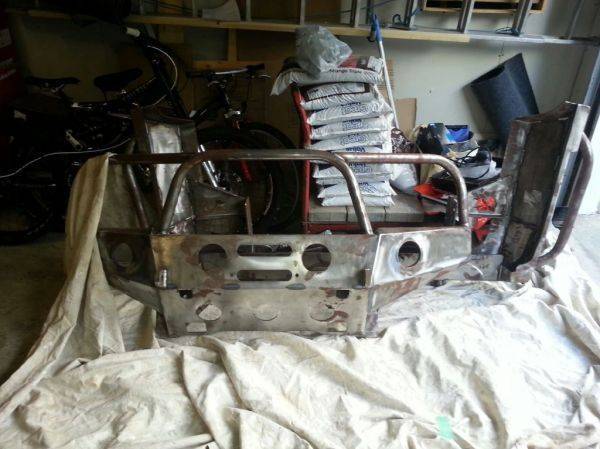 Kind of a shitty pic but if you look closely you can see a rear high clearance bumper and the obvious front bumper. Didn't get time to paint and install over Canadian thanksgiving, so may have to get it painted over Christmas and install it then.
Other news my OME kit is in a ct motorsports, just waiting on bushings for the leaf pack. Got the brake lines, and bump stops waiting to be installed with the lift. Needless to say I got a big pile of parts to go on soon. Cant wait
2010 DCLB SR5 Toyota Tacoma
I got the truck brand new, and my plan is to slowly build it up so it can go on some mild to moderate level trials but also be able to be a reliable daily driver. I plan on keeping this truck for a very long time, so longevity is always in mind with every modification. Let me know what you think.
Current MOD's
Interior
Weather tech
floor mats (front only for now)
4 Rocker switches (
http://www.otrattw.com/
)
wet okoles- front and rear
door sill protectors
Backup camera anytime mod
Illuminated 4x4 switch
Exterior
Avid light bar (line x'd) (SOLD)
Relocated rear differential Breather
Extra d-rings
High lift mount
Tonneau cover
Relentless CB attena bracket
Wilson Adjustable Atenna
Relentless tie down brackets
Armour
Relenless IFS Skid (installed)
Relentless Mid skid (installed)
Relentless transfer skid (Modiefied and installed)
Relentless 2X3 rock rails with kickout (installed)
Electrical
Blue sea fuse box
Relay "station"
2x Hella 500 converted to HID (SOLD)
2x KC backup lights
2x bed lights
Cobra 75 CB
21 Inch Blitz pro Lightbar (too be installed on bumper)
Wishlist
Relentless front bumper (ordered) (SHIpped)
Relentless rear bumper-high clearance (ordered) (SHIPPED)
winch?
255/85/16 tires
OME front and rear suspension (ORDERED
)
Light racing UCA (waiting to be installed with lift)
allpro
flip kit
extended brake lines (ordered from group buy)
new bump stops front and rear (thinking superbumps from wheelers-->ordered)