This 2012 TRD Sport 4x4 Upgrade is Toyota truck #6 in the family. Previous editions, all 4x4: 92, 93, 97, 2000 and 2006. I've been hooked since seeing
Back to the Future
and Marty McFly's truck.
Since there are so many storm trooper build's, I've decided to call mine the Clone Trooper build from newer (older in series) Star Wars saga.
Mods to date:
- TRD Supercharger
- Heated seats
- Katzkin two tone leather
- Inalfa 925 power roof
- OEM black tube steps
- OEM bed mat
- OEM hood protector
- OEM roof rack
- TRD catback exhaust
- TRD front skid plate
- BFG All Terrain T/A 265/65/18
- K&N
air filter
(removed with Volant)
-
Scanguage II
- Rhino rear receiver hitch step
- Access brand
tonneau cover
-
Weathertech
tinted vent visors
- Weathertech floor mats (OEM all weather stink)
- TRD 1st gen boost gauge
- Volant cold air intake with ram air scoop
- Custom TRD CAI cover from member Coupe
- Fab Fours black powder coated rear bumper
- Fab Fours black powder coated front bumper
- Warn winch
-
Icon
Stage 5 suspension (3/1/14)
- MattGecko's bed light kit with remote
- CSJumper's LED's - interior dome and map plus back up lights
Mods in waiting
(awaiting release from manufacturers):
- TRD Cold Air Intake (off the list, TRD won't put one out)
- Hidden power sliding rear window
I tried selling my 2006 on here, but ended up trading it in:
http://www.tacomaworld.com/forum/2nd...-dcsb-4x4.html
The day I traded in 2006:
http://www.tacomaworld.com/forum/2nd...lo-2012-a.html
As it sits 3/25/14: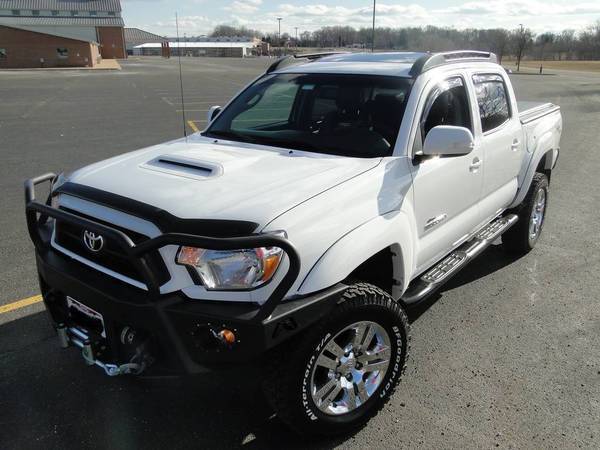 First day, mod free: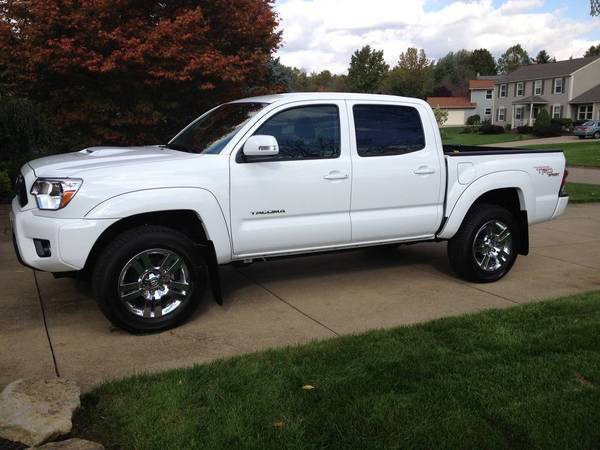 Some of the first mods (roof rack, TRD exhaust, new tires, vent visors, bed cover):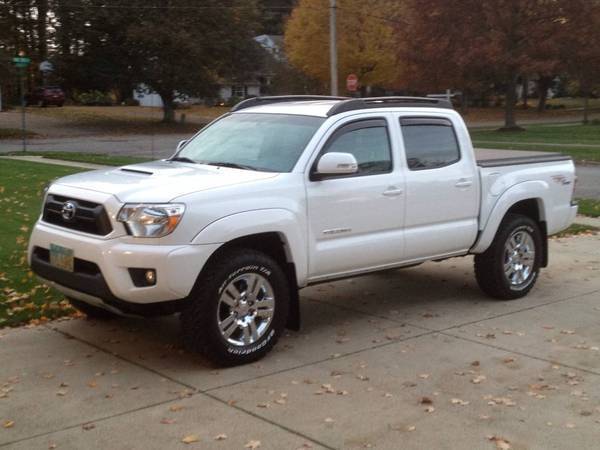 I'm not a big off-roader, so I get my wheeling fun on a smaller scale: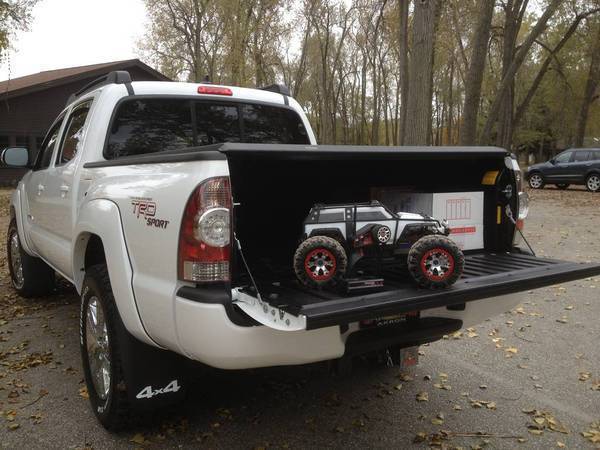 Traxxas Summit play time at Presque Isle state park in PA!
To date, the BEST mods for me so far is leather interior and sunroof.
The leather:
So many options, but going with the storm trooper motif, I opted for: two tone, gray and black with black contrast stitching, center butt and lower back panels are perforated, upper and forward bottom panels are not. Upper fronts have white TRD logo stitched on top of black thread for offset. They are heated (just in time for winter and wow, does that high setting get hot!) I liked the switches in the console vs. on the side of the seats.
I've included an image of the pattern schematic from Katzin. There are two differences from prior years:
1) Rear headrests fold down so there is a hole for the arm latch to protrude
2) The rear seats have all "straight" lines - no curves like on the original material (see pics).
Note that I had them leave the arm rests existing gray vinyl...my opinion, no need to pay to have that turned to black vinyl. (Note: 2012 models have vinyl, not cloth armrests). Also, the center console was left the factory black vinyl also. They have already received their first Lexol cleaning and conditioning!
The sunroof:
Again, much research, debated between Inalfa and Webasto. Inalfa won because they had the special trim ring for the Tacoma ribbed roof. Inalfa 925 (largest you can get) which also has auto close feature. It was also important to me to have the control switch mounted on the lower left in one of the blanks. I ordered an extension ribbon cable for them to be able to run down the A pillar. The 2012 has the bluetooth mic in the upper console so the switch could not be mounted there (easily, that is). Plus, I think it looks more factory on the dash. They took the Inalfa piece off that goes around the switch so it fits nicely in the blank. My other big must was to
not cut up the sunglasses console.
I saw soo many pics of other members that got theirs chopped and it did not look good to me....not factory. As you can see in the pics, the console was moved up 1.5" and stayed intact. Installer also wrapped the new headliner beautifully around it...he did an amazing job! He said he spent a lot of extra time to make it right. The roof is not pushed back further to make this fit as I've read many complain about moving the roof back to save the sunglass console. I look up and I see out!
There is all new headliner and of course, it dropped the ceiling height down. I'm 6'4" and have no issues rubbing against my head. The installer was over an hour from my house and I drove home with it open all the way in 30 degree weather....it was awesome...of course my seat heater was on
It has been raining all week and dry as a bone inside. 3 year warranty and I'll go back once per year for free cleaning and lubrication.
The installer:
The first place I called gave me a quote on leather and sunroof, then he said his sunroof installer just quit so he has to "train a new one". His next sentence was "So when can you bring it in?" Yeeaahhh...let me call you back.
I then found Sunroof and Restylers City Inc. in Mentor, Ohio. Their installer has been doing this for 30 years. They sat down with me and I showed them EXACTLY what I wanted. They do 80% dealer work. After giving them pictures, descriptions etc., they ordered Katzkins. I was all set to drop off the truck and they called to say the leather did not have the contrast stitch and Katzkin corporate said "just give the guy $100 off"...the installer said no way, make a new set, the customer wants this. Darn right, waited this long, get the order right. Leather came in a couple days later so I dropped off truck. Drove my wife's RAV4 for several days, felt like a go-kart. Install took 3 days, but was fine by me. Felt like Extreme Makeover - Truck Edition when I went to pick up. The installer, again, went over everything with me, they went above and beyond. They even took in process photos for me which I'll upload soon. No wrinkles, no glue remnants left on roof, the interior was spotless when they finished. I would highly recommend them. I asked them to save the sheetmetal they cut out of the roof (see pic)...have my wife make a scrapbook page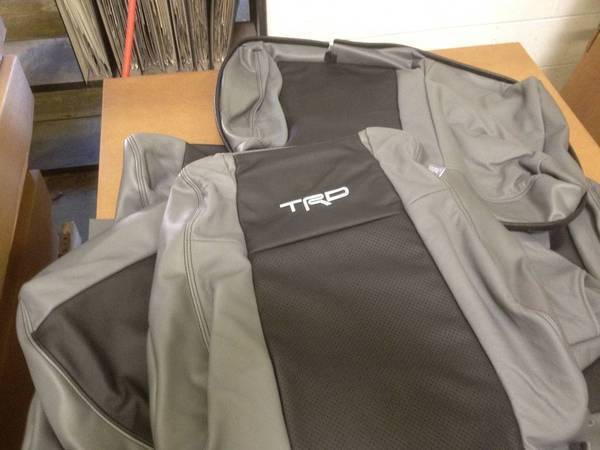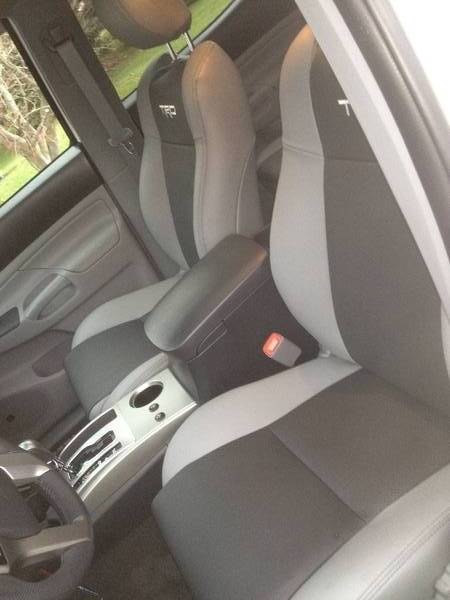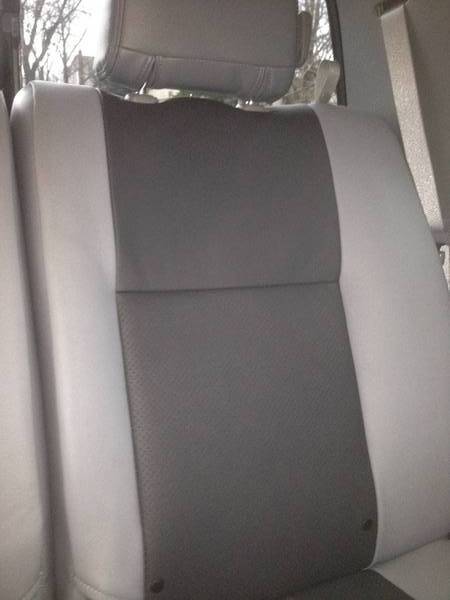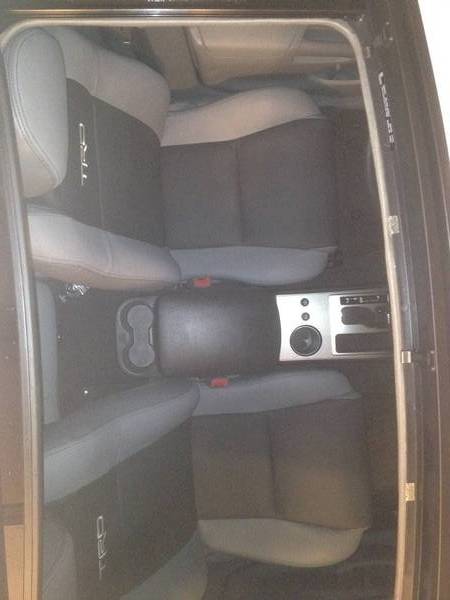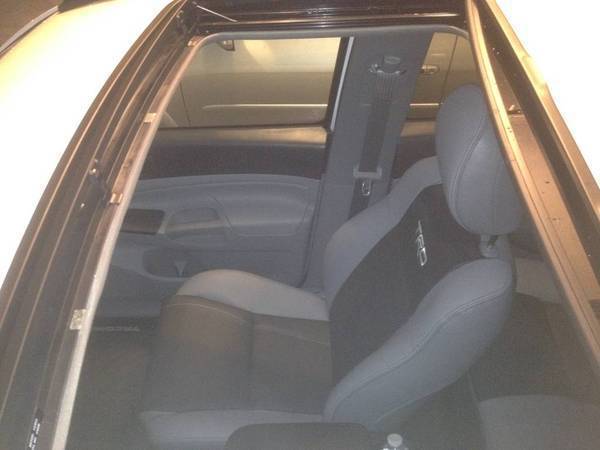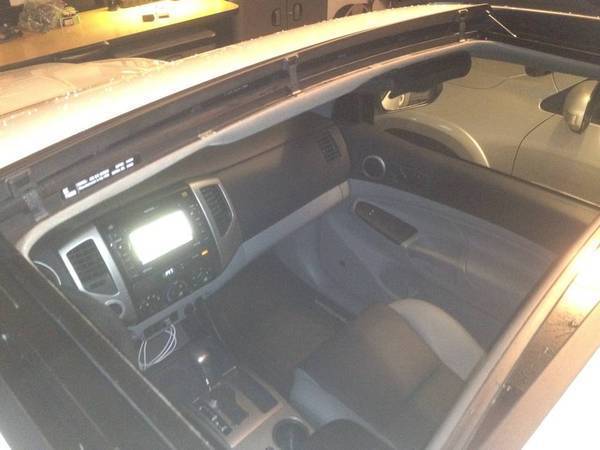 I'm so sorry, that had to hurt....but you are so much nicer with a new window!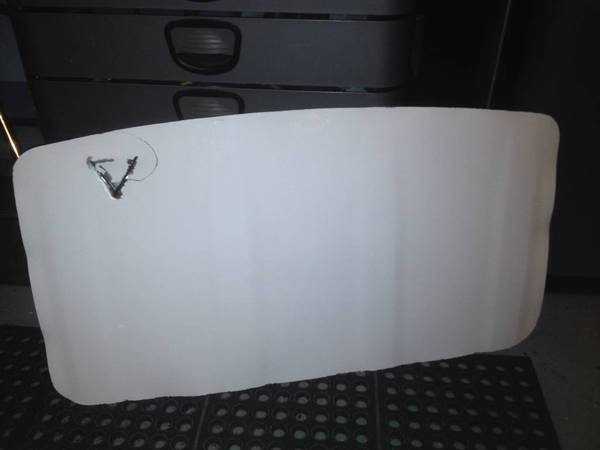 The TRD Supercharger and CAI are supposedly soon to be out. I'm planning to do this in the summer. I've been debating about this because my alternative is to get a used Turbo or Supercharged MR2 from back in the day as my speed toy. I just love driving this Tacoma though!
And seriously, come on Weathertech, these OEM mats suck, get your new product out!
Wish list for 2013 Tacoma:
- power rear sliding window
- heated mirrors
- factory leather and roof option
Let the research go on....thanks for checking out my build!
To be continued...