707tothe907
6'3" 195lbs, I enjoy long walks….. Oh wait, wrong site…
2005 Toyota Tacoma TRD Off-Road
White/DCSB
Here is how she sits today: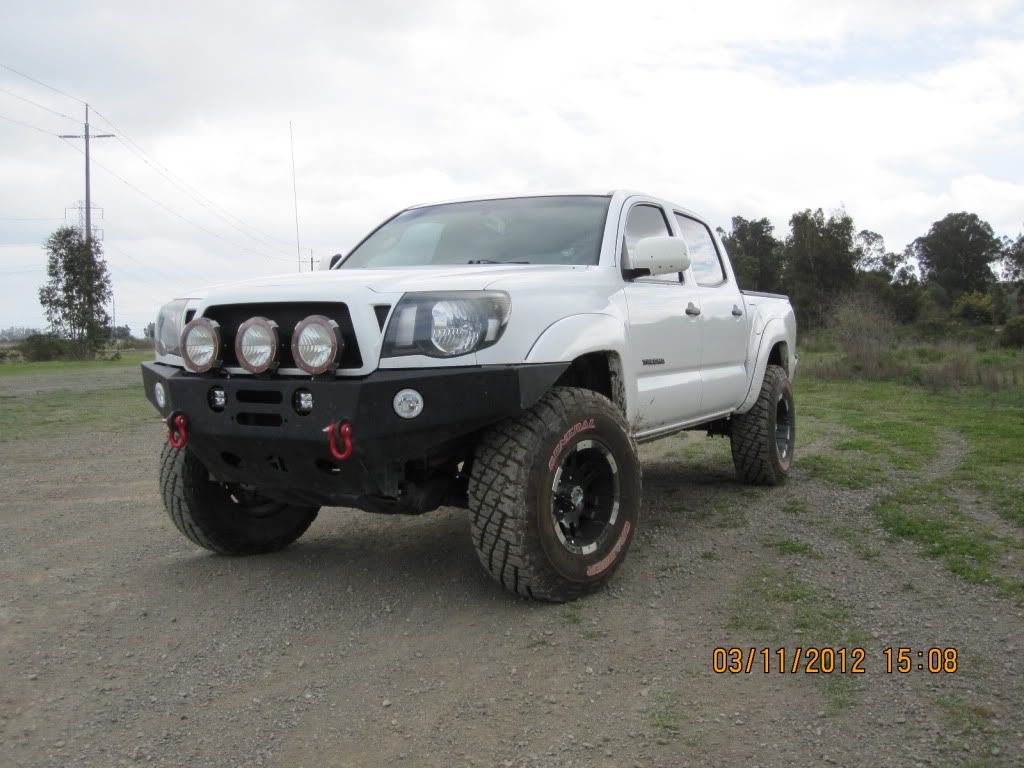 Mods list:
Sway Away 2.5 coilovers (set a little above 2")
Stock UCA's
Wheeler's 3-leaf Progressive AAL (1.5")
Fox Shox 2.0 Rear Reservoir
285/75/16 General Grabber Red Letter tires
16x9 MotoMetal 951
Relentless Fabrication Plate Bumper (First one made)
AftermarketF og lights fitted with 3000k HIDs
6000k H4 BiXenon 35w HID headlights
3 Kragen 7"HID Off-Road lights
2 Rigid Industries Dually's – Spot Beam/Amber Color
LED ParkingLights/Tail Lights/Dome Lights/Map Lights
Wet Okole Seat Covers Front + Rear
Flyzeye Designs V2W Interior Lighting
Flowmaster 40 series muffler
White Satoshi
BHLM
15% tint front/5% tint rear
Color-matched Side Mirrors
Grom Audio Ipod Adapter
Motha-Fuckin' Story Time:
What originally got me into TacomaWorld was my 2002 Tacoma TRD. This truck was a beast, and we got into a couple hairy situations, but it never let me down.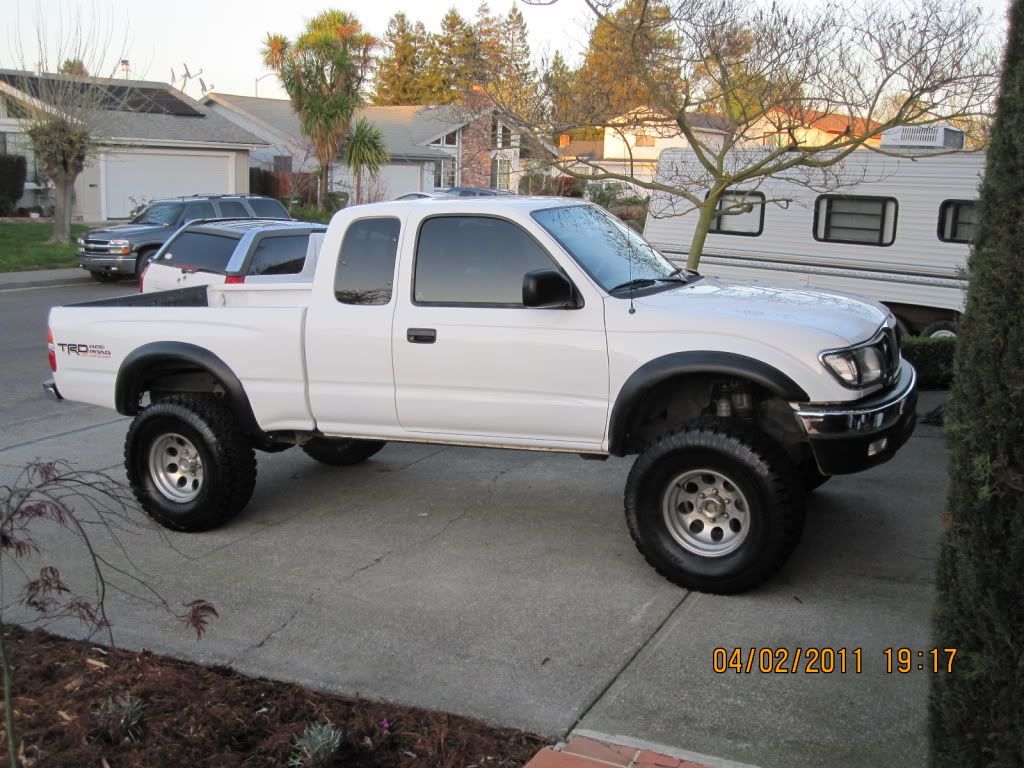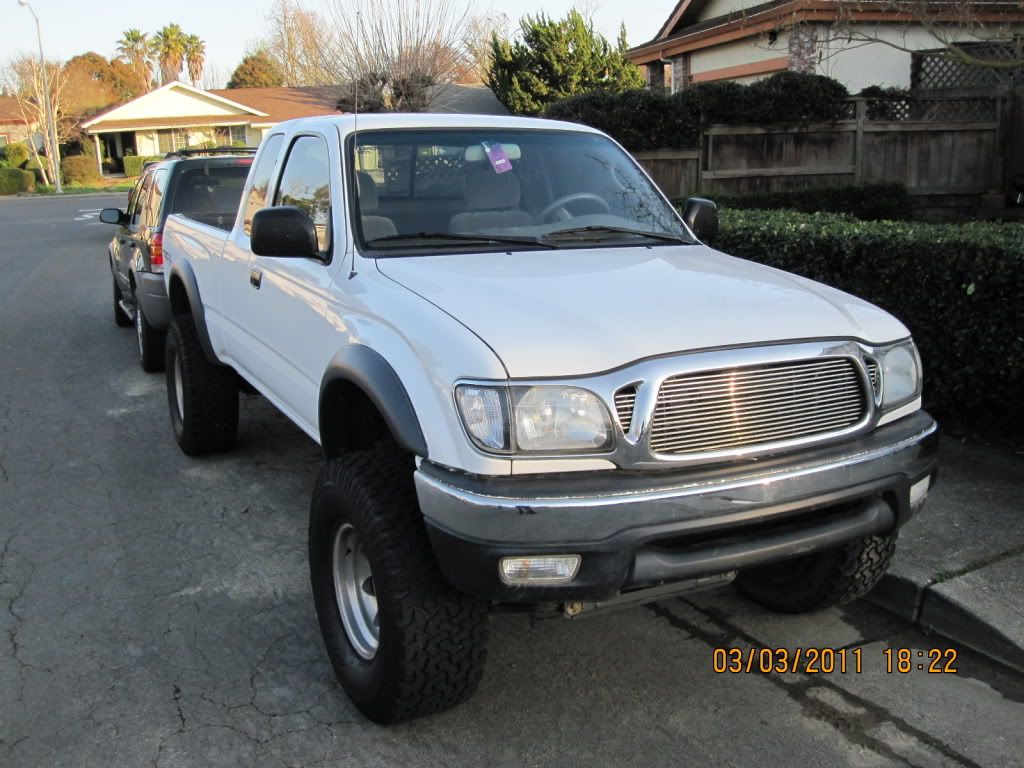 I sold it before moving to Alaska forthe summer of 2011, to work on a Ferry Boat, with the anticipation of buying a 2nd Generation on my return for school.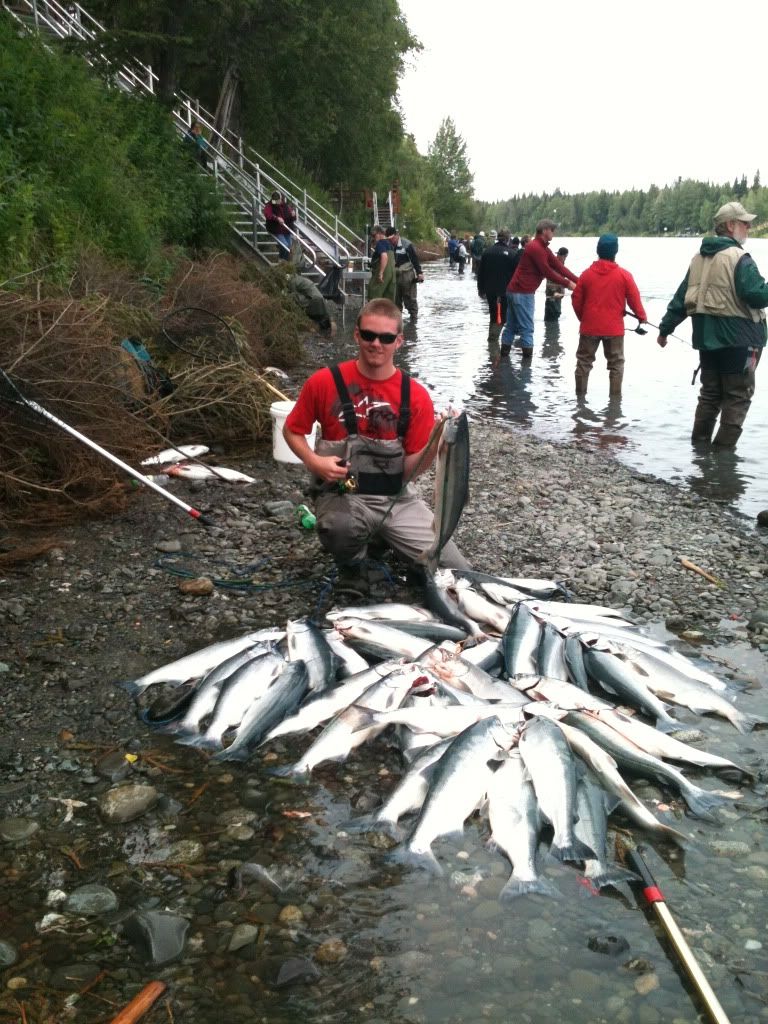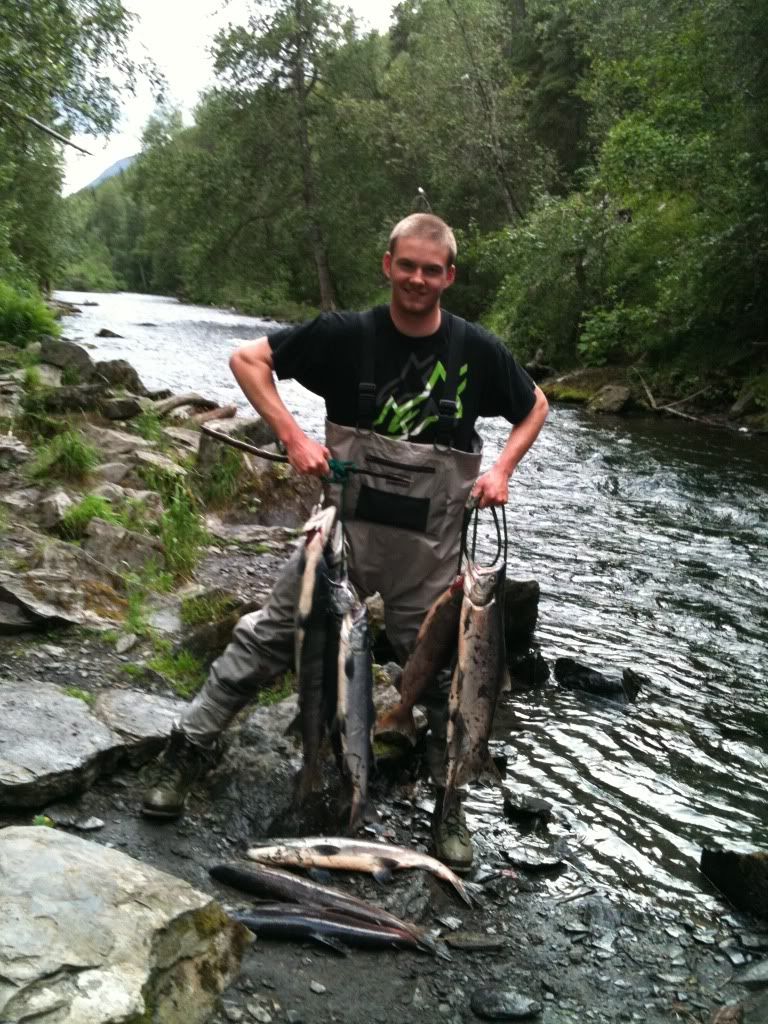 Bear in the background of this picture.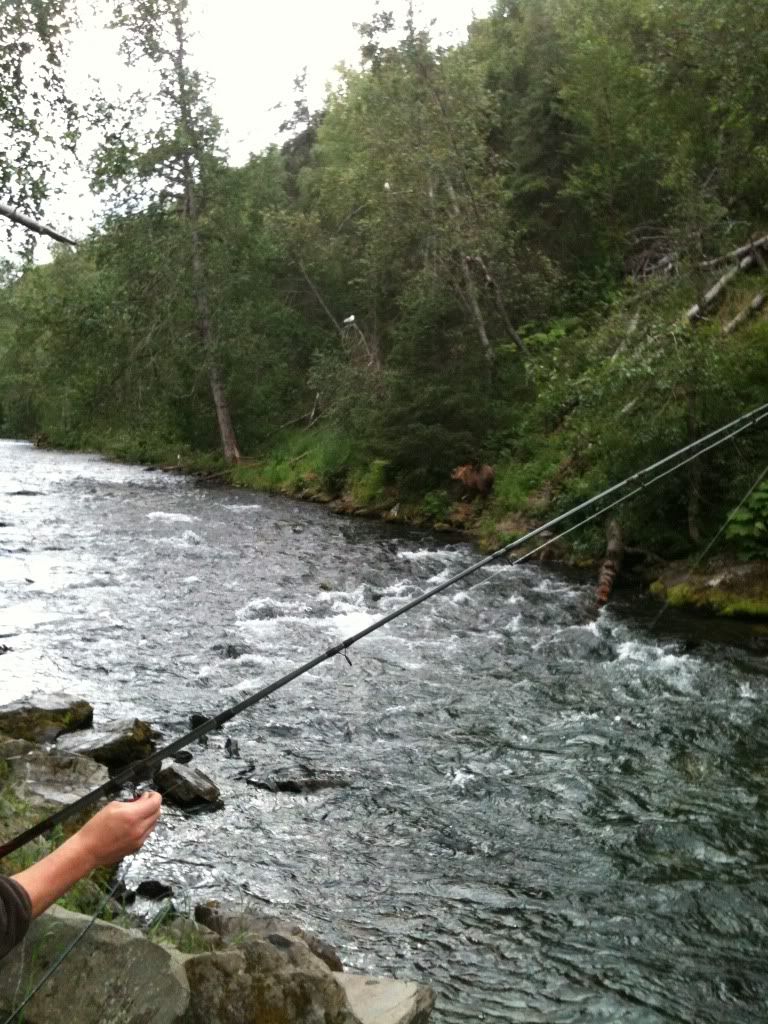 I picked up my new truck August 2011, It came with 2.5 Racerunner coilovers and 2.0 rear Racerunners. But, best of all,it came with some dope-ass 20" rims. I kept trying to convince myself I liked them but the more I saw them, the more I knew I needed to get rid of them. The previous owner also had on 15% tint in the front and 5% in the rear. This shit's dark, but its grown on me, and the cops haven't bothered me about it yet.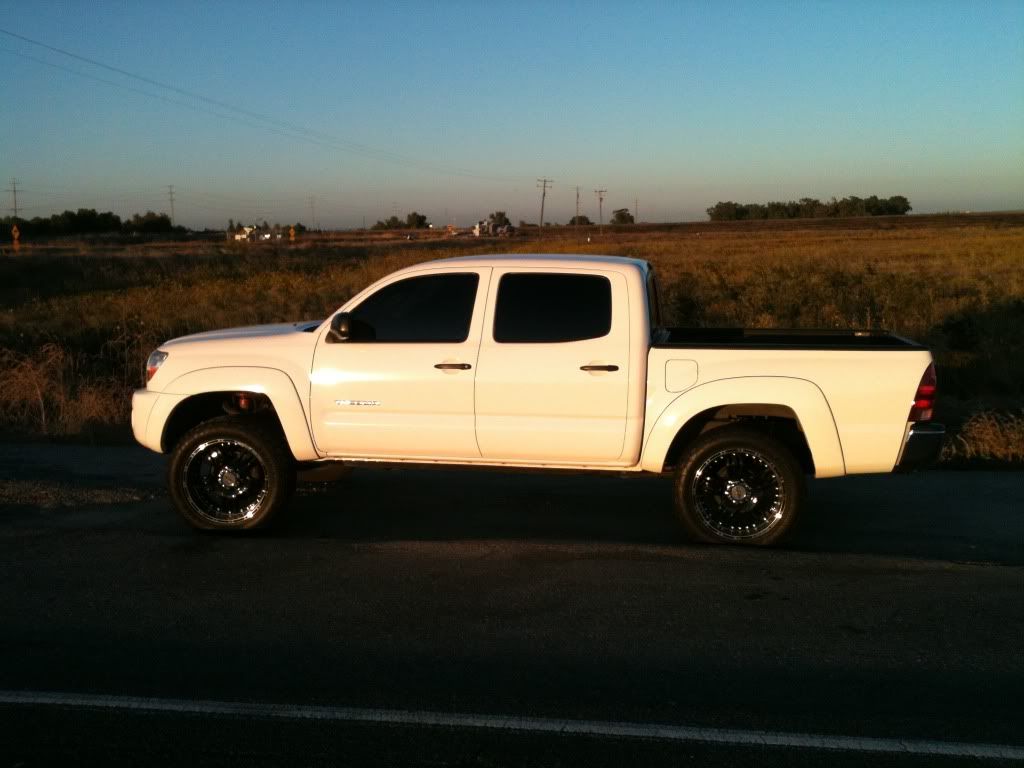 One of the best parts in this story is my Relentless Front bumper. It was put on the truck less then a month after owning it. I purchased it from 1337Taco.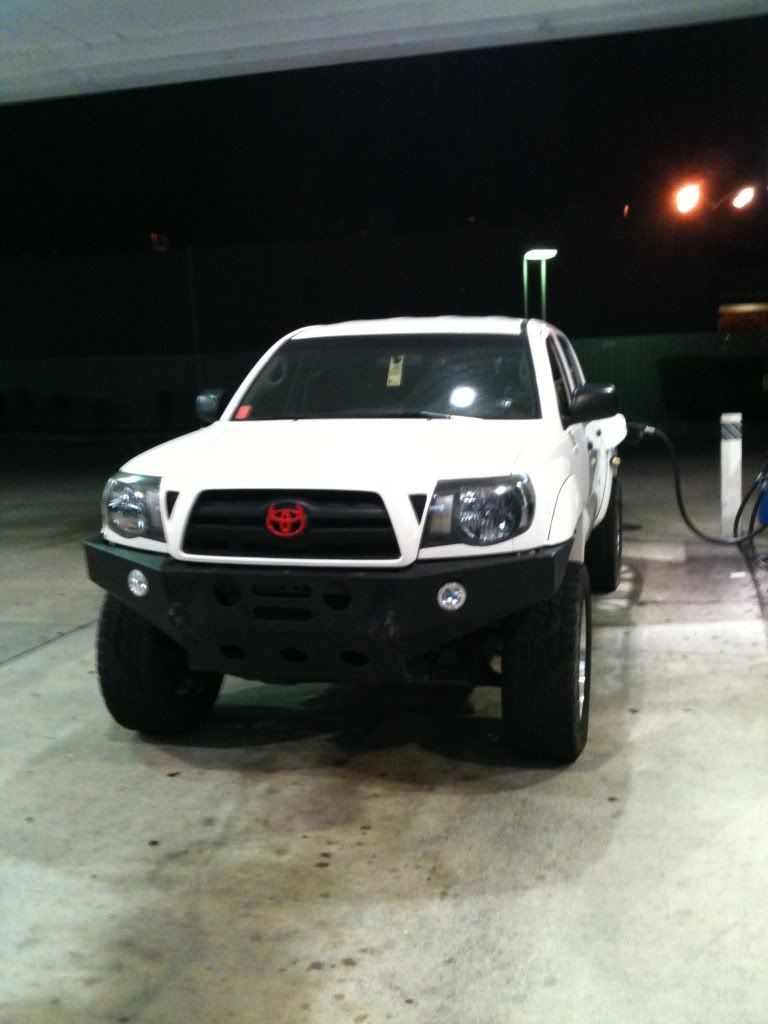 After rolling around for a while with a flat top, I ended up purchasing 3 Kragen HID's from the TacomaWorld group buy. –The light output is amazing, and I would highly recommend these lights-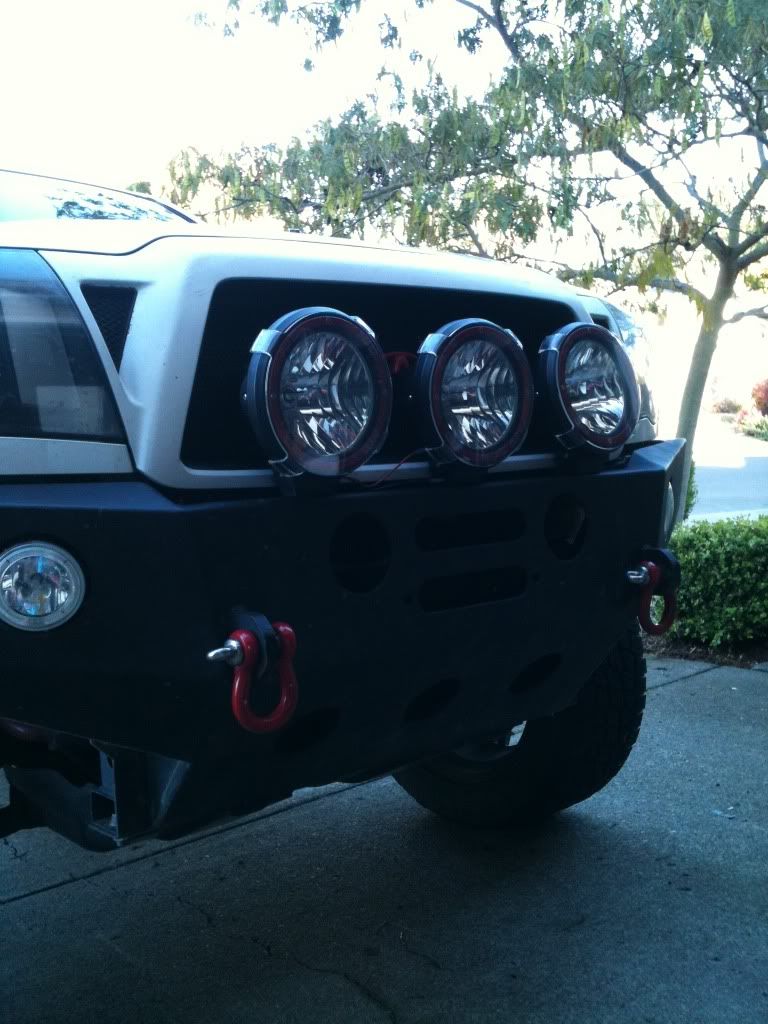 I also got Weathertech floor liners for my birthday, and shortly after received a full set of Wet Okoles, throughTacomaWorld for an unbelievably low price I had to jump on. My dad is convinced the reason I bought the seat covers is to defend against "Snail Trails" left inthe backseat.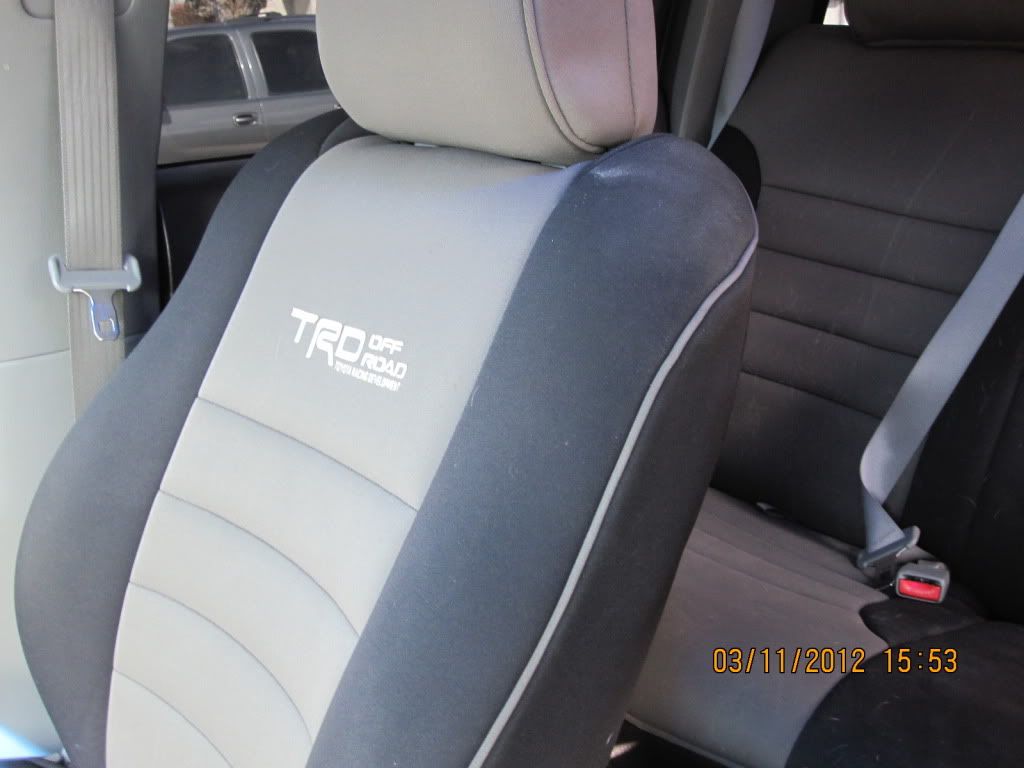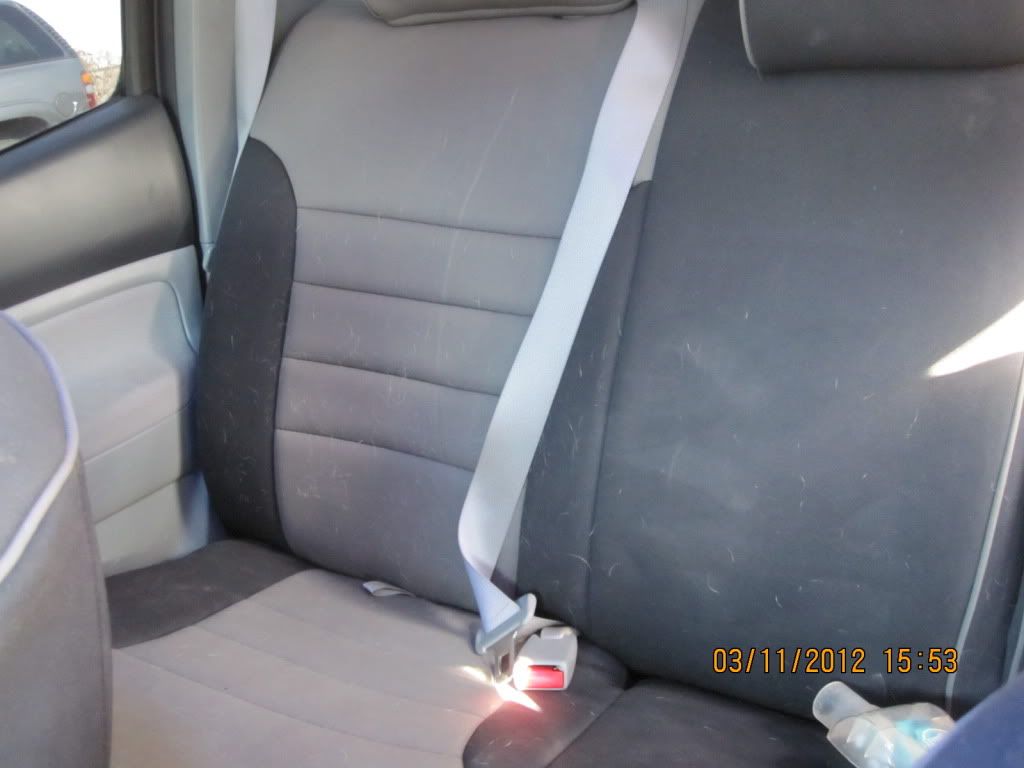 At this point I decided I needed to get new wheels and tires. The dubs were getting old, and I already had my mind set on what I wanted. I purchased 16x9 Moto Metal 951's and General Grabber 285/75/16's through 4WheelParts. –I strongly recommend against 4WheelParts, the only reason I purchased through them was because I bought during 4WP's black Friday sale and got a $200 gift card -. They called me a couple days later to let me know the wheels were in, but the tires were backordered. (Well no shit). Best part: They had 3 of the tires ready for me, I was just waiting on 1 Grabber from General, once they resumed production. So after scratching my balls for ac ouple months I hopped on the internet and started calling EVERYONE. And no one had ANY. I nearly gave up until I contacted VIVID RACING out of Arizona. I talked to Brian Plosia (sp?) and he said they had 4 coming in the mail. I told him I only needed one, and he was very willing to break up the set of 4 and send me out the one. On top of that, he added a bunch of random holiday discounts to my order and got it to me for $224 shipped, which is better pricing then any other online vendor. A big thanks to Brain at VividRacing forputting new rubber on my truck.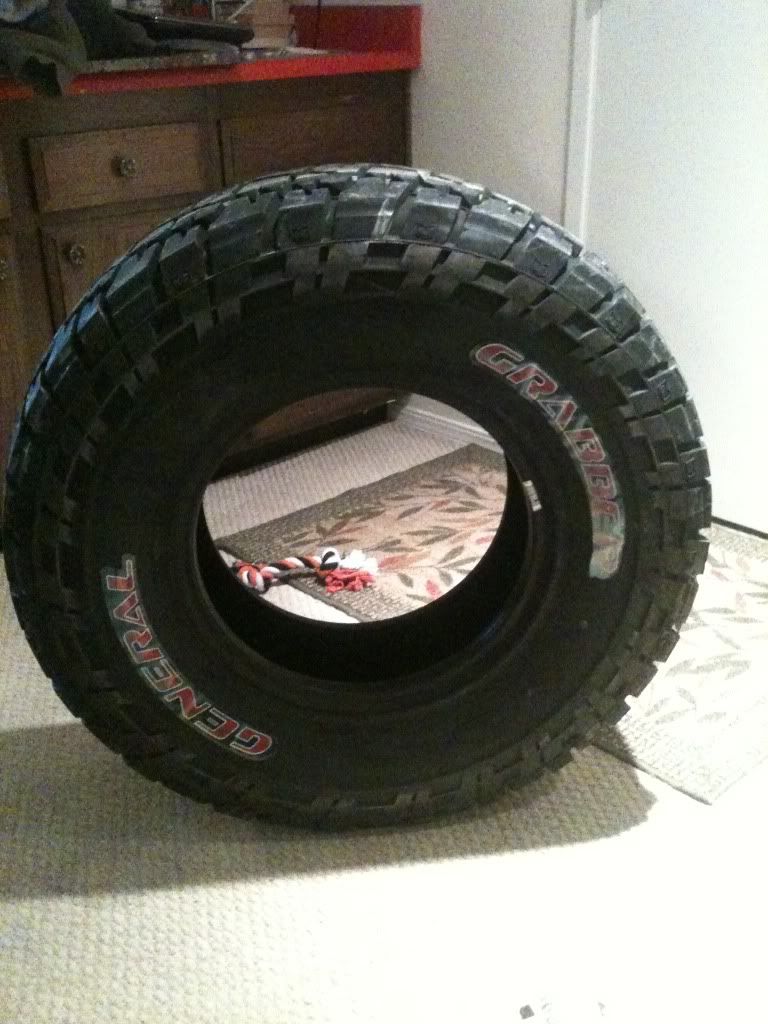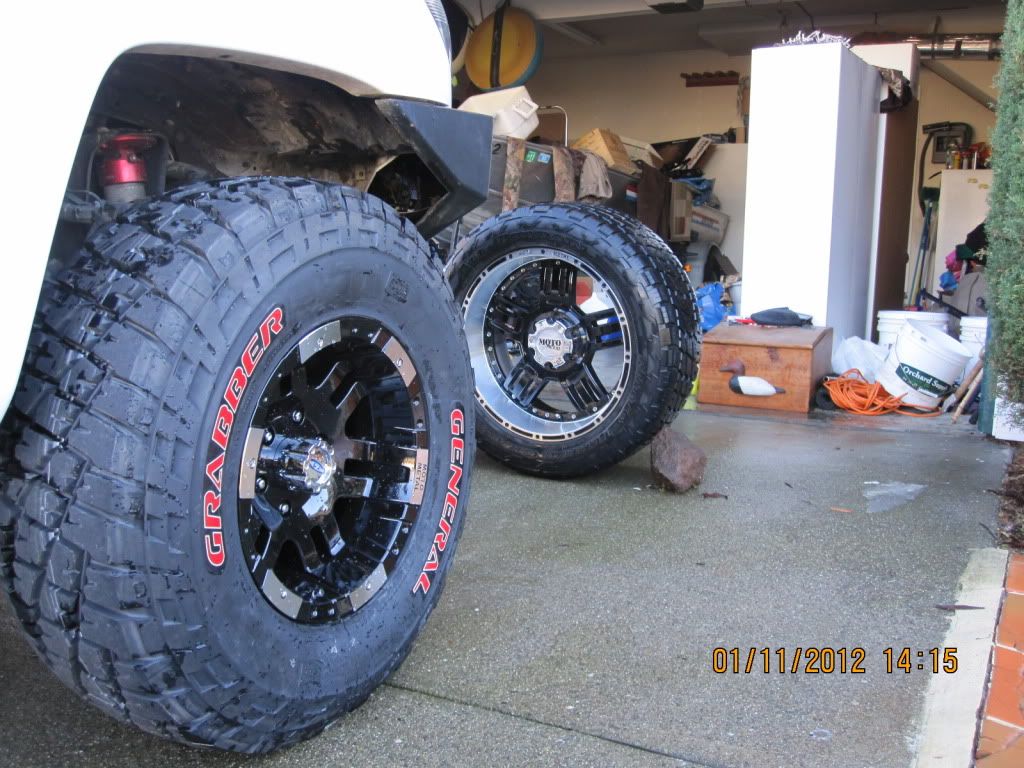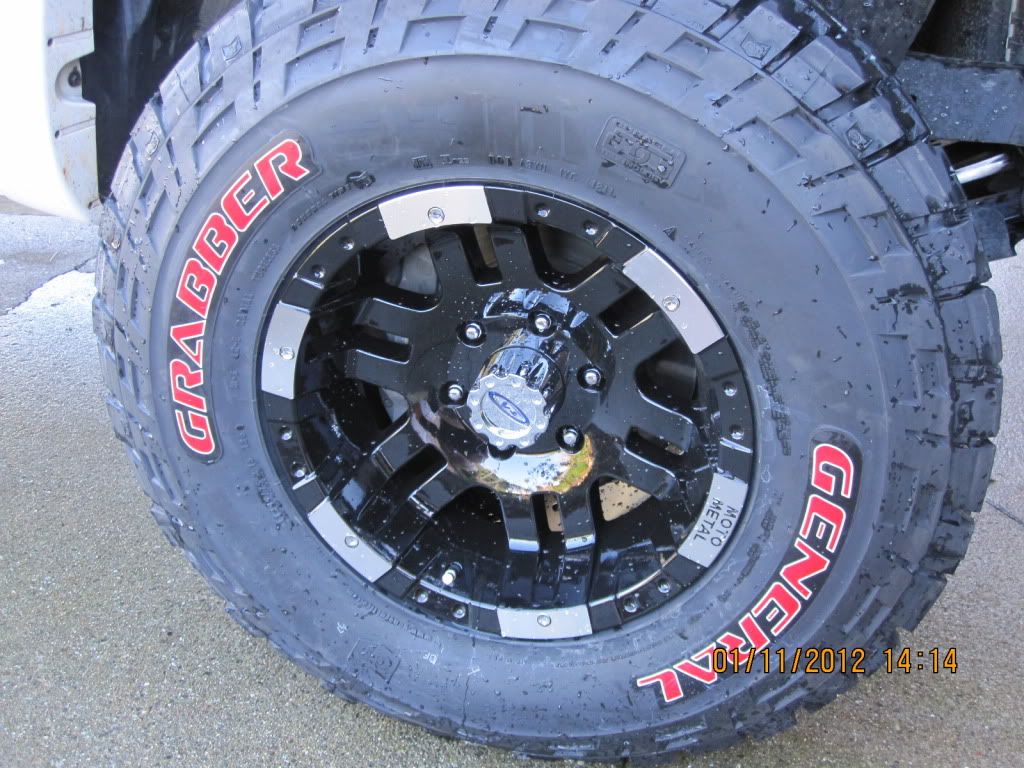 I did the satoshi when I first got the truck, but I'm going to just throw it in here. I used the various methods off TacomaWorld, and after giving my brother a couple Jackson's he chopped it up for me while I painted the shroud. I recommend taking the shroud apart from the inside, it makes for a much cleaner paint job. (I threw away my first Satoshi because it turned out like crap). I also recommend purchasing from PartsGeek.com to get a grill, which comes pre-separated from the shroud. I purchased mesh from HomerTaco, and it fit like a glove, and ended up coming out great as seen in other pictures.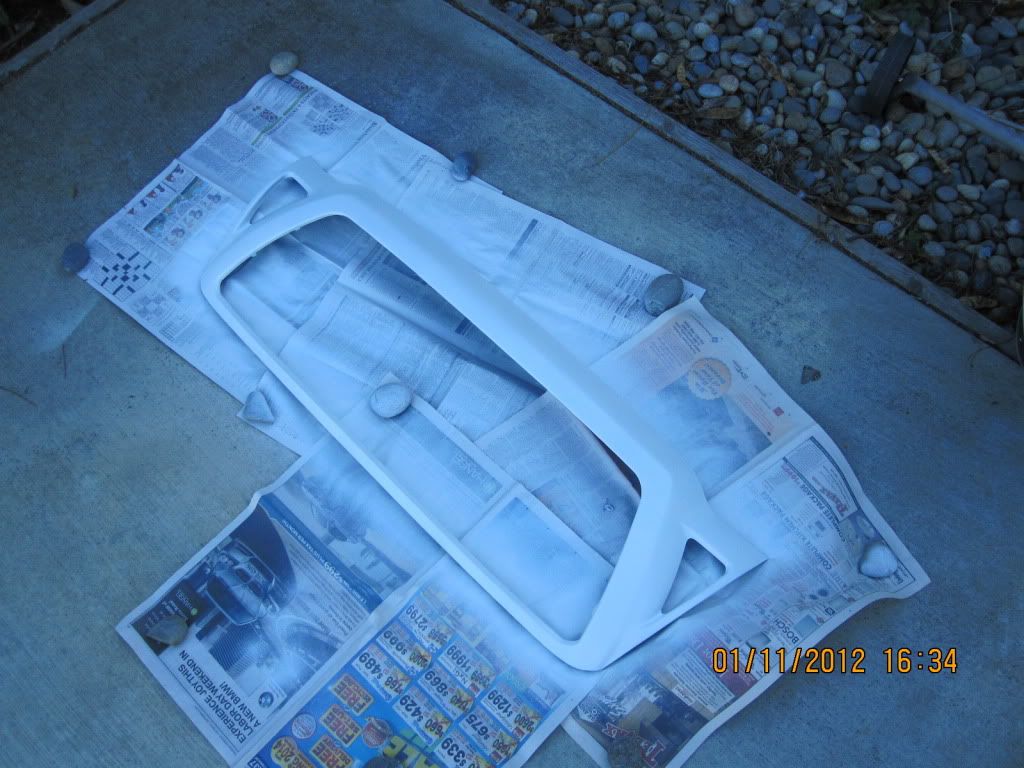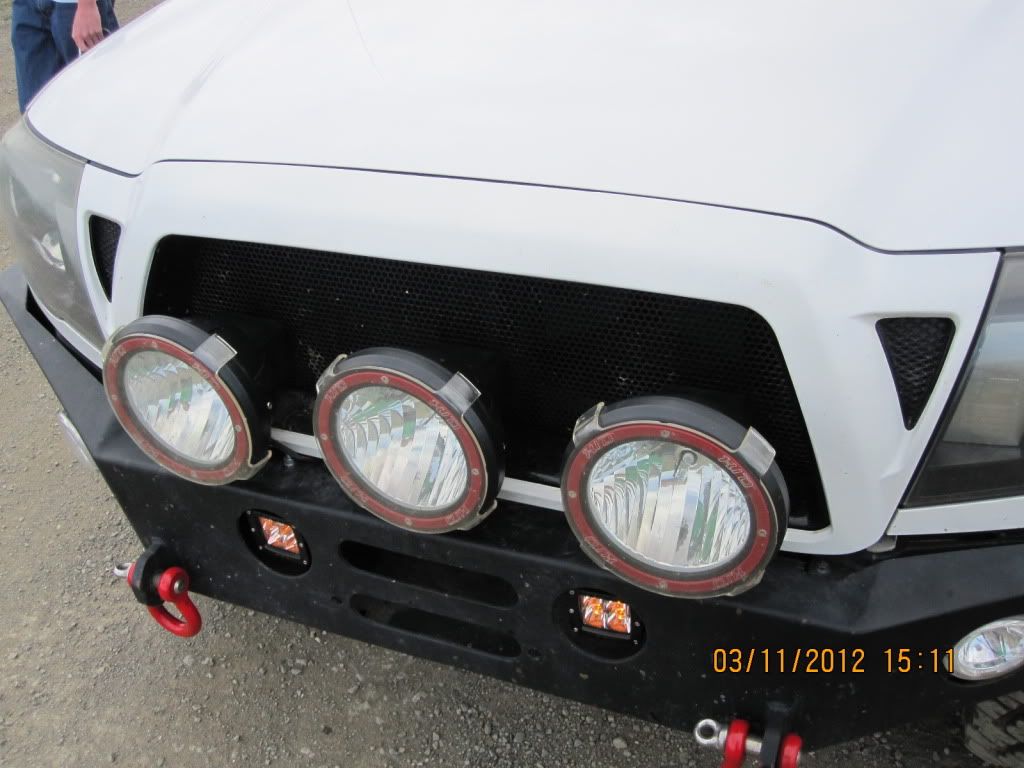 I also bought some chrome mirror covers for my side mirrors. I sanded them down, then hit them with tons of Duplicolor paint from Vatozone and clear coat. They ended up coming out great, but bubbled in a couple areas. Make sure you sand everything extremely well or this will happen.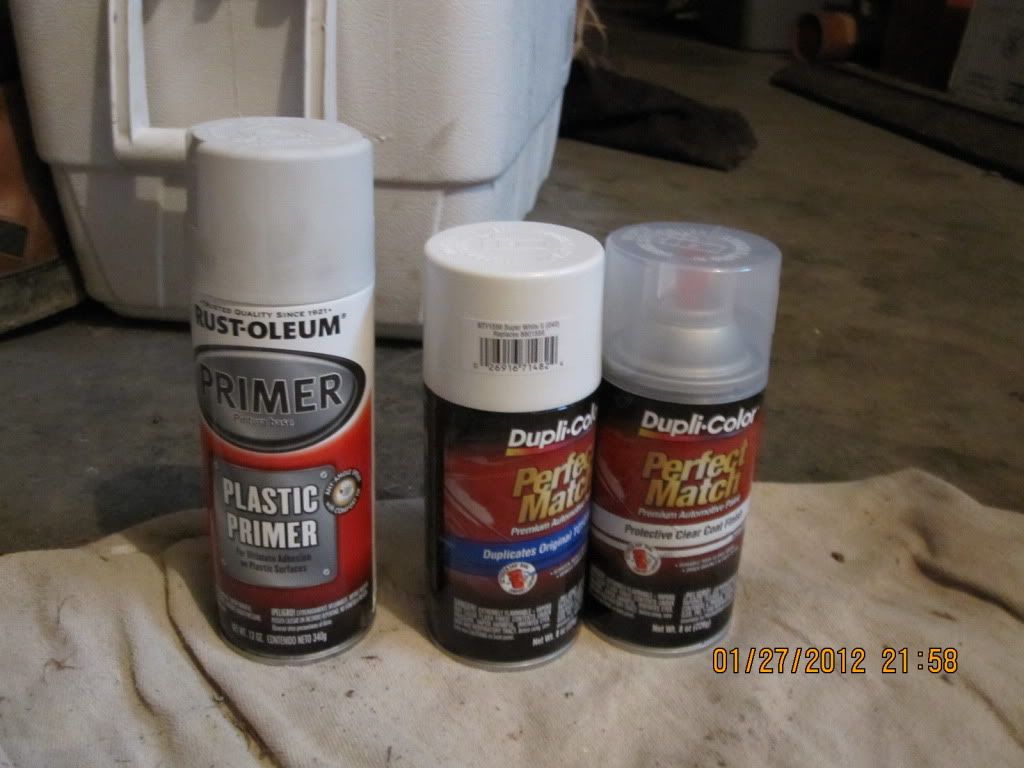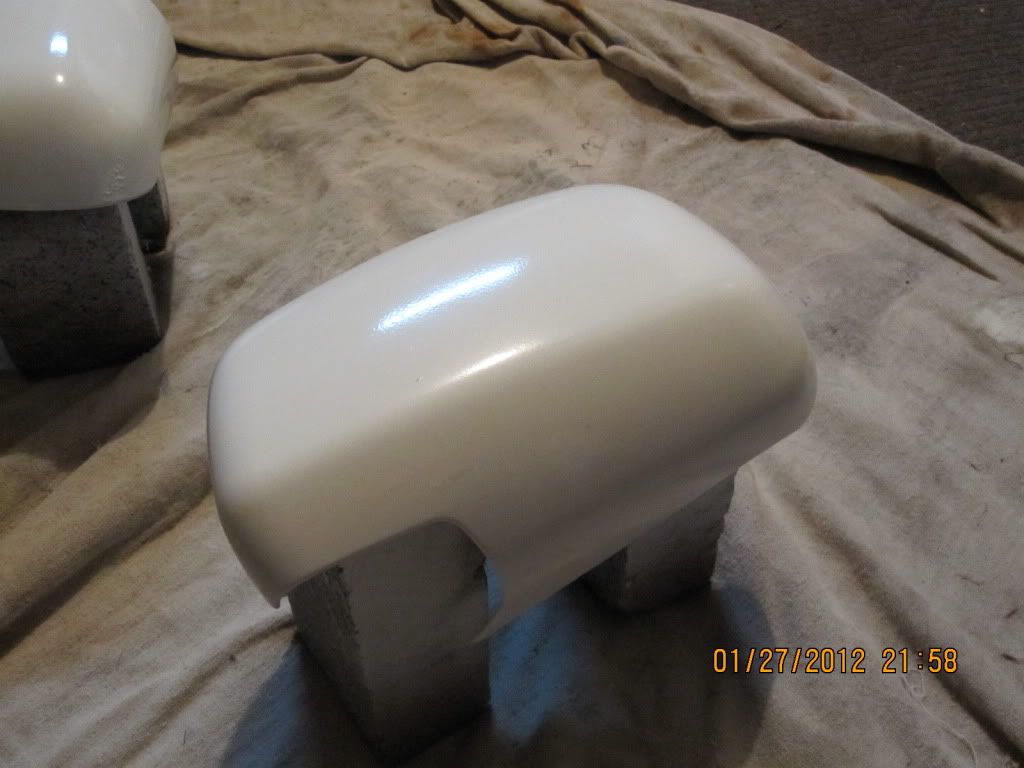 I now put in Rigid Industries Dually's Amber Spot lights into the grill. I hooked them into the parking lights wiring,and to a switch in the cab.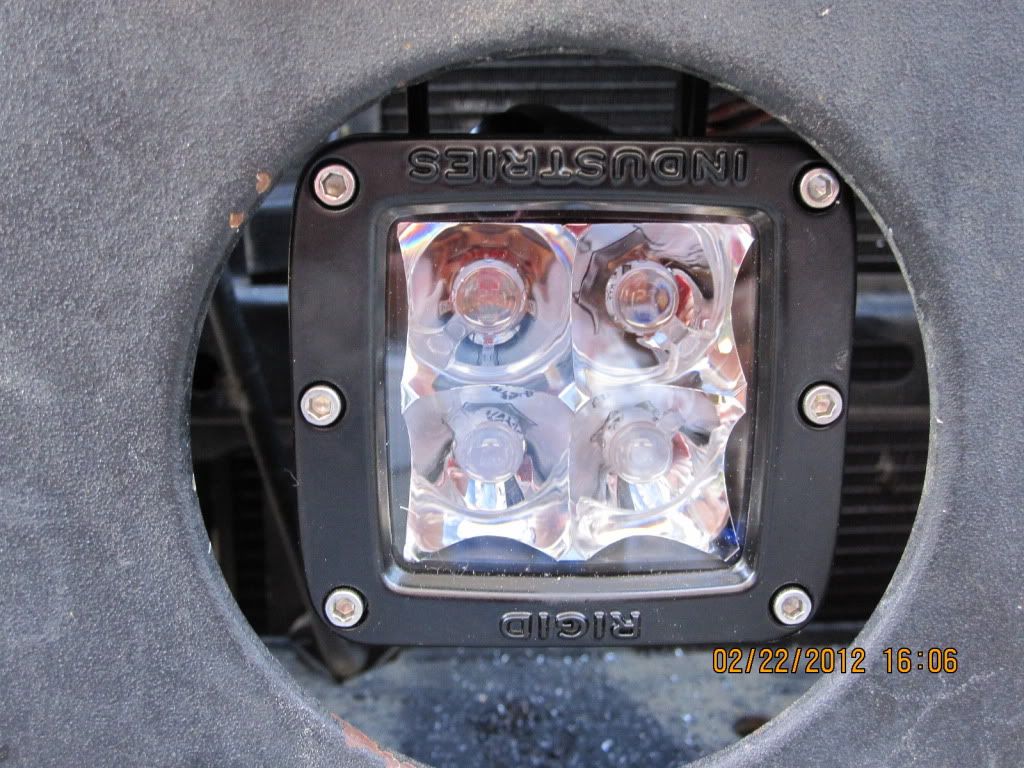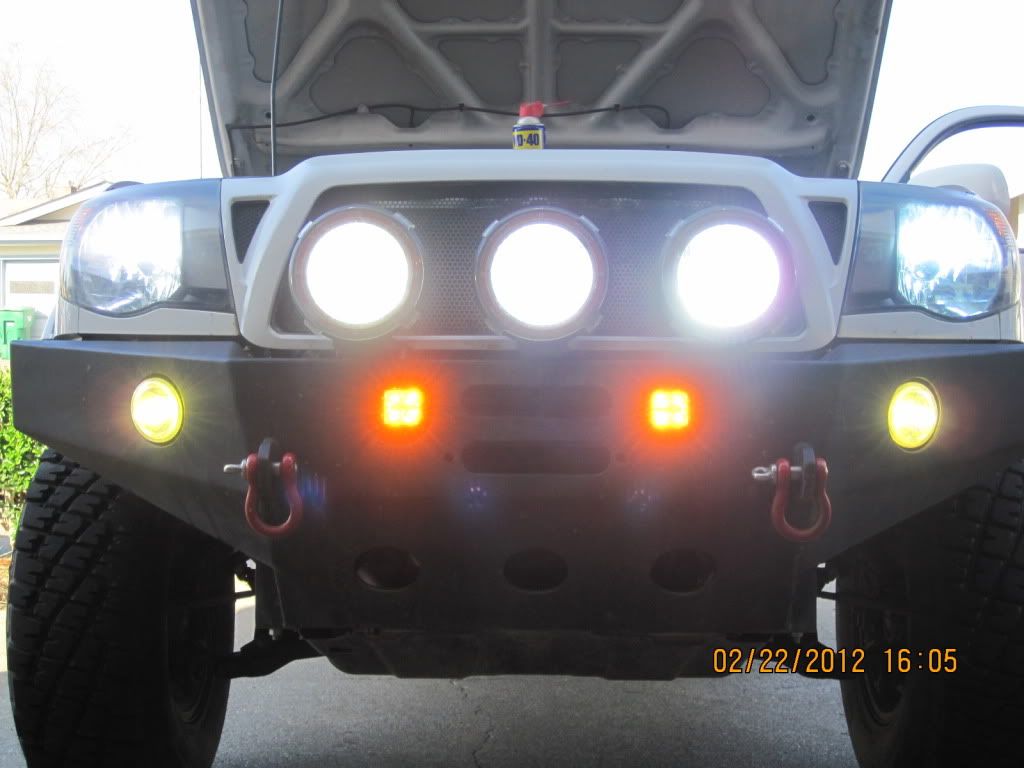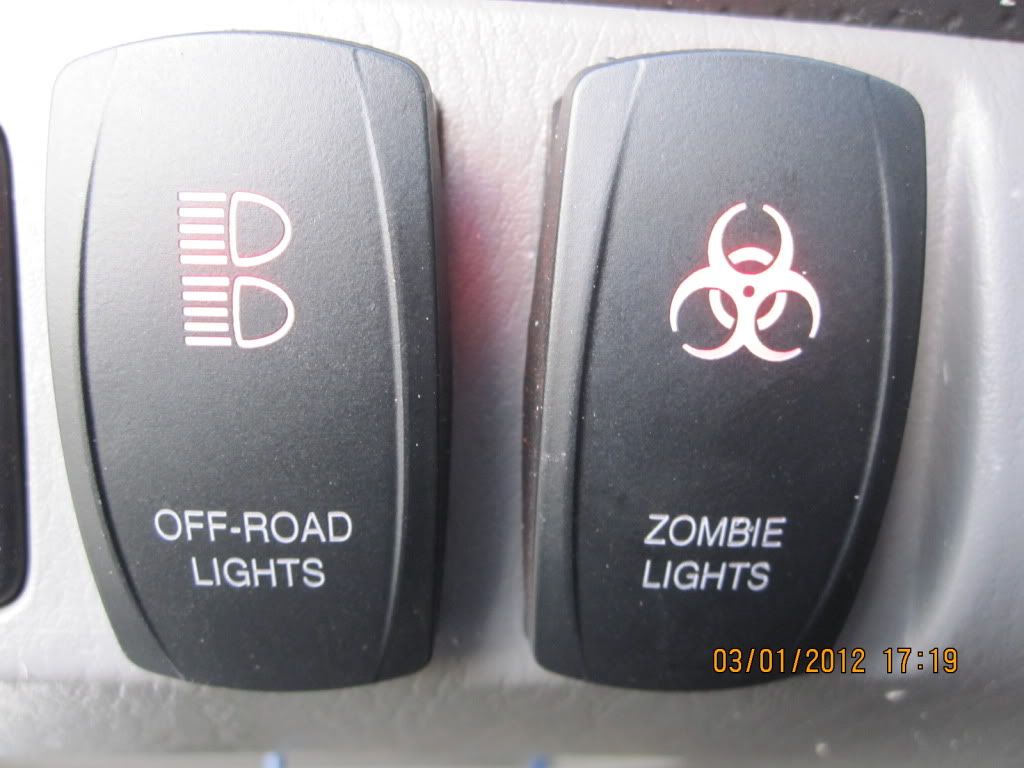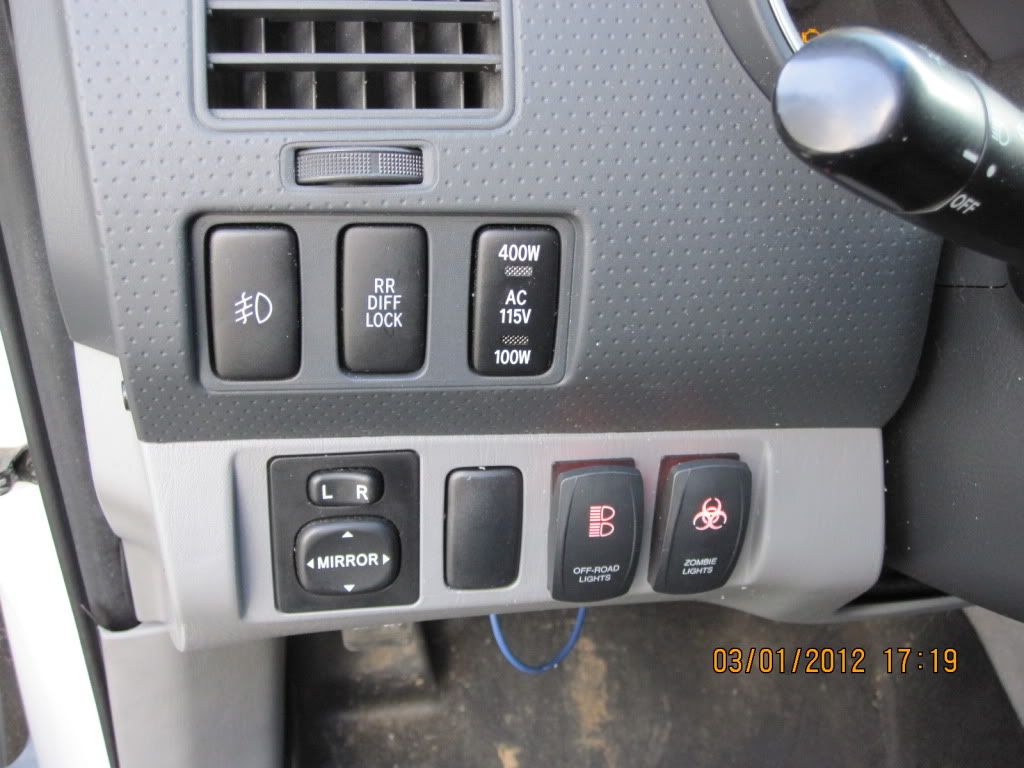 At this point I got tired of the ass-end of the truck sitting slightly low, so Chachie and 1337Taco helped me (by helped I mean I watched) put a Wheeler's 3 leaf-AAL Progressive leaf pack. The ride in the rear has drastically improved (no previous rear lift)
I now purchased Fox remote rear reservoir shocks from DSM (10" travel). They were very helpful, and shipped them out immediately. I swear the ride has improved over the RaceRunner (6"travel) shocks.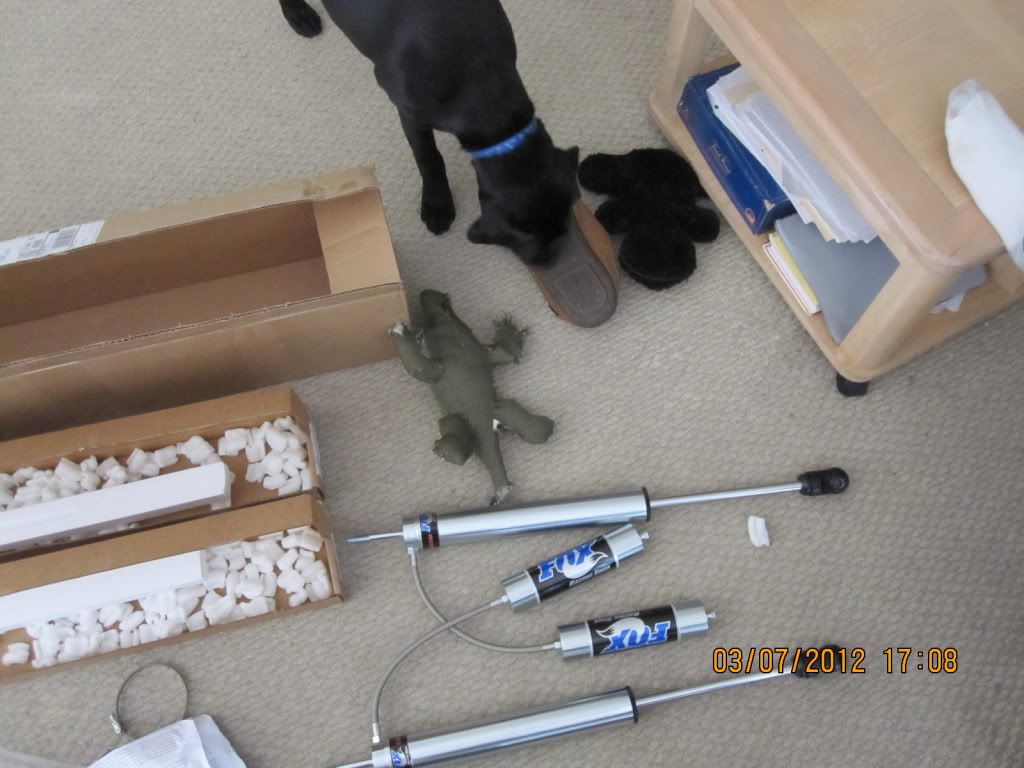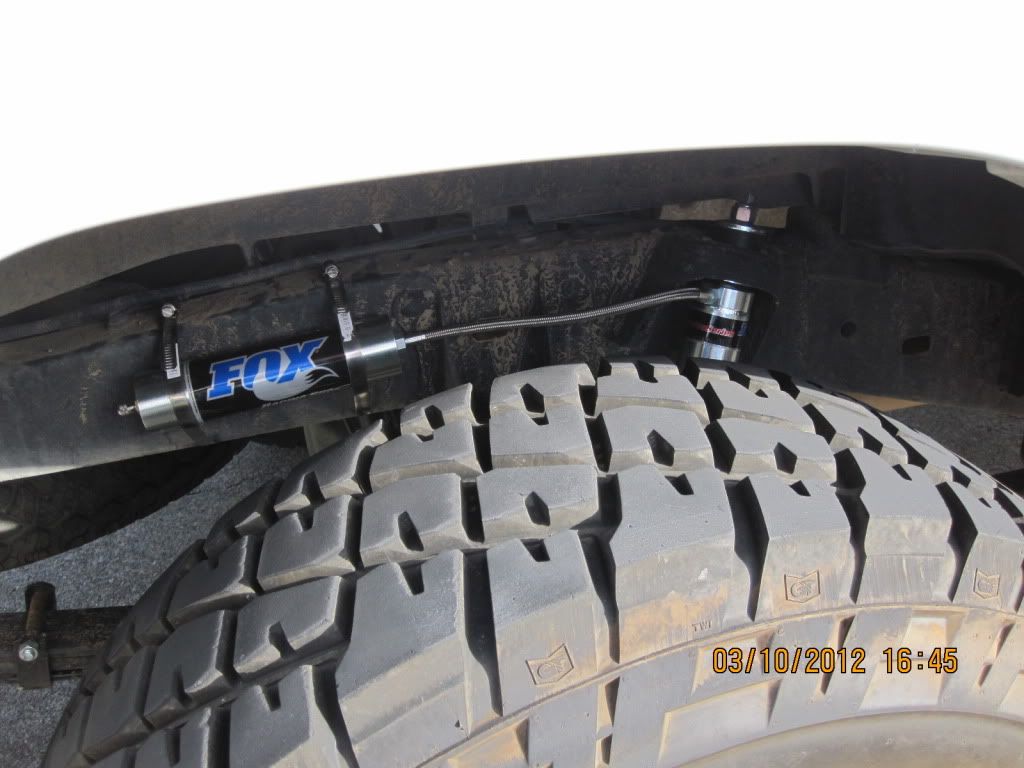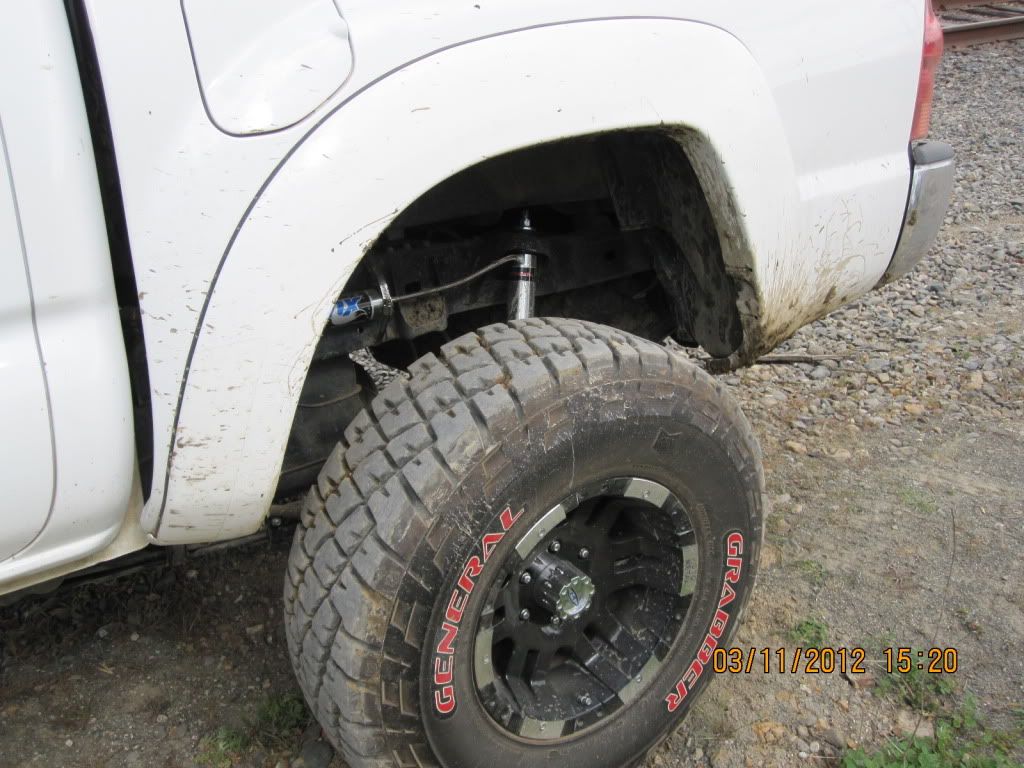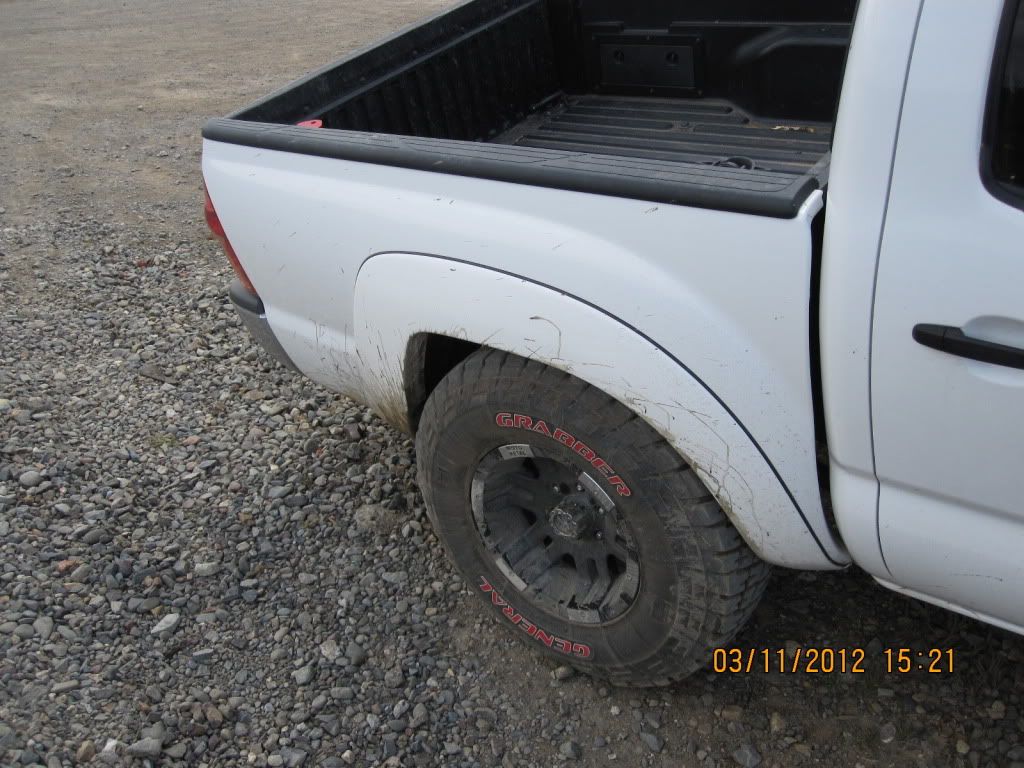 Random shit I have pictures of…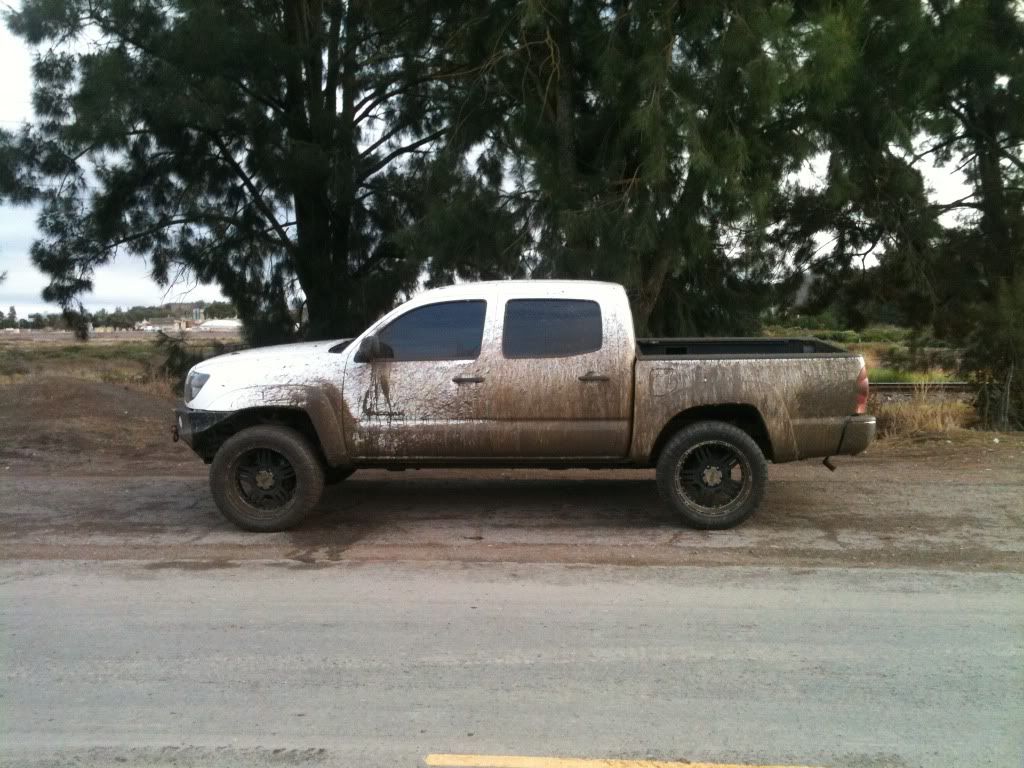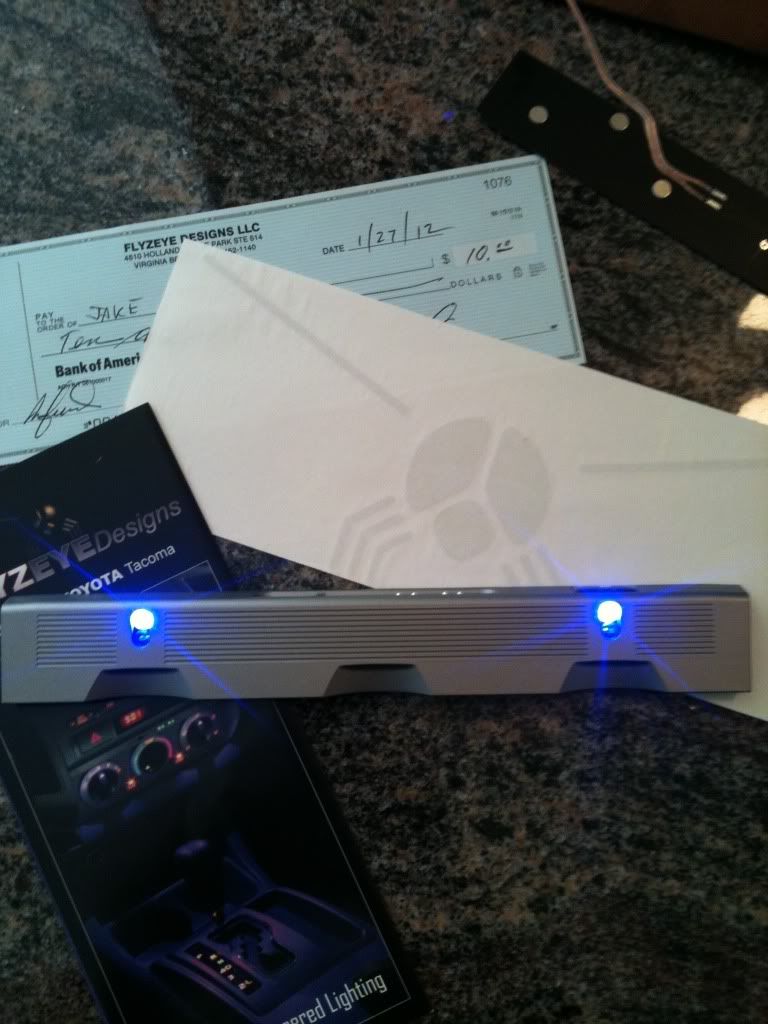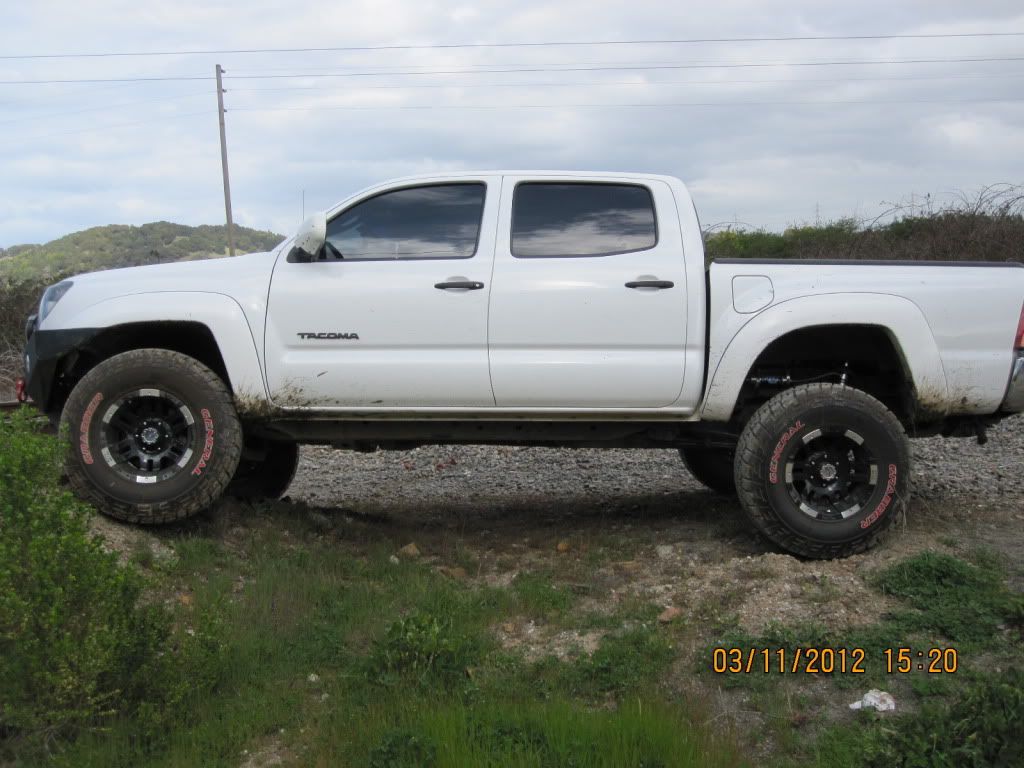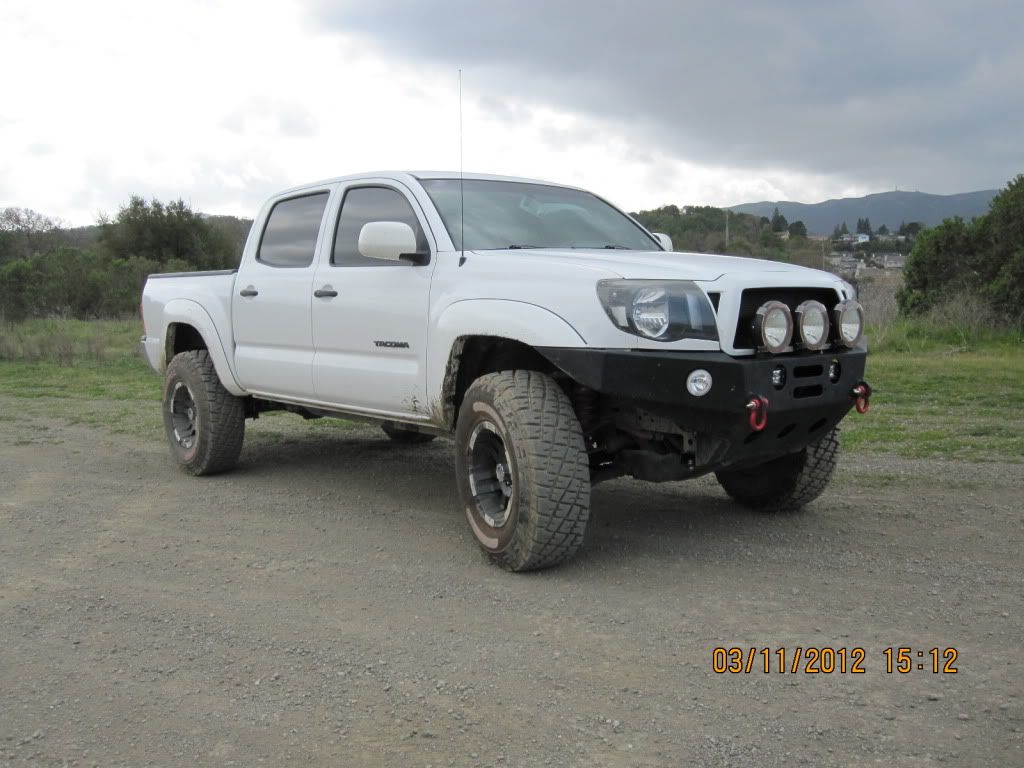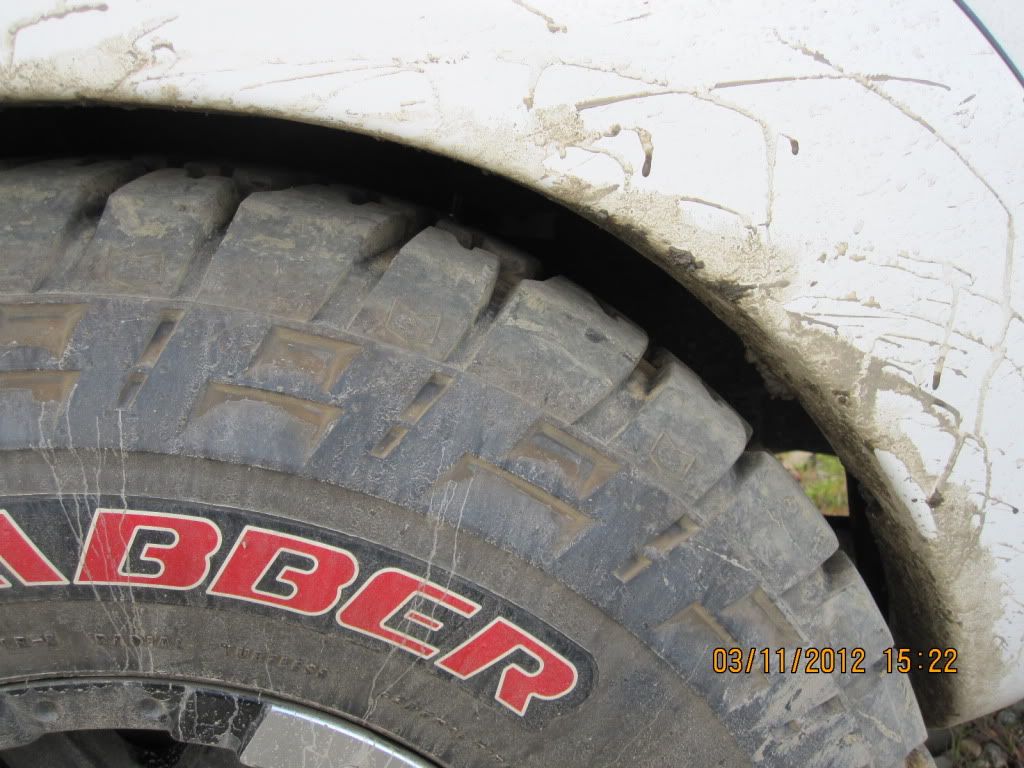 So thanks for reading through this POS build, if you're a hooker and/or naked model and interested in taking pictures with my truck I am down anytime, anywhere, you can PM me.