My blacked out project. Bought her March 12th 2011. Once I found tacoma world, it was all over.
2005 AC sr5 Prerunner V6 4.0
Current Mods:
Suspension:
Bilstein 5100's front and rear. Front set at 0"
OME 885x's
LR UCA's
OMD rear springs
Wheels and tires:
Spidertrax 1.25" wheel spacers
Wheelers wheels 16X8's
Goodyear DuraTrac 265/75r16
Exterior:
Shorty antenna
Pelfreybilt
rear light bar
Pelfreybilt IFS skid plate
Pelfreybilt cab mount chop
Pelfreybilt sliders
My own Satoshi Grille
Plastidipped emblems
Painted rear bumper
Bed tire carrier
Custom made front 1 3/4" DOM .120 tube bumper (courtesy jeffz0rz)
1/4" Aluminum front skid
hi-lift mounted on rear light bar
Bed mat
Interior:
Uniden pro520xl cb connected to 4' antenna
Pioneer AVH p-2300DVD
Leather arm rest mod
On whenever reverse cam
Lighting:
csjumper2003 Cab led's, 3rd break led, DTRL Amber/White led's, parking led's and A/C led's
Hella 500FF converted to 6000K HID's from csjumper2003 behind grille
SOLD!
HVAC green MOD
On rear light bar: 1 AVEC cree Pod and 1 blitzpro 5LR LED dust light
32" flood/spot led bar
2 rigid duallys
Spyder LED halo projector lights
Performance:
aFe stage 2 si CAI w/pro dry filter-
GONE
, back to stock oem
18"
Magnaflow Exhaust
Future Mods:
Coilovers with resi's up front
resi's in the back
new spring pack
rear bumper
whatever else comes my way or I stumble on to
How she sits as of 8/27/14: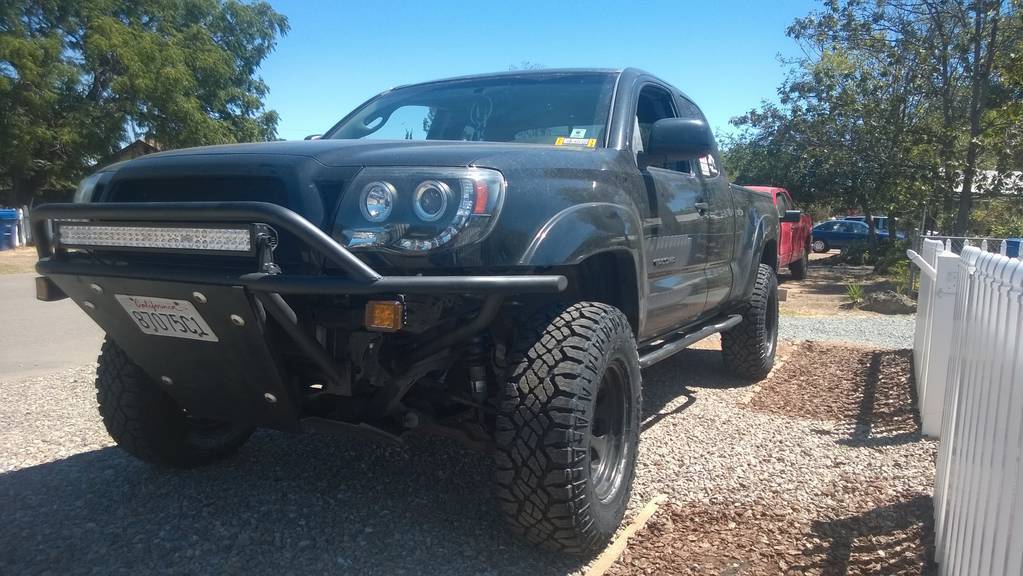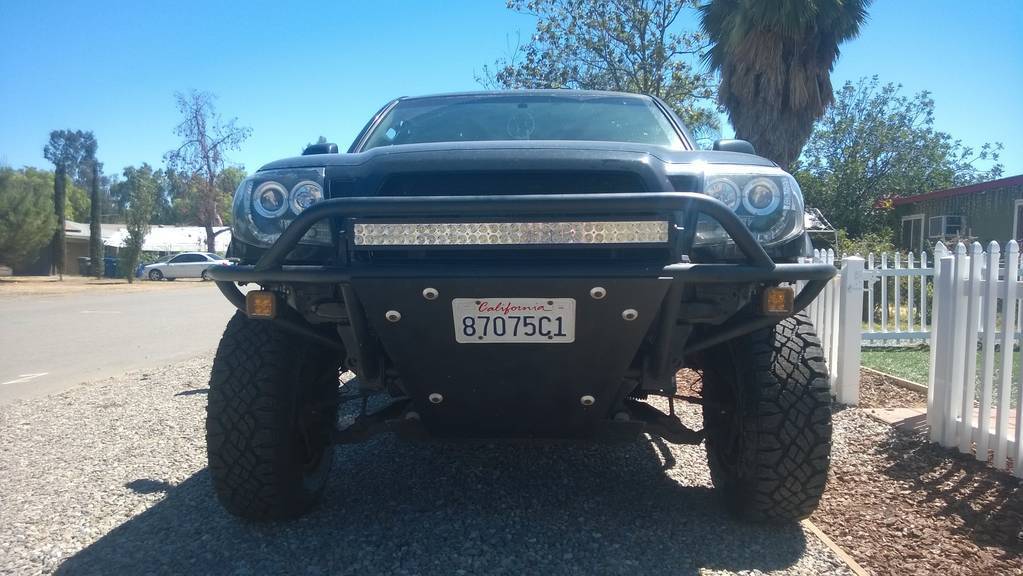 The first day I picked her up......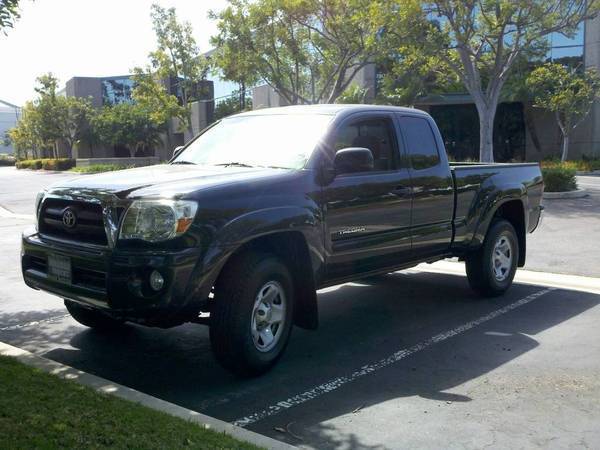 First thing I did was put in a new stereo. Pioneer avh p2300 dvd player. Bypassed the parking break with a switch I hid in the change cup.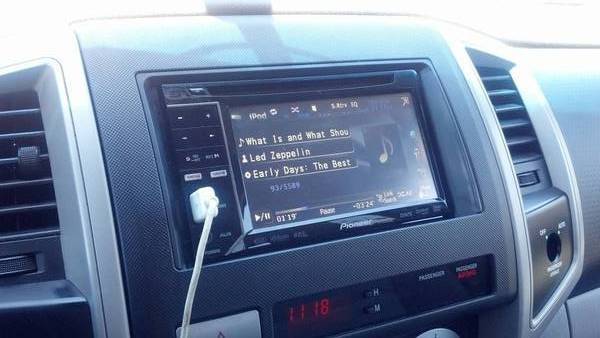 Then I decided it was time to put some 5100's up front at 2.5". Figured what the hell lets go all the way.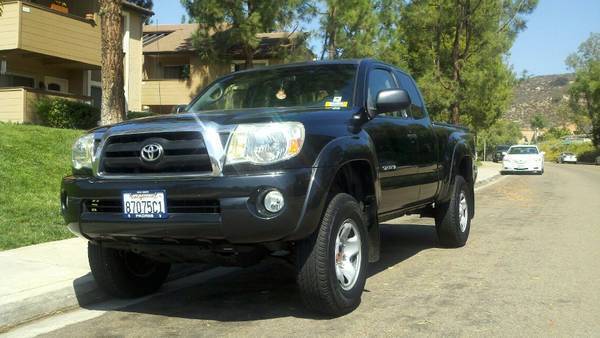 Then I figured I might as well do the bhlm. For those scared to do it...Its easy as hell, just takes time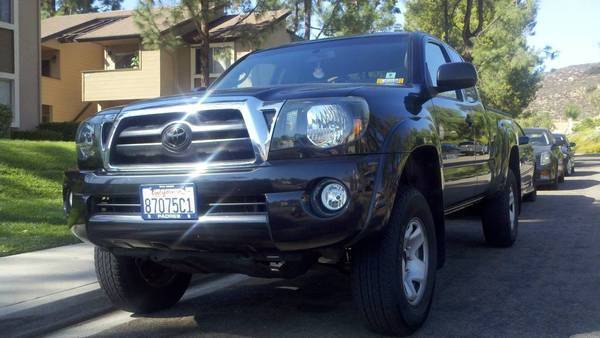 After that its been alot of plastidip and paint. First the rear bumper. I took off the bumper, sanded it down, and
painted it in a booth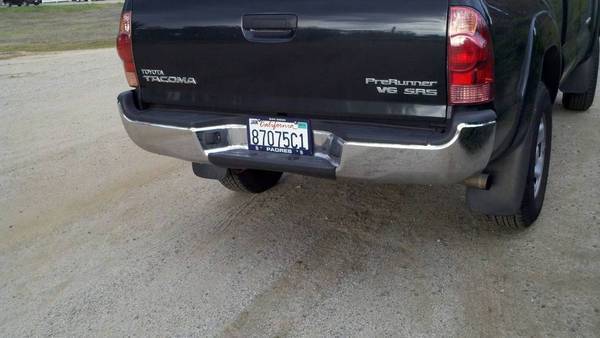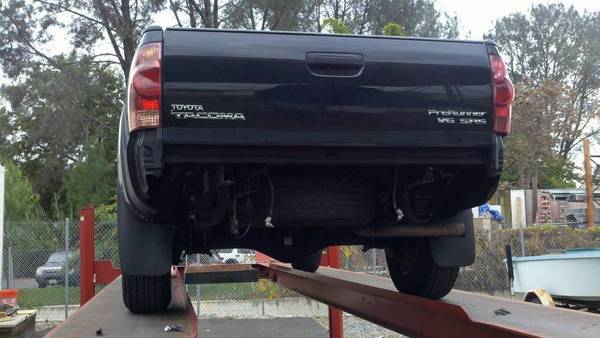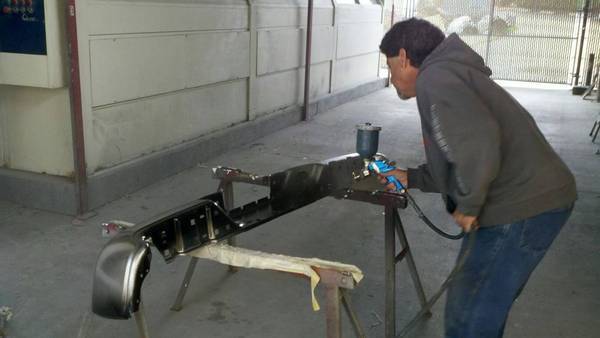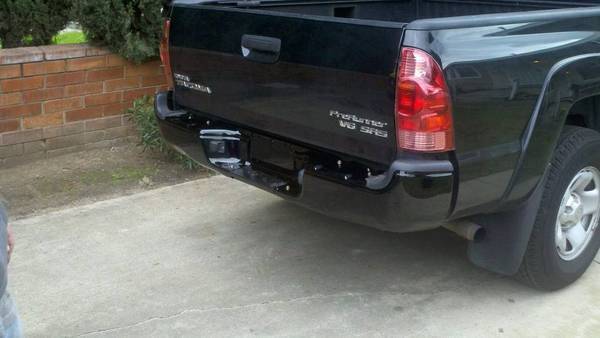 Then the emblems got plastidipped...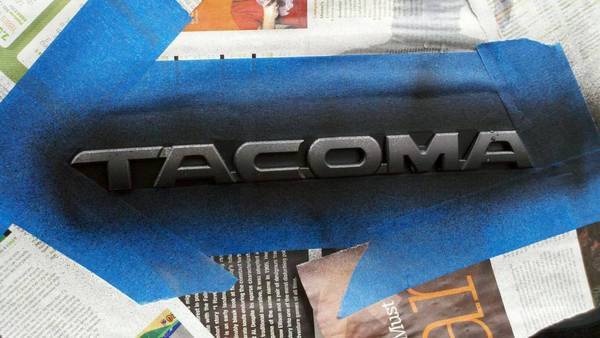 Then the grill...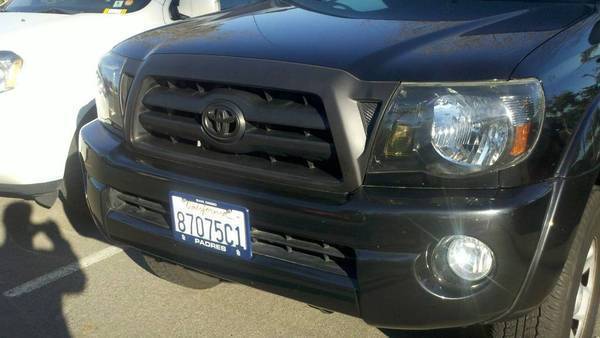 Then the wheels...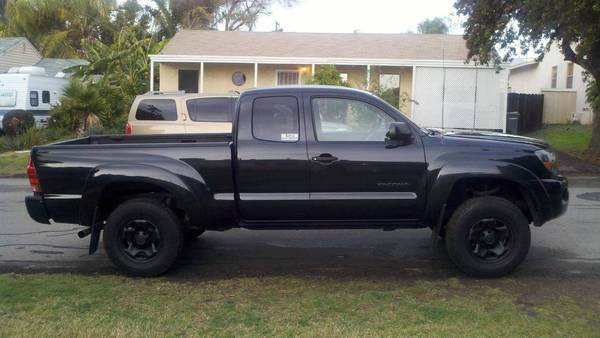 Then the dash kit and ac cluster got balcked out....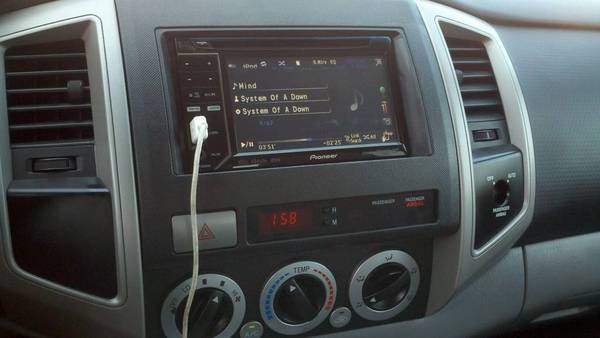 Got an early birthday/late christmas present today! Throwing them on soon and then getting alignment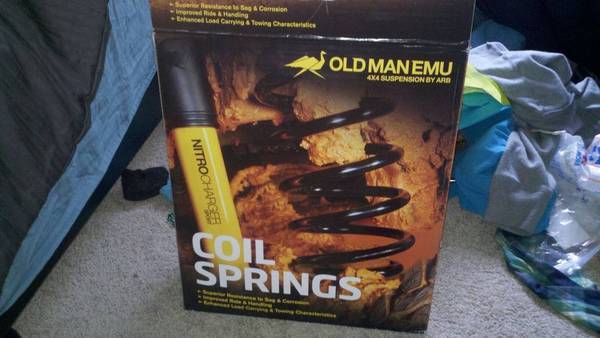 So it took me a couple weeks....but finally got my satoshi done!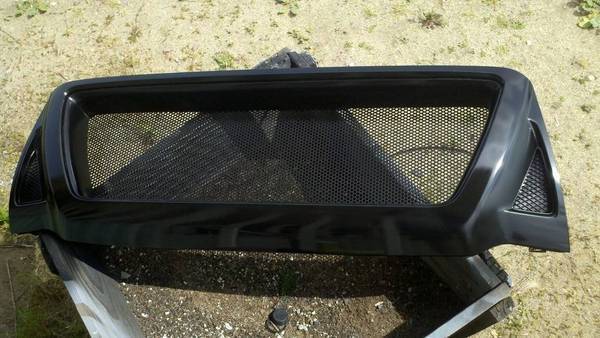 Stock, and Satoshi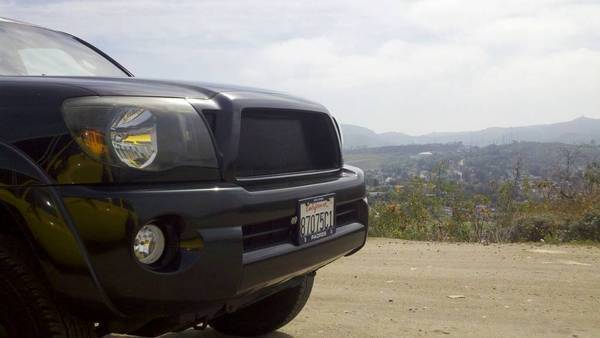 Sunday 4/1/12: Threw on the OME 885x's. Lifted her up and took off the wheels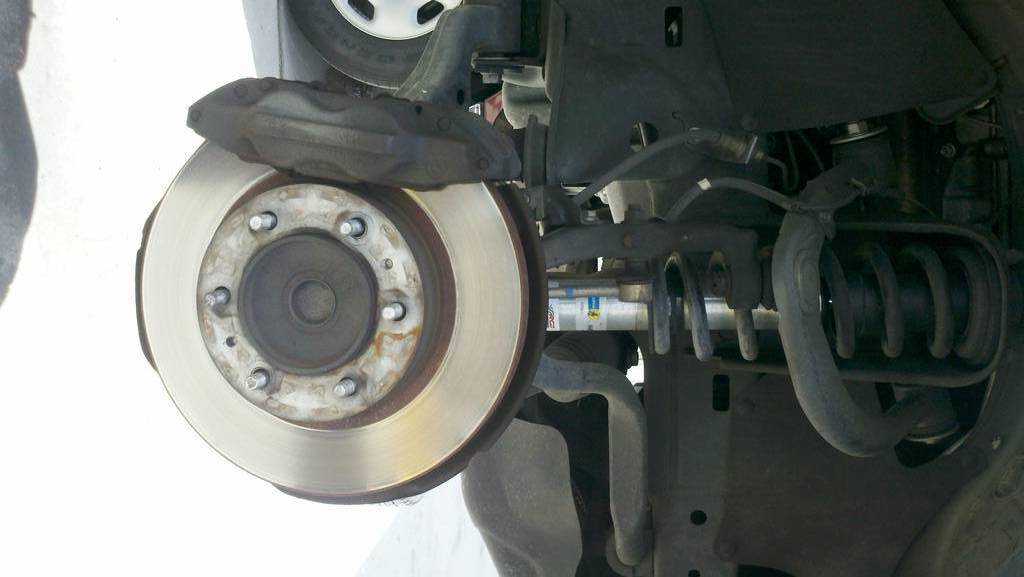 Then took off the struts and took off the stock coils and moved it to sit at 0"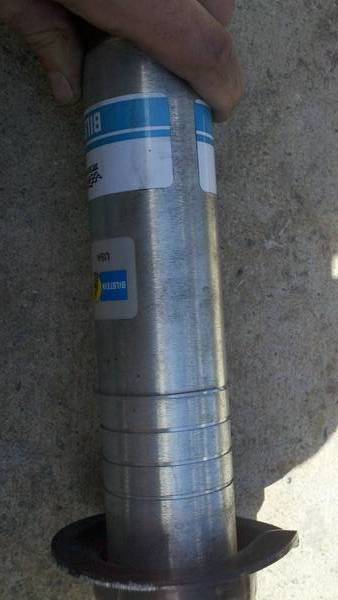 Threw the coils on and compressed them down. Then threw the hole assembly back on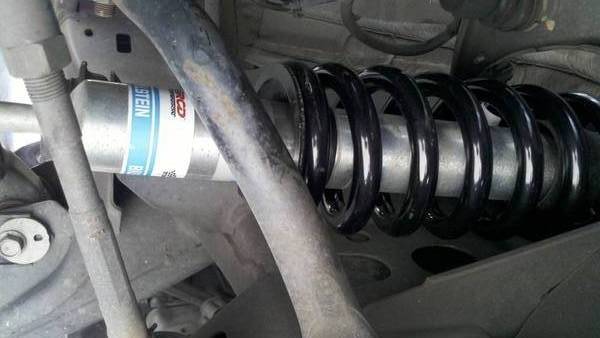 Got 2.5" out of the 885x's with the bils set at 0". No problems with alignment with the stock UCA's.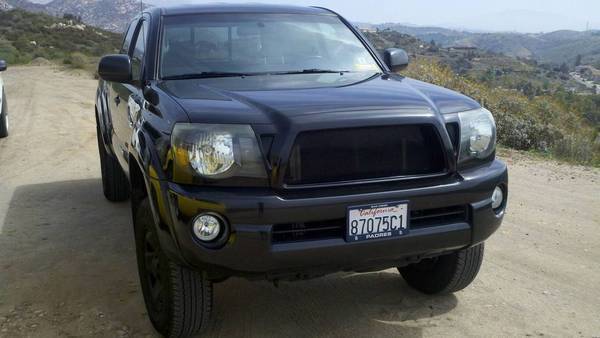 Got some rear 5100's for cheap and threw them on, then a couple days later got crazy on the rear with some OMD special chevy 1 ton springs.
Starting the day by tearing of the rear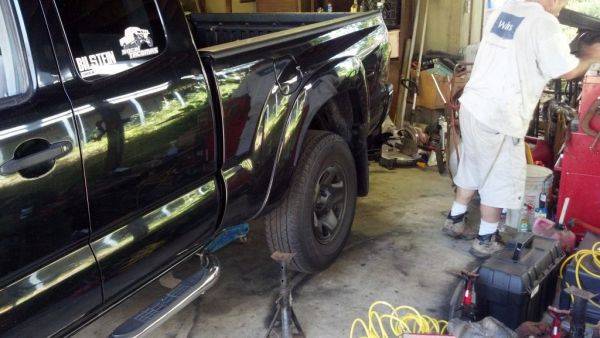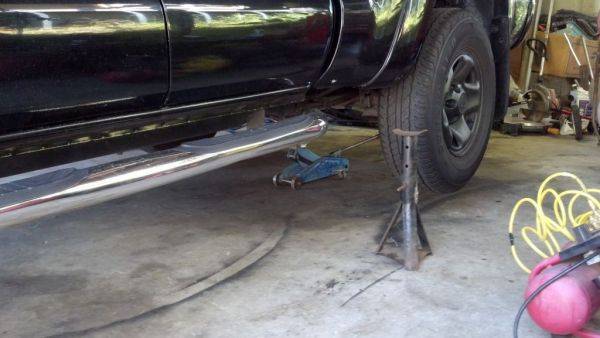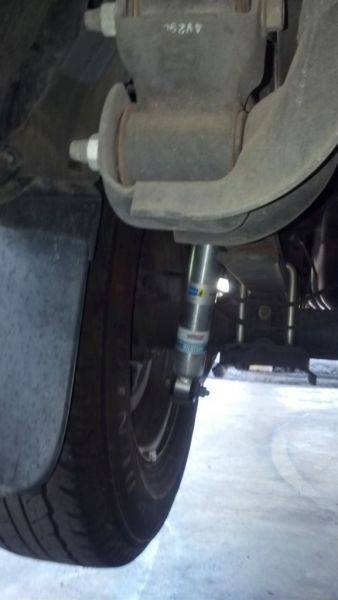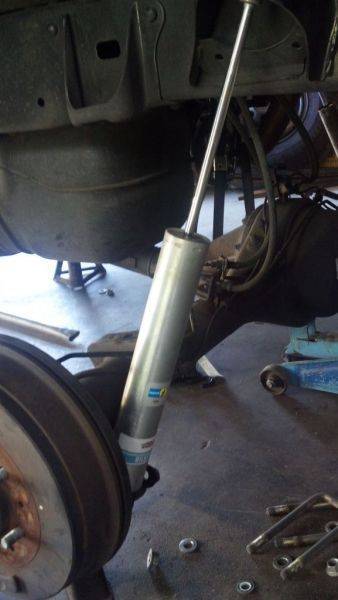 Old springs out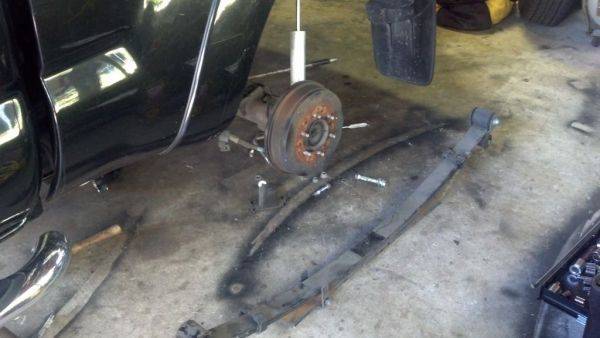 New spring in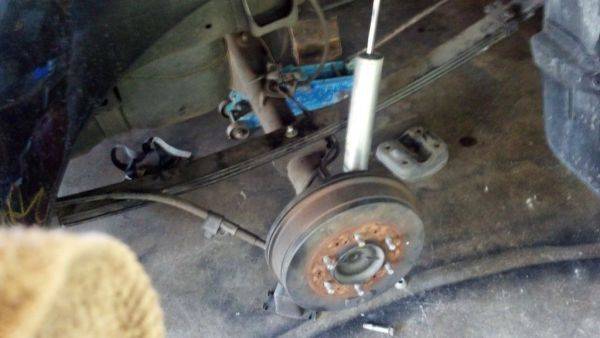 Got rid of the bro lean and now sits about level. Ride is so much better. This is how the rear sits now.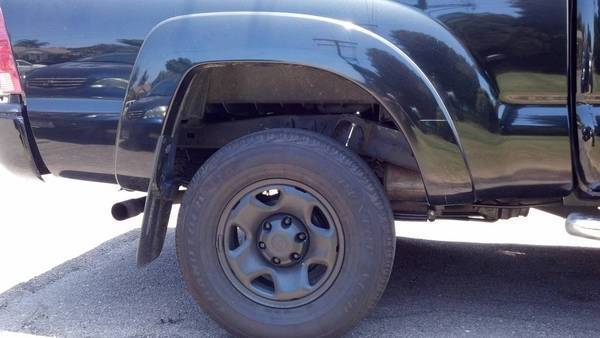 Started on my light bar for behind my satoshi. Easy as hell. The bar was 20 bucks, and I cut it using a hack saw. Came out better than I thought it would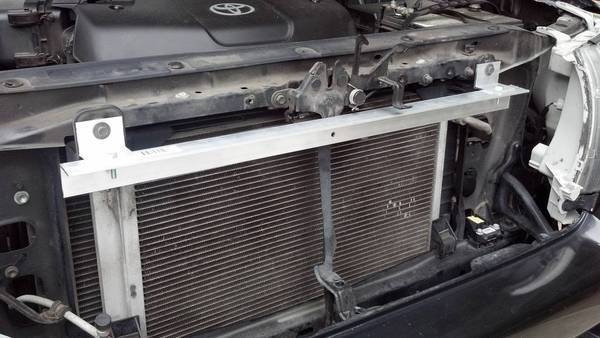 Got some lights from Micah, a local tw guy. Hella 500ff.
And mounted them up.
Got the bar painted and fit up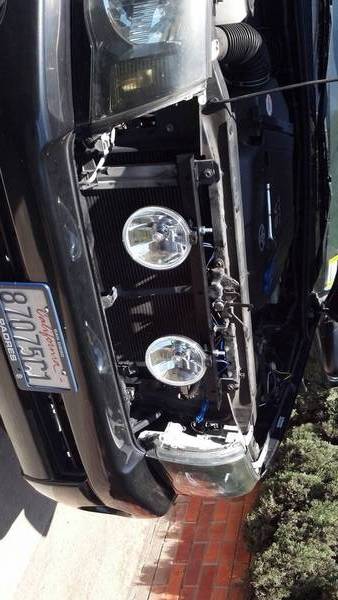 Then wired it all up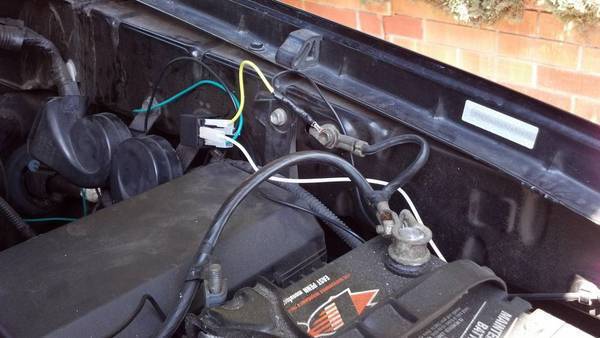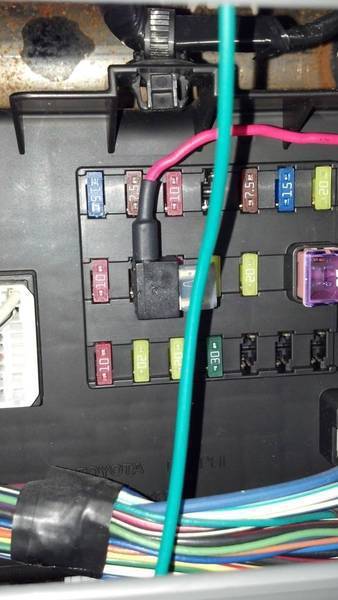 Custom fit light switch....fuck yeah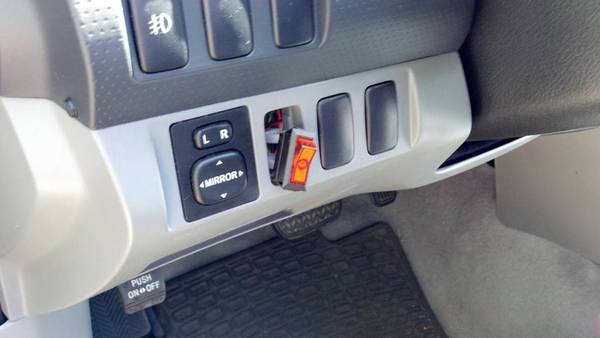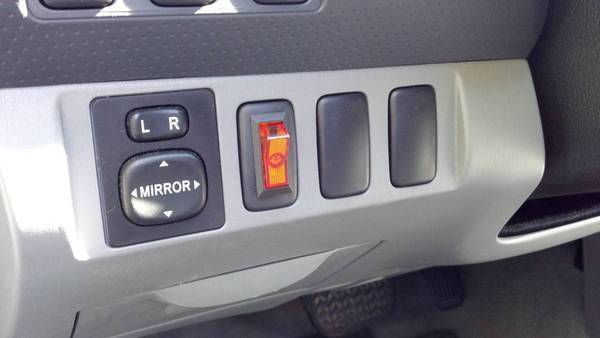 Put the grille back on and turned that shit on.....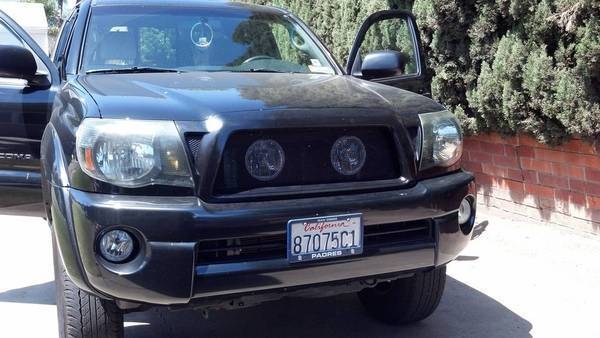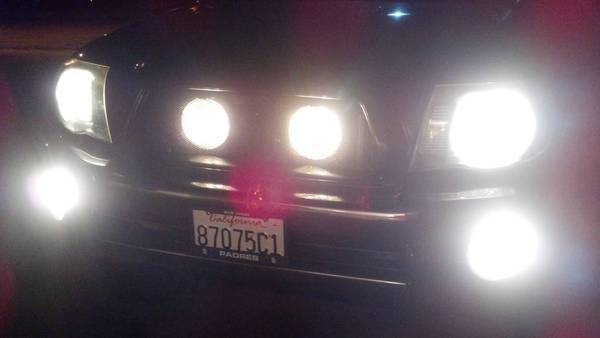 Picked up my pelfreybilt rear light bar and got started on priming and painting.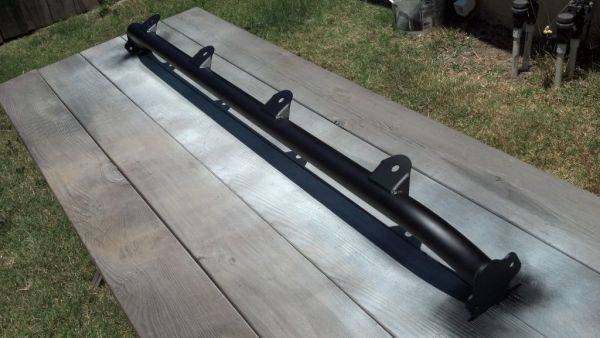 Got some pro comp 55w lights for cheap as hell so I couldn't pass it up. Came with the wiring kit. Maybe led's in the rear one day. This will work for now.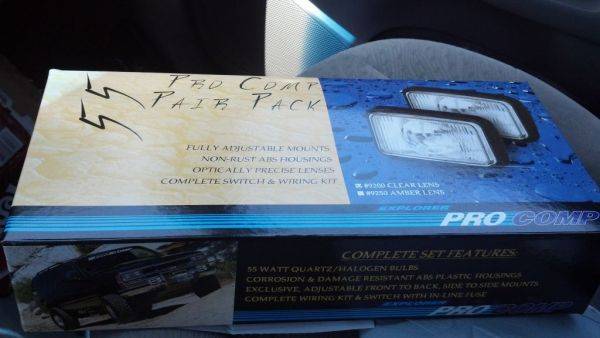 Threw on the light bar and got it all wired up. Ran another relay and tapped into the existing add a fuse to run the rear lights
Got the switch done. Rear and front light switches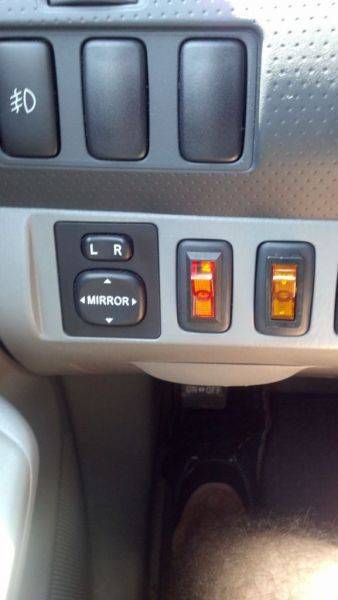 7/20/12 - Picked up my Pelfreybilt IFS skid plate this morning and got busy priming and painting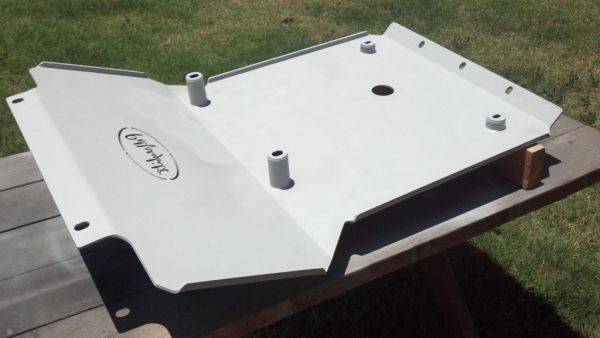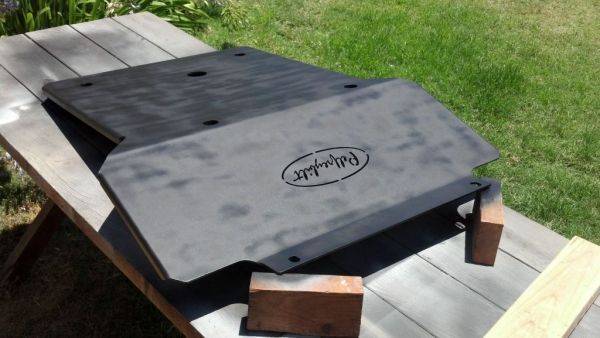 I put another coat on and did a couple coats of rubberized Rustoleum on top and then installed it.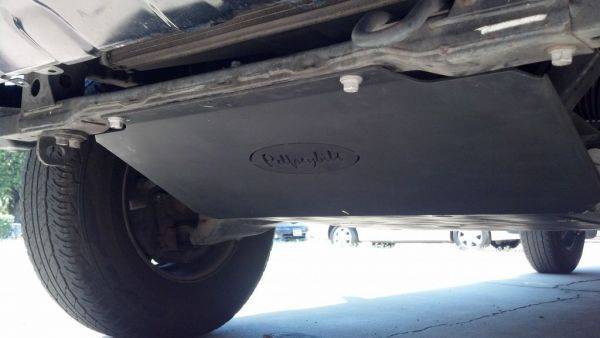 Picked up my wheels and tires from another member in LA on Sunday, Hankook Dynapro ATM's 265/75r16 on TRD Offroad wheels, then off course had to black out the wheels with black wheel paint.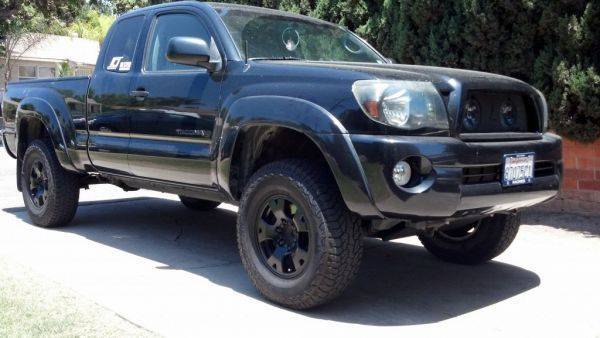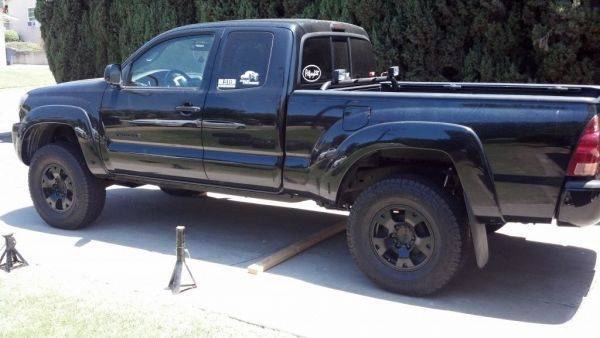 Washed and Waxed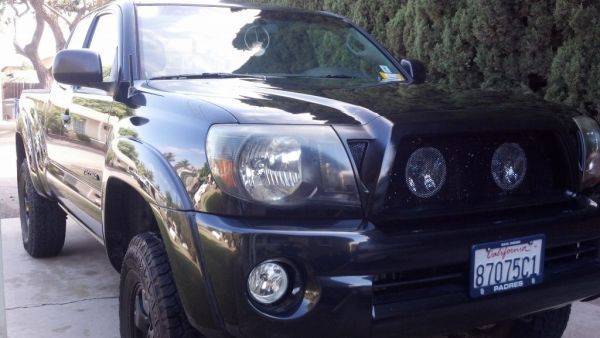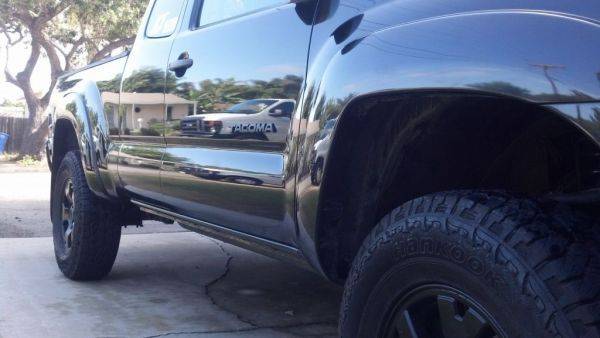 Started my cb install today. Picked up a uniden 520xl at frys along with an antenna and other goodies.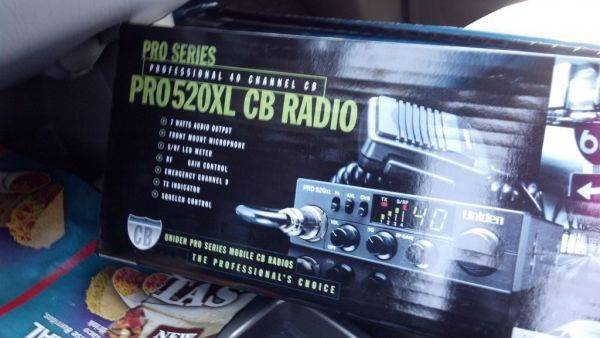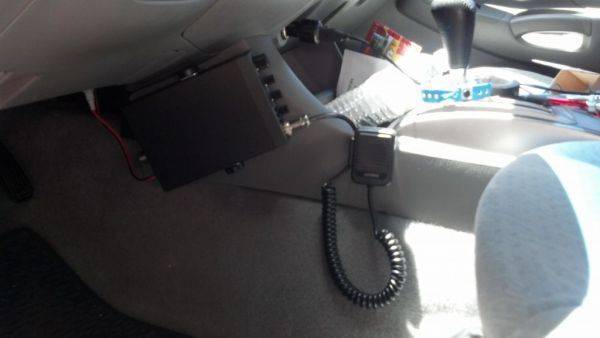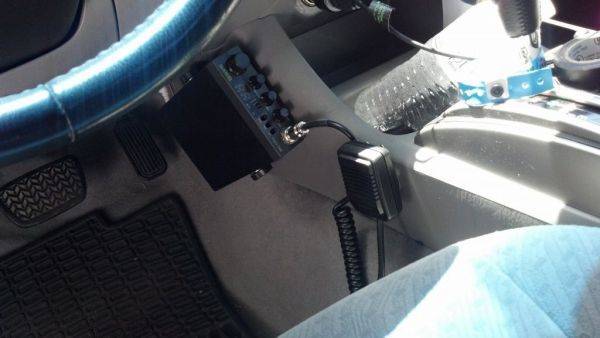 Mounted the antenna on my light bar. No spring.
Picked up an exhaust and tire carrier from Micah!
Magnaflow Exhaust.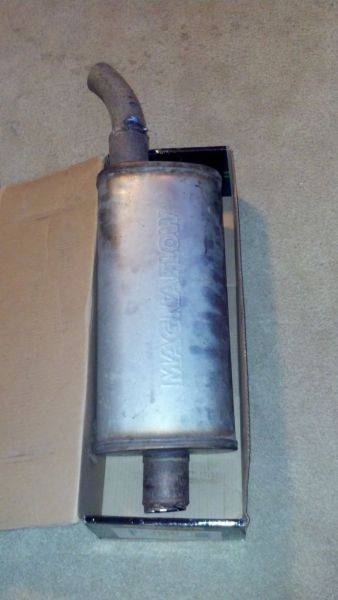 Tire carrier. Got some new tabs welded on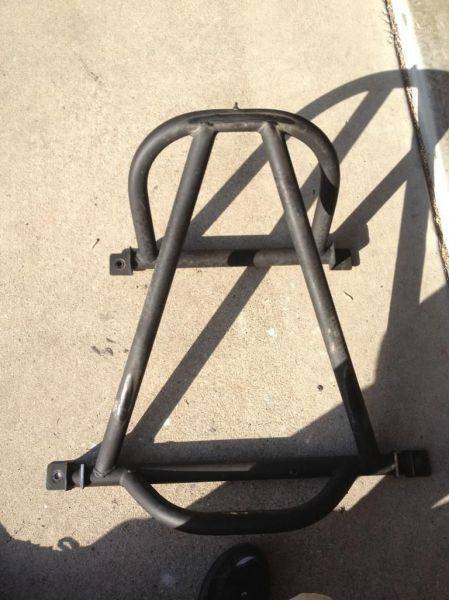 Got the Magnaflow installed on Friday 8/16. Sounds amazing!
Big, ugly stock exaust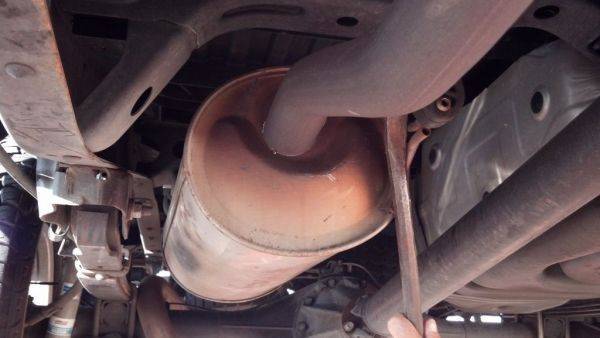 Cut it out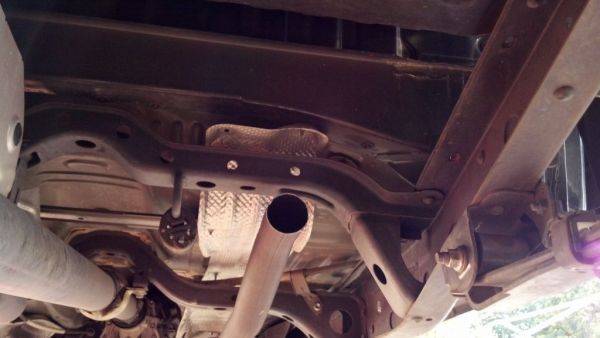 And had the Magnaflow welded in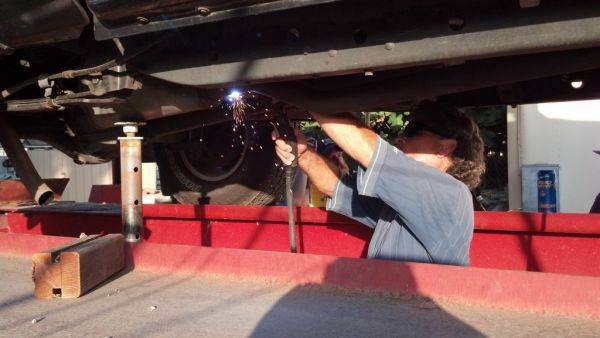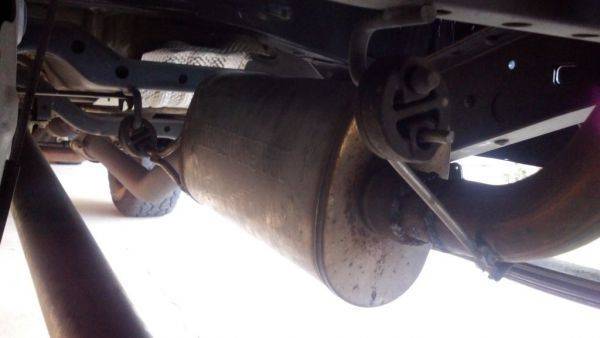 Sounds amazing! No highway drone, and its got a low nice tone outside the cabin.
Installed my tire carrier today 8/20/12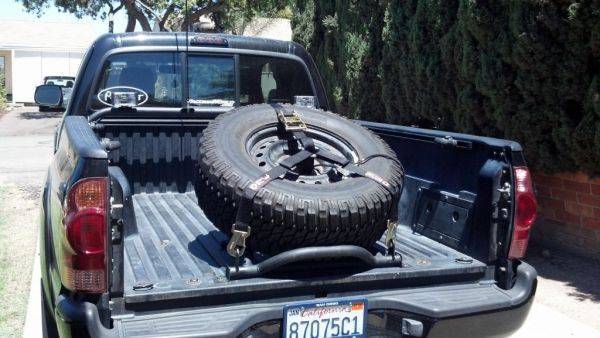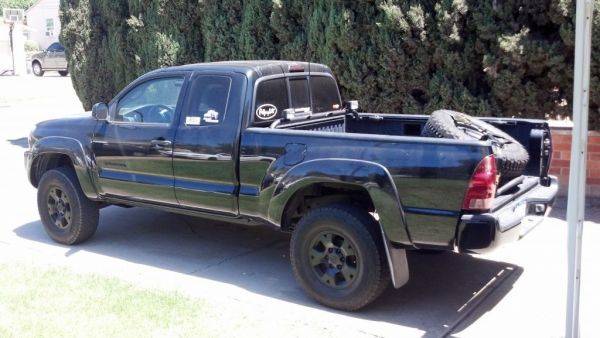 Picked up a set of LR UCA's for a great price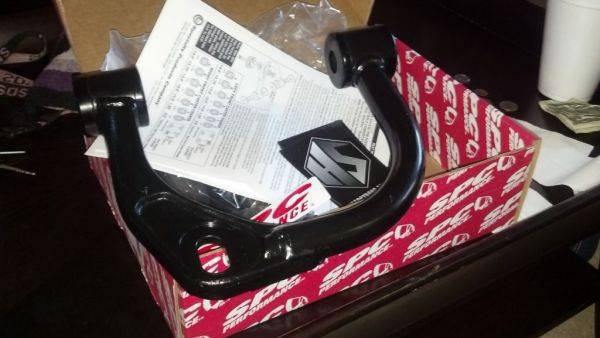 Then the next day, Leo and I went to OMD's house for some early morning install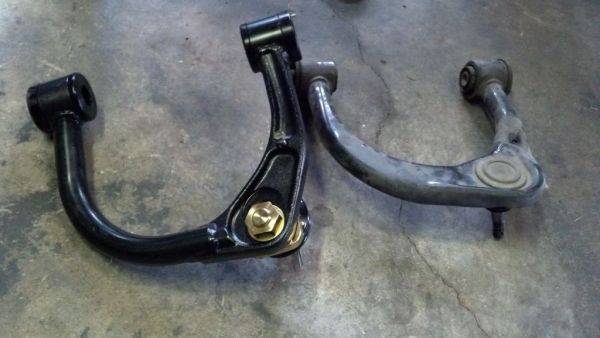 Pulling the stock arms out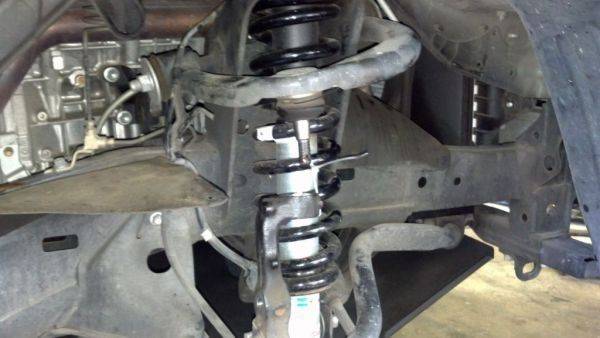 and installing the Light Racing arms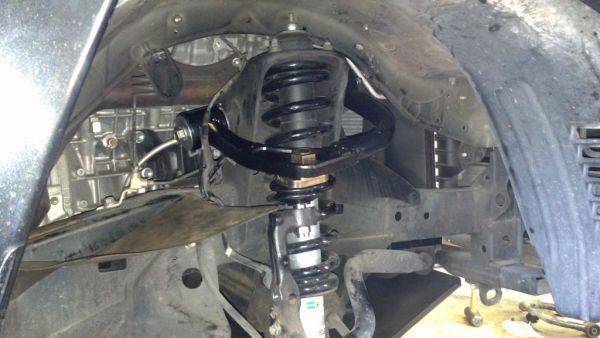 Everything in and ready to go.....but in desperate need of alignment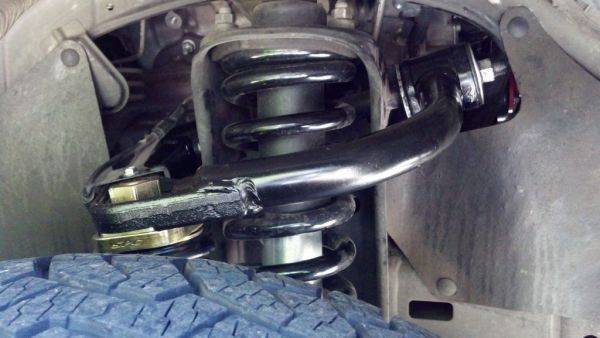 After the alignment it drove like a new truck. The difference is amazing!
Added some 1" spacers I got from John, but those will come off soon when I get my wheels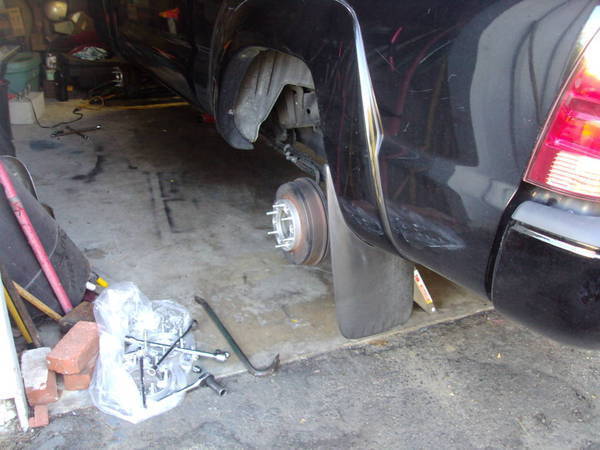 And added some T-Rex eyelids I got from a TW member. New stance and eyelids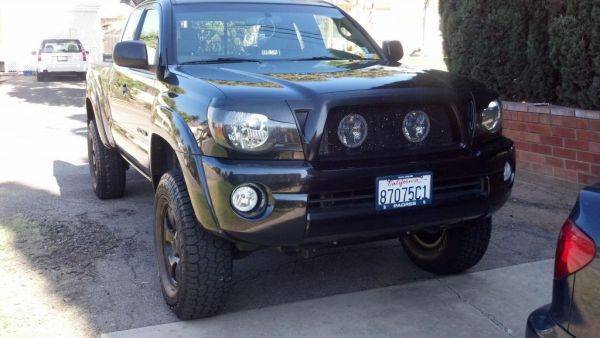 And blacked out some of the trim. Make it stand out a little.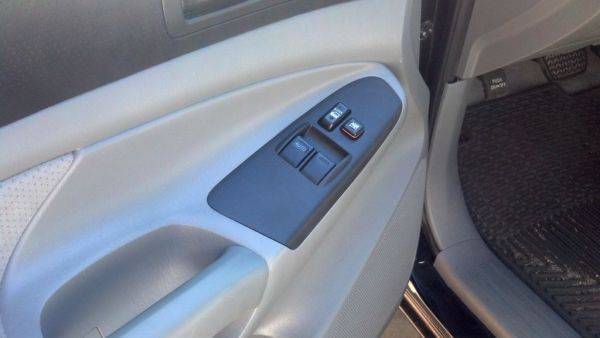 Also got a toyota emblem for the grille, but I bought it broke for cheap, so Ill jb weld it and throw it on then Im painting the whole grille over.
So after the shit paint I used on the grille horribly failed, I thought it was about time to paint it right and put the emblem on.
Sanded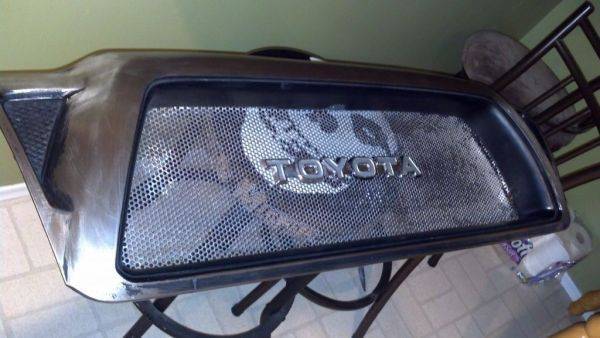 Primed - 3 coats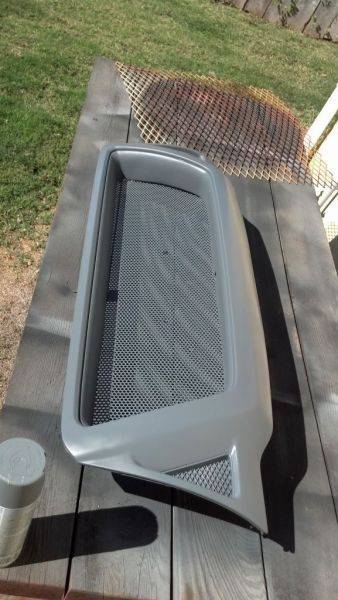 Paint - duplicolor BSP 3 coats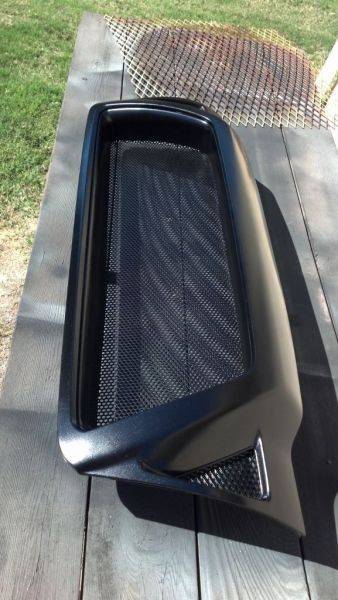 Clear coat - 3 coats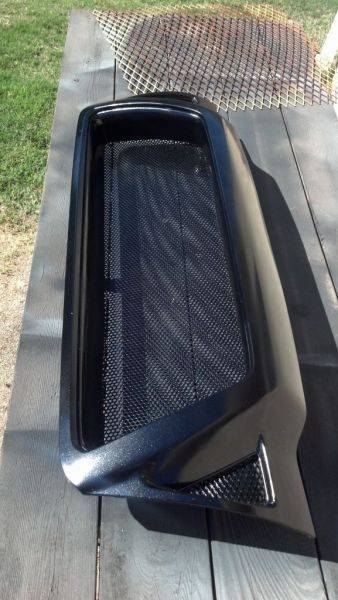 Jb welded the emblem, primed painted and clearcoated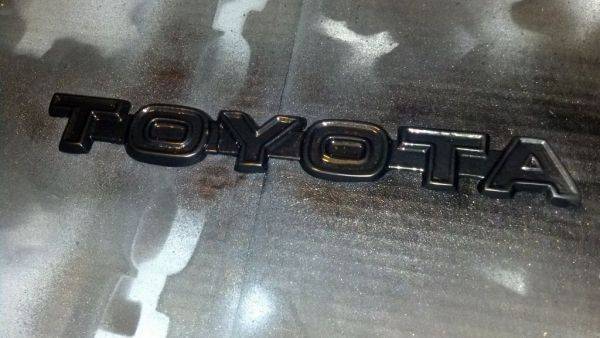 3M'd and screwed on, shit isnt going anywhere!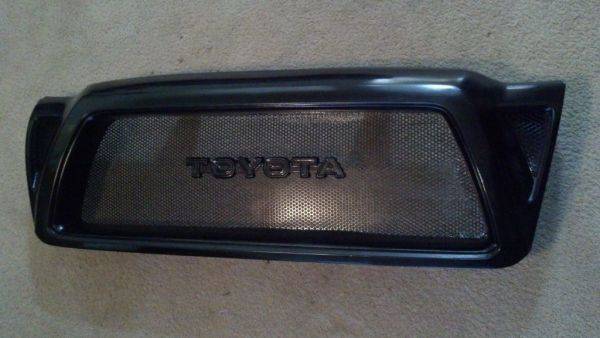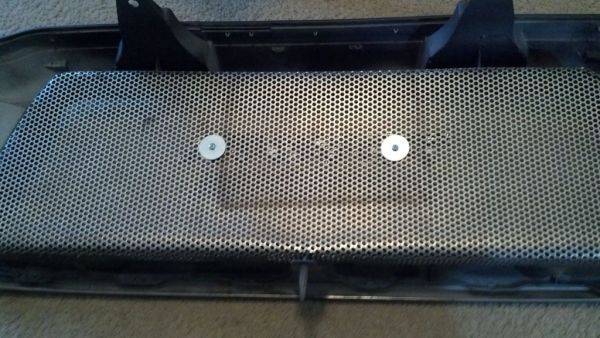 Got some Wheelers 16x8's. Kinda scratched up, but I plan on painting them. The front rubs on the caliper, so the 1" spacers stayed on for now.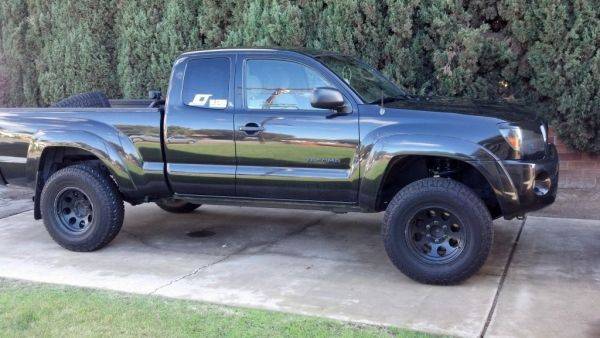 Went from this: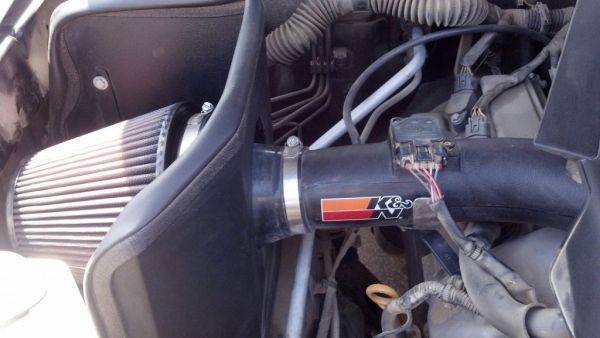 To this: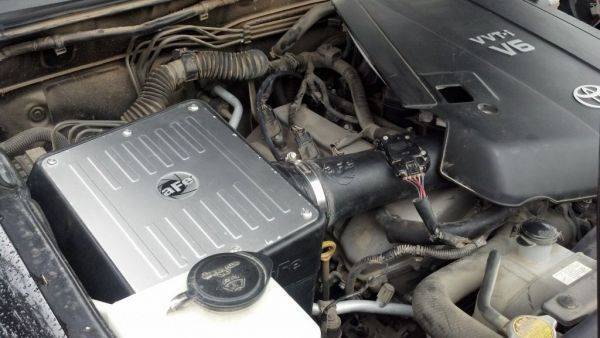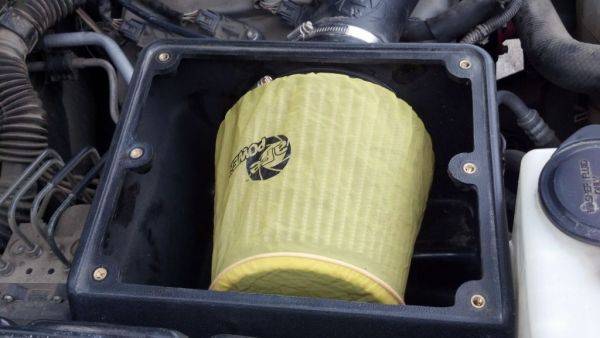 Happy happy