07 Toyota Tacoma
TRD OR

Today
Early 2013ish
(01/27/2013)
day I bought it (bro tastic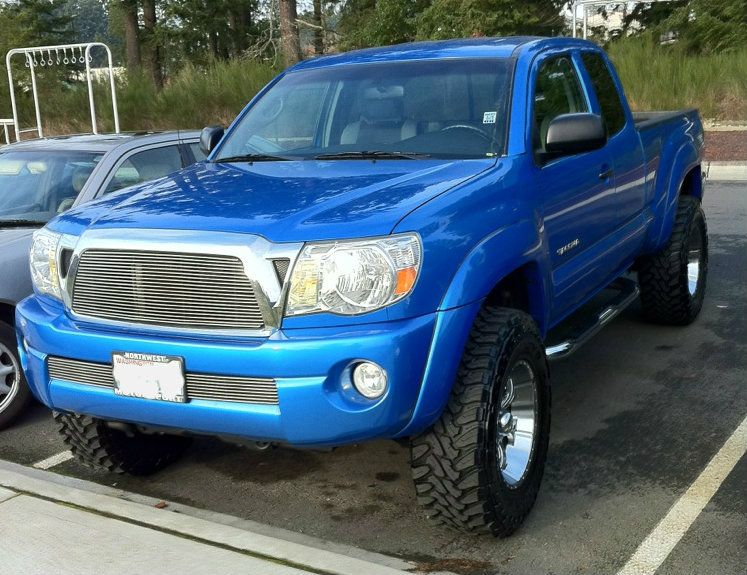 I am trying to chronicle my trucks build, I may have forgotten some stuff but 90% should be here. If you have any questions feel free to ask me anything! Thanks for checking out my truck!

Bought the thing with around 63000 miles and in the 3 years I've owned it I have only put 17k on it. I don't get to drive it as much as I'd like but come November I will be free from the Army. Never been happier with a vehicle, granted I've only owned 3 (03 Jeep Liberty, 1964 1/2 Mustang). Hope to never get rid of this thing! Hoping once I am free I will be able to get out to more meets/swaps, share some brews and learn more about these trucks!
-Mods-
Suspension
-
All Pro
+2" long travel W/ Fox 2.5x8" coil overs
- OME Dakar Rear Leaf Pack
- BAMF rear shock relocation kit
- King 2.0x12" smoothies
- U-bolt flip Kit
- CMC
Exterior
- All Pro Sliders
-Glassworks Unlimited front fenders
- McNeil Racing TT bedsides
- ATO hybrid bumper
- Warn M8000 winch
- Rampage Offroad 42" Radius light Bar with Relentless Fabrication Roof mounts
- 2011 Grill
- Debadged
- DBG front skid plate
- Tacomaworld.com sticker
- Passenger side "KEYED" mod
Performance
- Yukon 4.88 gears
- ARB front Air Locker
- Rear E-Locker
- Aero Turbine Muffler
- Exhaust turned down before the rear axle
Wheels and Tires
- 315/75-R16 Nitto Trail Grapplers
- 16" TRD fake beadlocks (sprayed black)
Interior
- Pioneer App Radio
- Replaced stock speakers with 6.5" 3 way pioneer speakers
- Shok Matt sound deadening material (SOON)
- Midland 75-822 CB radio
- Ultragauge
Thanks Anton (all.on.black) for the long travel, and Dallas Barber of DGB fabrication in Yelm, WA. Check DGB out they do great work and keep you well informed of progress!