07 Toyota Tacoma
TRD OR
-Bought it with 63XXX now it has 70XXX miles
-automatic
-Speedway blue
I bought it used back in December of 2011, and have never been happier with any vehicle I've owned before. Now I just need to get it perfect! I'm slowly getting there! went a few different directions at first but I finally found what I wanted. I spent WAY to much money, if I would do it again, I would actually make a plan, and do the research to get what I wanted the first time!
today (11/08/2013)
(01/27/2013)
day I bought it (bro tastic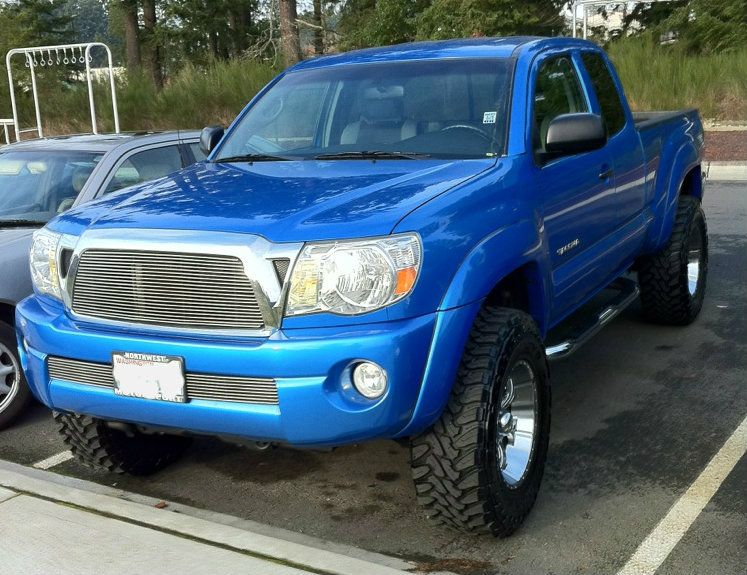 Mods
-Painted front grille, Removed billet chrome valence to show the black plastic
-Painted rear bumper
-16 inch TRD "beadlocks" wrapped in 315/75/16 Nitto Trail Grapplers
-stubby antenna
-Fox 2.5x8 coilover
-OME Dakars
-De-Badged
-ATO hybrid bumper
-ALL-PRO long travel
-Bamf Shock relocation
-12" 2.0 king smooties with resis
-u bolt flip kit
- 3 red ring HID offroad lights
- aero turbine muffler
Ordered-
-Brother fixed me up an 11 grille and painted it speedway blue for me
Dreams-
37s haha
Thanks Anton for the install and DGB fabrication in Yelm, WA. Check them out they do great work and keep you well informed of progress!
Anywho thanks for looking