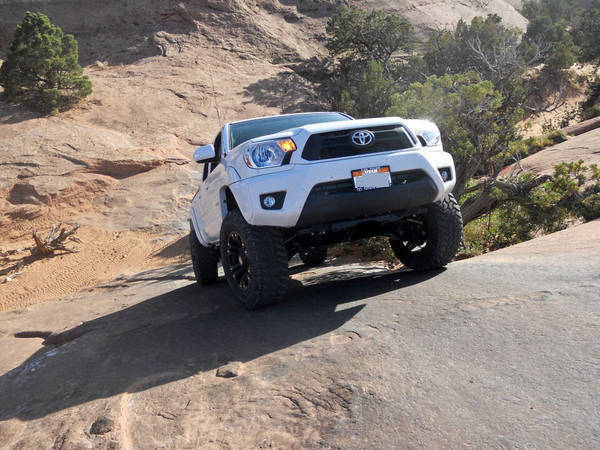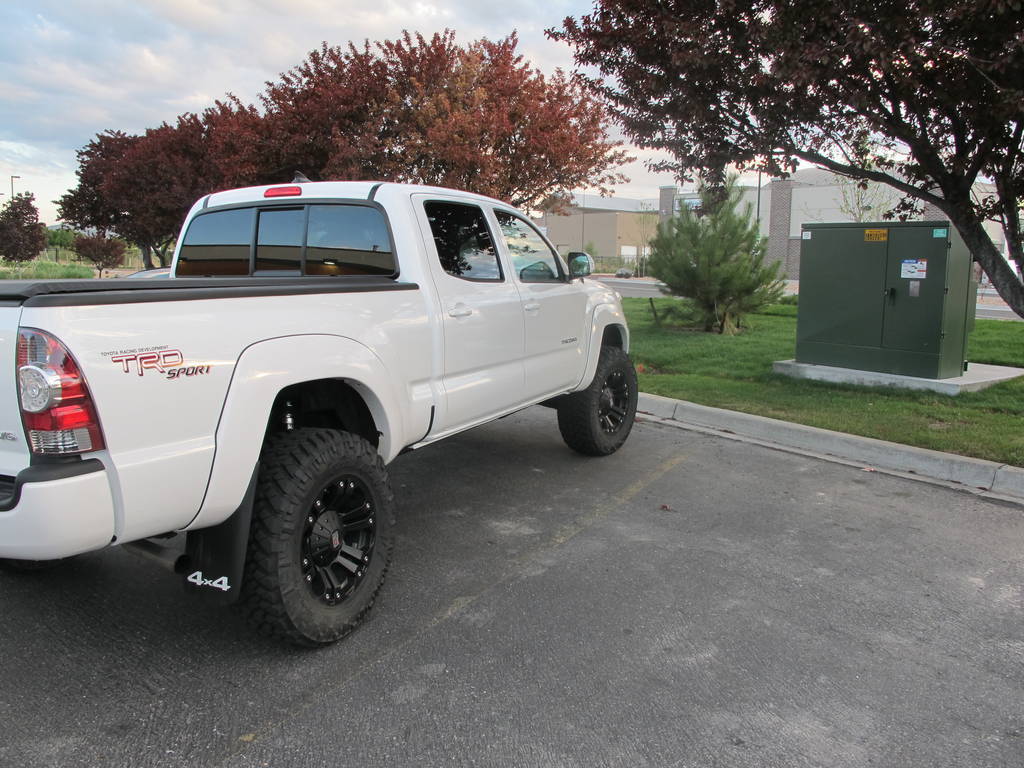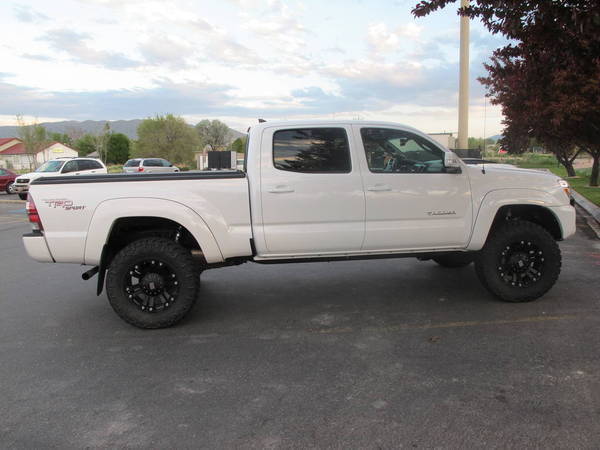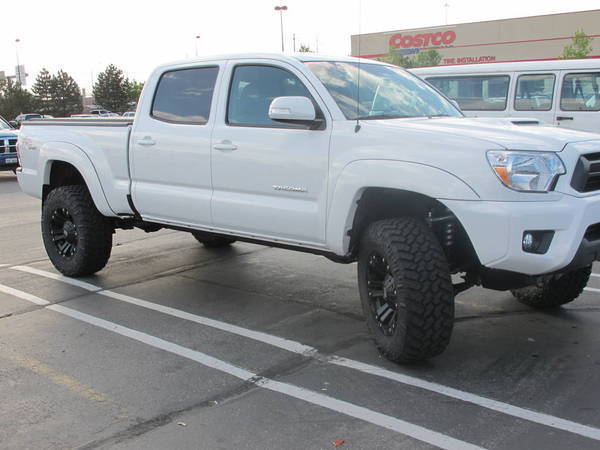 I went from a 2003 Acura CL Type S, with the 6 spd manual and factory navi. Let's just say I went through hell with this car. It was a good car, but 3 accidents, a brazen mid-day douch-baggery key job from taillight to headlight. An engine that seized up on me that we found wasn't the original engine at all (should be 260 hp), but a higher mileage, lesser horsepower motor from a salvaged 2000 Acura TL (225 hp). Yeah, I decided to go new this time so nobody could violate my ride.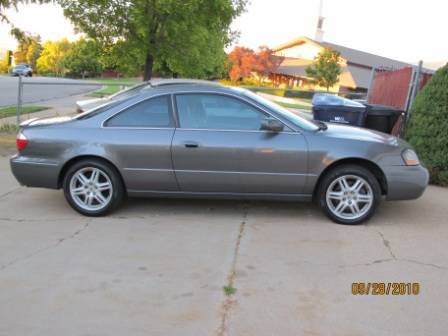 To a Super White 2012 ToyotaTacoma, Double Cab Long bed, TRD Sport w/o Entune.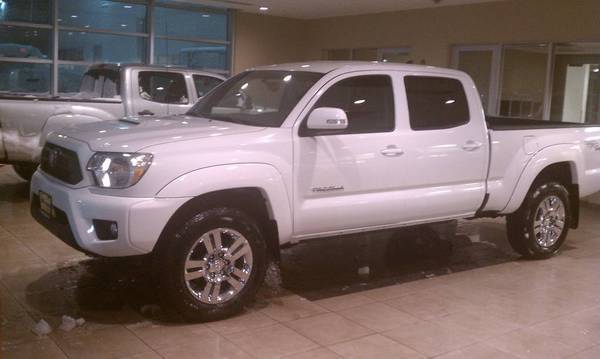 I wanted the stock sport wheels and was willing to put money down and wait for an order to come in from the factory. I went through my old manager at Karl Malone Toyota to buy it. I wanted a good deal for me and for him to make a bit of money too. I wanted to be $1000 over invoice. Well, being how it was the end of the month, they wanted to get a few more numbers and weren't as concerned with gross profit on each sale. They had several Super White TRD Double Cab Long beds on the lot, but they all had the upgrade package, which I didn't want to pay extra for since I was going to change the wheels out anyway. Besides, I didn't care for the downgraded "upgrade" wheels. They wanted to make it simple for everyone, so they just sold me the truck at invoice cost. Well, it was snowing pretty bad anyhow, so…why not.
I test drove it with 4 miles on the odometer. By the time I got back to the lot, with a full tank of gas and washed, I had ten miles on it.
Purchased 2/29/12
Factory bed mat from Camelback Toyota (a TW Vendor)
Tailgate theft removal mod. Got my key clamp from
AutoZone
http://www.tacomaworld.com/forum/technical-chat/27829-tailgate-theft-how-prevent.html
Lift arrives
!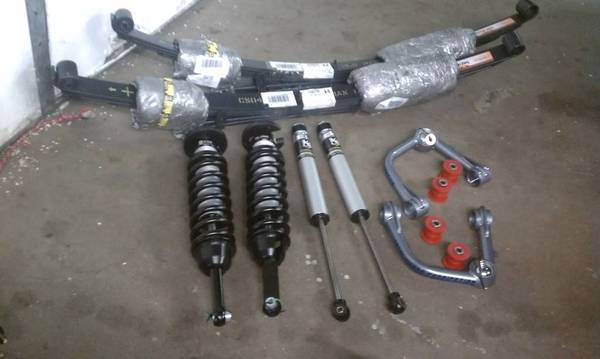 From
Down South MotorSports
Icon
Stage 1, Extended Travel
Total Chaos UCA's
OME Dakar leaf pack
Received bushings for the OME Dakars from
Wheelers Off-road
.
Post lift, while waiting for wheels and tires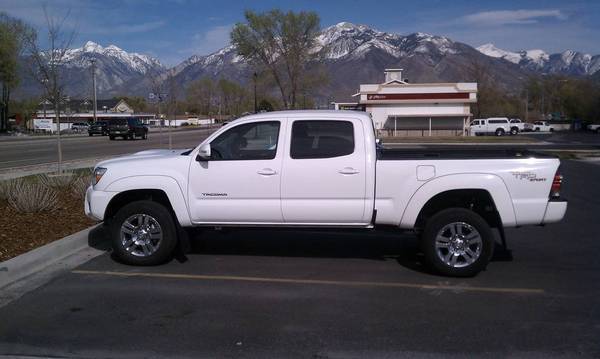 Wheels and Tires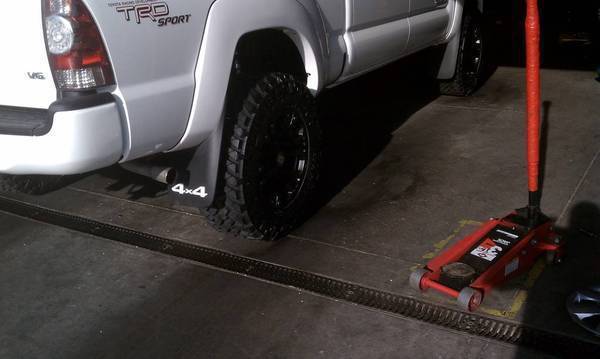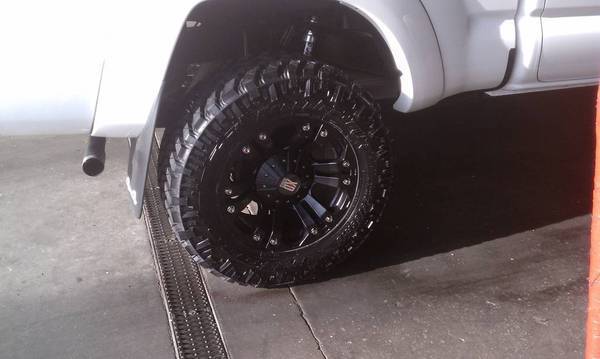 From
Discount Tire
, I got a $60 rebate on everything plus a $300 trade in credit for my factory wheels and tires. They beat everyone on bottom line price. I only go through Discount. Everyone else is several hundreds of dollars higher.
18x9 XD Monsters
285/65/18 Nitto Trail Grapplers
I immediately drove over to the Firestone Auto Care center and got the alignment done. I did the lifetime alignment program for just under $200. Upon arriving at Firestone (Two right hand turns, one left turn and one right hand turn again), the front mud flaps had rubbed all the way through in one spot from the new tires.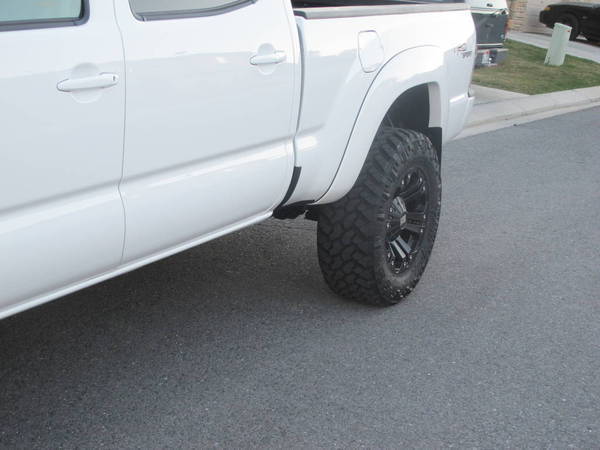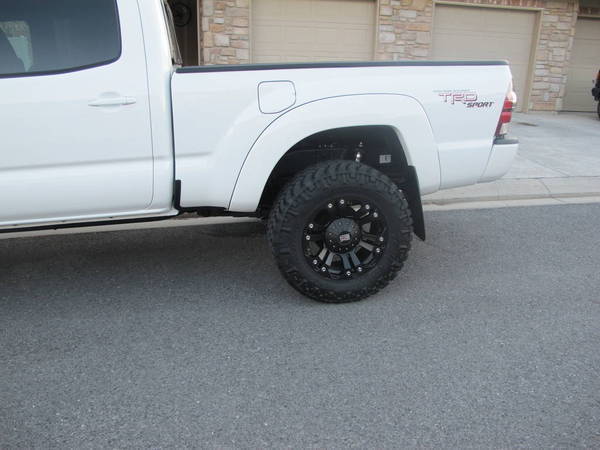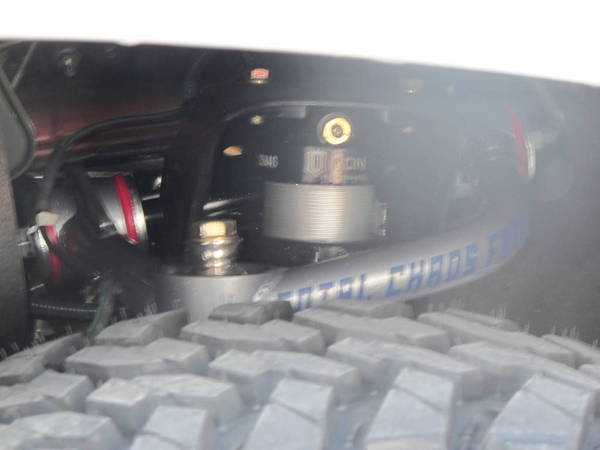 I discovered I needed to address the "taco" lean. The alignment shop could not get the driver side into spec. I raised the driver side about two inches. I like the stance better and I got the alignment in spec. One more alignment in a month and that lifetime alignment will have paid for itself.
From Truck Alterations, I bought a Pop N Lock and the Access Limited edition
Tonneau cover
. Customer service was good, but there were some hiccups on Access side getting the order out. It took a few extra days because they were short staffed. Things happen, but Truck Alterations went to bat for me and got on their case. Access threw in this cargo grabber hook thing that was a $30 value for free. You know Looney Toons with the hook that yanks people off the stage? Yeah…that type of thing.
Installed Pop N Lock – I need to see if I can mess with it more. The key is rather stiff when I turn it and it does not come out very well.
Installed Access Limited EditionTonneau Cover- Had some hiccups trying to remove the bolts that held in the factory rail system. You needed a Torx T-30 bit, which I had, but I think the bits I were using were crap quality. I couldn't get them to budge on three bolts. I took it over to the dealership and he backed them right out. I went and bought some Craftsman drill bits after that…crappy Freight International garbage.
WeatherTech
Digital Floormats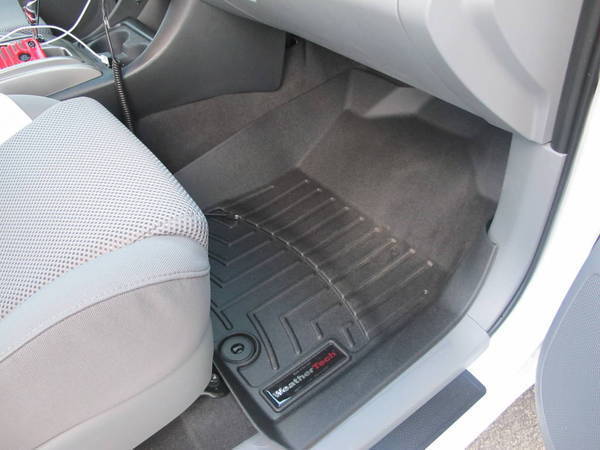 WeatherTech Window deflector, WeatherTech plate frame are one theway. Went through Scott at Truckaddons.com during the group buy which is saving me about $35.
Next on my list is some armor:
Maybe darker window tint up front
Venture shield (verysoon)
A tailgate reinforcement project (being built now)
Beefed Taco
sliders forthe DCLB, with pivoting steps
Custom Beefed Taco rear tube bumper (hoping)
A beefy light bar... possibly Avid, but may do custom of some type through Brian.
Some Lightforce lights
Skid plates
I'd like some kind of metal lockbox to secure valuables in, maybe for the glove box?
Undercover
swinging toolbox?
I have adjusted the front end so there isnt as much 60's muscle car rake to it. Will get photos up later.