So I've started to build my own console lock box with a goal of keeping it under $100. So far I've got about $50 of materials into it and should be able to finish up for under $80. Here's the basic steps and the few pics I've taken so far.
Materials:
24x24 16ga steel sheet
1/8" steel (I used left over pieces but an 8x10 piece would work
1/16" x 1/4" steel
Cutting wheels
Heavy door hinge
Lock
Primer
Liner paint
Felt
M6x1.5 bolts (2)
Tools:
Angle Grinder
Welder
Level
10mm socket and ratchet
cross-point screwdriver
Scissors
Sharpie
Coors Light
1. Remove center console from truck
2. Disassemble underside of console lid
3. Separate lid from hinge
4. Remove hinge covers (from underneath)
5. Remove hinge
Now the fun starts.
6. Using cardboard, cut out templates for the pieces you need
7. Start with the back-most piece in the recess and work toward the driver side piece. You only need to create templates for the sides.
8. Tape all pieces together and make sure you can install and remove assembled template
9. Use templates to trace pieces onto 16 ga steel plate
10. Cut out pieces.
11. Begin fitting pieces from the same starting point.
12. Using duct tape, fit 2 pieces together, then tack weld them together
13. Test fit and adjust as necessary.
14. Repeat with rest of pieces. I found that I needed to trim, grind, etc quite a bit and still didn't get it perfect but good enough for me right now.
15. After sides are assembled and you can install and remove them, set assembly onto remaining 16 ga steel sheet and trace.
16. Cut bottom piece out and weld into place
17. Cut and weld 1/16 steel around top edge using a level to keep it even
You should have something that looks about like this: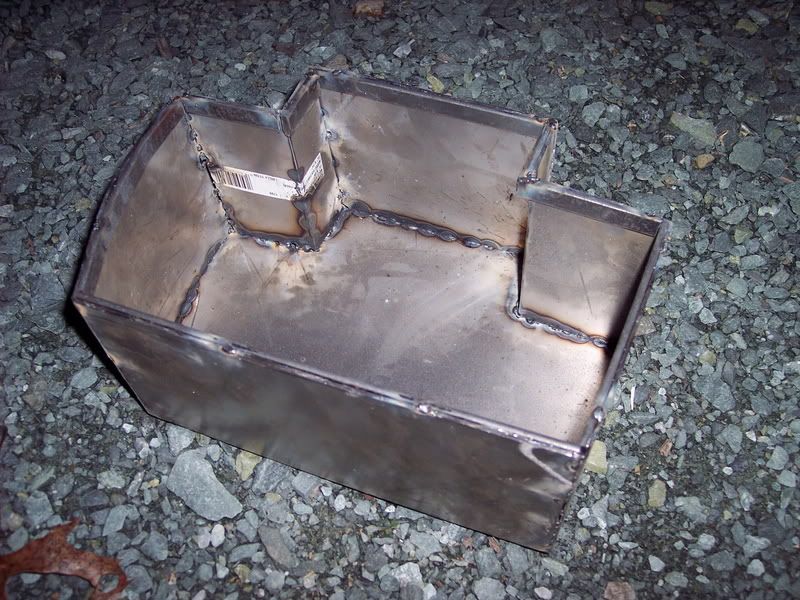 I know it's ugly but I'm not done yet.
18. Cut top out of 1/8" steel
19. Draw straight line across top about 1/2 toward the front of the recess
20. Use grinder to create slight low spot across the line the width of the hinge
21. Weld hinge (assembled) sides to plate with center aligned with the line you drew
Should look about like this: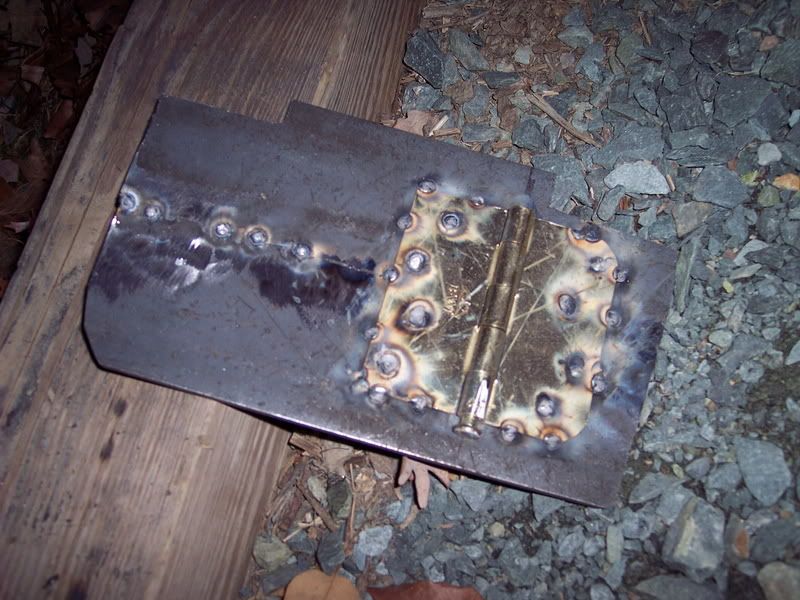 It's uglier than the box but that will all have to fixed later.
Plan going forward is:
Finish cleaning up my welds on the box and grind them smooth
Weld latch for lock to inside-front of box
Drill hole for lock into lid
Cut the top from the bottom along the line (taking care not to cut the hinge) then weld the back piece to the box
Spray with primer.
Paint with liner paint.
I'll use speaker carpet to cover the inside and out.
Install lock and I should be good.
I still haven't figured out how to make it look cleaner out the outer edges since there are some places where the design means leaving space between the box and the side.
I had to stop since I tripped the breaker and the wife needed help taking decorations down but I'll post more as I get it done if others are interested.