How Fiona sits today, 3/2/14
I like to tell stories, so my build thread will be consistent with a good tale of how a vision came to me...and my quest to fulfill that vision with lots of time and money.
I've always owned small, fast, tuned up cars in my past. Drove a muscly Mustang GT in high school, built a 1965 Shelby Cobra in my own garage, then moved to something more compact and economical for 5 years. But after picking up nature photography as a hobby, and new found business venture, I knew I needed something more than my VW Rabbit to get me around.
Started thinking about a truck in February of 2011. Concluded that the almighty Toyota pickup was the most reliable, bare-boned, badass truck I could see myself driving everyday. Figured I'd start looking...just for fun at first. I soon came across a member's build thread on this website (sytfu510), and I instantly fell in love with the overland/zombie apocalypse look of the Tacoma. Suddenly, the fire began to burn inside me...and I got serious. Knew I needed a 2nd gen to keep my current luxuries, knew it had to be a double-cab because I often bring friends on camping trips and road trips, and I knew it had to be a 4x4 so I would never scorn myself for opting out of it in the occasion of getting stranded somewhere.
My desktop background for 4 months.
Test drive after test drive, thread after thread...I was hooked. Lurked for a few months, then decided to become a member of the Tacoma brethren. I asked questions like "will I get stuck in a long bed?" and "are the TRD sport shocks good for off-roading?". I was a total novice to this category of vehicles, but it didn't discourage me from asking questions and learning about all of it's ways and secrets.
On April 28th, 2012, while browsing CarMax at my desk, I found a 2010 DCSB 4x4 SR5 in silver streak metallic at their branch in Las Vegas. $200 would deliver it to me, but I couldn't justify the fee before having seen the truck. Not more than 3 days later, I found the same truck and same photos as listed in the CarMax lot literally across the street from my office. I immediately dialed the number, made sure it was there, and left the office a bit early that day.
Well, it was meant to be. Somebody delivered it to Irvine, CA...didn't like the truck for whatever reason...and it was stuck on their lot. I took it slow, completely checked out the vehicle, weighed my options...and 4 hours later, I had traded in my trusty VW of 5 years, for my first truck. Here is the first photo I ever took of Fiona. Still with the window stickers, and dealer floor mats.
I couldn't be happier with my purchase. Took it on dirt the very next morning, in all my excitement.
Less than a week later, I came across a set of 4 Ultra Type 164's wrapped in "like new" BFG AT KO's 285/75/16. The previous owner had just sold his Tacoma, and said they fit his truck perfectly.
Needless to say, I couldn't turn with the stock height of the truck. 2 days later, I installed my band-aid lift to keep the tires from eating my fenders. Pro Comp 2.75" top plate spacer lift. I'm not particularly proud of this mod, but I was low on cash and the new tires weren't coming off for the time being. I also installed a set of Spidertrax wheel spacers, because the offset of the wheels was incorrect, without my knowing.
I then installed a set of 4000k HID's, which I'm currently contemplating removing. They're bright, but I get too many people flashing me on the road.
[IMG]
[/IMG]
The famous "Taco-Lean"
I installed a Cobra29 CB Radio and Firestik 5' antenna via Brian's (desertguy) antenna mounts in the bedrail.
[IMG]
[/IMG]
I found a used Bestop Supertop for $250 in LA. One of my favorite mods to date.
Attended my first Tacoma meet, which I helped organize. It was a great success!
Another member (Rattlesnake44) sold me his brush guard for $75.00 after installing an ARB winch bumper on his own rig. He generously helped me by installing the brackets for it as well!
One day, while helping my uncle empty his storage unit, I used my truck for what trucks are made for. Moving large objects. The rear end was sagging far too much for my liking with less than half the payload capacity in the bed.
I knew the time had come for a lift in the rear. The TSB had NOT been done on this truck, and it was out of the warranty period. So I decided to purchase a new AAL set from
Toytec
, claiming to raise the rear by 2". I tried the install myself, but was unsuccessful due to the limiting height of my jackstands. I decided to let the pros do it, and took the truck and new leafs to my friends 4x4 shop, called
Rebel Off-Road in Lake Forest, CA
. The guys here really know what they're doing, and are some of the friendliest people I've dealt with in the industry. I was very happy with the quality of work, the punctuality, and the fair price for the job. I definitely recommend them for any job too big to do on your own.
After getting the truck back home, I was more than pleased with the new stance. The rake is back, and I couldn't be happier. It actually rides better now, despite what I've heard from other members complaining the ride is harsher after the AAL. It gave me a 3" lift on both sides in the rear from the factory non-TSB leaf springs.
This is how my truck sits today. Actually, these photos are from today themselves. I also removed the headlight covers from the brush guard, and I think it looks much better.
OEM Head unit replaced by Pioneer AVIC F700BT navi/iPod stereo.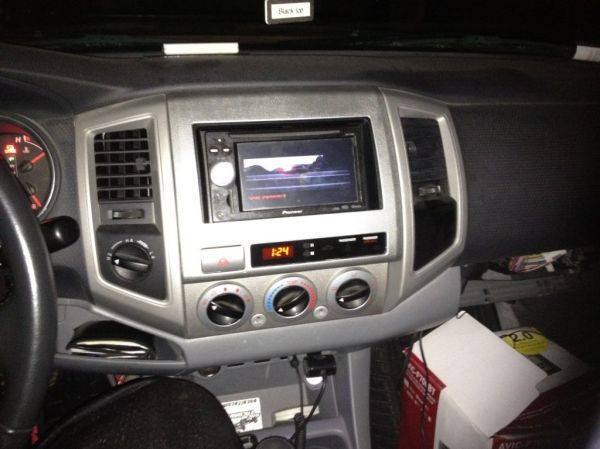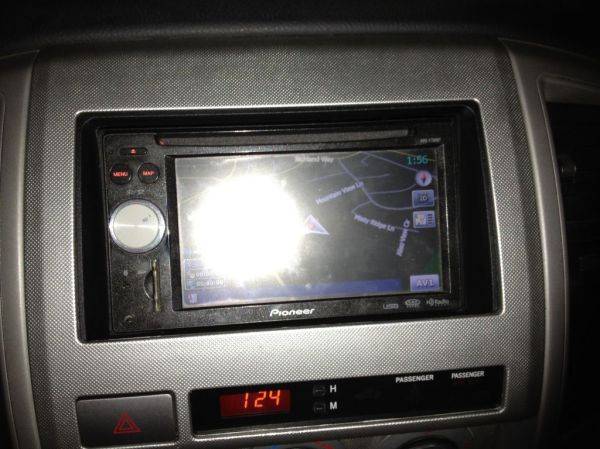 Also found a creative place to put the mic for phone calls/voice commands.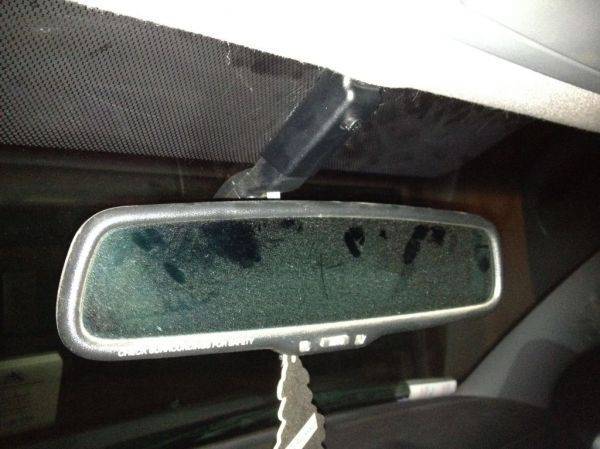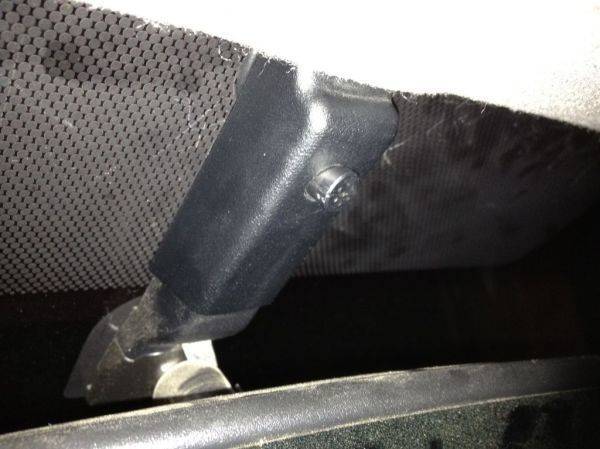 Some new pics after a wash
Bought a set of used Bilstein 5100's and TRD OR springs from Hiatt1991, currently set at 1.75" but will be lifting to 2.5" soon.
Also busted a fender flare on the trail run 8/26/12
Installed a set of
Icon
Remote Resi shocks for the rear
Installed a custom dual 10" subwoofer box behind the rear seats.
Some new pics
Bushwhackers installed today!!!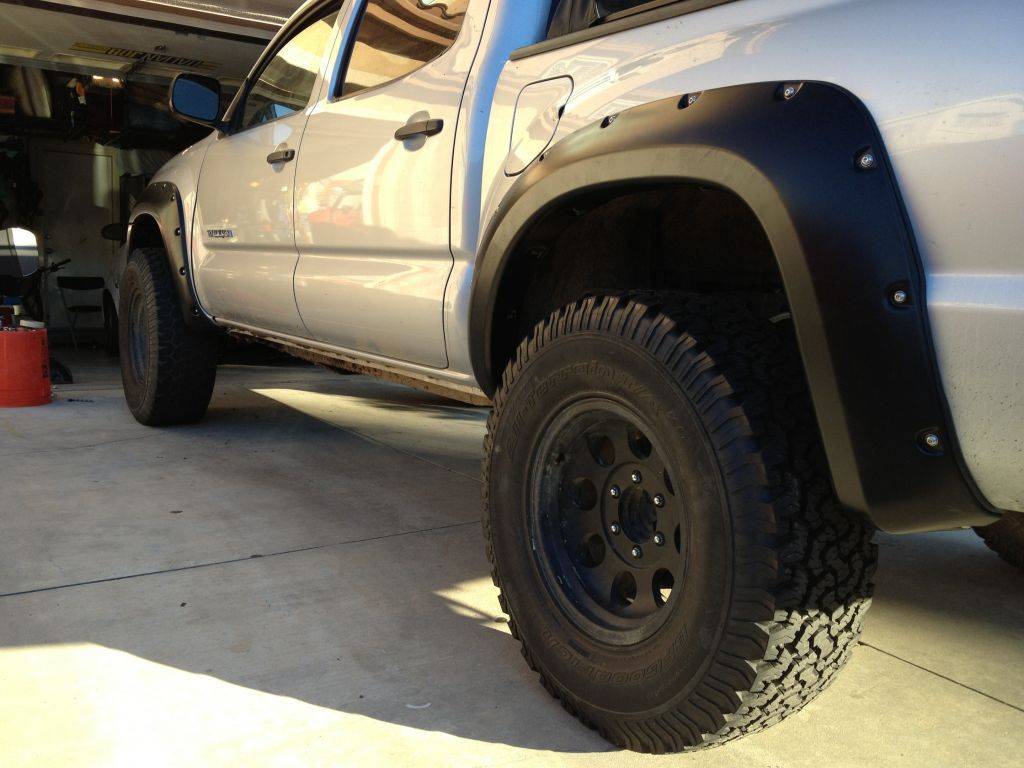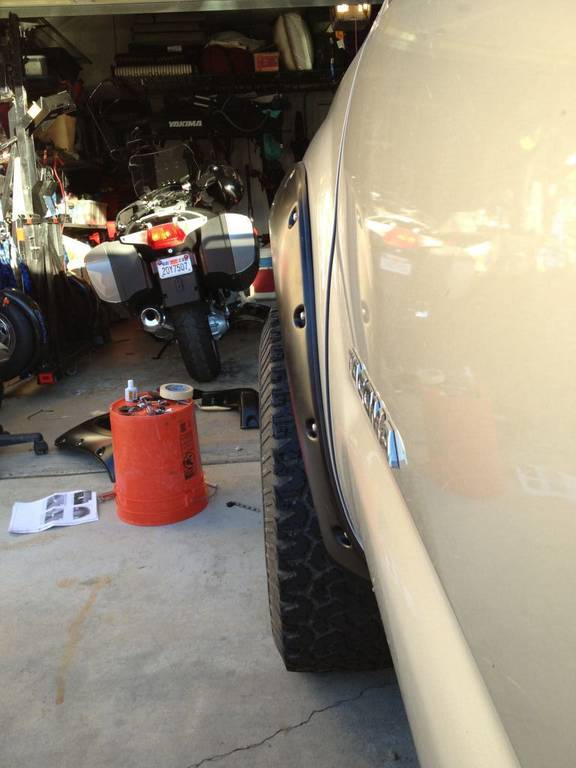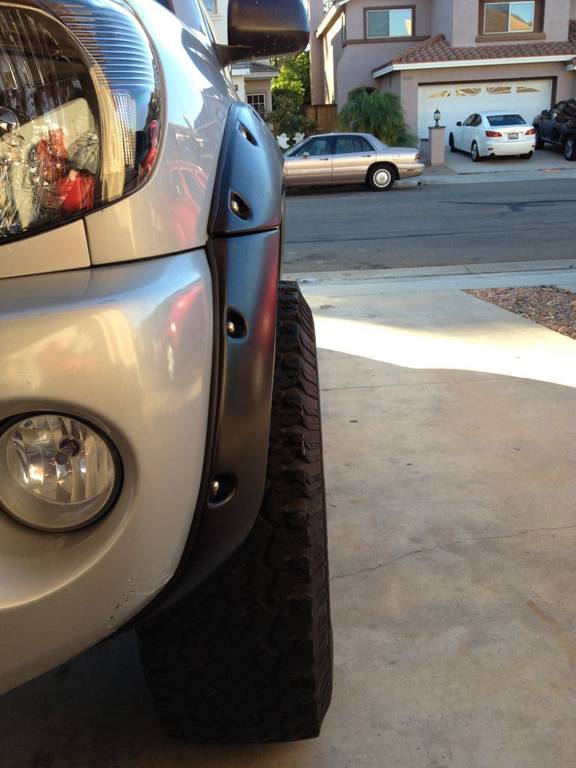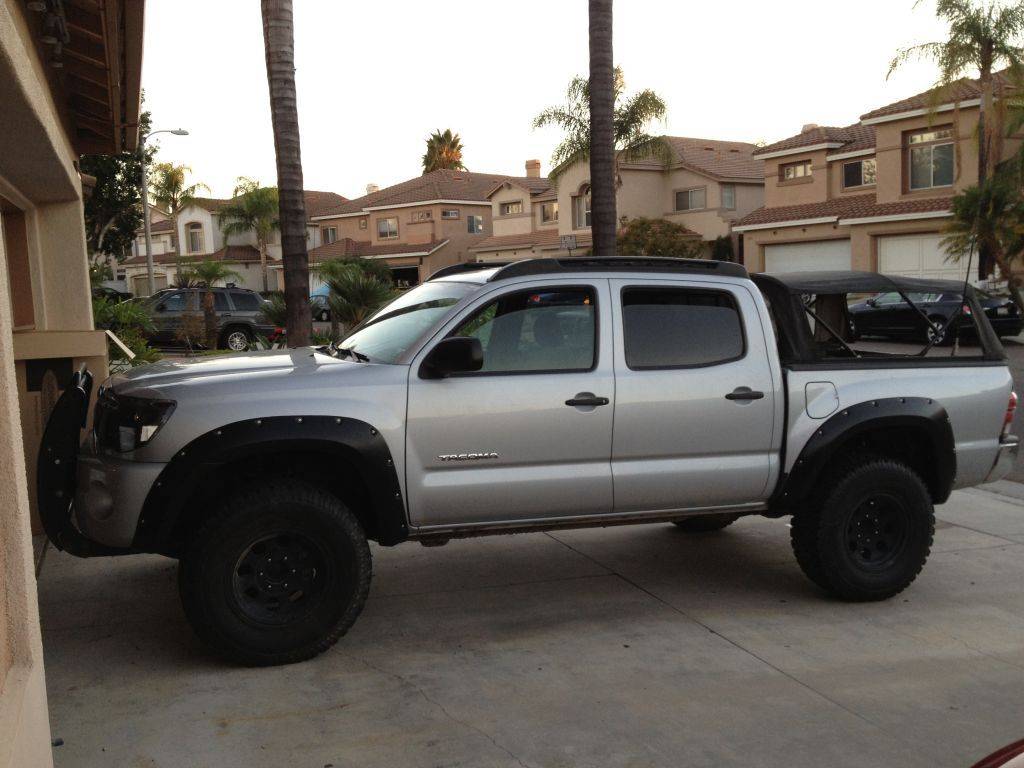 Mid-Travel setup is complete! Icon Remote Reservoir Extended Travel coilovers and All Pro uniball UCA's are installed! I have a .5" bro-lean, but it's barely noticeable.
Got some new pics and video from this week in Big Bear.
http://www.youtube.com/watch?v=RG_IywvGl5E
I finally received the free Apex Sliders from
All Pro Offroad
. Hopefully will have these powdercoated this weekend and installed by next week!
Some new pics
[IMG]
https://sphotos-b.xx.fbcdn.net/hphotos-ash3/521583_10200463279877570_360179061_n.jpg[/IMG]
Some updated pics after getting my 2nd bestop.
Went for the big guns, got a Total Chaos 3.5" long travel kit with King coilovers, All Pro Expo leaf pack, and Wheeler's super bumps. Also painted and installed some Glassworks fiberglass fenders. Got the front bumper custom made from
Pelfreybilt Off Road
.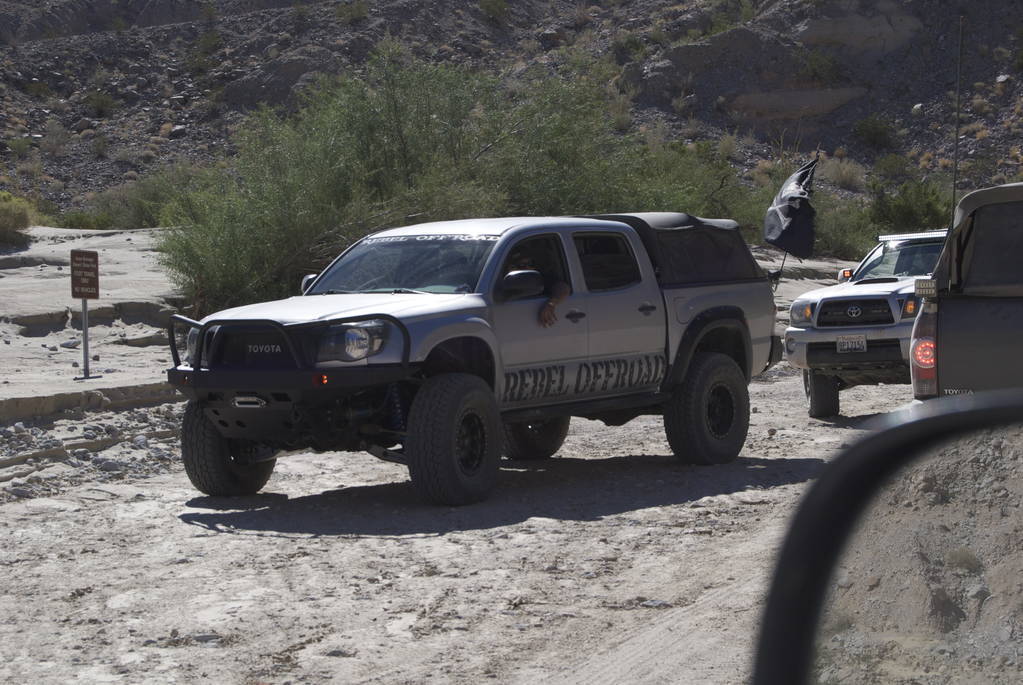 First big mod lately was the CBI Ditch light brackets on the windshield and a 50" LED light bar from the group buy on TW. $375.00, and I made the mounts custom (now selling them on the GB). VERY bright, and quality is second to none as far as Chinese bars go.
Finally got around to ordering my bedsides. Went with Glassworks Unlimited to match the front, and opted for the Trophy Truck style ones. I will not be painting these, as I will be doing a vinyl wrap on the whole truck soon.
Also mounted a PCI Race Radios antenna through the roof for my ham radio.
And I even got around to installing a new set of Aries 3D floor liners.
I still have much more time and money that needs to be spent in order to get the truck the way I want it to be, but I figured I'm off to a good start, especially for only owning the truck for 3 months so far
...build to be continued.