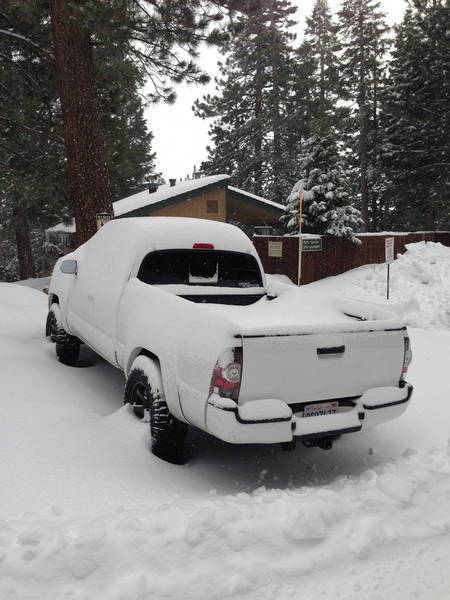 Mods:
Front Suspension:
King 2.5 Coilovers with reservoirs
Maxtrac 4" Lift Spindles
Built Right uniball UCAs
Extended brake lines
Cab Mount Chop by Tyler (Socalduckslayer)
Rear Suspension:
OMD leaf pack
B.A.M.F. rear shock relocation kit (installed by Jason/Speed Freak)
King 2.0 12" Shocks with reservoirs
Extended brake lines
Wheels & Tires:
18" FN BFD wheels
275/65R18 Goodyear Wrangler Duratracs
Exterior:
De-badged/de-stickered
Self made Satoshi
FX-R Projector retrofit with E55 shrouds from
TheRetrofitSource
Smoked fog lights with Nokya hyper yellow bulbs
Fog light anytime mod
Interior:
Full custom audio
Gauges and clock LED swap by Jerez
Full interior and exterior LED lighting by CSJumper2003
Custom black center console
Painted dash and console pieces
Redlinegoods.com armrest and door panel covers in Napa Leather @ Alcantara
Performance:
K&N Intake
Magnaflow
Offroad Pro Series exhaust
Doug Thorley Long Tube headers & offroad y-pipe (to be installed)
So it all started in 2011 when I was shopping for a new truck and came across the Incross Tacoma on the internet. I fell in love and bought my Tacoma in May 2011. It's a 2011 Access Cab TRD Sport 2WD V6 Auto and It's the best truck I've ever had. This is her on the lot the day I bought her: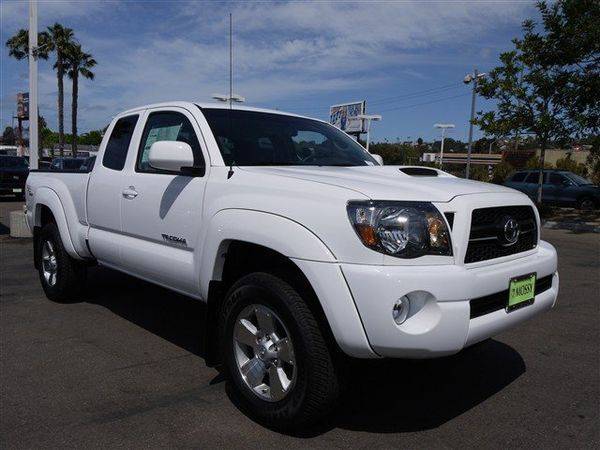 I had the truck for probably about 3 days before I took it to StreetNoyz in San Diego for a serious audio overhaul and a Clifford alarm. One week later I had one of the best sounding systems I've ever had in any of my previous cars. No expense was spared!
The headunit is a Pioneer AVH P4300DVD and I freaking love this thing!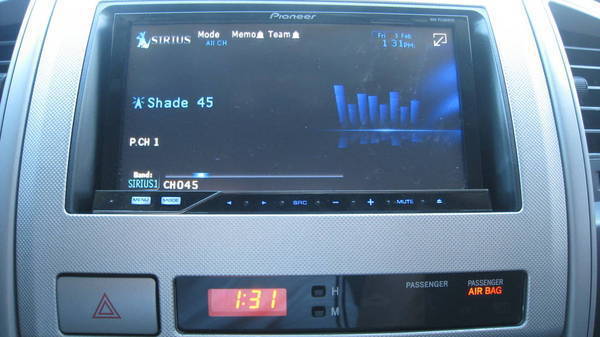 This is my ported Alpine Type-R 12" sub mounted behind the driver's seat: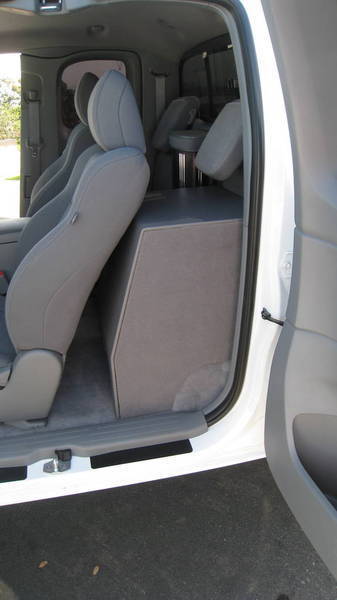 Speaker and sub amps mounted to the cab wall: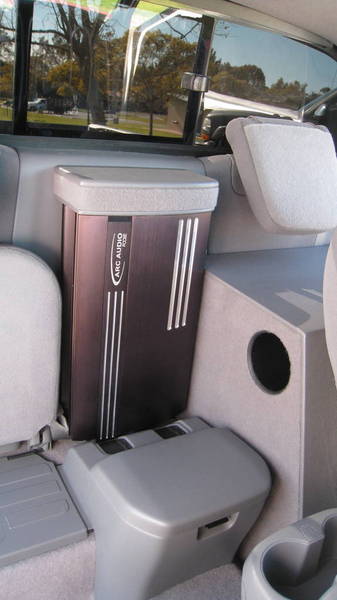 Custom rear speakers (since my truck came without them
)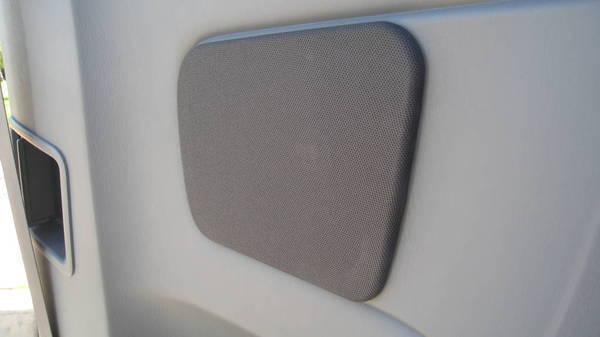 Speaker amp under the passenger seat: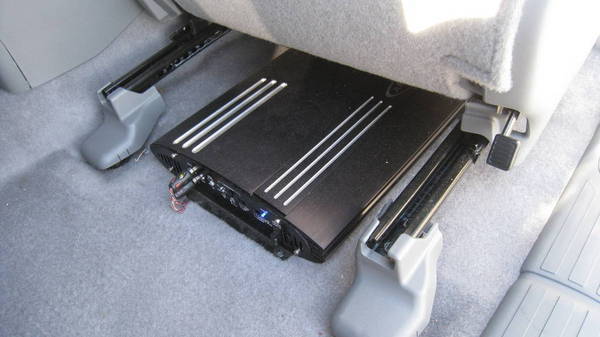 Crossovers under the driver's seat: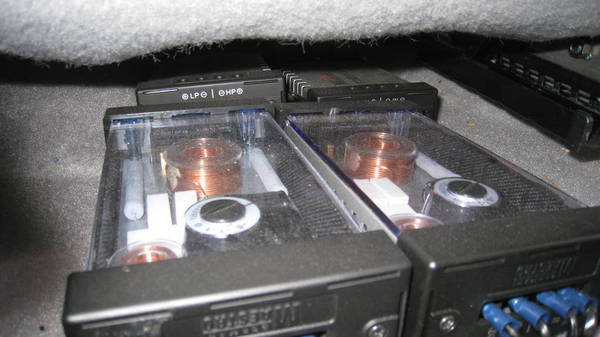 The next thing that had to happen was my Satoshi grille and black headlights/smoked foglights. I won't post any pics of the modification since there's 1,000,000 threads about that stuff. here's the finished product: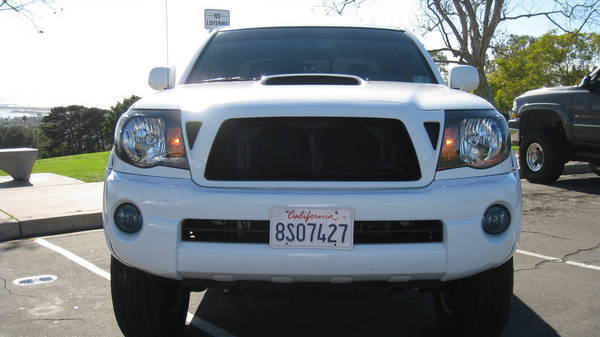 Had to bro lift it too. Bilstein 5100's set to 2.5"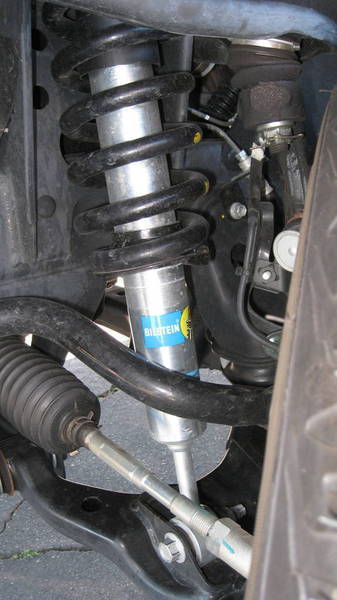 This is how she looked in February 2012. I had 5% tint before the CHP had to ruin all the fun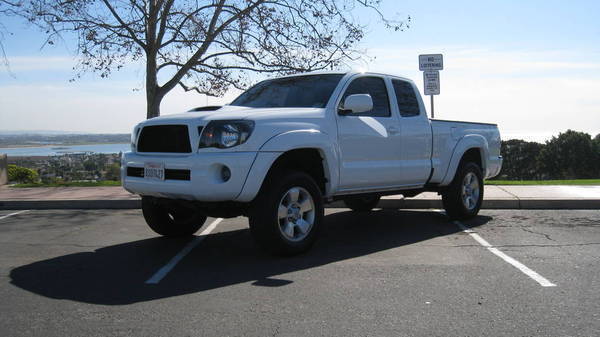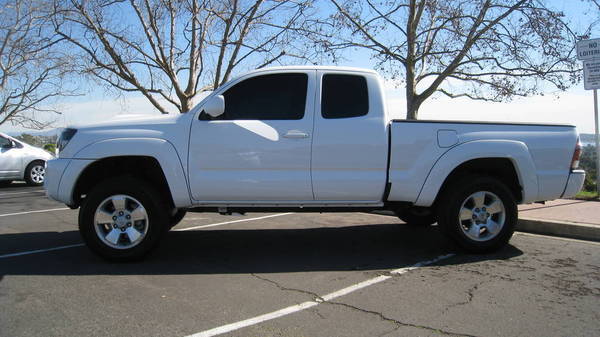 Then came the intake: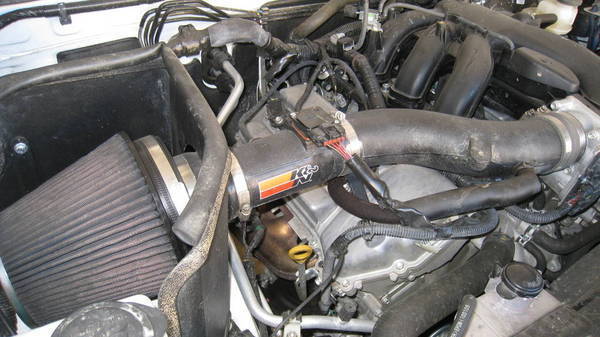 I swapped out all my bulbs in my truck for LEDs from CSJumper2003. Here's the reverse lights and license plate lights: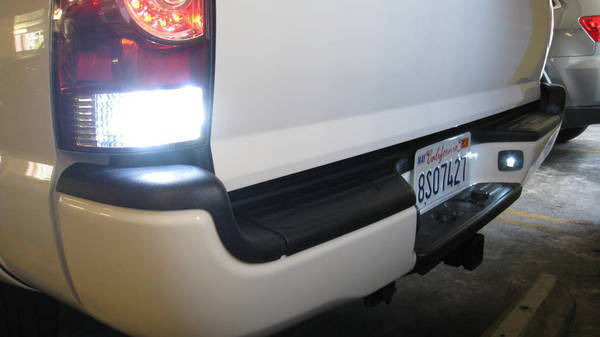 I then retrofitted FXR projectors from TheRetrofitSource into my headlights. They're 5000k with Osram CBI bulbs and factory ballasts.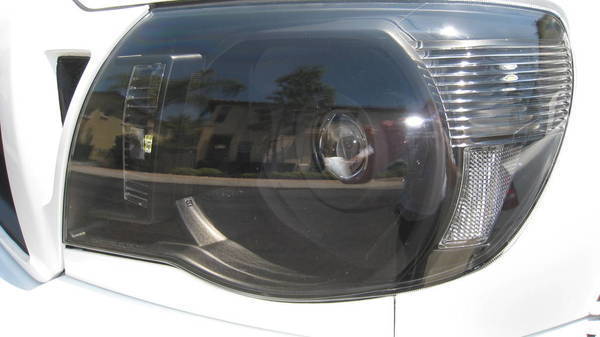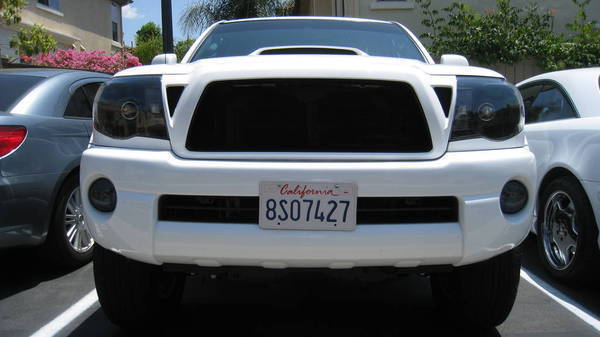 Here's the headlights with LED parking lights and DTRLs from CSJumper: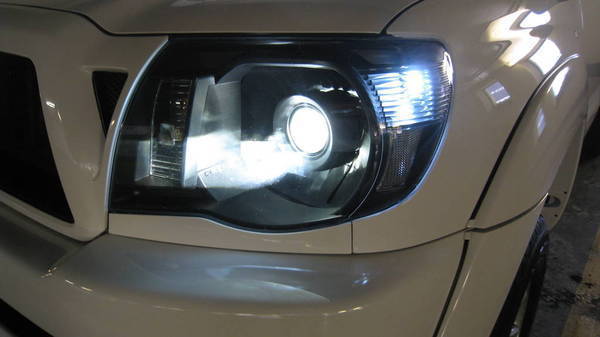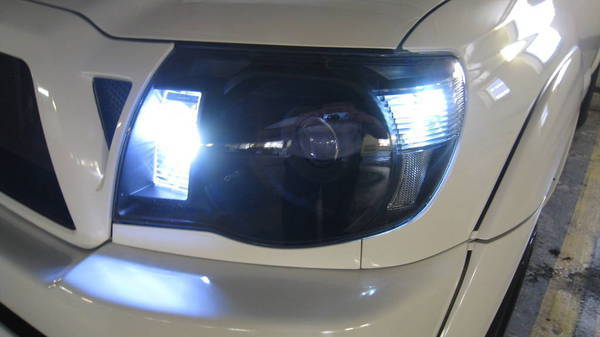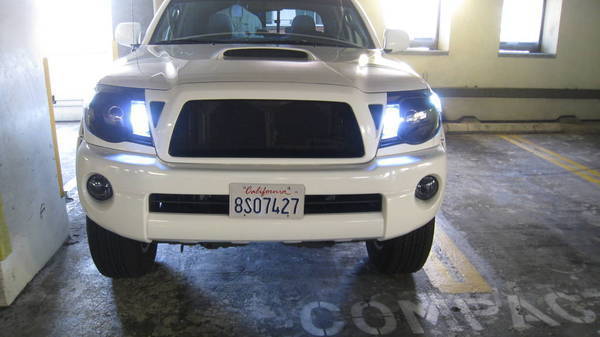 I sent out my gauge cluster, clock, fog switch, trac switch and window switch to JEREZ to have the LED's swapped out. While the dash was all apart, I painted the bezels around the gauges to match the exterior: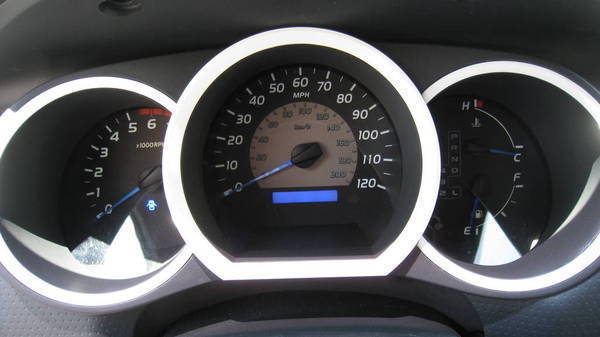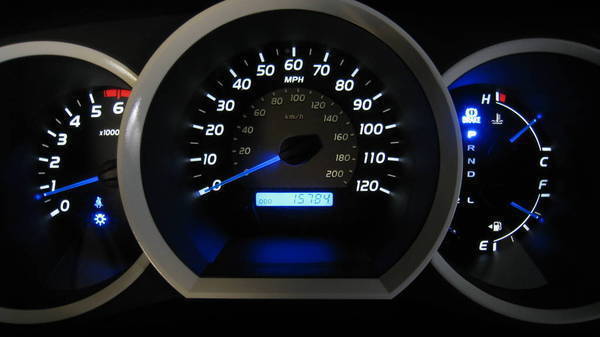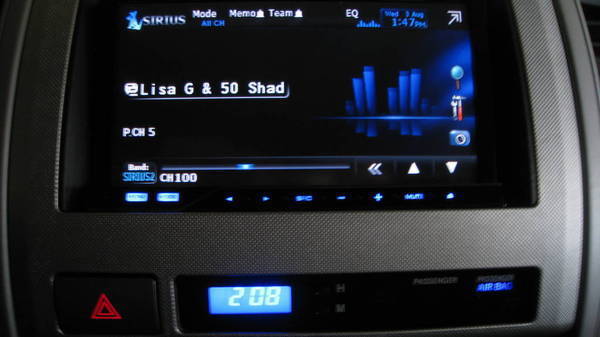 I'm currently working on sanding the little bumps off of the radio, AC and shifter pieces and painting them flat black. I'll upload some pictures when that's done.
Future upgrades include
Camburg
lift spindles, TC UCAs,
AllPro
Expo leafs, Bilsteins for the rear, SS brake lines, FN BFD wheels and Goodyear rubber. Gotta save my $, this addiction is expensive!
8/24/12:
So I've been sanding and painting and sanding and sanding and sanding and painting and I'm still working on my center console piece. I fucked it up twice... Anyways here's some pics of the project:
I popped out the shifter piece and bezel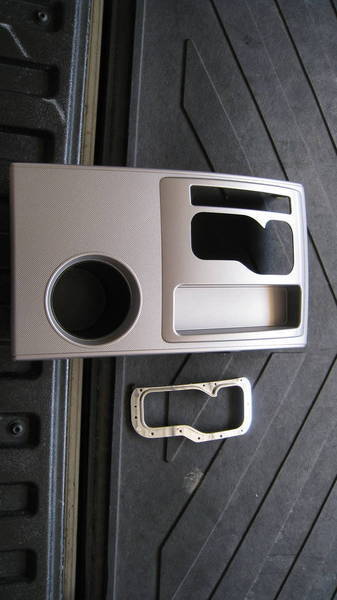 I started sanding from rough to smooth to get rid of the texturized bumps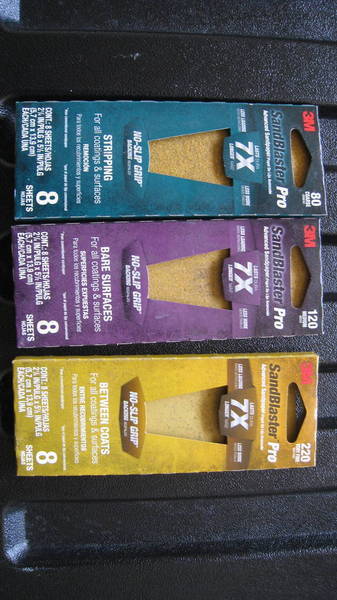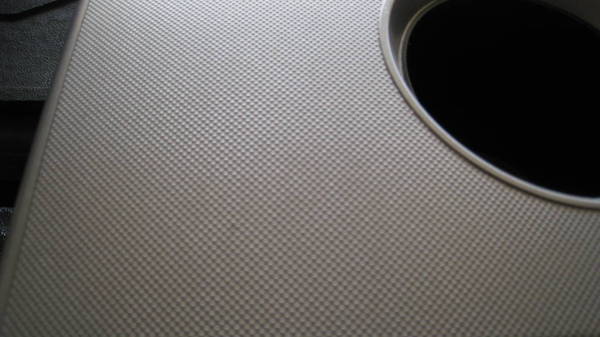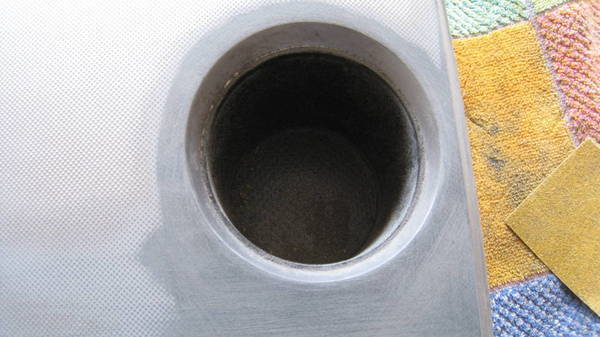 Then came time to start painting the white pieces with Krylon Fusion white gloss.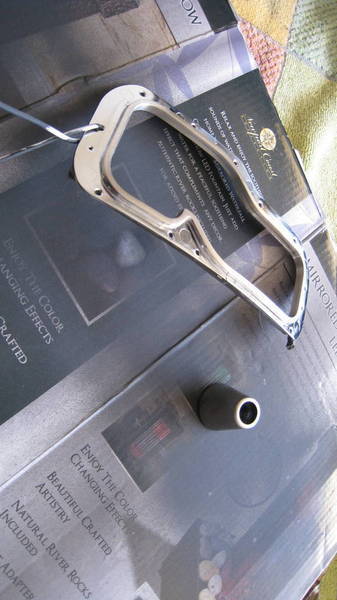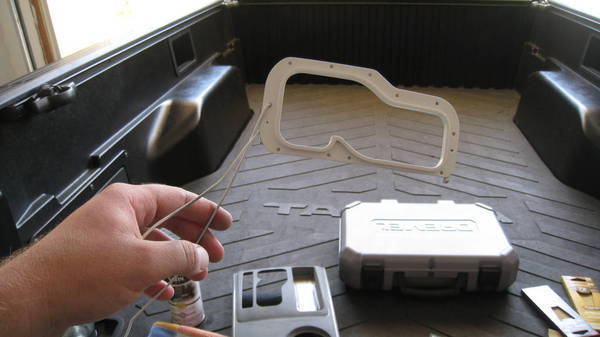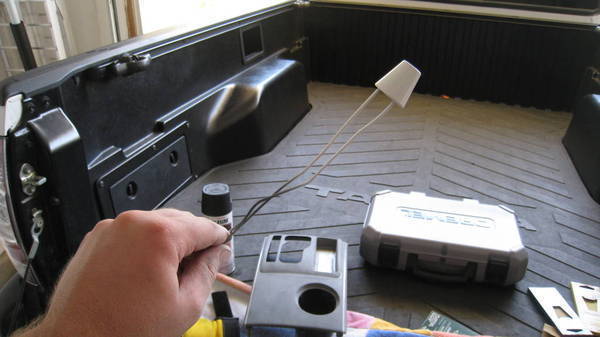 I took a picture of the location of the mounting tabs for the emblem on the steering wheel. Moose1988 did a build thread on painting interior pieces but I thought I'd post this since he didn't. While prying up on the emblem you must carefully slice through these soft plastic pieces with a razor blade.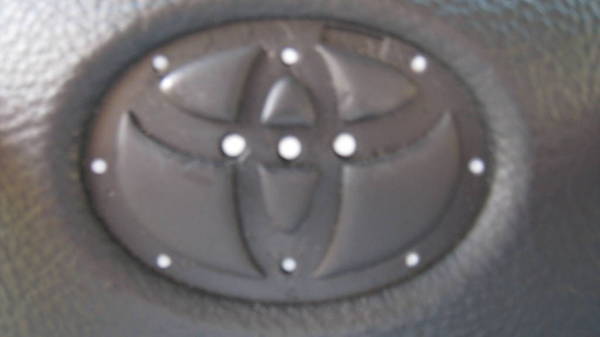 Then it was time to do the center console. After it was all sanded down I primed it with Rustoleum sanding primer.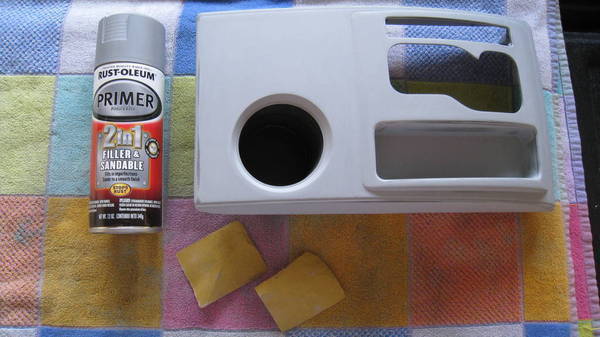 More to come soon...
My latest addition is some 18x9" FN BFD wheels in metallic grey, black spline drive lugs, and Goodyear Wrangler DuraTrac tires 275/65R18. If you plan on running no center caps, please sand the rust off your front hubs and paint them!
So here she is as of 8/24/12: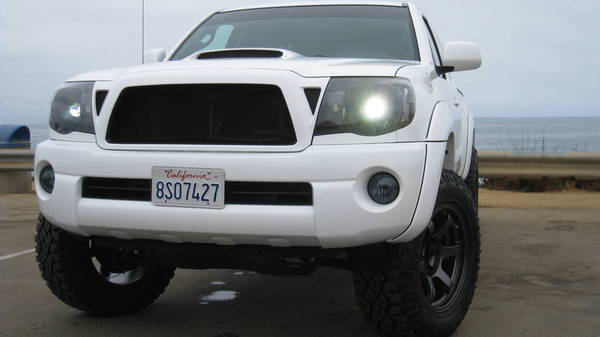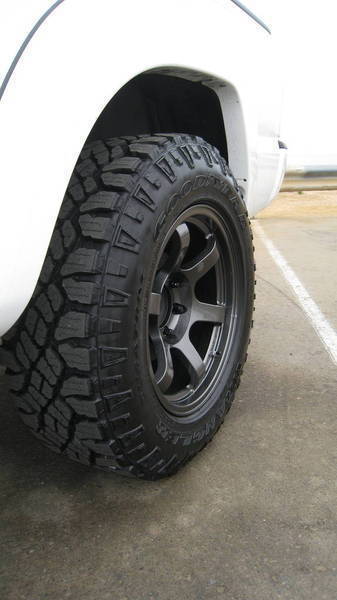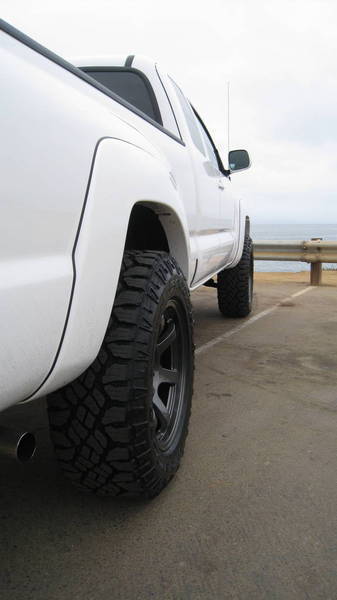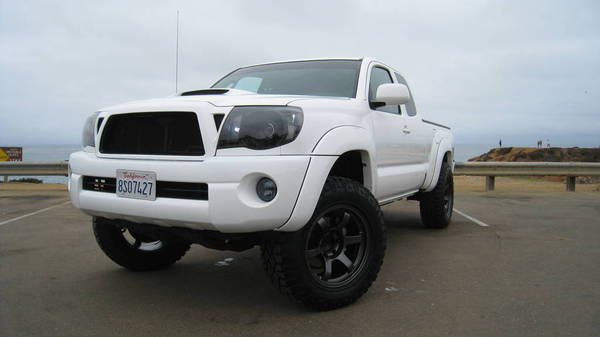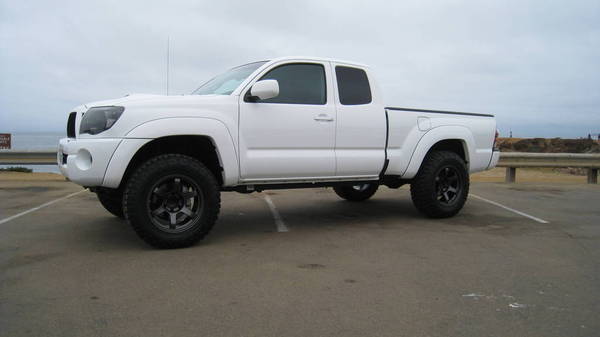 8/28/12
New Built Right UCA's from The Truck Shop SD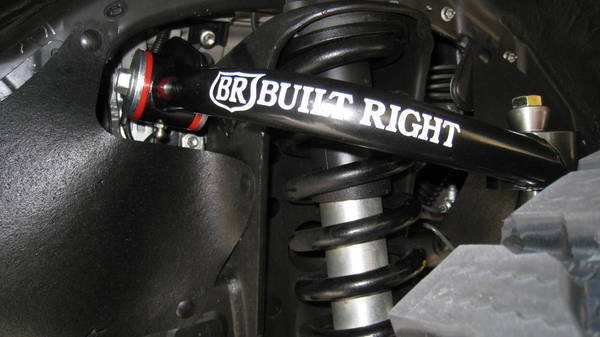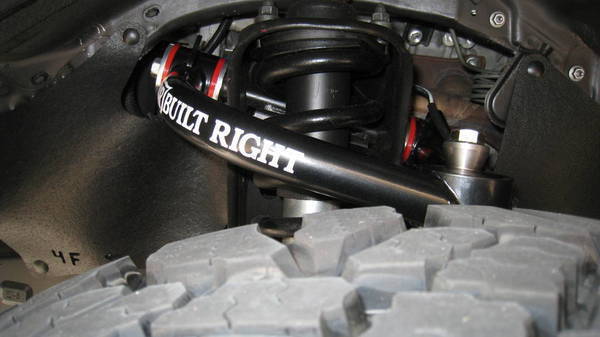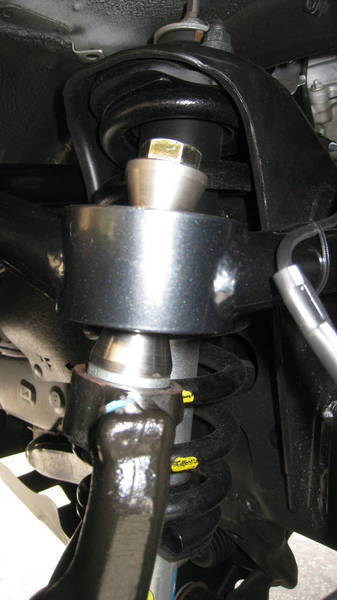 10/10/12: GO TO
PAGE 2
TO SEE MY FINISHED INTERIOR PAINTING
4/2/13: New Suspension on
Page 3