Soooooooo I have been on here for a month or two and figured I should start one of these... So here goes!
I have owned Toyota's in the past (sadly all have gone the way of the junk yard) and most recently I owned a 2007 Jeep Grand Cherokee.
I loved my Jeep, but was seriously pissed off with Chrylser's cheap ass Transmission/T-case/suspension.
So faced with $6k in "repairs" and after much deliberation I traded my Heep in for a Used '08 Silver TRD-OR Access Cab, 6Spd Manual Tranny, 4x4 Fun box!
Current Pic...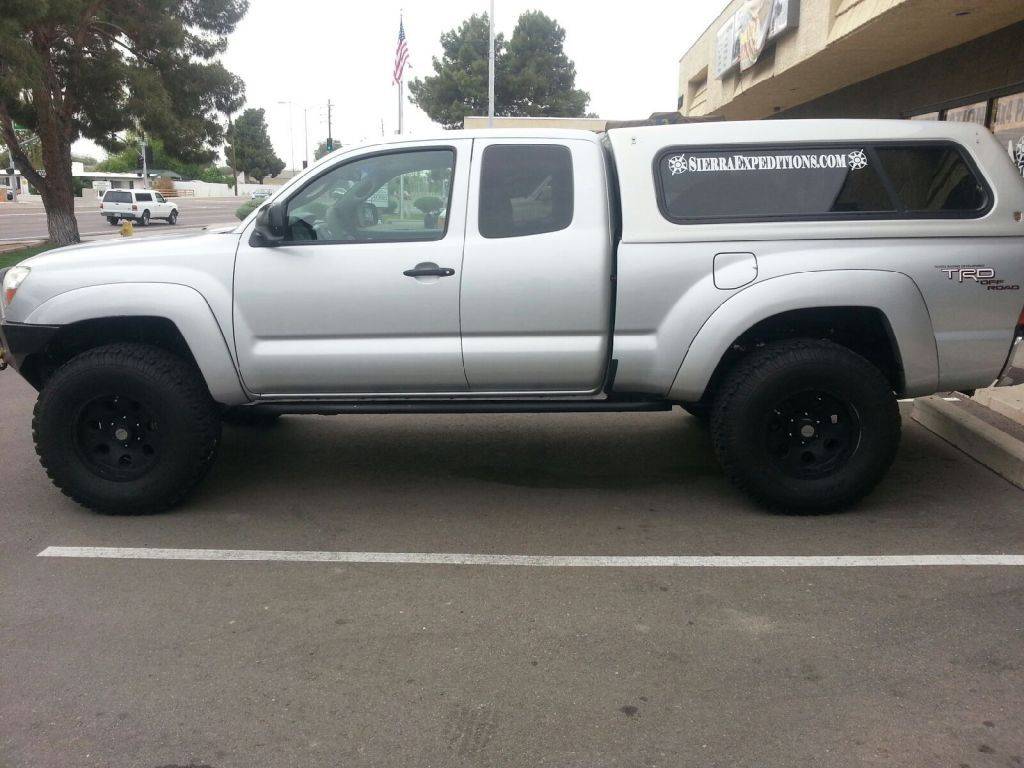 Here is a pic of my Heep...
Here is a pic of my Truck 2 days after I got it.
As you can see, it came with some goodies attached...
MODS INSTALLED:
OME886's with Nitro-Sport struts (
www.sierraexpeditions.com
)
Icon
Rear 2.0 W/resi Shocks (
www.sierraexpeditions.com
)
Rear Add-a-Leaf-(prev. owner)
Bed Cover w/camping set up in back-(prev. owner)
Rims, 16x8
Discount Tire
Specials.... -(prev. owner)
295/75R16 BFG AT's OR 265/70R16 Terra Grapplers
Installed by Me/local buddies:
ELITE Offroad Front Plate Bumper (Thanks Hitmans.army!)
AVID OFFROAD
weld on Sliders - (These guys f'in Rock. Buy their products!)
Rear-Diff extended Breather relocated to gas cap.
Anytime fog lights
Anytime Rear Locker (FINISHED -
helpful thread
)
ARB switches
Dash LED swap out - (Thanks TacoSunday!
thread
,
pics
)
Alpine Double Din Stereo. With Steering wheel controls.
THINGS TO COME!!!:
Backup Camera!
Rear set of OME Dakar's with the D28XL, and Resi extended travel shocks.
UCA's
AFE Stage 2 intake
CB Radio
Safariland Snorkel
Armor - Still need a full set of skids.
URD
Exhaust
URD Performance Y-pipe
Headers
MT Setup
Someday....possibly an S/C. But only after i am satisfied with the above items.
PICS!!!!
Avid Sliders!