Here's a table of contents for my build, there are more pictures throughout the thread, but the links below are some of the highlights.
Onboard Co2 install and Auxillary Fused relay panel install
Wheeling pics from South Padre and Mill Creek OHV, Fayetteville Arkansas
Wheeling pics from Matagorda
Home truck maintenance setup
Hardwired dash cam install
Fire extinguisher install
Snorkel mod
Wheeling at Shiloh Ridge, January 2014
Scrub bar build
Front diff with 4.10's and an ARB install
Wheeling at Shiloh Ridge March 2014

Trailer brake controller install
Superwinch Tiger Shark 9500 install
SPC Light Racing UCA Spec Ride bushing install
Feneix Titan-X 5 LED install in ARB bumper (Replacement for the turn signals in the old style ARB)
As she sits today 12/5/13
Here she is the day after I bought her. I drove to Dallas to pick up a bike that I was having restored the day after I got the truck.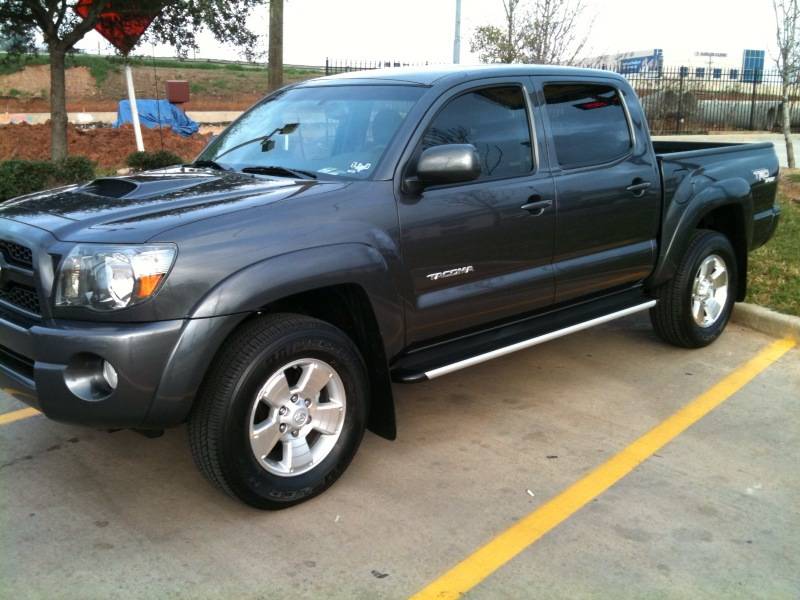 My Colorado that I traded in. It was a good truck, but I needed something more.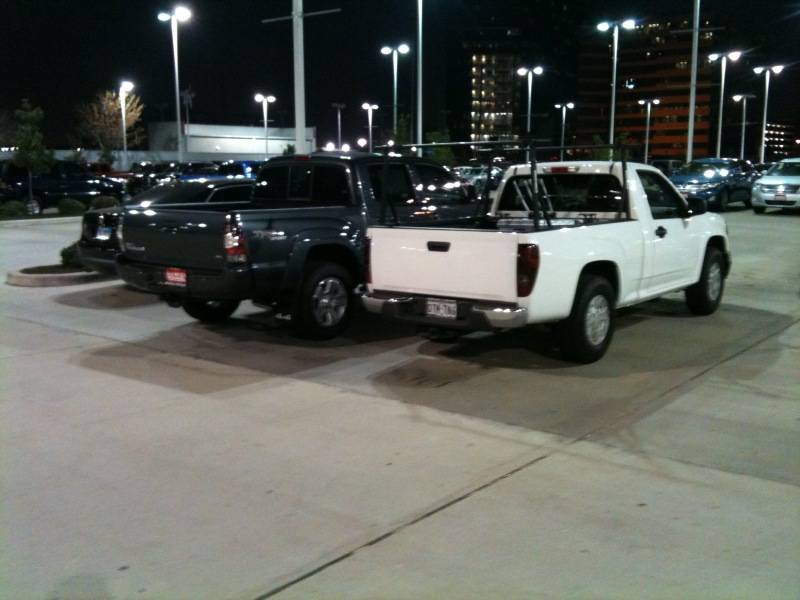 2011 Tacoma TRD Sport
Suspension:
- OME lift
- 886 coils up front
- Dakar's out back
- Lightracing upper control arms
- Spidertech 1.5" spacers
- ATO traction bar
- Swaybar delete
Armor:
- ARB front bumper
-
Bruteforcefab
rear bumper
-
Beefed Sliders
- Custom built scrub bars (courtesy of Colinb and Overland Off-road)
-
Allpro
IFS skid waiting to be installed
Winch
- Superwinch Tiger Shark 9500
Lighting
- Hella 700FF converted to 55w HID
- LED bed lights (Old ones died, need to redo them)
Electrical
- Autorod Controls fused relay panel
-
Tacoma tech deck
Tires
- General Grabber 33x12.5x17
Drivetrain
- 4.10's
- ARB RD111 (front)
- ARB RD129 (rear)
- ARB CKSA12 compressor
Interior
-
Weathertech
digital fit floor liners (had to trim the driver floormat to clear the clutch)
- Wet Okole seat covers (All black with red TRD logo)
Body
-
Fender flares removed
(My thread on making plugs to fill the holes)
Completed mods


- Snorkel mod
- Superwinch Tiger shark 9500 installed
Future mods
- Possibly swap out the rear bumper for a high clearance from Bruteforce (Will need an air powered sheet metal shear for that one)
- Recovery points on the ARB (There is a bolt on option)
- Roof rack
- Weld up the crack in the bed from my tire carrier
- Build a vertical tire carrier for the bed that doesn't use the bedside
To-Do list
- Big 3 upgrade
- Cut up my fenders
Beefed Sliders
I was very impressed with the design of these sliders. The main selling point was the location of the legs that connect to the frame. There is no significant overhang on either end of the slider.