As the title states, I don't even know where this is going. it could die, it could become a monster...only time will tell. All I do know is that I'm addicted to my Tacoma and this feels like the appropriate place to talk about it and the mods I'm planning ad nauseam. I'm kinda looking for ideas from other people. I'm not really sure what I want him to look like although i kind have some ideas thanks to this site. I do some construction work and other things that require me to use the bed of the truck so he still needs to remain fairly functional however I want to be able to do some moderate wheelin'.
Here's how he looks now with the new grill.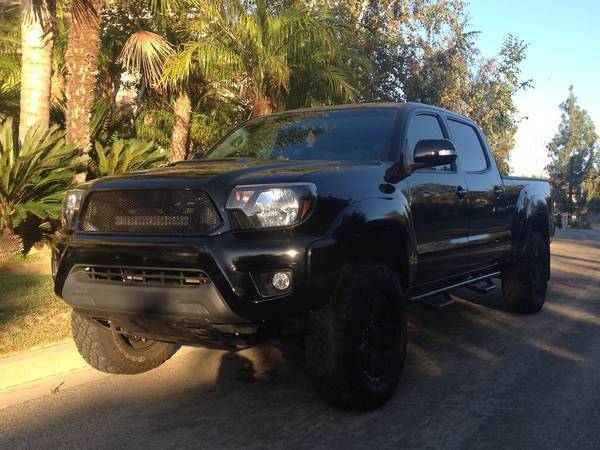 NAME:
Martholomew "Get your damn hands off her" McFly. AKA: Marty, Marticus Maximus, Martin, Martín, etc...

VEHICLE SPECS:
2013 Tacoma DCLB
4.0L V6 Automatic
TRD Sport PreRunner

SUSPENSION:
Bilstein 5100's w/stock sport coils and 1/4" spacer on driver side.
Sway bar delete (Link to Post)

WHEELS/TIRES:
TRD Sport 17" - 265/70/17 Goodyear Wrangler Duratrac (Link to Post)

EXTERIOR:
Tinted windows
OEM skid plate painted black
Tailgate theft protection (Link to Post)
Painted Wheels and Badges (Link to Post) Current look
Blacked out badges (Link to Post) Old look
Ultragauge
Flyzeye 3VP-RS LED strip for center console
LED dome and map lights

LIGHTING:
Anytime fog mod - Read my thread about why not to use a quick splice for this mod: http://www.tacomaworld.com/forum/lig...-all-time.html

Electrical:
TacomaPros.com mounting plate from member Yotamac. (Link to Post)
Raptor 180A circuit breaker
BlueSea fuse panel.

FUTURE:
Redline Hood struts
New Wheels
Rear leaf springs
Front/rear bumper...Don't know what I want yet but considering Pelfreybilt.
HID Retros

Power sliding window assembly: Dorman 741-687 Ford Lincoln Town Car Front Passenger Side Window Regulator with Motor



So here he is. This first pic is kinda crappy, it was from the second day I had him. Damn, he's a sexy bitch!