Here she is stock;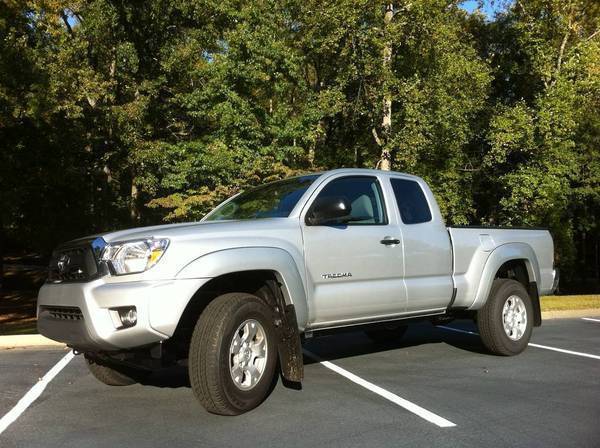 I'm the proud owner of a 2013 Tacoma. LOVE it! But we pulled money from savings to pay-off the wife's Jeep, and to make a downpayment on the truck...so my mods are going to have to start out very modestly.
The wife was very uncomfortable in the truck because the headrest is angled so severely, it pushed her head forward and down. So I removed the headrests, and placed one leg (wrapped in a small towel) into a vice, locked it down tightly, and bent the chrome leg into a more upright position. I then placed the other leg into the vice and bent it to match. She is MUCH more comfortable now.
Below is a pic before I bent the driver's side headrest to match. The left headrest is factory, the right headrest has been bent to her comfort.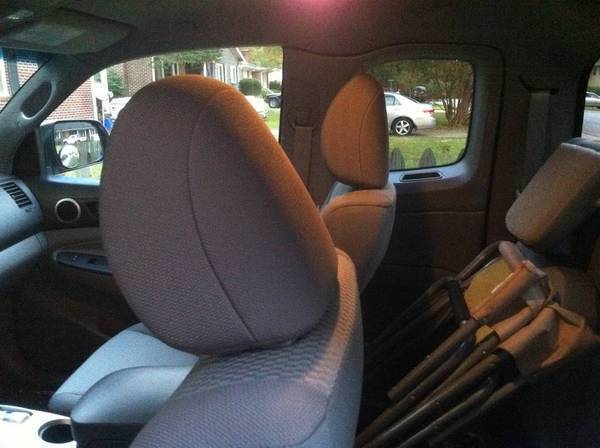 After that, I de-badged the truck. I used waxed string to cut the badges free. I then used the adhesive remover
Goo-Gone
and a microfiber towel to to remove the remaining adhesive tape. Now the truck looks nice and clean.
__________________________________________________ __________________________________________________ _______________
As practice for the black head-light and tail-light mods, I attacked the 3rd tail light. I removed the 3rd tail light lense wit ha T10 star bit.
I used a word processing program to print-out "TACO" in a large font that I liked. I think the letters ended up being 130 point in size, but fonts vary, so play around with the font of your choice and see what it looks like by holding it in the lense itself.
I then placed two pieces of frog tape lightly down onto a plywood cutting board (I used two strips to make it tall enough to fit the lettering but still be small enough to fit inside the lense, they overlapped slightly).
Next, I placed the paper with the printed-out "TACO" face down on top of the frog tape and taped it down so it would not shift. Then using an x-acto knife I cut the outlines of the letters. I then removed the paper.
I placed a third piece of frog tape over the letters so that I could gently peel-up the two original pieces, and also hold the letters in place.
I then positioned this home-made stencil into the inside of the lense. Once positioned, I pressed down firmly on the letters. I then removed the two pieces of tape carefully leaving the cut-out letters behind, stuck to the inside of the lense like this;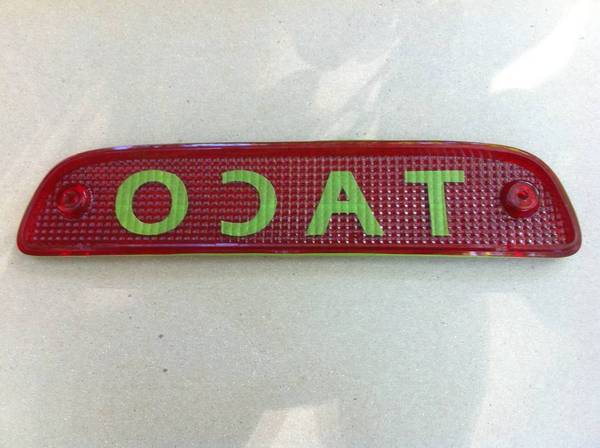 I then masked-off the outside of the lense completely to protect it from overspray. I then used Rust-oleum painter's touch flat black for plastic. Pic below;
I put down three light flat-black coats, allowing it to dry between each coat. It's fast drying, and on a sunny day it took maybe 10 minutes tops between coats. It will end-up looking like this;
After the final coat had dried, I took the lense inside and gently lifted-up the edges of the letters with my x-acto knife and removed the letters by hand;
So here is the finished 3rd tail light;
Here it is mounted in the daytime. You can slightly see the word when you are close to the truck during the day, but if you are 25 feet or more away from the truck, all you see is black. Just squint at the picture below and you will see what I mean...the red and black just blend together;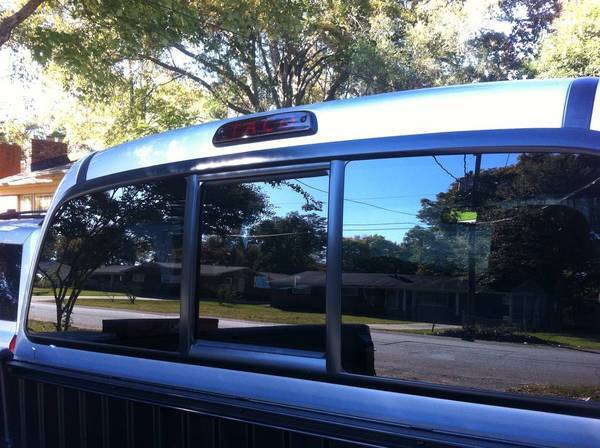 And of course the obligatory night-time shot. (The wife was kind enough to come outside and step on the brake pedal so I could take this shot.);