OK, so right off the bat I admit that it's not 100% functional... there is definitely a little fun mixed in. But I've always thought of the Tacoma as kind of the swiss army knife of trucks, and I suppose I've tried to expound on that a bit. Also, beside the other beasts on this forum, this is a pretty tame "build", if you can even call it that. It's just nice having a little timeline of mods in a single place like this.
Current List of Mod's
:
EGR Aerowrap
Bug Deflector
Undercover
Classic
Tonneau Cover
Console Vault Custom Safe
Britax Boulevard 70 Baby Seat (Mmmm Hmmmm!)
Retro TRD Shift Knob
Factory Bed Mat
Rear Leaf TSB
TRD Grille Emblem
265/75-16 Load Range E BFG All-Terrian KO's
Matte Black KMC Enduro Wheels
Front and Rear Bilstein 5100 Shocks
Eibach Coils (w/ Front 5100's set @ 0")
OEM Roof Rack
Antennax 14" Billet Antenna
This is how she sits today: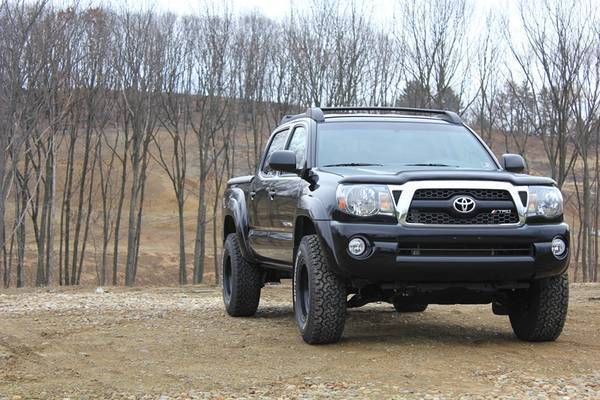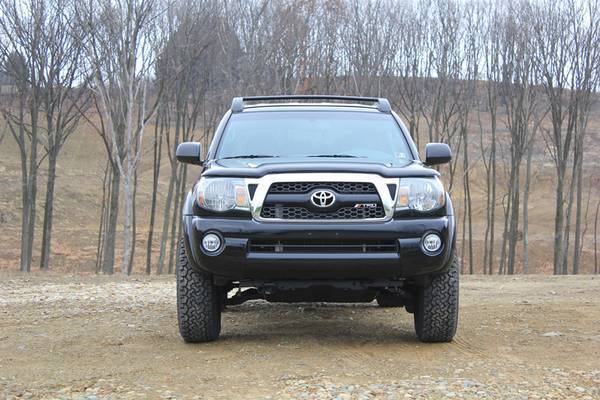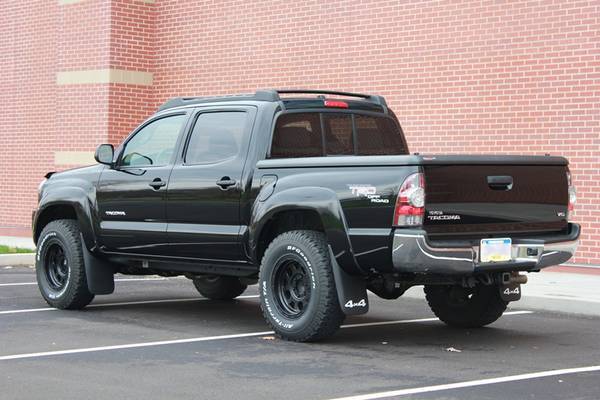 The day I said goodbye to my beige baby. The photo below is the last time I saw her.
It was sad, but necessary with a baby on the way. Jamming an infant in the tool box didn't seem quite... appropriate.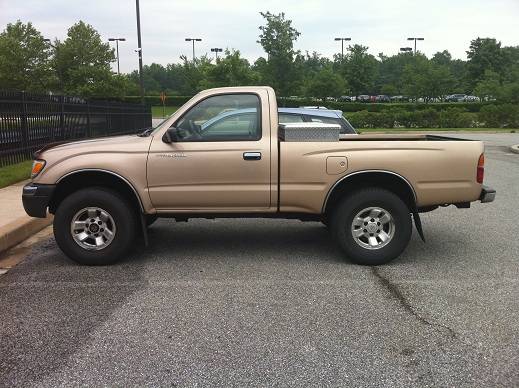 The good news is that I was able to compromise on a 2011 double cab, short bed TRD Offroad Tacoma as a good baby-friendly substitute (could not comprehend a mini-van purchase). Shortly after the tsunami/Fukushima event, however certain pigments of Toyota's paint (specifically black) were no longer being produced by the Japanese suppliers, so I couldn't find a black Tacoma with these options in Western PA believe it or not. I had to drive to a dealership in Maryland (Laurel Toyota), but it actually turned out to be a fun road trip with the wife. The day I bought her...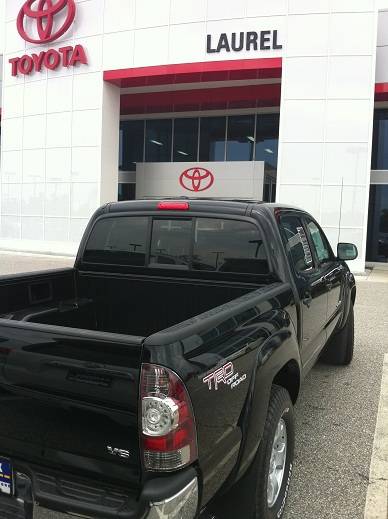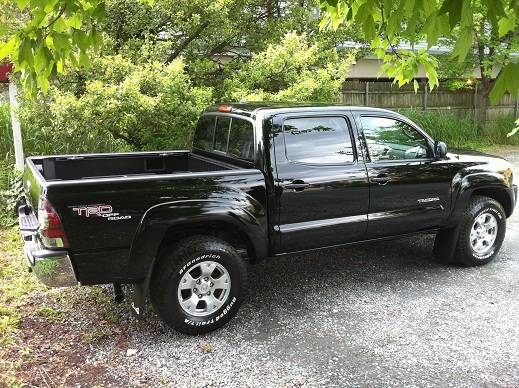 First addition was an EGR Aerowrap bug deflector...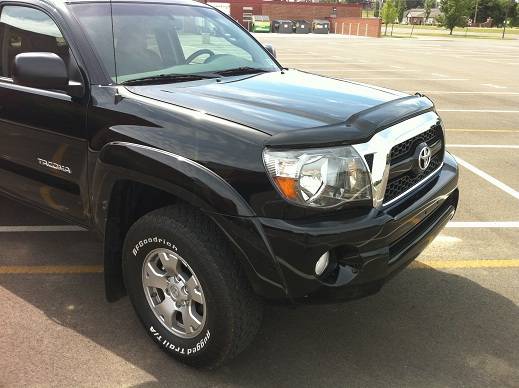 Then came an Undercover Classic Tonneau cover...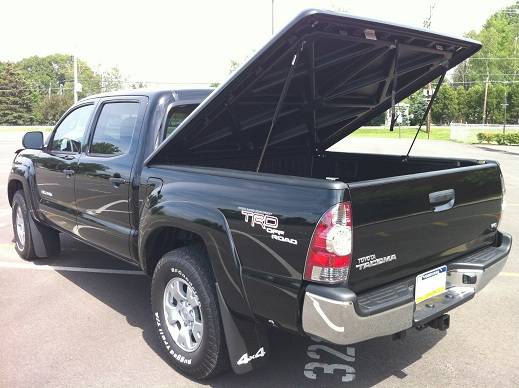 Next up, maybe the most important mod in many ways... The Britax Boulevard 70 baby seat
...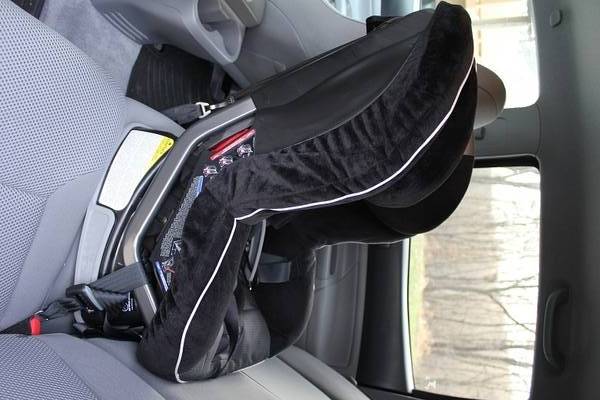 I wanted to be able to have a way to securely keep "things" in my truck so I opted for the console vault. Love it!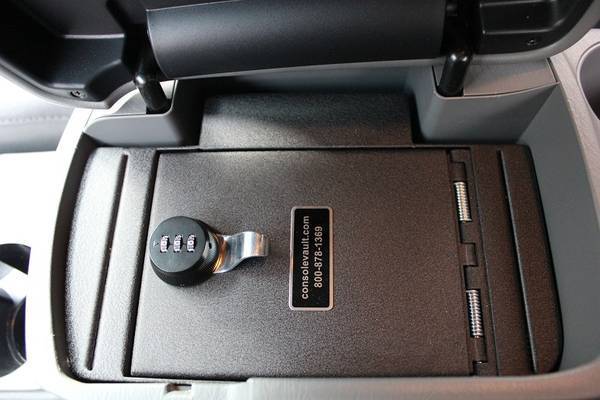 Did not like the factory leather-wrapped shift knob. Especially the shape of it. Replaced it with this retro light grey TRD 6-speed knob, which is amazing IMO...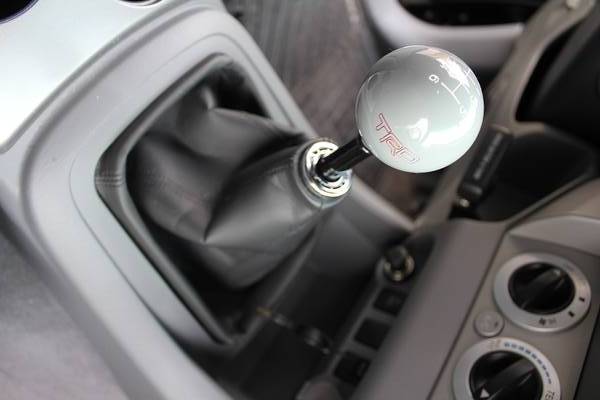 TSB leaf springs came next (replaced at a local dealer under warranty)...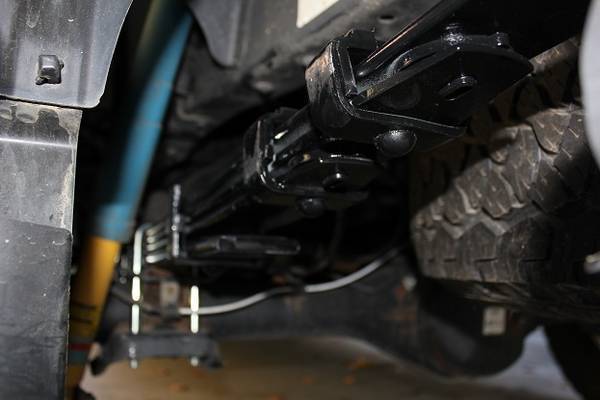 Threw a TRD emblem on the grille to set it off a bit. Just a lil sumpin sumpin. Thanks to Benson_X for giving me the idea in this thread:
http://www.tacomaworld.com/forum/2nd...ort-grill.html
... Used his "plumber's tape" brackets" technique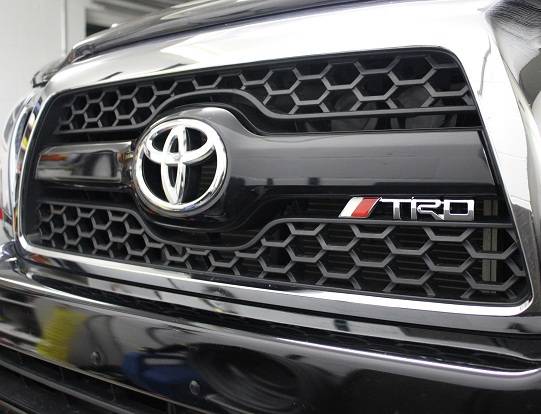 And finally the good stuff. BFG All-Terrain's in 265/75-16 (white letters out baby!), matte black KMC enduros, 5100's x 4 with fronts set at 0" and Eibach springs. All put on at the same time. Can you imagine the anticipation when I had all this crap laying in my garage??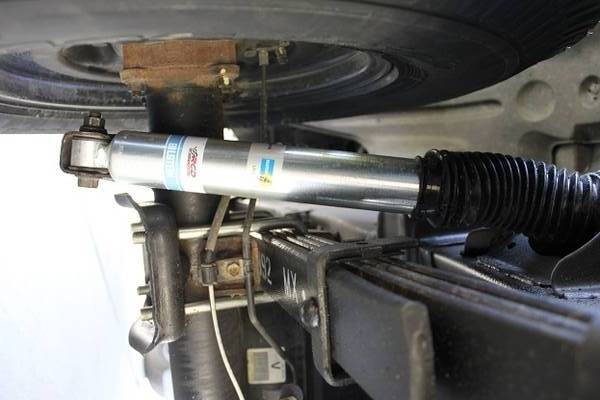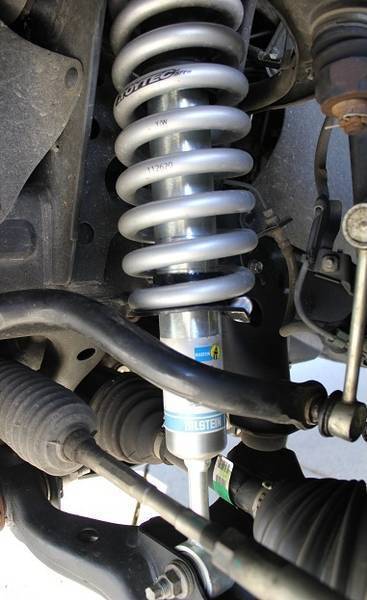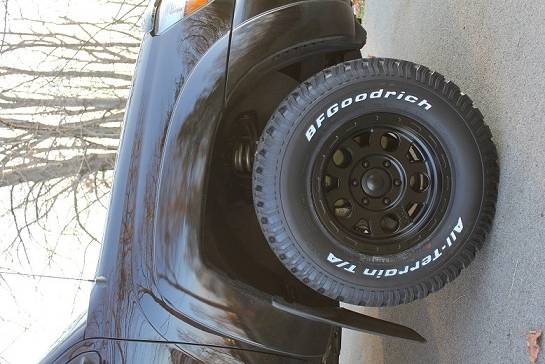 Leveled the truck out quite nicely. Last measurement showed about 0.5" higher in the rear max. Eibach's gave right around the 1.6" of advertised lift. Love the ride...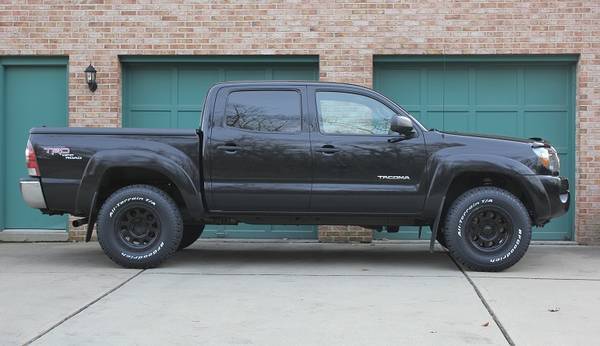 The wheels (steel) and tires (load range E) are a much heavier set-up than what was on there previously, and the offset pushed the tires out a bit as well. The handling difference is amazing.
Next the good 'ol factory Tacoma roof rack (an early Christmas present!!) ...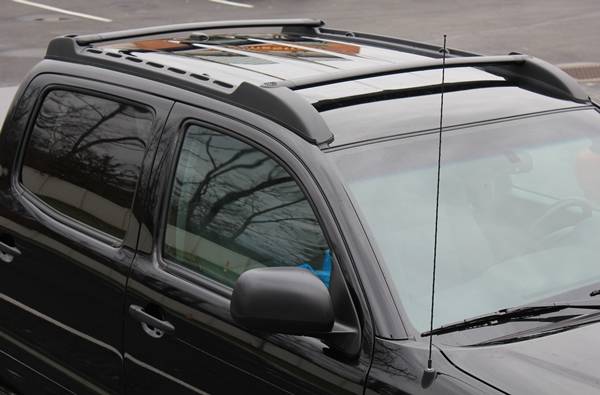 And that brings us up to date...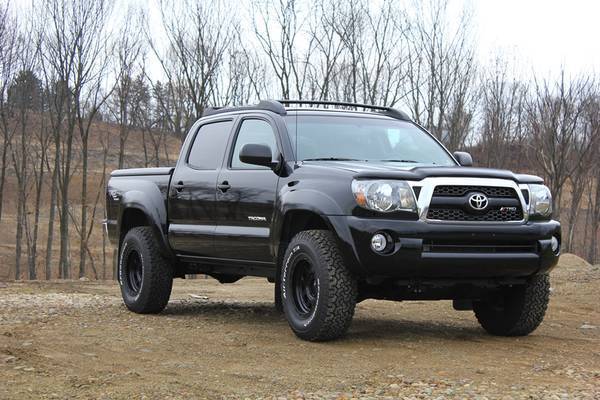 Stay tuned...