At the recent request of others (and peer pressure
) I will now start my build thread.
As of 5.10.14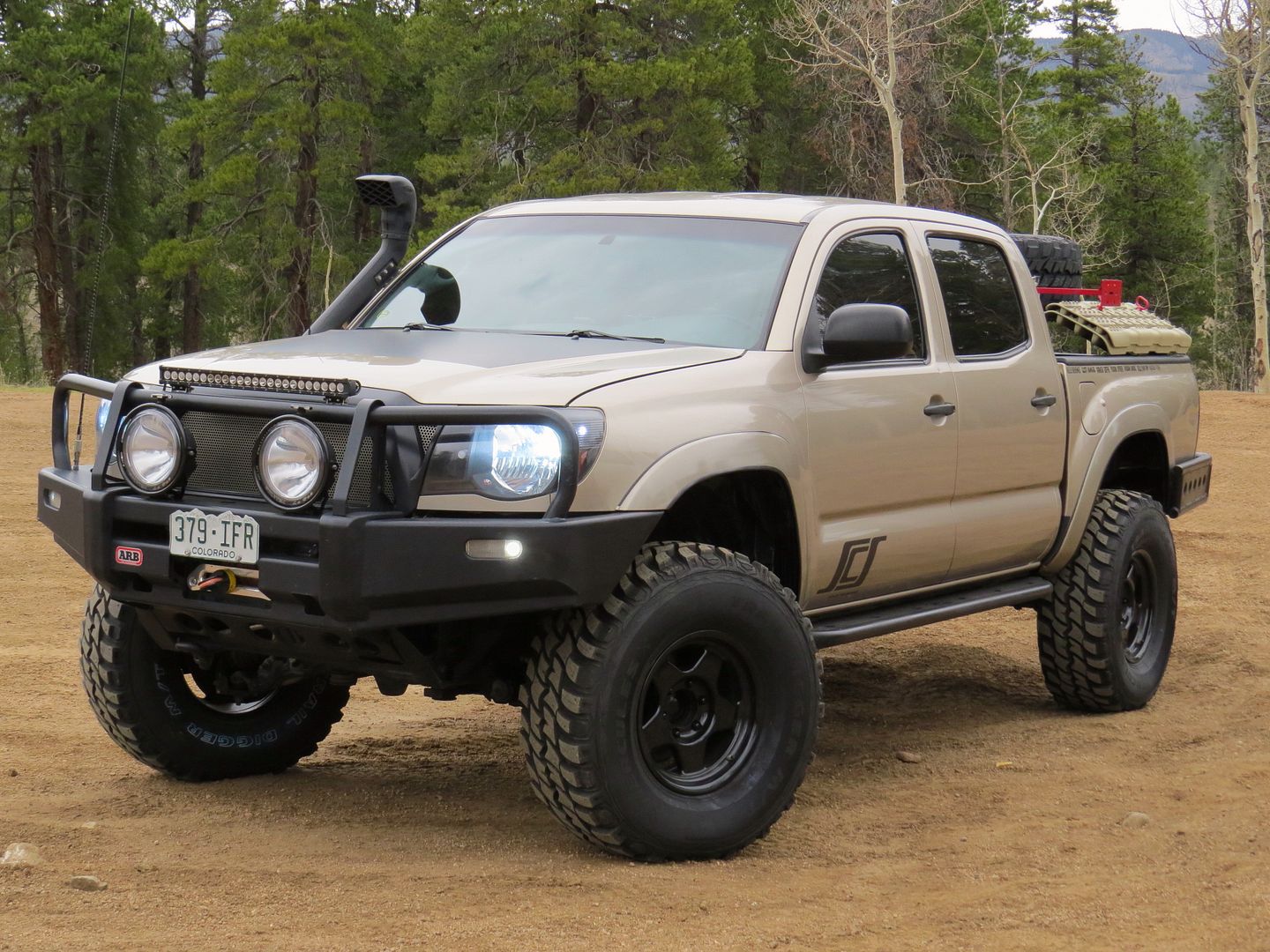 Some more recent shots now (6.2013)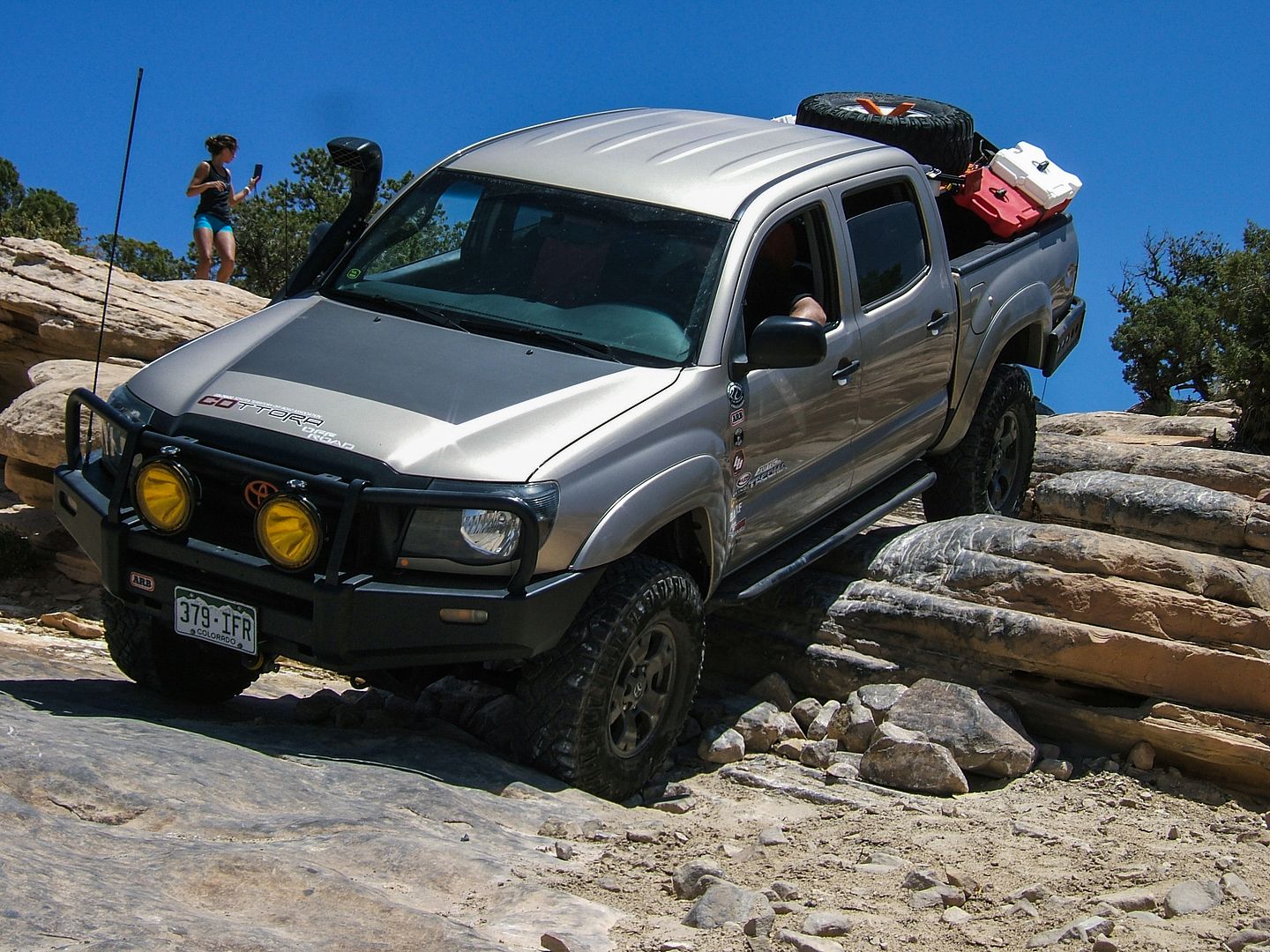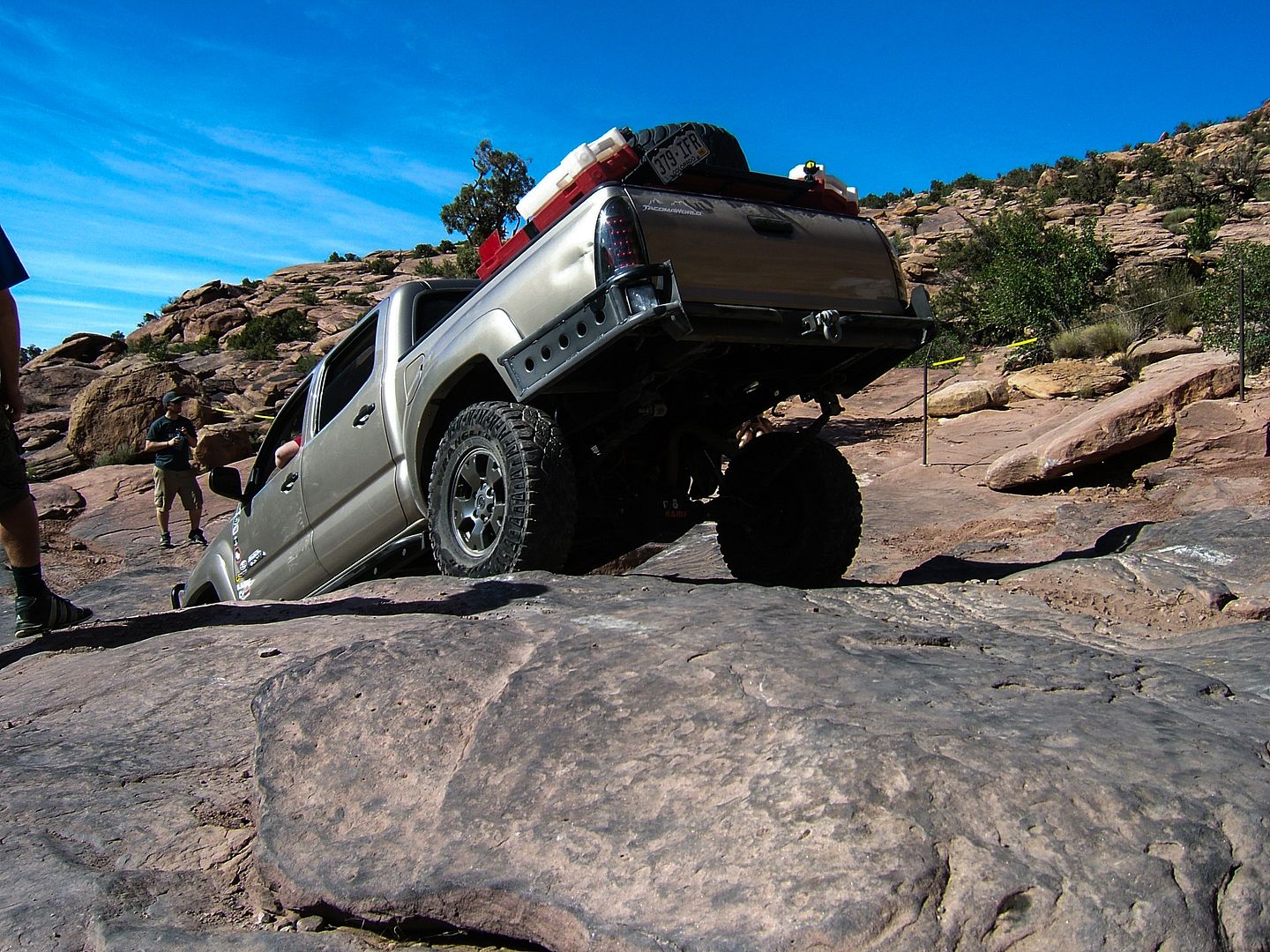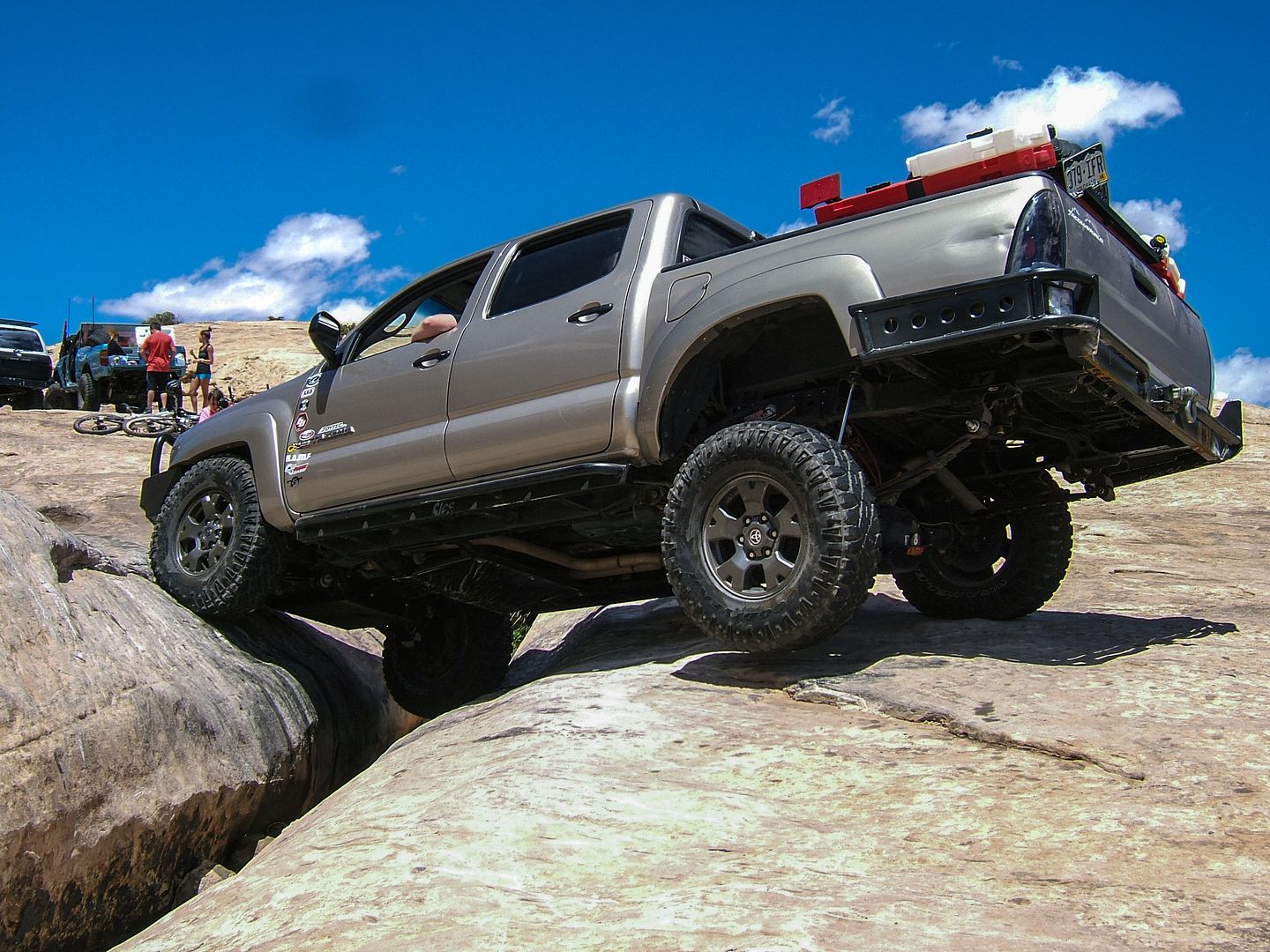 It all started in 2007 with the purchase of my first truck. A Toyota none the less.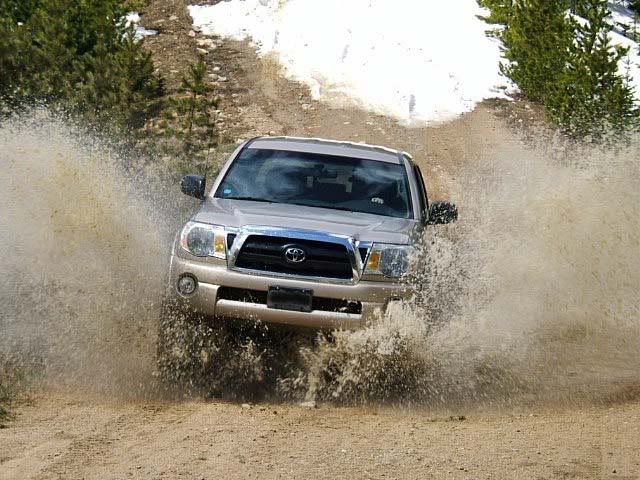 This is after spacer lift, sliders, and 285 Mickey Thompson's
And this would be as she sits today:
So now I will attempt to list all of my mods from memory. Obviously I am old so I will come back and update them as I recall them all.
Suspension

Toytec
BOSS Adjustable coilovers with 600lb. Eibach Springs
Light Racing UCA's
Sway bar recycled
Custom Alcan leaf springs designed for shackle flip and Expedition weight
Freelance Fabrication Shackle Flips
Defined Engineering extended length greasable shackles
Greasable bolts on entire rear spring set up
5110 Tundra Billies
AP U bolt Flip kit
Fox 4 inch air bumps in Total Chaos bump can brackets
Wheeler extended brake lines
Wheels

SCS F-5 Gloss Black with 4.5" BS
BORA .75" spacers
315/75/16 Hercules Trail Digger MT
Engine/Drivetrain

Safari Snorkel kit
K&N drop in filter
Custom Cat back Exhaust
Nitro 4.56 Gears
Pelfrybilt Battery Cage with Die hard Group M31 battery
Armor/Body Mods

**Brand New** Addicted Off Road 2nd Gen Bumper
front Body mounts chopped
Custom fender cutting for 35's
Slee Bolt on Sliders
Custom Rear HC Bumper by Addicted Off Road
Pelfreybilt
Front SKid
AP tranny Skid
ATO T Case Skid
BAMF rear Diff Skid
Custom Designed Bed Rack for Hi-lift, spare tire, and Rotopax so far
Interior

Wet Oakies front seat covers
Weather Tech
floor liners
Custom mount for Garmin GPS
OBD link and Torque Pro App
Pioneer 2600BT Touch Screen Radio
Tundra shifter
Broadway rear mirror
with IMYRGUY mirror relocation
Tint
All interior lights upgraded to LED's
Cobra CB with Tiger 4' antenna mount
Custom level O gauge
Lot's of gear in all the cubbie's
Miscellaneous

Come Up DV-9 9k winch with Factor 55 E Line
Come Up wireless Remote
8" Baja Design Pencil Beam Off Road Lights with DDM 55wt 5000k HID conversions
BHLM with custom extras
DDM HID head light conversion
LED parking Lights
LUX Lighting System Rock Lights
Die Hard Group 31M Battery in
Pelfreybilt Stainless Battery Cage
Blue Sea Fuse Grid
Vivair 400H Air Compressor
Smittybilt
10lb. CO2 Tank mounted
Low Range Off Road version 1.0 AL bed rack prototype
Iron Man RTT
Custom hood strut
Aftermarket LED tail Lights
DDM Tuning LED Back Up Lights
Hidden bottle opener - MUST HAVE
Custom flat black vinyl in spots.
Freelance Fabrication Shackle Flips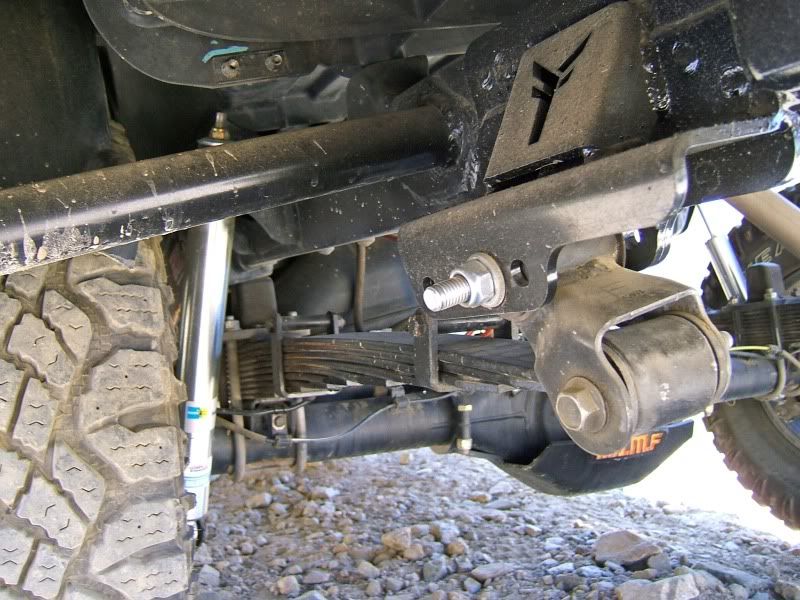 Addicted Off Road Custom Rear bumper
NEW Addicted Off Road Bumper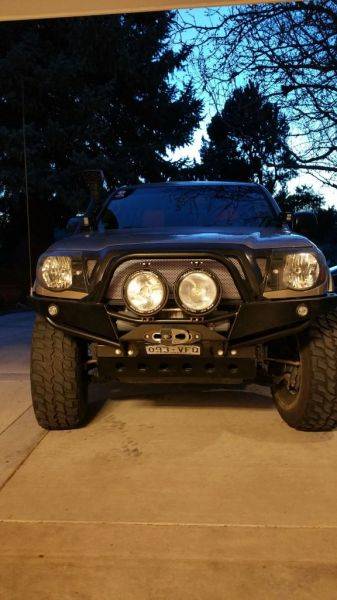 More to come as I remember....................
Wish List or the Future
FJ Case and crawl box
Expedition Truggy Bed
Roll Cage
Racing Seats
Vinyl Wrap - In the works!
More time to wheel it!