2013 Taco MGM TRD Off Road...and so it Begins
Going on a month of ownership, doing first oil change today for fresh oil til 5k.
Some pics...
Delivery just after Hurricane Sandy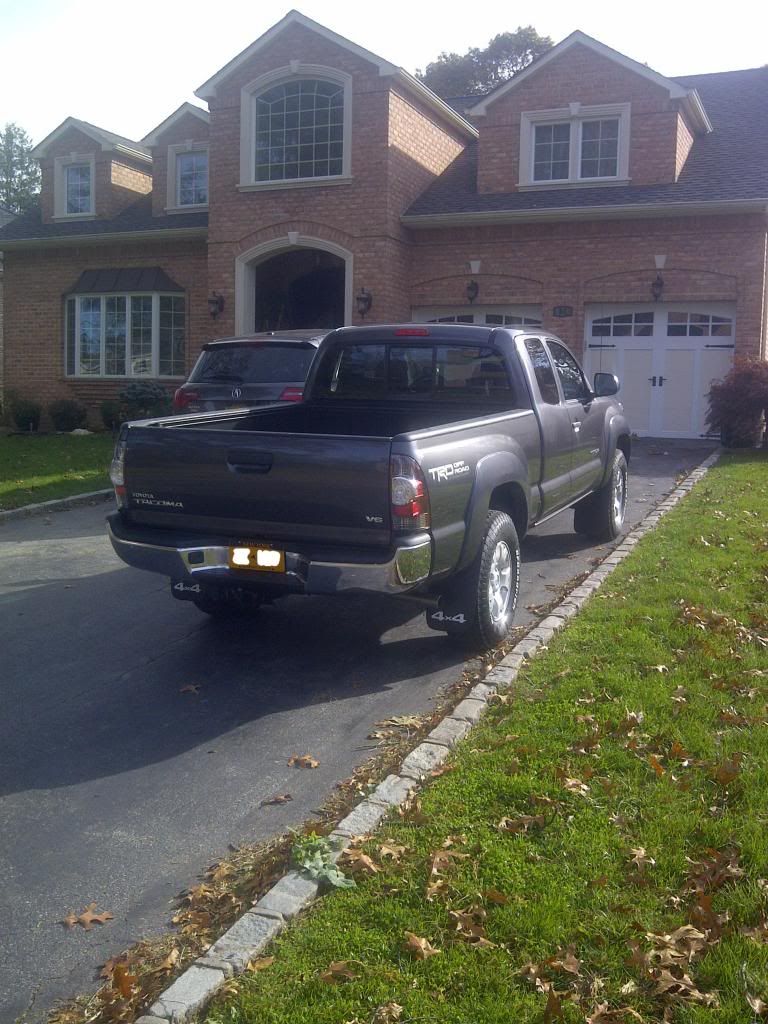 FoldaCover G4 Elite
Tonneau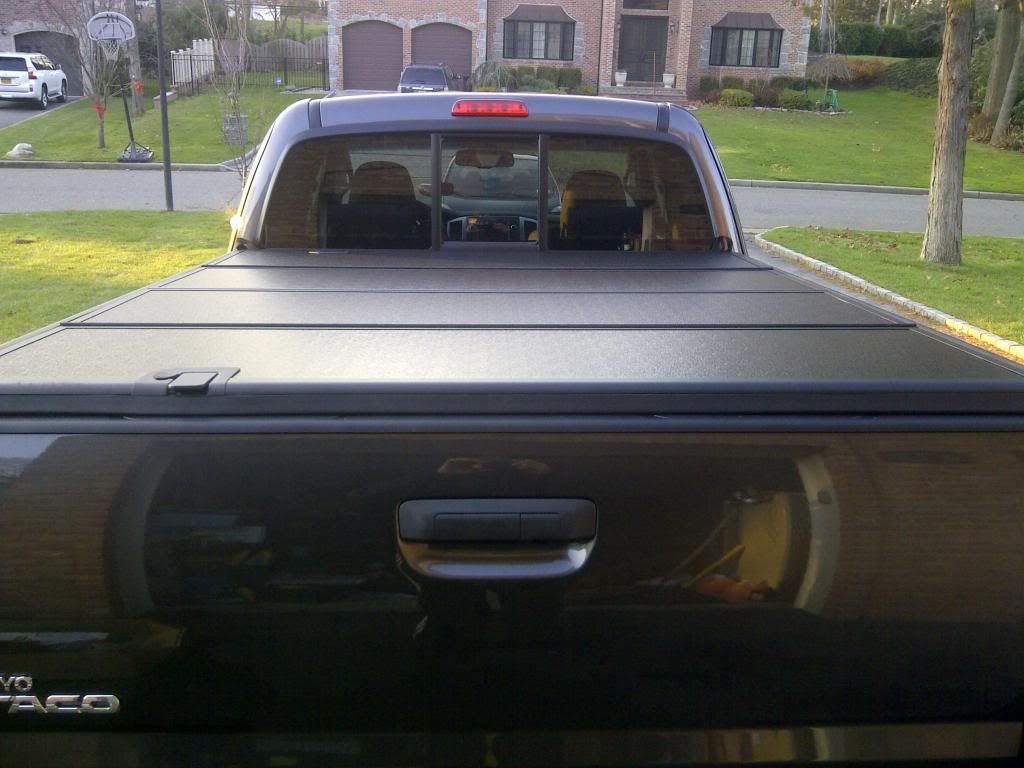 LOL
Aftermath Sandy: Luckily it wasn't the closer tree, otherwise would've been in the living room... some neighbors weren't as lucky...
Keeping warm with no power...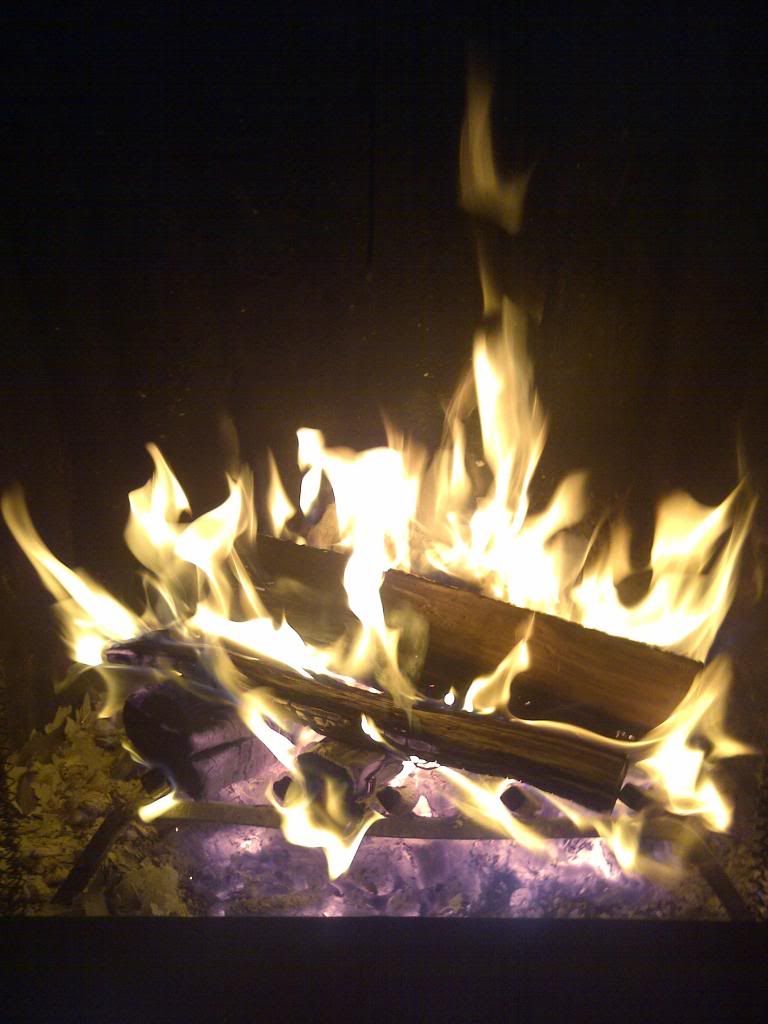 So I've had some interest in the Fold-a-Cover... here are some more detailed pics...sorry about the weather.
Fully folded: Notice you still have the whole rear section of the rails free to insert and remove tie down hardware. if you need the middle and front sections for mounts I suggest installing them at the same time as the mounting hardware for the cover. Secondly you will notice water in the bed but most was from opening and closing the cover. It's not waterproof but it has the potential for it. As long as it is protected from theft, wind, direct rain, and road spray its good for me.
**Also almost forgot to mention, I did the install by myself, took a good while but I did a lot of adjusting and fitment especially with the locking tab. Those of you avg. joe's wondering if you should have someone install it for you, I'm no mechanic and have a hell of a time trying to put together IKEA furniture(girlfriend usually corrects me on those projects) lol but I do alright when I comes to technical stuff, do all my own service and mods, especially when it comes to firearms. I would say I'm handy... no expert. This was no rocket science tho requires patients and a rivet gun... never used one before this.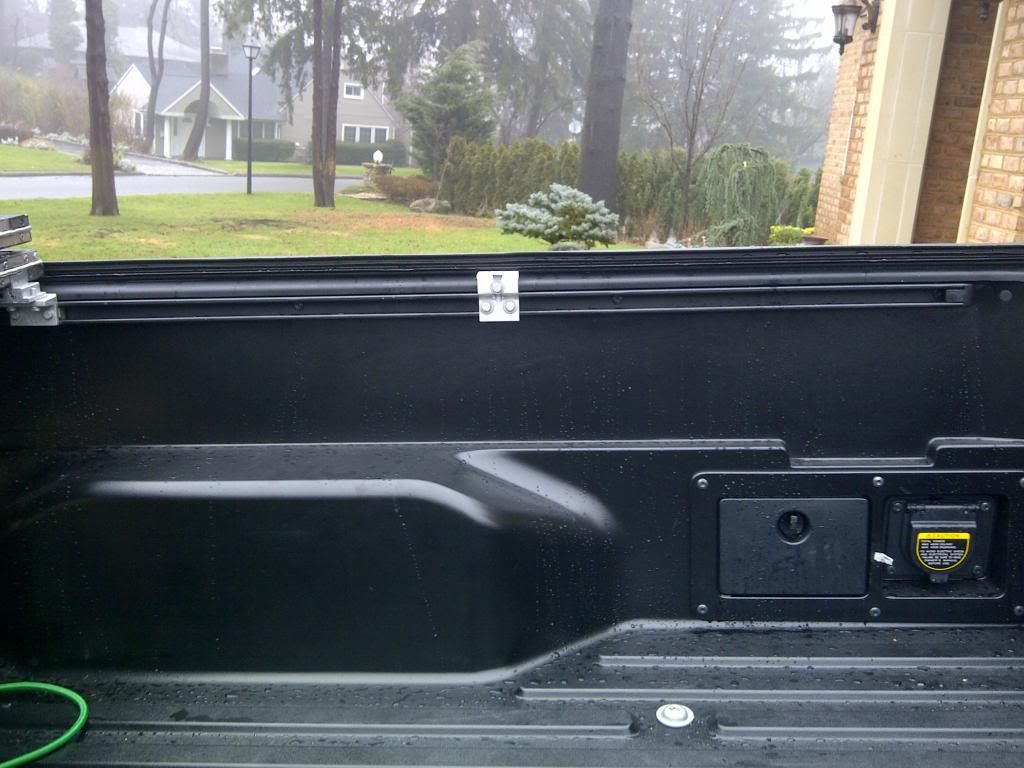 This my only reservation about this cover... the first time I closed the cover I didn't do it properly and tapped the back window with the lock tab. However because that lovely little tab locks the tailgate I just make sure I fold the cover back flat not on an angle.
These are the straps that keep the cover from flopping around if you drive with it open. they are sturdy and don't see them opening, there is one on the other side in the front too so 3 straps. The difference between this and other brands is you don't have that foot extra of space above your bed when folded up but I don't like having my rear view blocked so this was another plus for me but might not be for others... At the same time it's a few bolts and the cover comes off lean it on side of the bed for atv or whatever you may haul. I plan on putting a tool case under the front portion anyway so won't need that extra bed space.
Another view folded open.
Folding: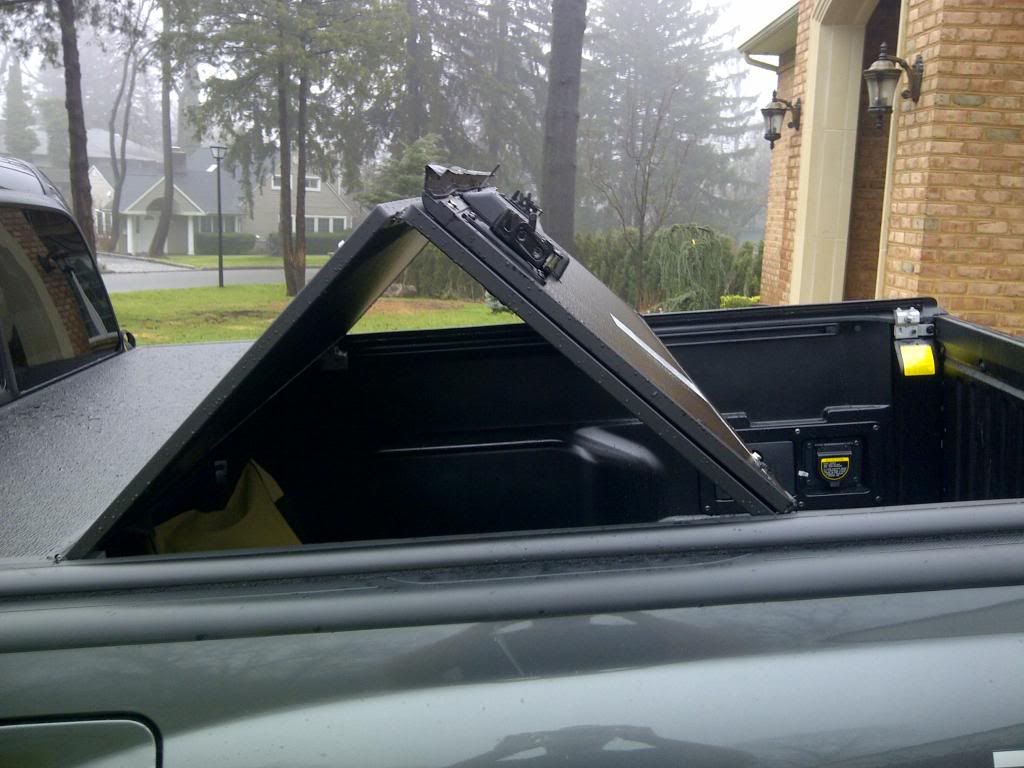 Locking tab. The reason I bought this cover! Need to drill into tailgate to rivet the bracket, a little nerve racking drilling a brand new truck, my neighbor came running over asking what the hell I was doing but if you set everything in place you'll love how this thing locks... I pull the tailgate handle, hear the latch disengage but no movement at all, even tugging at it, it doesn't move. I had to adjust the bed cover a bit to get it to close and lock perfectly, too close and it'll hit or rub the tailgate, too far and you get play.
First fold open.
Lock it up! there are two locks one front one rear. I found at a few instances I wanted to open the front cover from pass side and got pissed but not really a big deal, this or put it in the middle where no one can reach lol Also I carry two sets of keys, one for truck other for house and misc. Its nice it comes with two keys.
My tow/emergency bag, like I said some water will travel through the bedliner but that bag was dry and it's been tied down back there since I installed the cover, never had an issue with it being wet. Also had some gas cans tied down here and the cover fits perfectly over them(5gal. jerry cans and plastic P.O.S jugs, had 30gal worth lined up. fit perfectly.)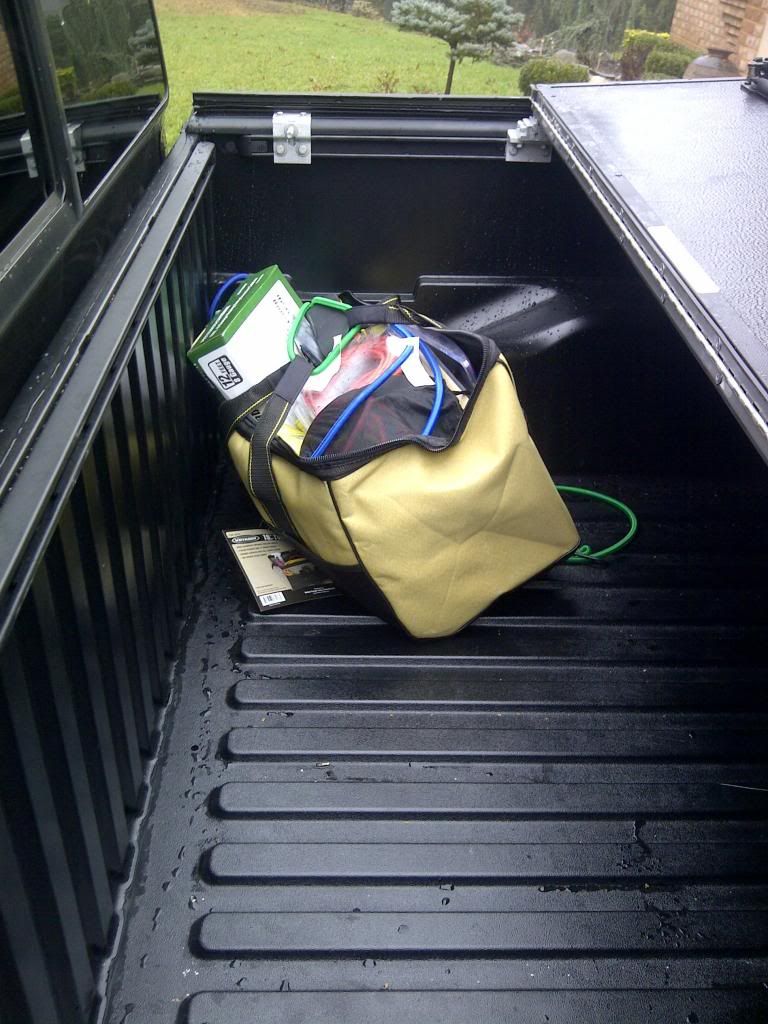 Front Lock. I couldn't seem to get the cover to sit flush here but still sits on the weather stripping inside so no biggy. Also when installing they give two spacers to install between the front mounts and the rails at this location, I found it gave a gap between the bedliner and the rail so I removed them and the rails sit snug on the bed now.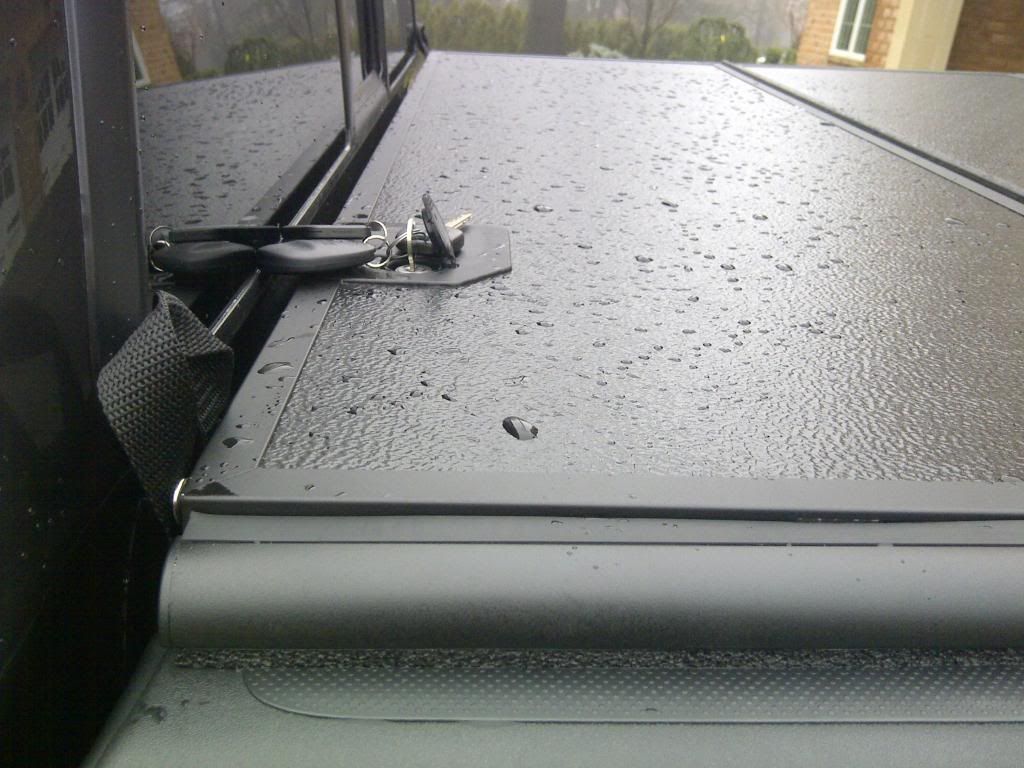 Pass Side Front.
Rear Seal. They give extra stripping so you can cut it as long as you want, as I said I'm not crazy about some water dripping in so just cut it flush.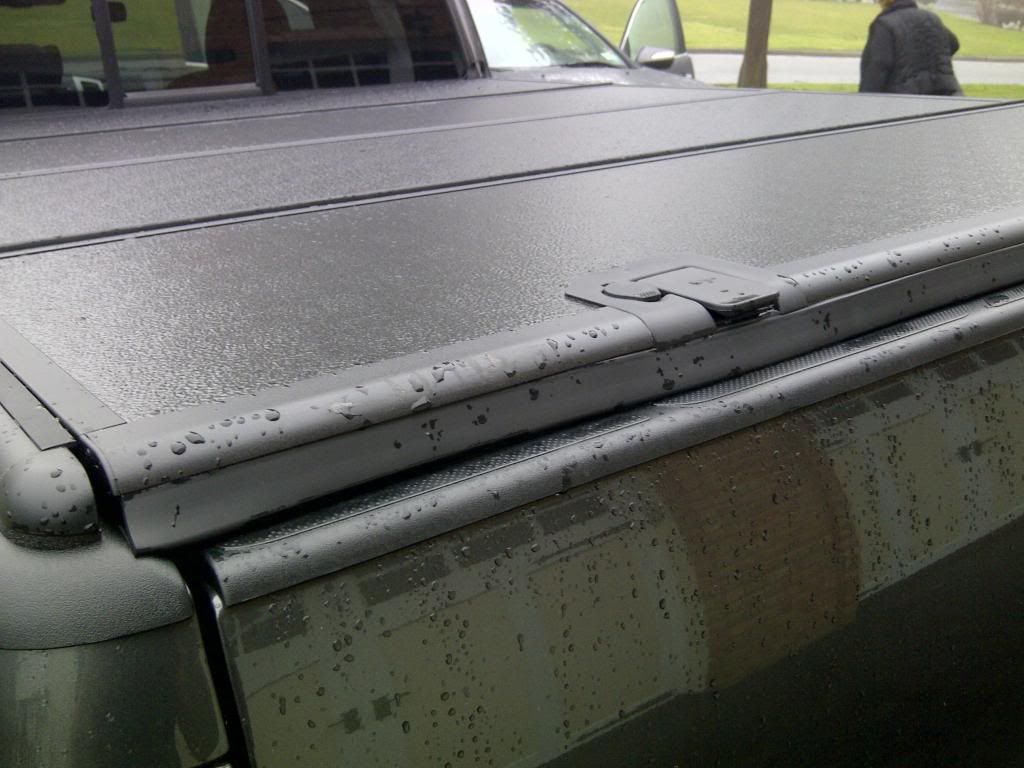 and something to end with... nice side note, crazy ass NYC taxi drivers, this guy was playing emergency vehicle driving up the shoulder, of course I didnt let him pass. Then ensued about 15 min of road rage until I got next to him and screamed to his scared sh*tless passengers not to tip him because he's and a**hole, he then stayed behind me. That's when I snapped this shot lol.