2010 Access Cab Tacoma – North Woods Build -"Made in Maine"
Figured I'd start a build thread to share some of my progress with others on here. What started off as a stock 2010 SR5 Tacoma Access Cab has become much more…. and is still growing. All work and installation on this truck has been done by me, with the exception of a few items like the Line X and Ziebart, after many hours of research and learning from all of you out here on TW. Gotta love the expression... built, not bought.
My ultimate goal is to build a capable expedition/overland rig for use on fishing, hunting, and camping trips. Born and raised in Maine so I have spent many hours in the north woods on fishing and hunting trips and have always wanted a capable trail rig for trip use.
The Parts List
:
Suspension
•Bilstien 5100's all around set at 1.75
•Toyota Leaf Spring TSB
•
Toytec
TSB 1.5" Add A Leaf
•
All Pro
U bolt Flip Kit and Timbren Bump Stops
Wheels and Tires
• 265/75 R16 General Grabber AT2's
• TRD Aluminum Alloy Rims
• Stock Steel wheels (for winter use)
Exterior
• Leer 100 R Cap
• Pop N Lock Tailgate Lock
• Yakima Rack System
• Tractor Supply Cargo Box (misc. tools, recovery gear, tie downs inside)
• Hi Lift Farm Jack
• Line X'd Rocker Panels
• Relentless Fabrication Sliders
• Relentless CB Antenna Mount
• TRD Skid Plate
• Ziebart Rust Proofing and Undercoating
• Hella 700 FF (HID Converted, mounted behind grille)
• Anytime Fog Light Mod
• Hidden Hitch Receiver
• Partial Tailgate DeBadge
• Misc Decals/Stickers, BHLM, Satoshi Grill
Interior
• Weather Tech Floor Liners w/ Tacoma Mats
• Cobra CB w/ PA Horn and firestik II antenna
• Cabela's Seat covers with rifle/shotgun slings
Engine/Transmission
•
Magnaflow
Off Road Pro Series Exhaust 17115
• Hayden Transmission Cooler
• AFE Pro Dry S
Air Filter
Here's how my truck sits today….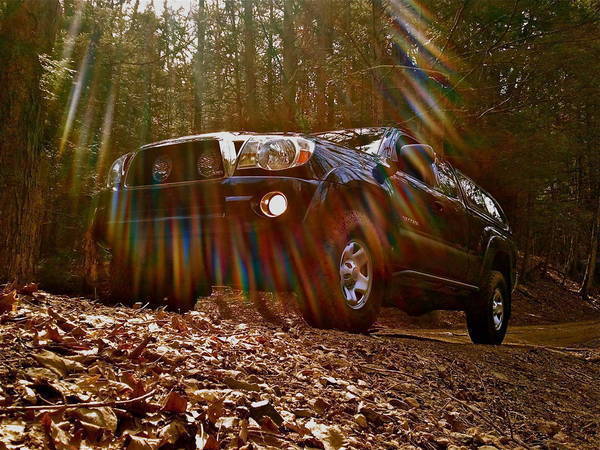 The day I brought it home…. Went right into installing skid, hitch, and
weather techs
that afternoon.
After sitting in the garage for a few months… and researching Tacomaworld… decided I wanted to go with the Bilstien 5100 lift, new wheels, and tires
Before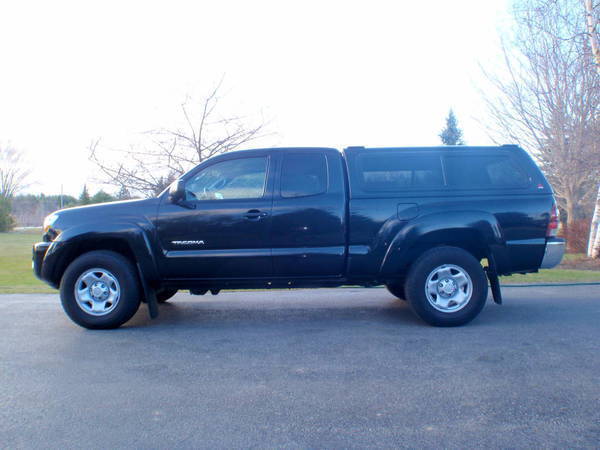 Installation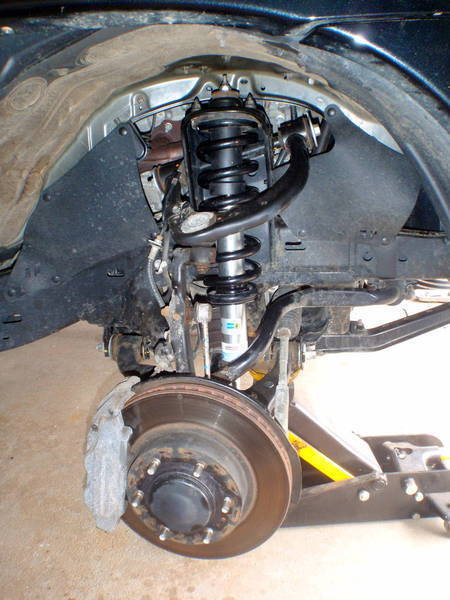 After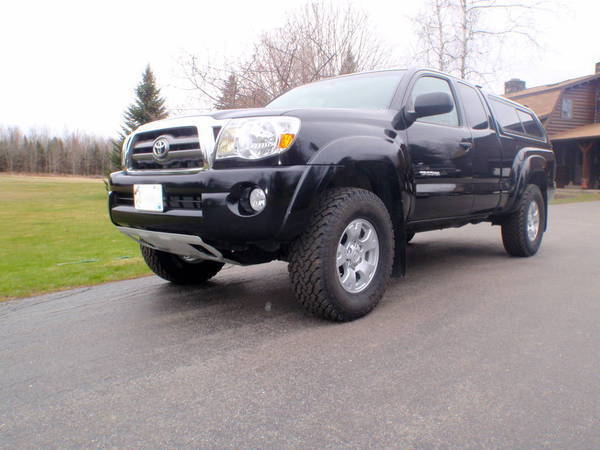 Purchased a Leer 100 R Cap for the back…. Missed the bare pick up look but really liked the functionality of it. Added the yakima cross bar system to the cap and also installed the Pop N Lock for the tailgate .
Loaded for a fishing trip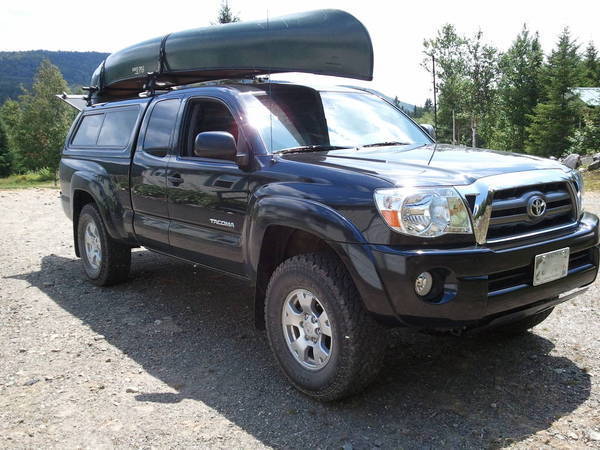 After pounding my Tacoma up and down woods roads over my summer leave, I noticed that the black rockers didn't responded too well from being sandblasted my General Grabbers… only one solution… Line-X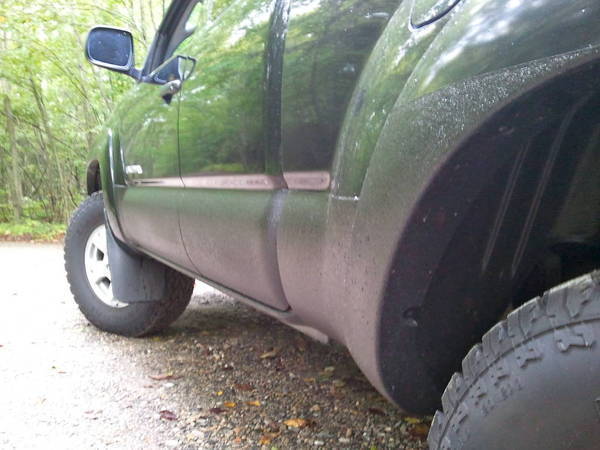 Thanks Line- X of Augusta for doing a great job!
Deer season was soon approaching…. So we needed lights… Hella 700 ff… later to be converted to HID
EDIT: Now converted to behind grille w/ satoshi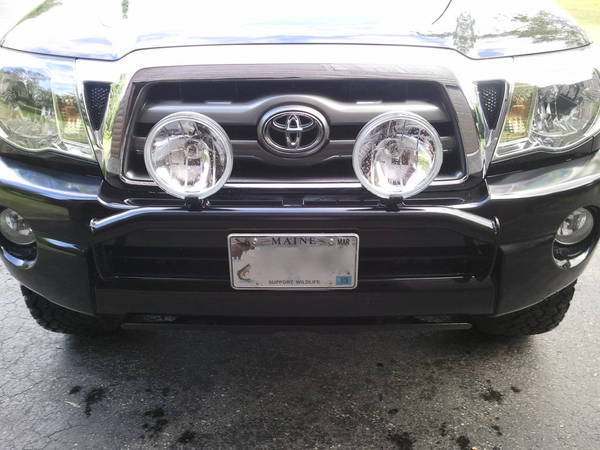 Here's a pic of them fired up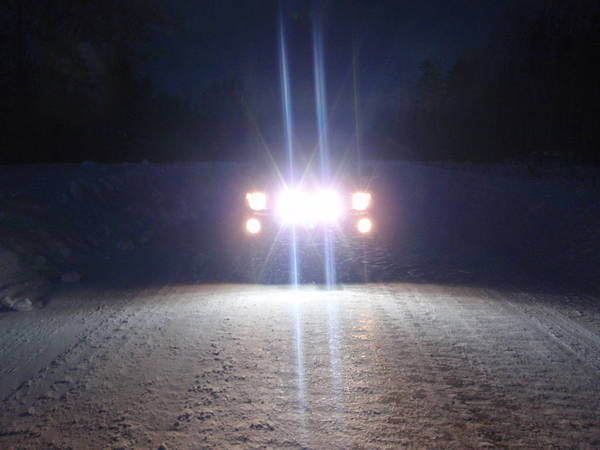 Cobra CB was also wired up coupled with a Relentless CB hood mount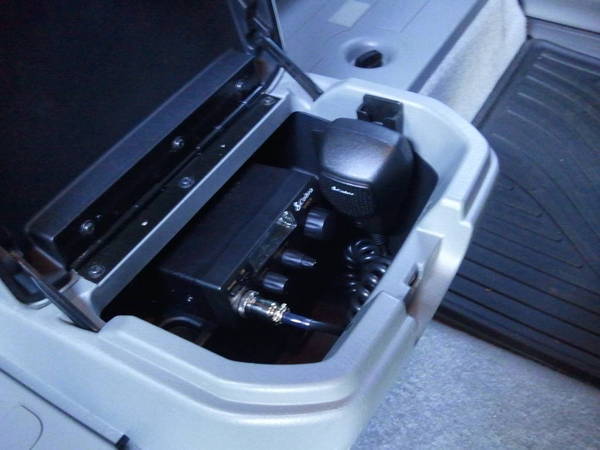 Changed out the stock Exhaust for the Magnaflow Off Road Pro Series…. Despite what people say, I found the exhaust to be loud at first, but after 300 miles or so, it really mellowed out and has since taken on a nice throaty rumble… great product IMO.
After a several month wait…. It was long but worth it…. I finally got my sliders in from Eric at Relentless Fab… Bolted them up and had the protection I wanted from logs, rocks, etc pounding woods roads for deer and ducks in the approaching season.
Relentless Fab Sliders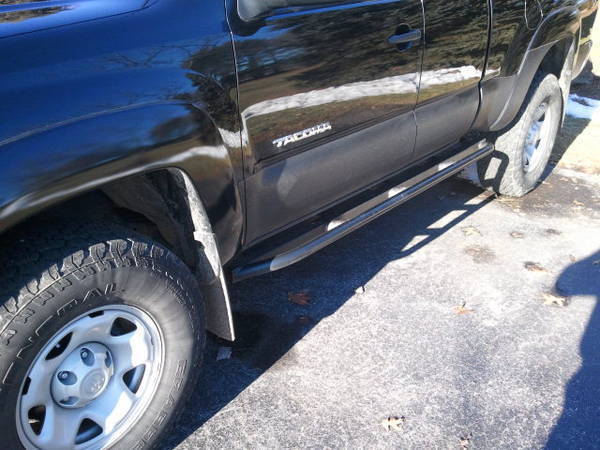 With winter approaching…. And already seeing the beginning of the rusty frame syndrome beginning to take hold of my frame… called Ziebart of Shrewsbury, MA to set up an under coating.
Under coated frame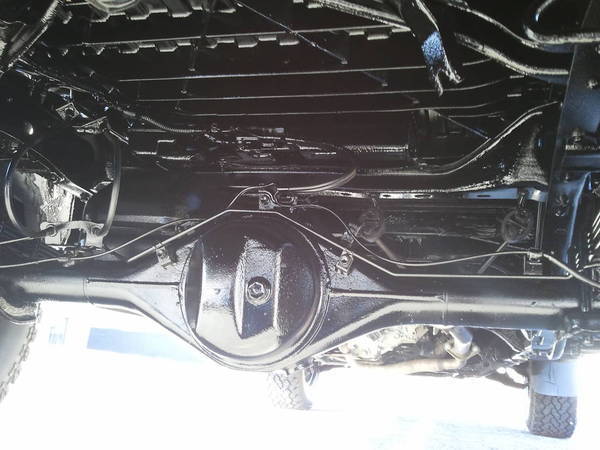 Drilled rockers and door panels…. Ziebart was sprayed on so heavy it was leaking out…. Made a mess at first but no rust will penetrate it.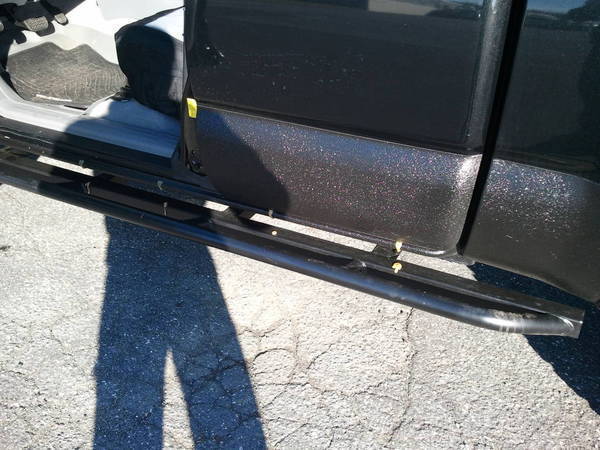 Just this past week installed the Toytec TSB AAL and All Pro U-Bolt Flip Kit with Timbrens… all set to tow now. Followed Chris 4x4's write up… get thread man.
Installation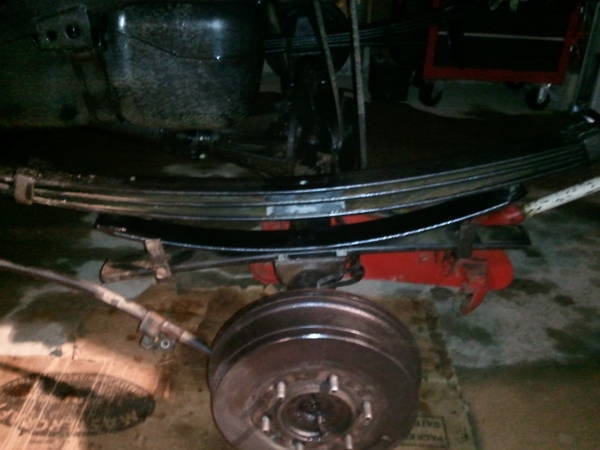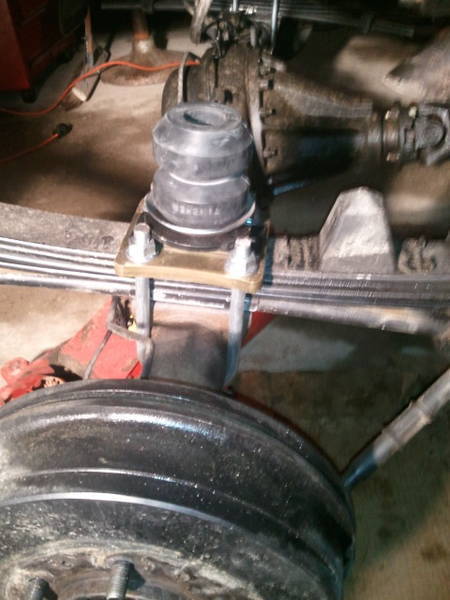 I was surprised at the rake I gained from the AAL... bout 2.5" lift in the rear … I'm thinking it should settle out a bit though.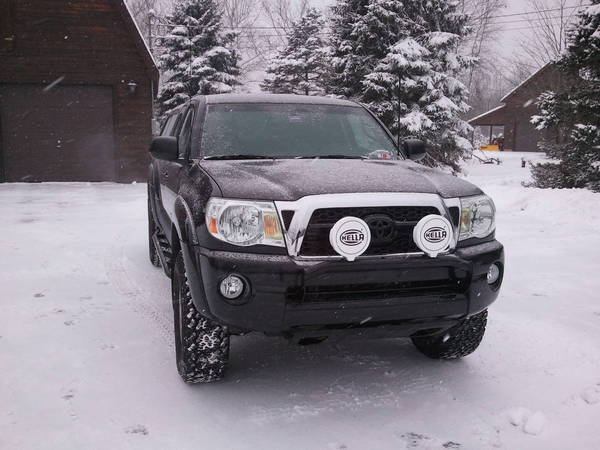 Will update as more mods and pics are added.....
Future Mods:
• 285/75 R16 Toyo MT's
• Steel Front and Rear Bumpers… any good recommendations?
• Skids
• Winch
• ARB Roof top tent???