CURRENT
20 January 2013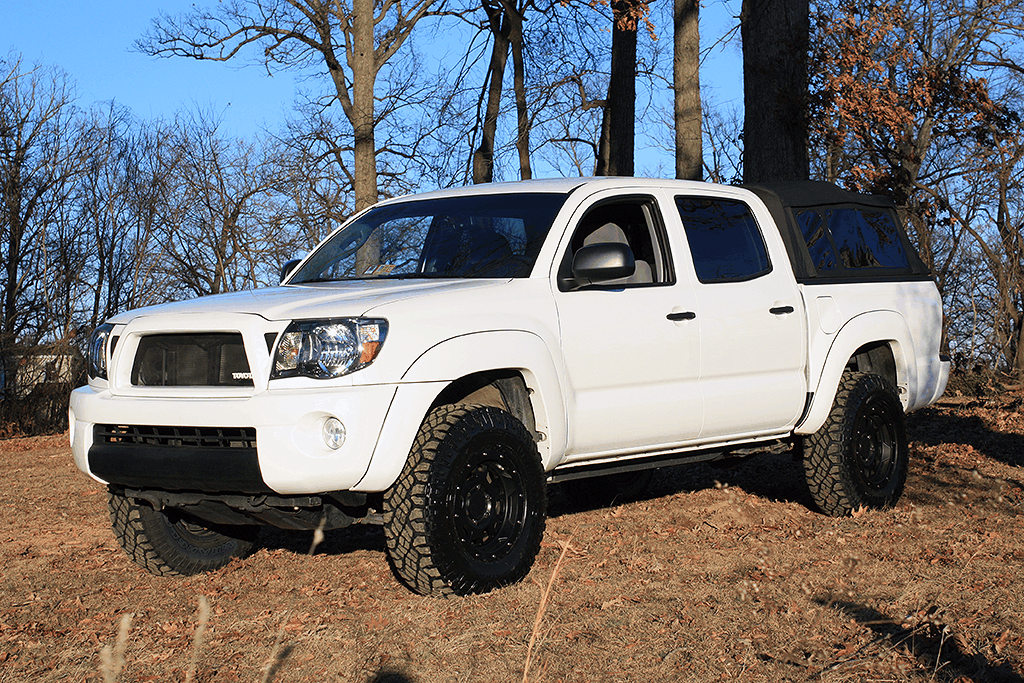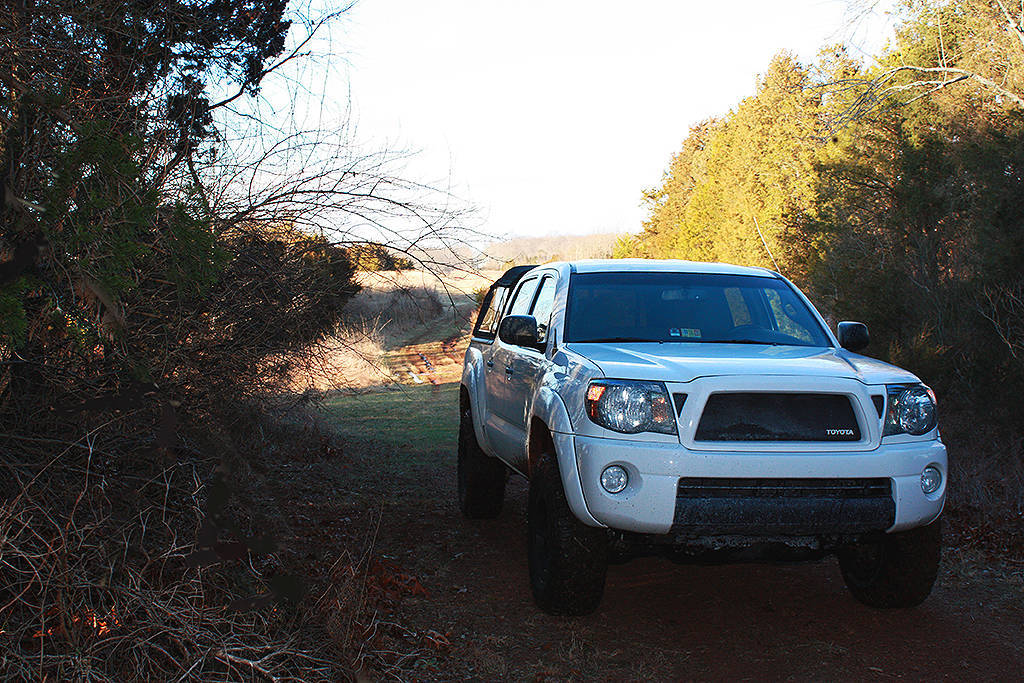 Although it's in the early stages right now, my overall goal for the truck is to build a modest but durable overland build.
It's a daily driver but I still enjoy taking the truck out and would love to have the capability to do some extended overland exploring.
________________________________________
GENERAL
2011 Off-Road (TX) Package
Double Cab - Short Bed
4.0L V6
Super White

WHEELS & TIRES
Goodyear Wrangler DuraTracs (265/75/16)
TRD Beadlock-Style Wheels
SUSPENSION
ICON
2.5" Extended Travel Coilovers (700# Springs)
ICON Tubular UCAs
ICON 2.0 Extended Travel Rear Shocks
All-Pro Offroad
Expedition Leaf Pack & U-Bolt Flip Kit
All-Pro Offroad Extended Front & Rear Brake Lines
ARMOR
Avid Off-Road Weld-On Sliders


Pending Order & Installation:

PelfreyBilt
High-Clearance Rear Bumper
(Tire Swing-out; Hidden Hitch
; Rotopax Fuel/Water Carriers)
EXTERIOR
De-Badged
Removed OEM Mud Flaps
Color-Matched & Satoshi Grille
(Color-Matched "Toyota")
Painted Lower Valence
(Black)

Blacked-Out TRD Wheels
Color-Matched Rear Bumper
Bestop Soft Top
INTERIOR

WeatherTech Floor Liners
(Front and Rear)

Super-Bright LED Replacement Bulbs (Map & Dome Lights)
Quick-Fist Mounted Flashlight & Multi-Tool
Color-Matched Gauge Bezels
Blacked-Out Center Console with Color-Matched Transmission Bezel
In-Console Holster Mount (S&W M&P .40)
COMMS & ELECTRONICS

Uniden PRO505XL 40-Channel CB Radio
Firestik 4' CB Antennae & Spring
RECOVERY
Smittybilt
3/4" D-Shackle Recovery Tow Hitch
30' 20,000lb Tow Strap & 8' Tree Saver, 25' Chain w/ Hooks, 5/8" D-Shackle
Entrenching Tool
(Mounted to Bed)
48" Hi-Lift Jack; Off-Road Base; Nose & Winch Tensioner Attachment & Lift-Mate Wheel Attachment
(Mounted to Bed with 4XRAC)
MISCELLANEOUS

TRD Cat-Back Exhaust
Horn Relocation Modification
8" CravenSpeed Stubby Antenna
Ammunition Cans
(Mounted to Bed Rail)

Foam Carpeted Bet Mat (Access Covers)
PLANNED MODIFICATIONS
PelfreyBilt Front Plate Bumper ($2000)
Warn VR-8000 (Synthetic) & AP Off-Road Fairlead ($800)
Rigid Industries Light Bar (20") and D2 Dually's ($950)
DieHard Platinum 31M Battery & Pelfreybilt Cage ($300)
________________________________________
BUILD PICTURES

Stock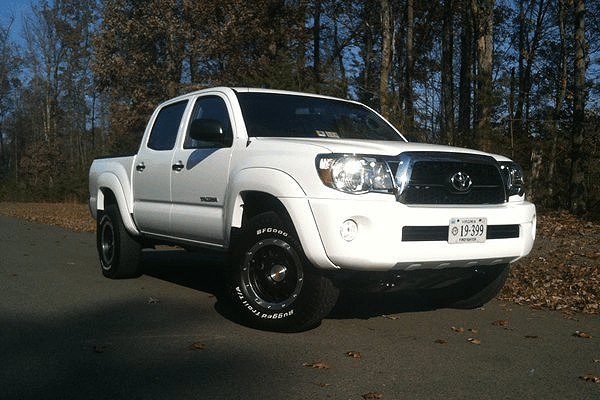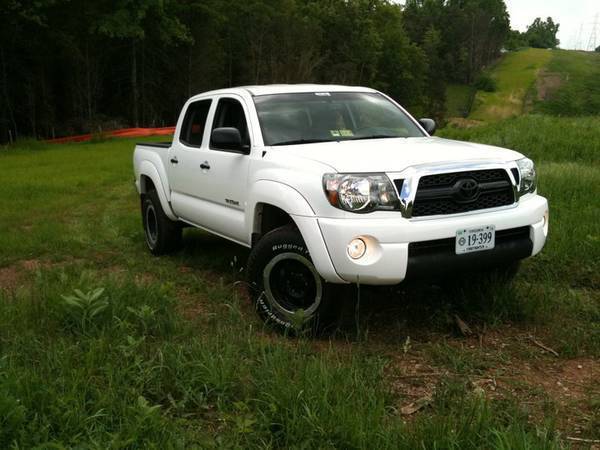 De-Badged; TSB AAL; Valence Black-Out; Satoshi Grille
For a long time, I resisted the temptation to put much money into the truck, considering that it was a very nice vehicle (huge step-up from my 2000 GMC Sierra single cab with no power locks/windows, etc). Over the first year or so that I had it, I did some miscellaneous paint modifications to change the look and de-chrome the truck without pouring much cash into it. The next few pictures are the results of my minimal-cash-modifications.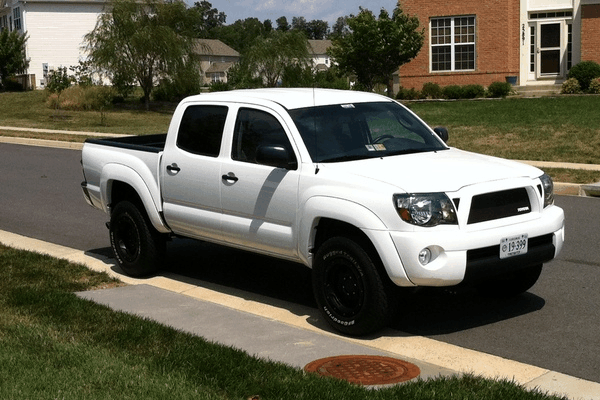 Color-Matched Rear Bumper (DIY)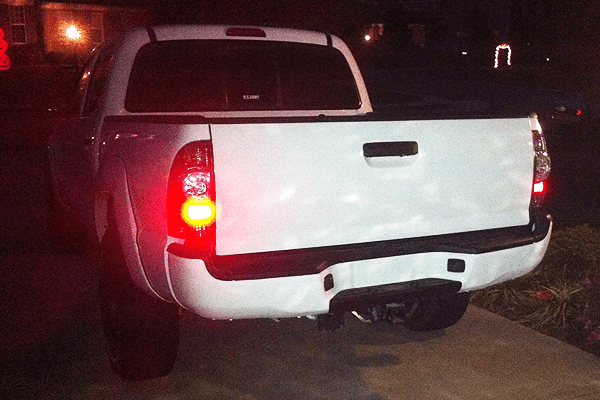 Removed Front License Plate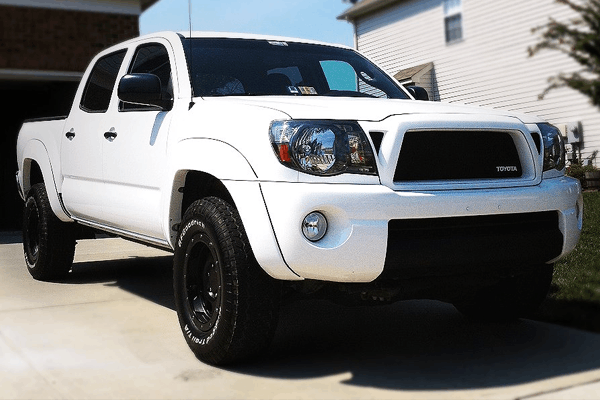 Installed Ammo Can Storage & E-Tool

I did this before the Bestop was on, but I didn't get around to taking a picture of it until afterwards. My apologies for the discontinuity!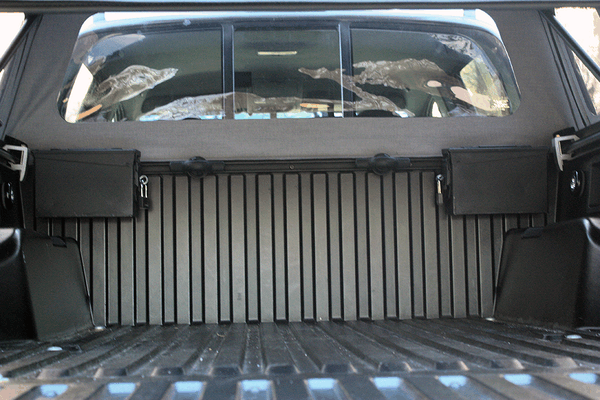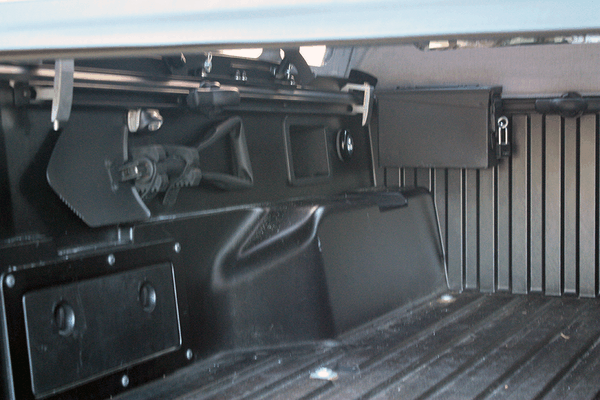 Installed Bilstein 5100s (Front at 1.75")

First real modification - leveled the truck out with some Bilstein 5100s. Love the look, it's given the truck a much better stance from all angles.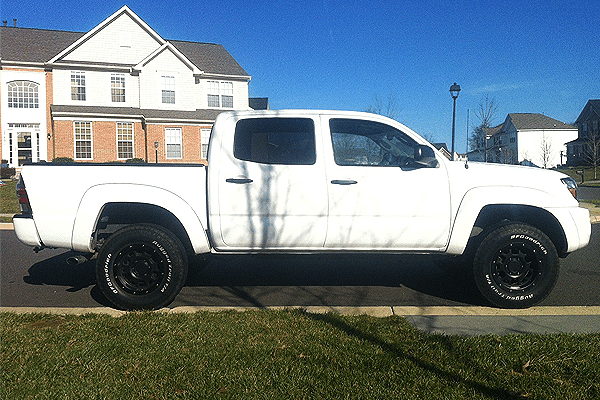 Installed Smittybilt Recovery Hitch & Bestop Supertop (Soft Top)

My favorite mod to date - Bestop Supertop. It has made my bed much more functional with regard to what I use it for (carrying military and firefighting gear, my mountain bike, etc). I rarely use it to haul anything that having the bed covered would prohibit, but even when I do, the soft top comes down very easily. I also really like the look of it - highly recommended to anyone debating between roll-up covers, campers, etc. as long as security isn't your biggest concern.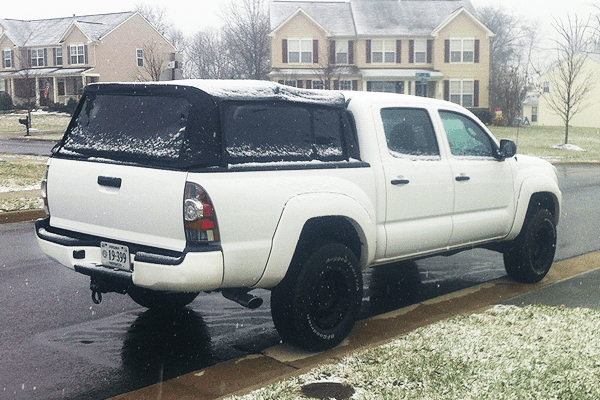 Mounted 265/75/R16 Goodyear Wrangler Duratrac tires & Miscellaneous Bed Mods

Finally got some new tires and am very happy with my choice after a lot of research and searching. I also installed a marine-grade carpet bed mat (it's been even better than I could've imagined), as well as an E-Tool and hatchet with a hammer-head on either side of the bed, using Quick-Fist mounts.I also have a toolbox that has the hook (hard) side of Industrial Velcro on the bottom, so that it velcros to the carpet-like bed mat, without any bungees or drilling. Perfect for my use (I don't keep it in there all the time, it has my off-roading and long-trip supplies).