Quote:
Originally Posted by
Bogg
Hey Mike...how's things? Truck is looking good. We had talked before and you said you had some water coming into your cab. This past long weekend did some snow wheeling and I noticed water entering my cab. What did you use to seal it? I noticed a grommet just above the cab mount. Believe it's one of the plugs used to hold the wheel well liner in. Think maybe that's where the water may be coming in from?
Hey Ben, doing great and you? Its quite possible that water may be leaking through that grommet but I'm pretty sure I didn't have that problem. Although the grommet was smashed to pieces in the process it still covered the hole. It's very possible you may have actually split the pinch weld. It's difficult to notice from the outside but as soon as you peel the carpet back and look along the seam you'll probably see some daylight. I had split both pinch welds after the beating was all said and done. To fix this, I plastered on a exterior Thermoplastic Sealant that's capable of stretching up to 1400% without breaking and is paintable after it cures. I covered the outside of the firewall all along the pinch weld and grommet and then went inside and smeared as much sealant as I could on the pinch weld as well. Then I took a piece of wax paper to completely cover the sealant and then put the carpet back in place. I did this for both pinch welds and I haven't had an issue since. Peel back your carpet and let me know what you find! I can post some pics of what I did if you would like? Did ya get the new 35's? Post some pics bro!
Quote:
Originally Posted by
NC10TRDSPORT
Understand ya there man. Been playing a bunch lately! Mud Lites are impressing me in deep snow! I keep trying to climb banks though
I had only spun down through the first layer here: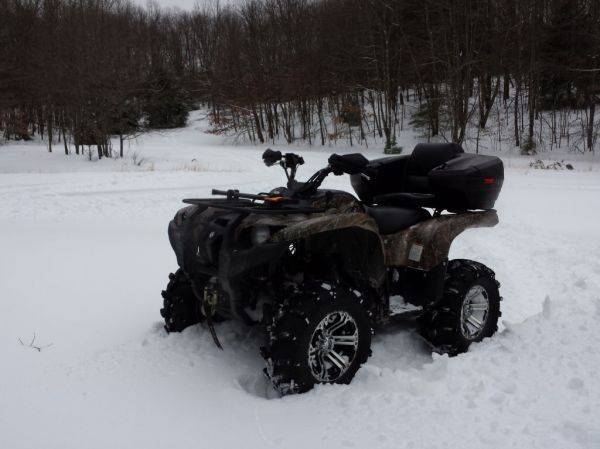 There was about 8" under that!
And Thursday just played in the yard:
Thankfully my brother was home and could help pull me off a couple high centers where we had plowed lol
Aw man that looks like so much fun! How deep have you gone with the Grizz? I bet it climbs like a billy goat! Tried the heated seat yet? lol