Super White Mall Crawler!!!
I know ya'll are dying to read this one of a kind build so here it is...
I bought it new in 2012 the TRD 4x4 package with rear locker. 2nd tacoma I've owned, soneedless to say I love it.
After a couple thousand miles I installed the Pro-comp 6" lift with 35" Toyo Open Countrys on the 18" XD's. So far my only complaints is my front tires are rubbing when I got up drive ways or small curbs. The rubbing is actually occuring at the frame, so I guess cutting out a chunk is my only option, or putting in 1" spacers behind the wheels....Kind of in the dark on that. I personally love the look of the 35's but we all know the downsides.
I would like to know what 6" lift guys are using for shocks. I've heard you can't go wrong with
ICON
's. Any advice?
As she sits now,
(Better pics are coming)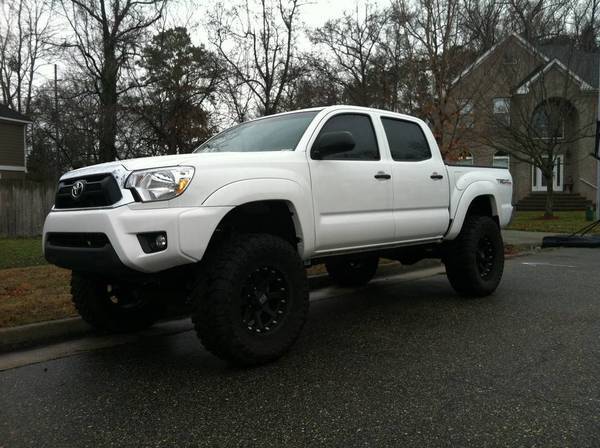 Future Mods:
Icon Shocks all around
All pro
Front and Rear Bumpers
Rear diff breather
Blacked out headlight mod
Katskinz seats
and Hopefully one of Homer Taco's Grills!
Thanks for looking and let me know what you think!